Content optimization tools like SurferSEO and Clearscope have become essential tools for writers worldwide.
Blogs using content optimization tools have a huge advantage over ones that don't. These tools automate competing content analysis and let small-time writers compete equally with the big dogs.
Today, we'll be comparing two of the best content optimization tools out there: SurferSEO and Clearscope. My in-depth analysis will give you a sure choice between the two.
SurferSEO Overview
SurferSEO has enjoyed a meteoric rise in recent years thanks to their team's incredible work. It's moved so fast in its development that reviews published even a few months ago can be considered sorely outdated as the epic features pile on.
If I were writing this article even a year ago, I would say that Clearscope is the clear choice between the two (pun intended). However, these days, the competition is down to the wire, with SurferSEO outpacing its big competitor in many ways.
It's a comprehensive platform that helps you avoid SEO mistakes and create rank-worthy content with ease. With that in mind, let's look at the features that have catapulted SurferSEO to content marketing prominence:
Content Editor
At the center of any content optimization software is the content editor. Here, you can create search-optimized content guided by a powerful, in-depth analytical engine.
If done right, this functionality will enable you to write top-quality, search-optimized content no matter your experience level.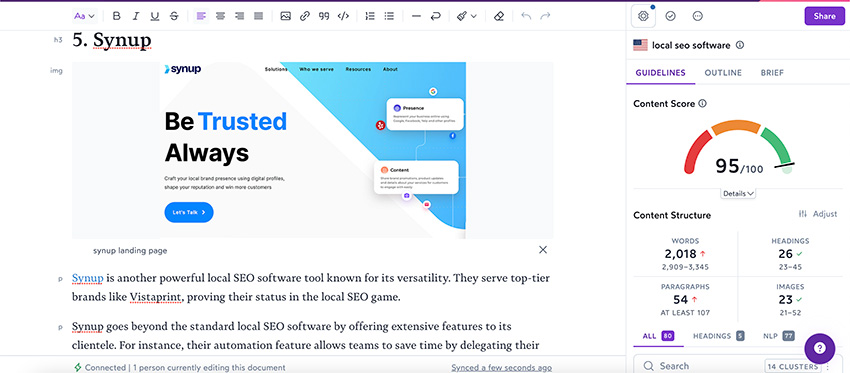 SurferSEO excels in this category, and it's the one I use. In addition to the recommended keywords, word count, headings, and paragraphs, it also gives guidelines for the ideal amount of images (something Clearscope doesn't have at all).
It grades articles based on a context score from 0 to 100 versus Clearcopes letter grades.
Brief/Outline Builder
Something else unique to SurferSEO is its AI-powered Outline Builder. This tool allows you to generate plagiarism-free titles, headings, and questions to structure your content around.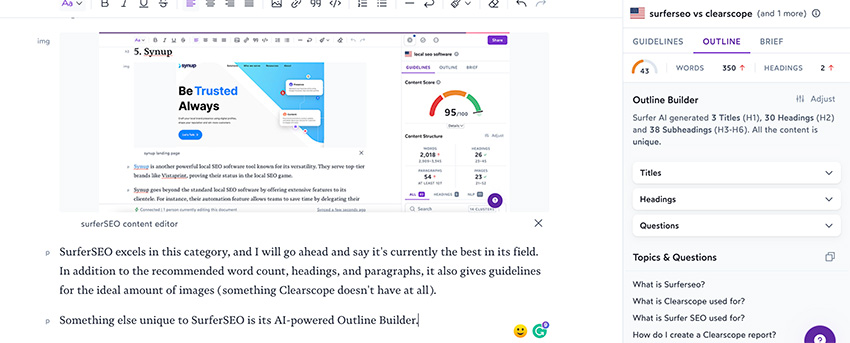 The Outline Builder allows for a faster, better from-scratch content creation process than Clearscope, which only offers a questions feature.
Natural Language Processing (NLP)
With the BERT algorithm update, Google began to analyze the context and sentiment in which target keywords exist.
This update meant that content creators needed to include target keywords more intelligently since Google prioritized context much higher in rankings.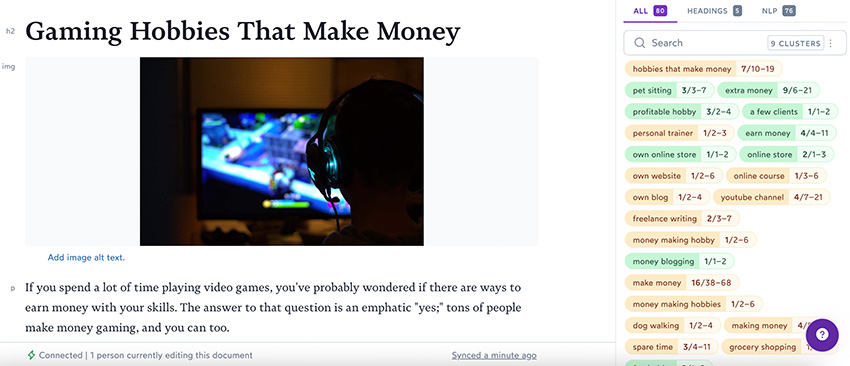 In response to this, SurferSEO introduced Natural Language Processing keywords. This tool will allow you to include the relevant keywords Google finds the most significant by targeting phrases adjacent to your target keyword.
Including these NLP phases means that your content will be highly relevant to user queries, providing an immediate boost in rankings (something I can personally attest to). This direct integration with such valuable insight makes Surfer one of the best SEO tools — just by itself.
Content Audit
SurferSEO's content audit tool allows you to analyze existing content and understand precisely where it needs improvement. It's as simple as entering a URL and a keyword and then watching the magic happen.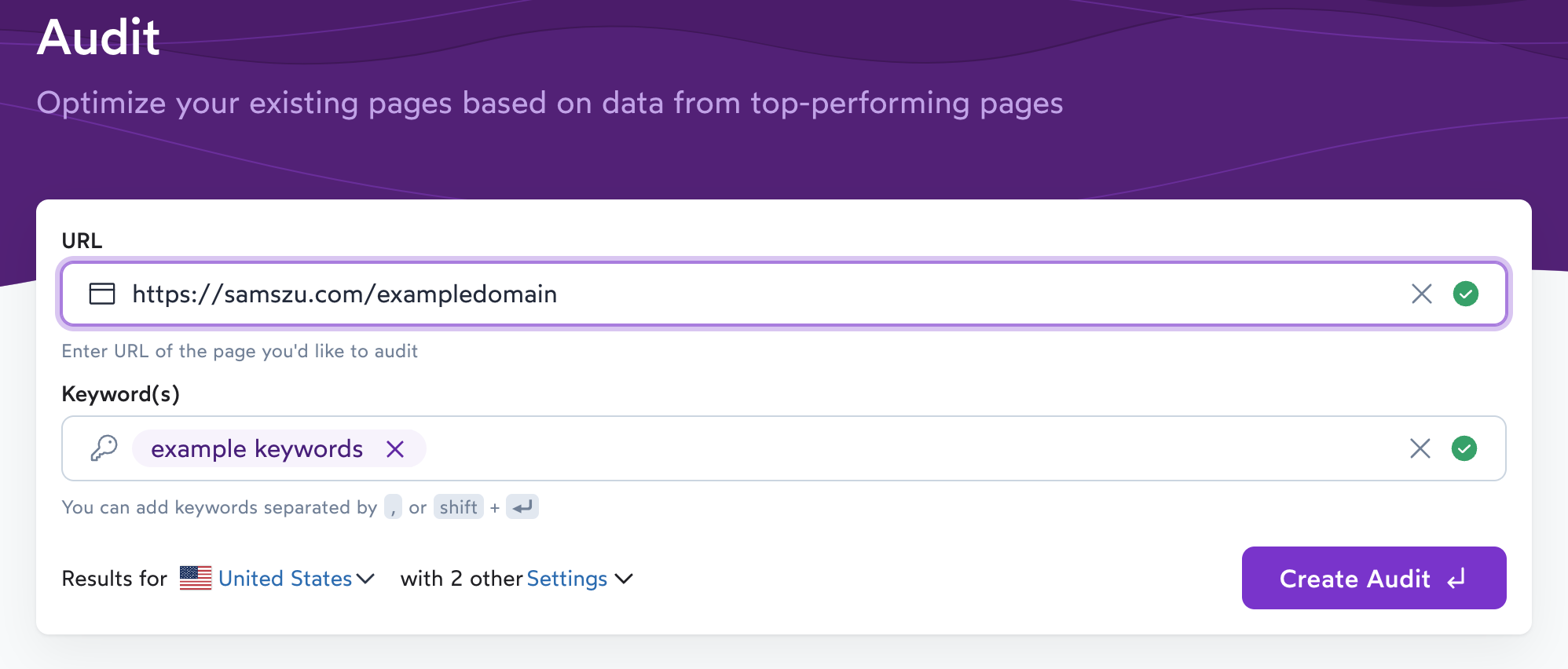 The best use case of this particular tool is content maintenance. For example, let's say you have an old article from a couple of years ago floundering on page two or three of Google. With a few adjustments, that page could easily make page one.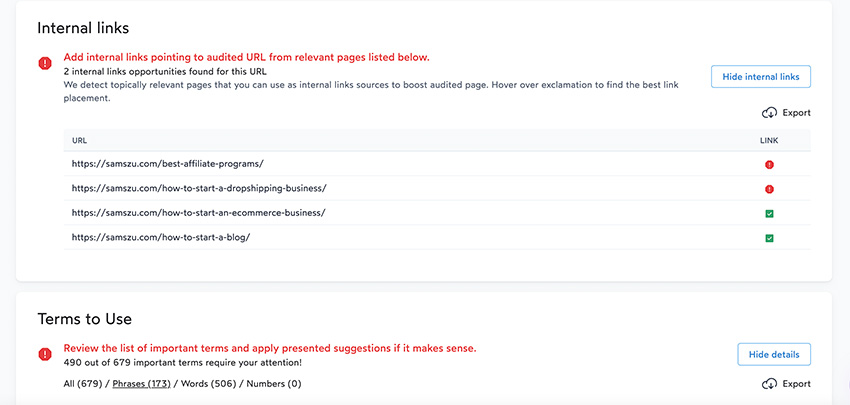 The Content Audit tool offers comprehensive suggestions for improvement in areas like:
Content score
Missing backlinks
Internal links
Terms to use
Word count (in headings, body, and bold)
Exact keywords
Partial keywords
Page structure
Length of title and meta description
Page loading speed
Just pop in a blog post, landing page, or any other part of your site, and Surfer will tell you everything you need to do to maximize organic search traffic. Clearscope does not have an equivalent feature.
Content Planner
Traditionally speaking, generating content strategy can be a complex and intensive process requiring professional consultation. SurferSEO's Content Planner allows your to skip all that and turn this days-long process into a simple click of a button.
Simply enter your target keyword, wait a few minutes, and enjoy your comprehensive content strategy. If you can fill the gaps recommended by SurferSEO, you're on a one-way train to skyrocketing your topical authority.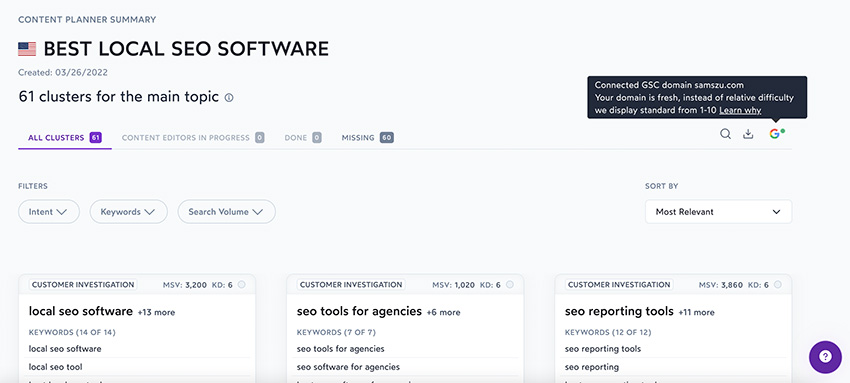 Frankly, this tool is a game-changer. A complete, months-long content strategy at the click of a button? C'mon now, that's crazy! You don't necessarily need to fire your content strategist, but they might have more time on their hands.
Surfer also allows you to connect this tool to Google Search Console in order to receive recommendations based on your raw search data. Clearscope doesn't have an equivalent tool, either.
SERP Analyzer
SurferSEO's SERP Analyzer tool allows users to find the exact correlation between on-page factors and search results.
While this is an implicit feature in all content editors (as a necessary part of creating search-optimized content), this tool allows a deeper understanding of the factors in play.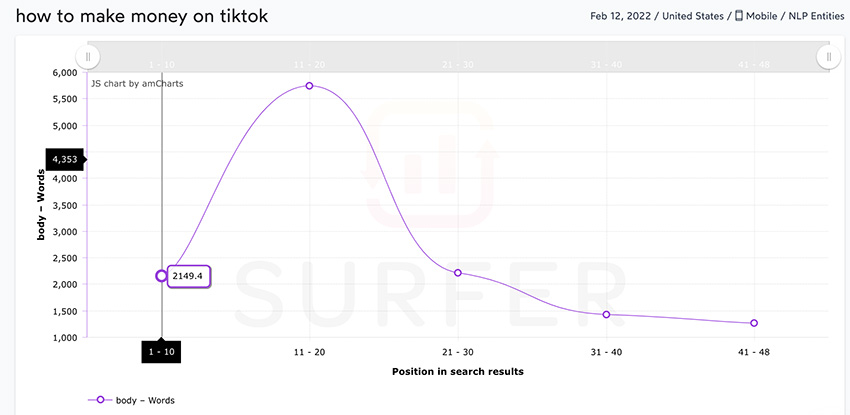 In addition to the graph, you can explore each metric in-depth, including:
Keywords
Average word count
Questions
Popular words
Popular phrases
Common words
Common phrases
Prominent words and phrases
Common backlinks
Title tags
Meta descriptions
Clearscope does not have a competing SERP analysis feature.
Keyword Research Tool
While it's not beating Ahrefs, Surfer's keyword research tool is respectable enough to factor into your purchase decision. If you enter a keyword into the system, you can receive insight into the term as shown below:

This tool will tell you about:
Similar keywords
Search phrases with the same terms
Questions about the term
Search volume
It may not be the most advanced keyword research tool, but it gets the job done and adds to Surfer's impressive package. Clearscope does have a competing tool, which we'll discuss below.
Pricing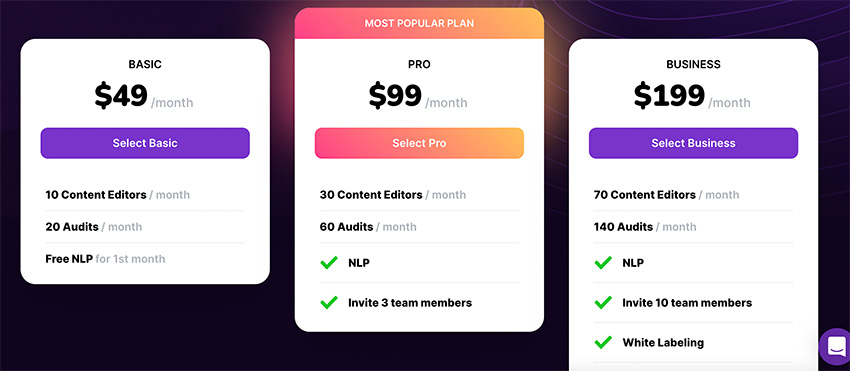 Surfer SEO offers pricing in three tiers:
Basic ($49/month): This tier almost only exists to have a lower entry price. It lacks NLP, which you will need for serious content optimization
Pro ($99/month): This is the best plan for small teams (no bigger than three) who produce a limited amount of content each month
Business ($199/month): If you're a larger agency, you'll need this plan for more team members, editors, audits, and white labeling
Custom pricing is also available for even larger packages
For the value that SurferSEO provides, the price is nothing short of phenomenal. Once I started using it, I experienced an immediate boost in my ranking pages. It's also cheaper than Clearscope even though it has many more features.
Clearscope Overview
Clearscope is the most established content optimization tool in the SEO space. You'll see many professionals using this tool since it's a proven name in the space; even before Surfer SEO was on anyone's radar.
Clearscope doesn't have as many bells and whistles as Surfer, but it has a job and does it well: make search-optimized content.
Its landing page is surprisingly barebones, failing to educate on some of the features they've worked to include. Thankfully you have me, and I'll elaborate below:
Content Editor
Clearscope's content editor is its prize horse and the platform's flagship. It's like Surfer's content editor, minus a few features I miss dearly when using the software.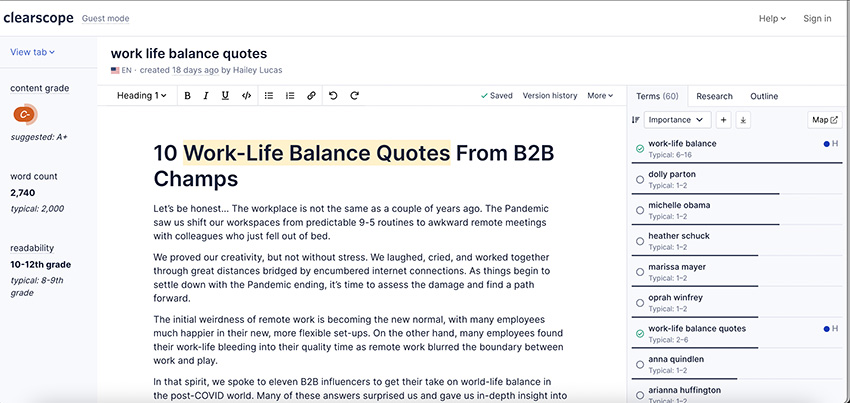 Unlike Surfer SEO's content score, it uses an F to A++ rating to grade your page's content. It factors in things such as:
Word count
Readability
Included keywords
Headings
Content structure
Like Surfer, it includes outline/brief creation tools, related search questions, and competing articles for comparison. What it's missing is the ability to include images, something I found highly annoying when using the editor.
That said, articles with A++ ratings are practically guaranteed highly relevant and valuable content for user queries. Content marketers working with Clearscope will be pleased with how the articles perform in search engines and user satisfaction.
Keyword Discovery Tool
Like Surfer, Clearscope includes a decent keyword discovery tool. While not quite Ahrefs, this functionality is well capable of guiding your content creation with metrics like:
Monthly search volume
Ranking difficulty
Cost-per-click
Related keywords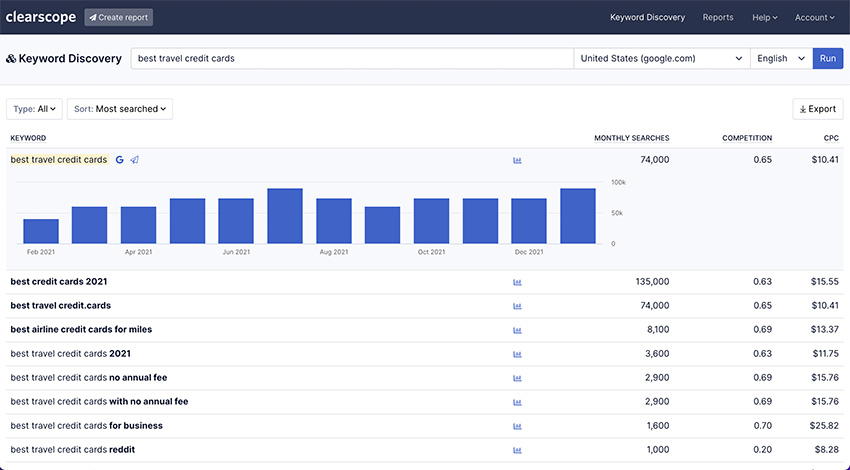 Credit: G2
Armed with the knowledge provided by Clearscope's keyword research tool, you can be confident in the direction you're taking your content strategy.
Pricing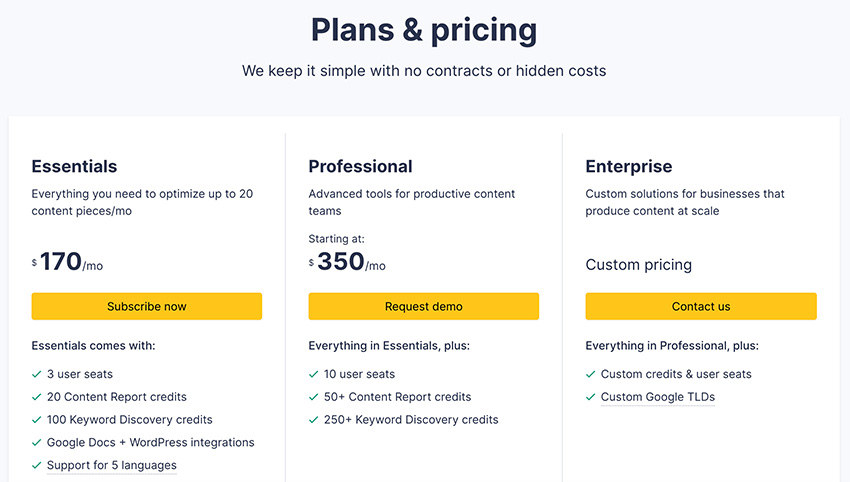 Clearscope's pricing comes in three tiers:
Essentials ($170/month): Three users with 20 editors and 100 keyword discovery credits
Professional ($350/month): 10 user seats, 50 editors, and 250 keyword discovery credits
Enterprise (Custom): Additional capacity made to order
There's no hiding it: Clearscope's pricing looks pretty bad next to Surfer's. For $170/month for only 20 content editors, it seems exceptionally stingy next to their competitor — not to mention that Surfer offers unlimited keyword research.
This price point is one of the reasons I use Surfer over Clearscope. I could go on, but I'll save that for below.
Direct Comparison: Surfer SEO Vs. Clearscope
In this section, I'll compare the strengths and weaknesses of each platform and how they measure up to each other directly.
As you read, you may find that the difference in features comes off as an indictment of Clearscope. That's not my intention; Clearscope has a job and does it well. However, if one product appears to be objectively better than another, perhaps there is a reason for it.
Content Editor
Both platforms offer excellent content editors. Choosing either Surfer or Clearscope will allow you to produce fantastic content fully prepared to reach page one. However, some minute differences between the two are worth discussing.
Grading System
Both platforms developed a grading system to communicate your content's readiness for Google. Surfer SEO uses a 0 to 100 system called Content Score…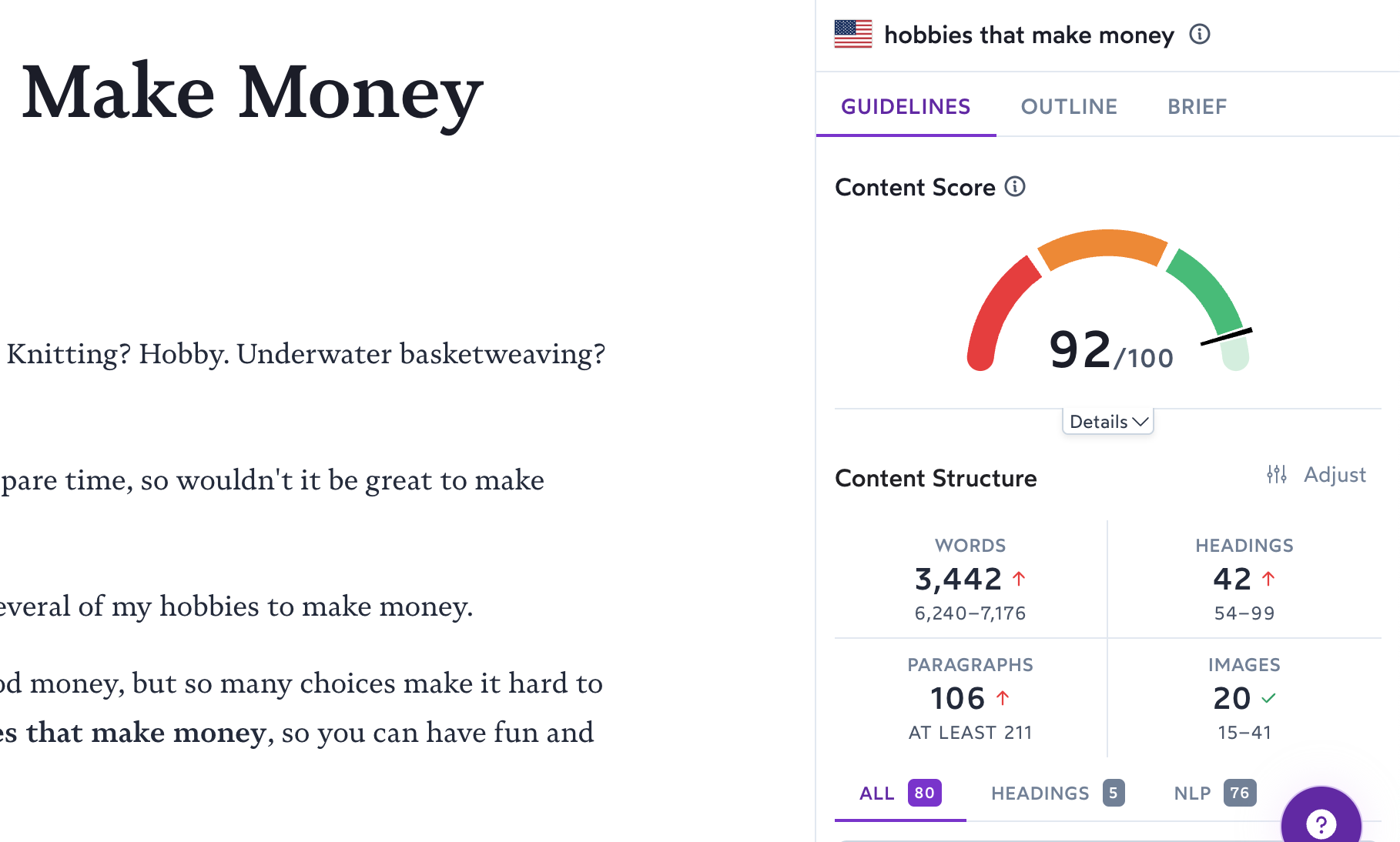 …while Clearscope uses a letter grade system from F to A++ called Content Grade.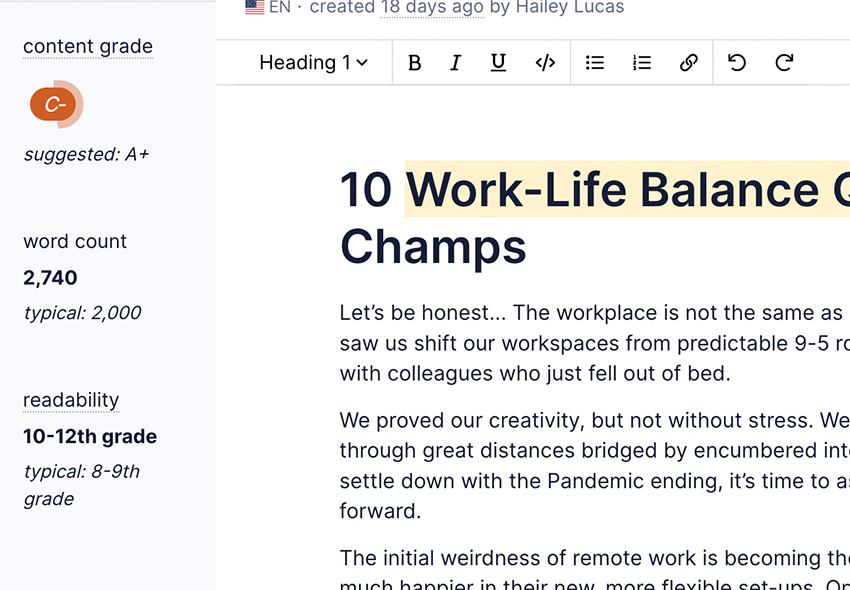 Both are intuitive and easy to understand, yet I slightly prefer Surfer's Content Score just because numbers are easier to quantify than letters.
Images
One significant advantage that Surfer SEO has over Clearscope is the ability to include images in the copy. Rather than just being a convenience, Surfer will consider the number of images in the Content Score.
Taking images into account allows users to better compete against other content because the inclusion of visuals is so essential to reader engagement. I think this is a reasonably considerable shortcoming on Clearscope's part, and I hope to see them add this in the future.
Additional Notes
There are a few other quality of life functions worth noting:
SurferSEO recommends word count over a range, while Clearscope just recommends the "typical" amount. I prefer Surfer's version because it gives me more information to work with
You can search recommended keywords in Surfer, while Clearscope only offers sorting. You'll still have to scroll through to find specific target keyword suggestions
Clearscope allows you to search Wikipedia, Reddit, and Quora quickly
Clearscope allows you to quickly add custom keywords directly from the editor (these keywords won't affect your Content Grade)
While these aren't as significant as the other features, small things can add up to a big difference.
Keyword Research
Both Surfer and Clearscope offer keyword research tools to help you plan your content creation. There's not much to be said that I haven't already; they both get the job done well.
I will say that Clearscope has the advantage here just because their keyword research tool offers more data with visual graphs. However, it's worth mentioning that Clearscope keyword searches are limited (amount based on your plan), while Surfer SEO's are unlimited.
That said, neither of them can compare to a comprehensive keyword research tool like Ahrefs or Semrush. Keyword discovery features are just a cherry on top rather than an end goal in and of itself.
Additional Features
At this point, the direct comparisons suffer because Surfer offers several great features that Clearscope does not. These features include:
Content audit
Content planner
SERP analyzer
All of these are amazing features (if you want more details on these, scroll up to the SurferSEO overview). I think SurferSEO puts Clearscope to shame here, especially given the massive price difference.
Third-Party Integration
Both platforms offer direct integration with Google Docs and WordPress.
Collaboration Tools
Both tools allow you to invite team members and collaborate with them directly on the platform.
Pricing
There's no contest regarding pricing: SurferSEO is a steal compared to Clearscope. SurferSEO's entry plan ($49) is not only three times cheaper than Clearscope's ($150), but it offers way more features.
Clearscope's most expensive non-enterprise plan is also almost double SurferSEO's.
The price point alone severely pressures Clearscoe for the top spot in content optimization. If you're looking to save money without trading off value, SurferSEO will be your choice.
Winner: SurferSEO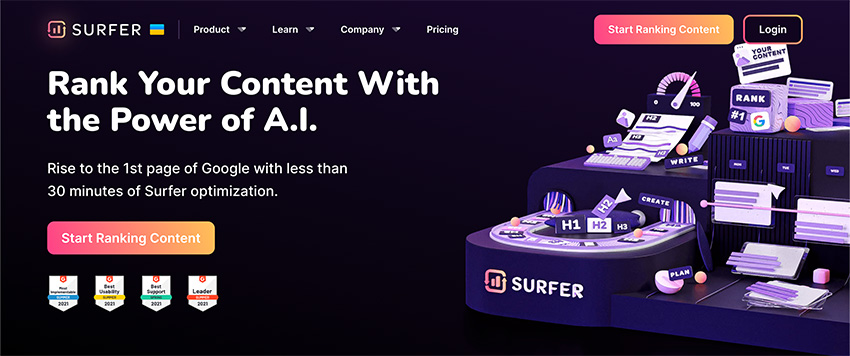 If you read this entire review, Surfer beating Clearscope should be pretty obvious to you. While their content editors compete on mostly equal footing, Clearscope is simply outmatched by Surfer's numerous epic features and doorbuster pricing.
Clearscope's keyword research tool is better than Surfer's, but not by a wide margin.
Honestly, it's a moot point since you'll likely use dedicated software for keyword suggestions. Even if keyword suggestion is a big part of your shopping list, Surfer's keyword functions will probably be more than sufficient for you.
Another thing worth noting is that Clearscope is more of a mature product, while Surfer SEO is constantly evolving. So you can interpret this as a good thing for Clearscope since it's more established or a bad thing since Surfer SEO is likely to get even better with time.
I've used both SEO tools, and while I certainly like Clearscope, SurferSEO is better overall. While both platforms allow you to create relevant and useful content, SurferSEO's functionality outmatches Clearscope's by a wide margin.