Backlinks — they're the key to ranking on Google pages, according to every expert. But what if you could rank high in search results without them?
If you're trying to figure out how to rank without backlinks, you're probably a beginner in the webspace with a brand new website. Starting out, it can be challenging to get backlinks since you probably don't have a lot of content and aren't well known.
I want to be honest: backlinks are critical to ranking high on search engine results pages. However, it's equally true that you don't always need them. In fact, a proper on-page SEO strategy is more important than backlinks.
This leads to the question of the day: "Do you really need backlinks to rank your pages?" Simply put, the answer is no — not necessarily. This article will teach you how technical SEO and content quality can rank you above the most authoritative of sites.
Let's dig in.
How Do You Rank Without Backlinks?
While there's no doubt that backlink-building is essential to ranking high on Google, it's a luxury that not everyone can afford.
This is mostly true for people who are just starting. A single do-follow backlink can take some severe sweating to get for an unknown. You have to convince someone with an established website to link to you, a nobody.
So let's learn how to rank without backlinks, shall we?
1. Create Value
Marcus Miller said it best: "All the fancy SEO tactics and techniques in the world will not compete with just having the best answer to the user question."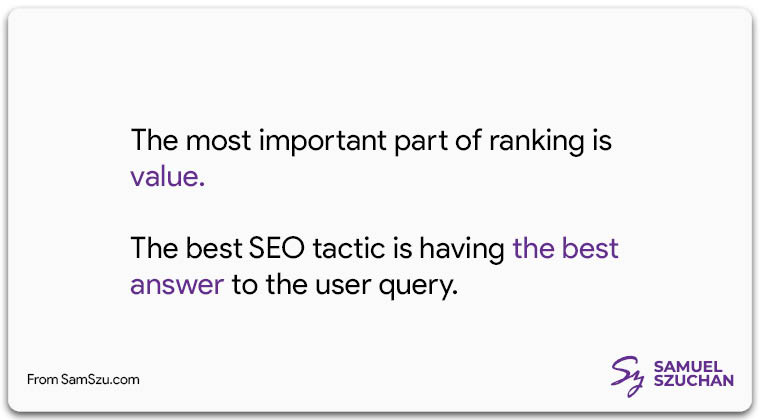 At the center of a high-ranking website lies content that provides true value for its visitors. Take this website, for example; specifically this article. You've come here to learn about building backlinks and I'm providing that information (the value).
That's the essence of search engine optimization and effective content marketing. If you have better content than other pages, you'll tend to rank higher than them.
Understand Search Intent
On my blog, I talk a lot about writing for search intent. When you create a piece of information on your website, you need to keep in mind specifically what queries will search for it.
For this blog post, you probably searched some variations of "how to rank on Google with no backlinks" or "ranking on Google no backlinks." As you can see from how I've phrased my title, headings, meta description, and keyword insertions, I'm writing for that target keyword.
With your search intent in mind, I seek to create value by providing precisely the information you're searching for.
Let's assume you searched for this page, found it, and scrolled down. Right now, you're already getting the information you need.
It's here — ready and available — and providing for you searched for. I also strive to write the only article you'll need so that you'll feel satisfied after reading. That sort of approach is how to create value and rank higher on search engines.
Further reading: check out this incredible case study on quantity vs. quality in targeted content
2. Target Longtail, Low-Competition Keywords
Longtail keywords are the keyword phrases that are longer and more specific. Because of their specificity, they tend to have lower-search volumes and target a niche audience, making it way easier for you to break into.
This is much easier than trying to top keyword rankings for high volume terms like "best VPNs" and "best web hosts." To rank for these keywords, you'll be competing with multi-billion dollar companies employing the world's greatest talent to stay on page one of Google.
Is it impossible to beat them? No, there are plenty of underdog stories on Google. However, you are much better off targeting more specific niches with lower search volumes (especially if you're starting out).
Use Ahrefs to do keyword research, and find solid topics in your niche with a few dozen/hundred searches a month. These are great places to start for new blogs.
Be Your Niche's Wikipedia
"You should always aim to be the Wikipedia of your industry," says Joseph Sloan of Advice Media (credit to Monitor Backlinks for sharing that quote).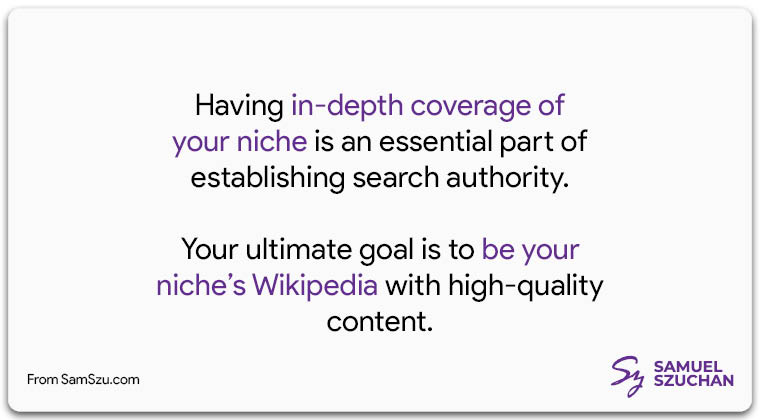 If you can be a comprehensive source of specific information for your niche's audience, you can find yourself ranking on page one of SERPs without a single backlink. This logic to this is pretty simple: longtail keywords have much less competition.
If you can fill that gap with high-quality, engaging articles you will experience organic search engine traffic. It's that simple!
3. Optimize Mobile Browsing
Most search traffic happens on people's phones rather than on their desktops in the modern era. That means your website must perform well on mobile to do well on SERPs.
This means fast loading times, a visually-rich experience, and an explainer video if possible.
Fast Performance
It is absolutely critical that your website loads fast on mobile. This is essential for user experience and SERP performance (yes, Google takes page speed into account).
This means using a good web host for your website and creating your website with a fast, lean website builder. Those are the foundation of a website that loads quickly on mobile. If you're on WordPress, I highly recommend WP Rocket.
Visual Presentation
Don't forget how important it is to make sure your website looks good on mobile. I'm sure as an internet user, you know how much of a turn-off an unprofessional website can be.
If someone's website is a mess, you're much less likely to trust their information. On the other hand, a professional-looking website invites trust. Take the time to do this right.
4. Create Informational Content
Creating custom informational videos and graphics (AKA infographics) can go a long way towards increasing visitor satisfaction (you can see a few examples in this article).
If you (or someone you hire on Fiverr) can present your article's information in a quick video placed at the top of the page, your users will appreciate it. Google will note that increase in user satisfaction and increase your rankings.
The Added Benefit: Sharing
If your informational content is helpful to readers, they will naturally save those resources and share them with others. When creating your informational videos, always keep them as lean and as information-packed as possible. Both of these increase sharing potential.
This is no different from sharing funny cat videos that you like with your friends or family! If people like something and find it interesting, they will share it.
5. Build Internal Links
When I was first learning SEO, I had no idea what the heck the point of building internal links would be. Why would Google care how many times you linked to yourself? It's all about other websites' links, right?
As it turns out, internal link building is a fundamental process in SEO optimization. It's a pretty deep subject that you have to understand to perform well in search rankings.
Build Internals Like They're Externals
Believe it or not, the process of building internal links is fundamentally the same as building external links. You need to keyword optimize them and create attention-grabbing anchor text as if they were on someone else's web page.
You also need to keep your internal linking natural and relevant. That means including them only where necessary rather than spamming them out haphazardly.
For example, let's say I wanted to build internal links for my blog-creation guide (one of my cornerstone pages). How would I go about naturally including that link throughout my content?
Well, as you might have noticed — I just did. I found a place in one of my articles where I could naturally include my link in a place where it would be relevant and subtly plugged it in.
As I said, it's just like creating the anchor text to backlinks on another website. The number of internal links pointing to a page on your site will tell Google how important it is.
6. Maximize Your CTR
It's a pretty open secret in the SEO world that your click-through ratio has a massive impact on your website's SERP placement success.
If Google notices that the #4 result in a search is getting a much higher CTR than #1, it will bump that #4 result higher. Google wants user satisfaction over everything, so considering CTR is a no-brainer for them.
Headlines Are Everything
When one of your web pages pops up in a search result, the searcher will see the headline (AKA the page title).
With that in mind, I'm sure it's pretty easy for you to understand how vital that headline is in converting them into a paying customer. The headline will decide your fate.
If you don't take the time to craft an engaging title, all of your work in optimizing that page for SEO will be for naught. Fortunately, there are a variety of tools out there to make this much easier.
Additional Ranking Factors
We covered a lot of topics, but there are a few more things you should keep in mind if you want to rank without backlinks:
Site structure: Always make sure your site has an intuitive site structure. If visitors can't navigate your site easily, neither can Google
Title tag: By default, your title tag will be the same as your H1 header (title). This can seem over-optimized to search engines, so change it a little bit
Slug: Your slug (e.g. in samszu.com/contact, the "contact" part is the slug) will be a major part of telling Google what your page is about. Make sure it's logical and relates to your target keyword
Local SEO strategy: If you're trying to rank for terms in your area, your content marketing will be a little bit different. Your competition for first page Google rankings will be focused on local sites, so you'll need to think about them rather than the whole world
Bonus: Don't Ignore External Links
I know this article is about how to rank without external links/backlinks, but they're still essential ranking factors. If you're serious about climbing search results, you need 'em — period.
Let's be clear: not all links are created equal. High-quality links will give you a ton of "link juice," while spammy backlinks can actually result in penalties. We obviously want the former, not the latter.
To point you in the right direction, I'll share the most effective tactic for building links as a new website:
Guest Posting
Guest posting is how I went from 1-41 domain rating in my first two months of building my blog. If you can write well (and you need to), the process of acquiring guest post opportunities is simple:
Create an email with your domain, then warm it up with an email warming service
Create a LinkedIn account, then use it to find the content managers of reputable blogs
Use Hunter to find their emails and add them to a campaign
Send out response-optimized emails Monday-Friday from 10-4 EST.
Write epic articles for the ones that say yes, and include your links in the content!
Starting out, you may need to write for smaller blogs since you won't have much of a portfolio. However, once you've got more clout, you can target DR 50+ blogs only for the best results.
Bottom Line
So it's possible to rank your web pages without any external backlinks? Yes, and we just saw how!
At its core, it just boils down to taking the time to create quality, informative content for your visitors. Do this, and search engines will reward you (remember, their business relies on high-quality websites).
Always keep that in mind when creating your content. Are you answering the searcher's question? Are you doing so effectively and prioritizing their positive experience?
Answer yes to those two questions, and you'll be well on your way to rankings success. Good luck!