If you're a local business owner, I don't need to explain to you how tough local competition can be. There are only so many customers out there, meaning you need to take every measure to succeed versus your competitors.
Just within a year of starting, about 20% of small businesses fail in the United States. There are a ton of factors that can lead to failure, but I think poor local SEO efforts are an incredibly consistent theme in the modern era.
Most business owners see search engines as mysterious, indecipherable entities that generate local search rankings at random. The truth is that search engines are logically-thinking programs trying to rank the most valuable information possible.
If you can learn search engine optimization, you can beat out your competition and top local search rankings.
As part of your SEO strategy, you'll need to use special software tools to help you put your best foot forward. Rather than being a crutch for inexperienced users to lean on, these local SEO tools allow users to operate on a higher level of efficiency.
Of course, not all local SEO software is created equal. In this guide, I'll help you sift out the gems from the trash by ranking the best ones out there.
What Are the Best Local SEO Tools?
If you're serious about optimizing your local SEO strategy, it's critical you use the best software available. I've done the research, and I'm pleased to present my top local SEO tools this year:
1. Yext

Yext integrates maps, search engines, listings, and more into the ultimate local SEO tool. You can use it to track your local listings on countless channels easily and all from one place.
You can even use it to edit information across different platforms at once, making for easy synchronization across every channel. Those extensive integrations also make for a fantastic analytics feed, giving you the edge in tracking each business competition for local search visibility.
Additional features:
Pages: Custom toolset to craft conversion-optimized landing pages for your website
Knowledge Graph: A powerful database built for optimizing every step of your customer's journey
Reputation Management: Centralize and respond to every one of your business's reviews easily
Pricing: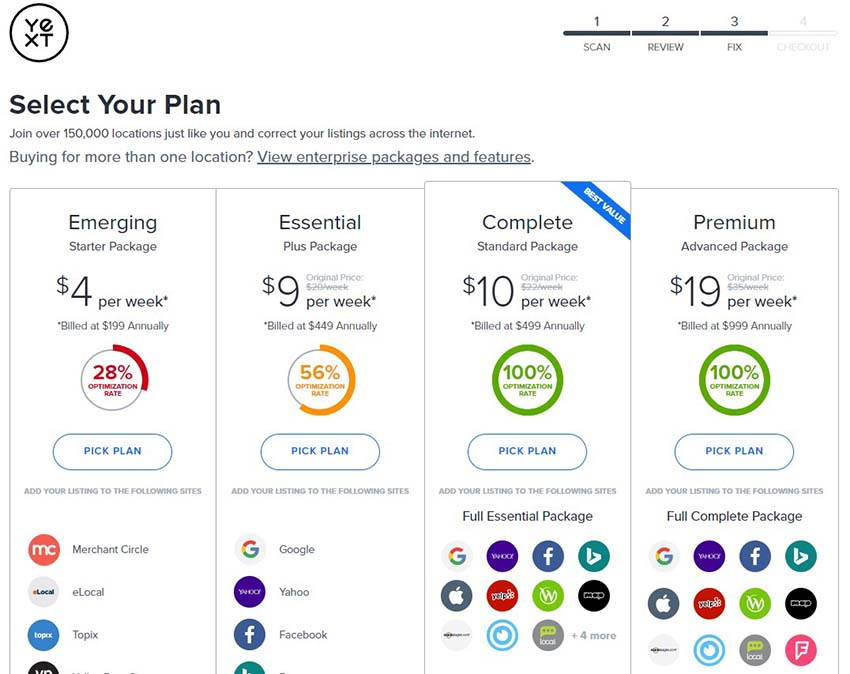 Yext offers four different pricing plans:
Emerging: $4/week
Essential: $9/week
Complete: $10/week
Premium: $19/week
Now's a good time to mention that SEO tools are rarely cheap. However, they make up for it by giving a huge return on investment.
2. Whitespark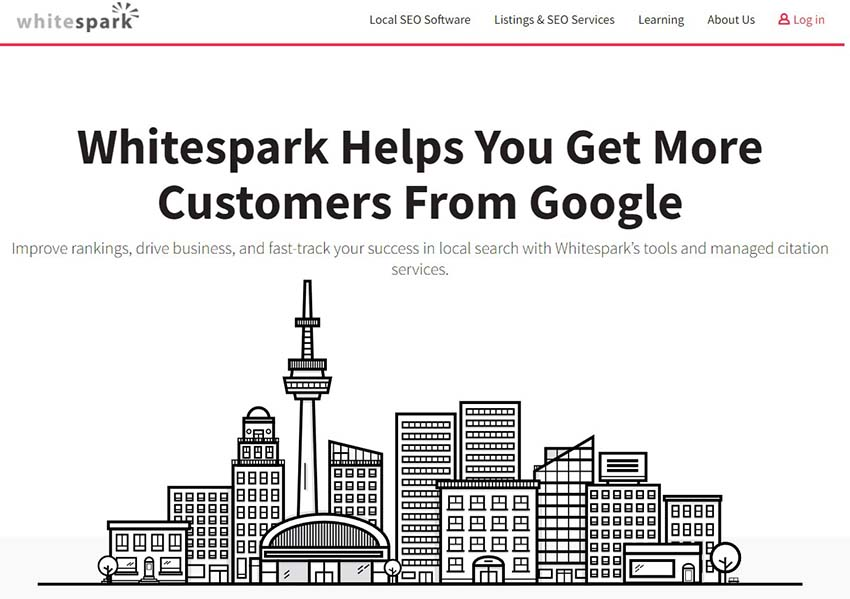 From its humble origins as a web design company, Whitespark has evolved into a staple of local SEO software worldwide. It has everything local businesses need, from review monitoring to backlink building tools.
Whitespark is most famous for its local citation finder, a powerful tool for beating your competition in local search rankings.

If you're a business owner, I don't need to explain the importance of local citations. This tool makes a huge difference.
Additional features:
Local rank tracker: Easily monitor your business's performance in local search and how you stack up against the competition
Review checker: Monitor online reviews from all across the web in one place
Review handout generator: Print out detailed guides for your customers to leave reviews, customized for your business
They also offer local SEO services made-to-order, so they can handle all the legwork for you.
Pricing:

Whitespark offers five different pricing plans for every kind of business:
Starter: Free
Small Business: $33/month
Specialist: $41/month
Agency: $49/month
Enterprise: $124/month
Every plan has the same features, but a different number of queries. You'll find this to be a common monetization scheme in SEO software tools.
3. Moz Local

Anyone with any experience in SEO knows about Moz. They're a huge name in the industry, and creator of the Domain Authority metric. As part of their portfolio, they've developed a local SEO tool that's nothing to scoff at.
It's called Moz Local, and it has every feature you need to catalyze your local SEO efforts. You can manage your business listings, monitor reviews, and more all from one place.

You can integrate Google and Facebook, and easily update the information on both. They also have extensive tools to create attention-grabbing content, maximizing your performance online.
Additional features:
Reputation builder: View and respond to reviews from different sites in one place
Sentiment insight: Analyze the latest consumer trends and sentiments for a marketing edge
Social posting: Share social content across a variety of platforms from one dashboard
Business listings score: Understand which of your business listings need polishing up
Pricing: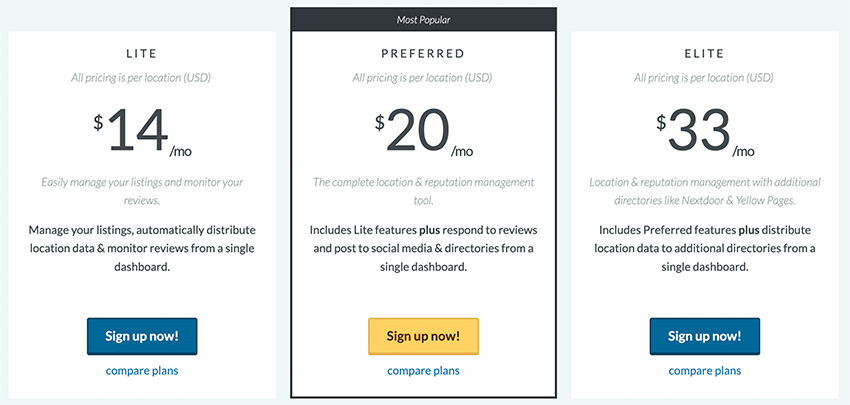 Moz Local offers three tiers of pricing:
Lite: $14/month
Preferred: $20/month
Elite: $33/month
All tiers have mostly the same features, with a couple of exceptions. If you want the Reputation Management tool, you'll need Preferred at the minimum.
4. BrightLocal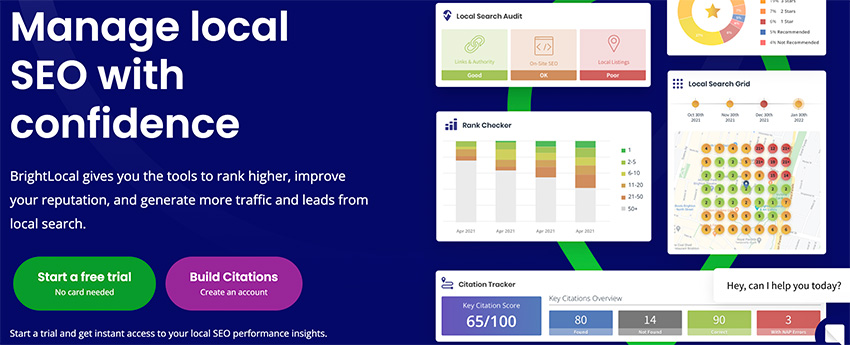 BrightLocal is a comprehensive local SEO tool serving over 10,000 of the world's biggest brands. It handles everything from local directories to lead generation, making it a top choice for local businesses worldwide.
Their local search monitoring goes beyond simple rankings and provides in-depth content to help you understand the "why" behind every metric. Many rank tracking tools don't give the whole story, making BrightLocal's tools stand out in stark contrast.
For instance, their Local Search Grid tool allows businesses to dive deeper into location data than ever before.

Next-gen tools like these allow you to dive deeper into local SEO metrics and know exactly where to focus your efforts.
Additional features:
Google My Business Audit: Receive a detailed audit of any GMB listing and learn what you need to improve
Agency features: BrightLocal has a ton of tools on offer for SEO agencies. White labeling, lead generation, and more make them an easy pick.
SEO reports: Get in-depth reports on your local SEO efforts whenever you need
Monitor reviews: Track and respond to business reviews on 20 different websites
Pricing: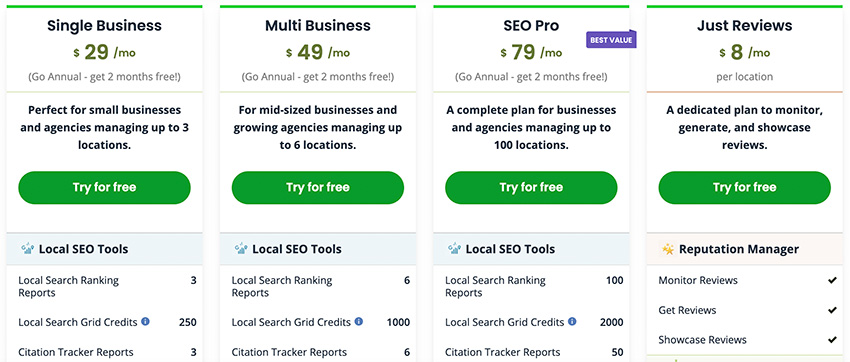 BrightLocal offers three tiers of pricing, with one extra package:
Just Reviews: $8/month
Single Business: $29/month
Multi-Business: $49/month
SEO Pro: $79/month
The Just Reviews plan is nice for anyone who only needs review monitoring services. All plans have a free trial, too.
5. Synup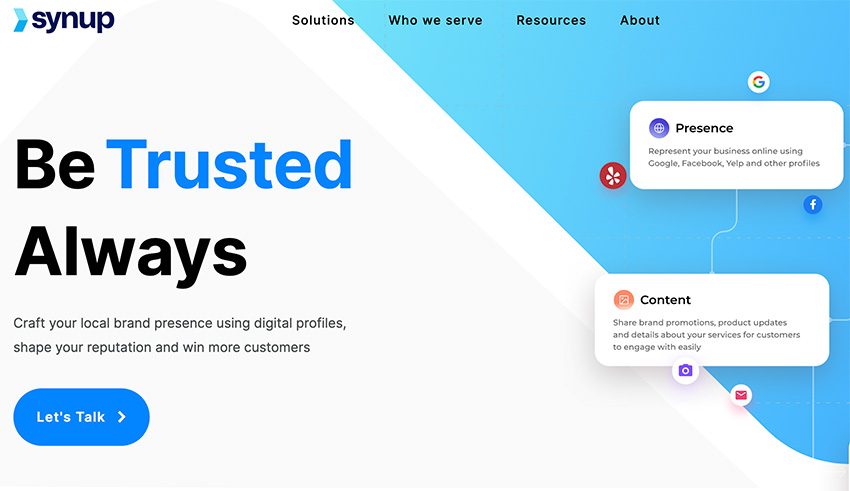 Synup is another powerful local SEO software tool known for its versatility. They serve top-tier brands like Vistaprint, proving their status in the local SEO game.
Synup goes beyond the standard local SEO software by offering extensive features to its clientele. For instance, their automation feature allows teams to save time by delegating their tasks to Synup.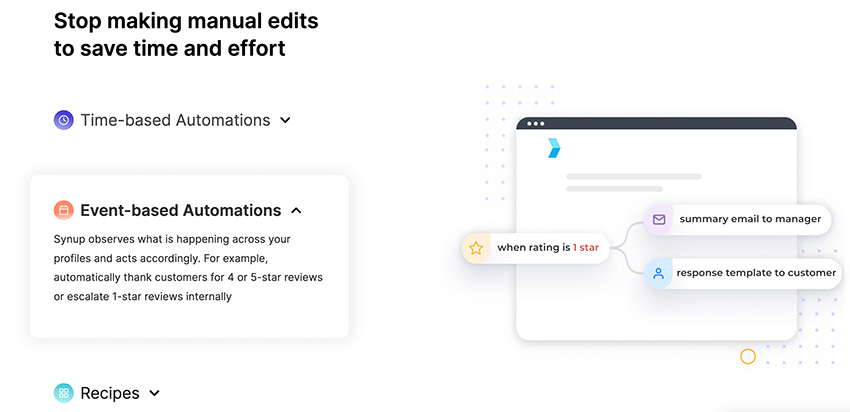 The portion of your workflow that Synup can automate is genuinely impressive.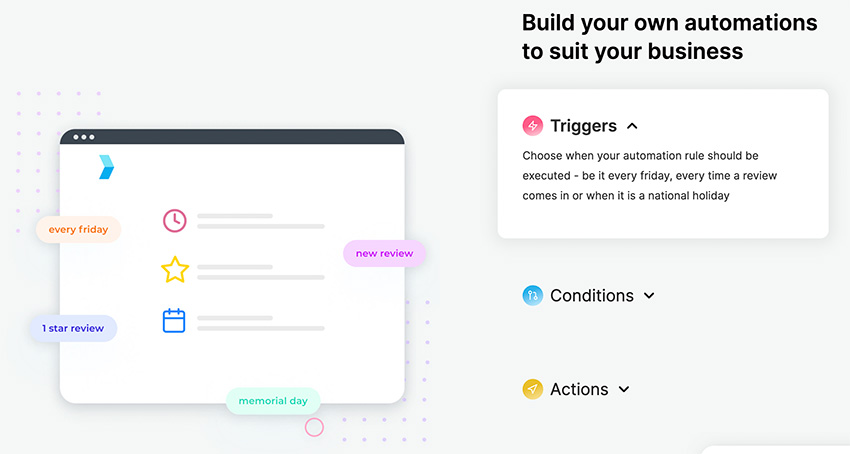 You can even create custom automations for further optimization. One-of-a-kind features like this make Synup one of the top local SEO solutions.
Additional features:
Create high-sales websites: Use Synup to create web pages fully-optimized for conversions
Maximize presence: Effectively manage and expand your brand's online presence from one place
Social management: Create showcases, social posts, and special offers for better local search marketing
Deep insights: Leverage Synups next-gen analytics for a better understanding of your performance metrics
Pricing:
Synup hides its pricing, prompting interested users to speak to their sales team instead. However, it was previously listed at $30 per location.
6. Semrush Local SEO Tools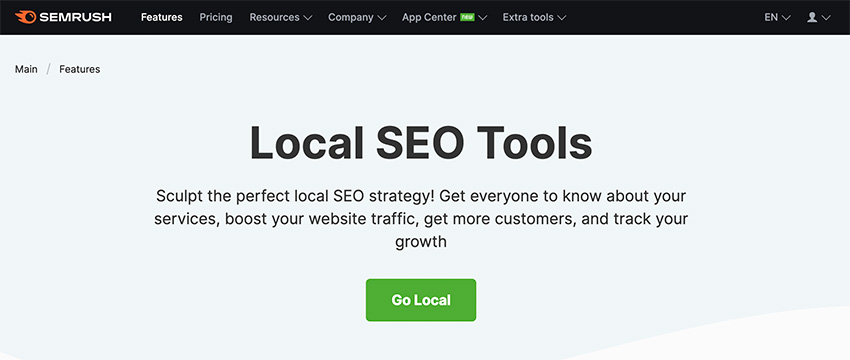 Semrush is another big name in SEO, and they've not disappointed in local search. They offer an array of powerful tools that any business can use to get an edge over their competition.
Do you remember Yext, listed elsewhere on this page? Semrush partnered with them to combine Yext's deep network with Semrush's powerful toolkit. The result is a local SEO experience like no other.
That partnership also makes it one of the best local listing management tools around.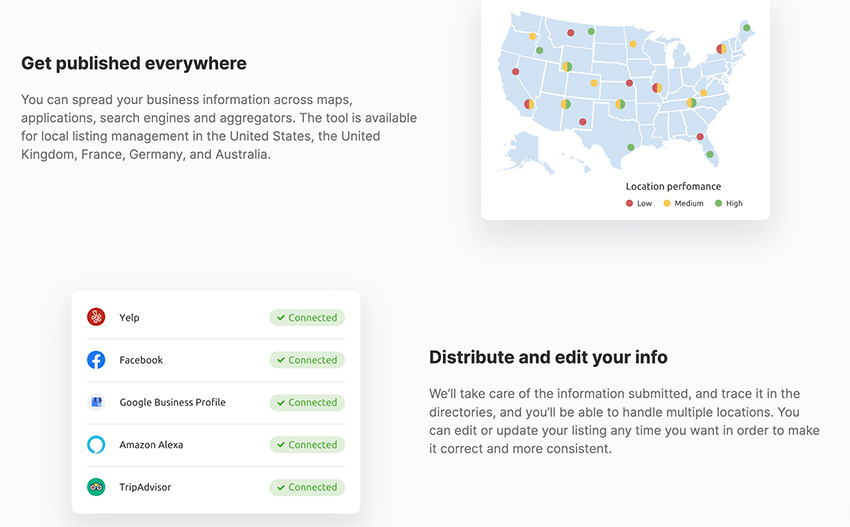 You can expand your presence across Google, Facebook, Apple Maps, and more all from your Semrush dashboard.
Additional features:
On-page SEO checker: Optimize every facet of your website with Semrush's exhaustive on-page SEO analytics
Position tracking: Understand how you're ranking on a day-to-day basis for searches in your zip code
Social media toolkit: Dealing with each and every social platform individually is exhausting, if not impossible. Semrush makes this super easy with an all-in-one platform
Pricing: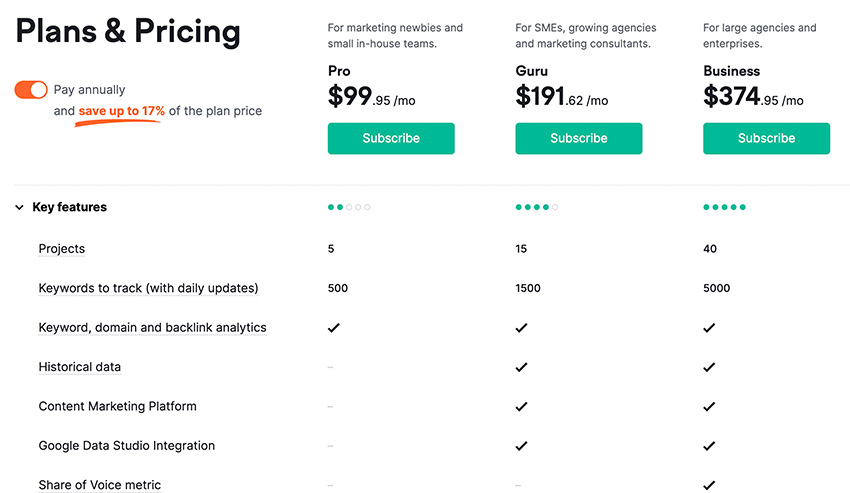 Semrush local SEO software exists as part of its larger toolset, which exists in three tiers:
Pro: $99/month
Guru: $191.62/month
Business: $374.95/month
Given that you get everything thrown in with the local SEO tools, I'd say it's a pretty good deal.
7. ReviewTrackers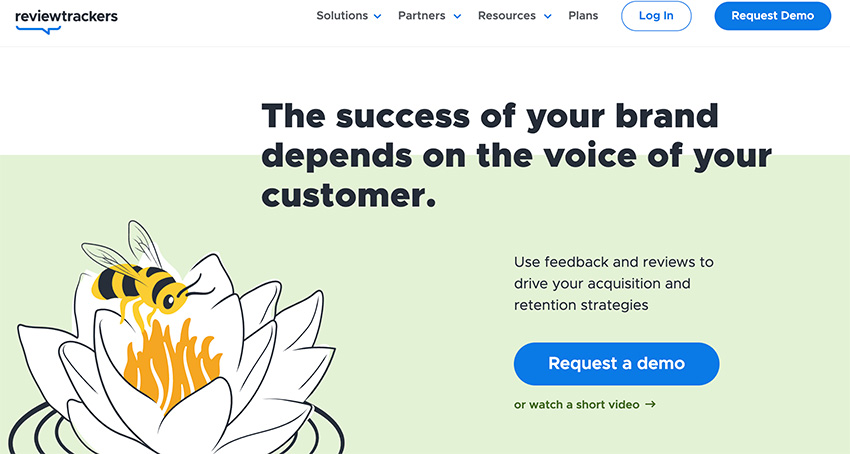 ReviewsTracker is a preeminent review management tool trusted by thousands of top brands worldwide. Local businesses with ReviewTrackers get notifications every time someone leaves a review, making for quick replies and deeper customer involvement.
It does more than just that, though. You can understand the "why" behind every review, clueing you into where you excel and where you need to step up.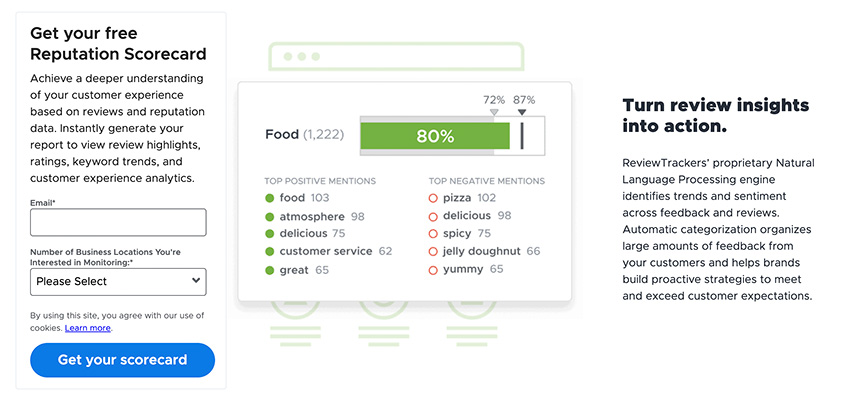 Features like this make it a serious contender for the best reputation builder out there.
More features:
Competitor analysis: Gain actionable insight into what your competition is up to, and learn how to beat them
Customer experience insight: Get into customer feedback on a deeper level, and understand the factors defining their experience
Local listings management: Review each of your business listings from one simple place
While ReviewsTracker is most famous for its reputation mechanics, it's a much more comprehensive local SEO tool than you might think.
Pricing: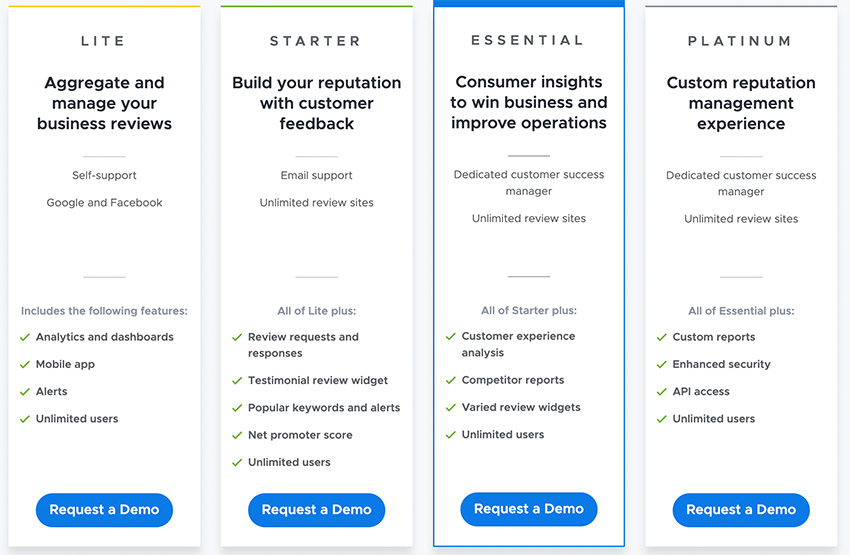 ReviewsTracker is another local SEO tool that stubbornly hides its pricing behind its sales team. That said, their plans exist in four tiers:
Lite
Starter
Essential
Platinum
Each plan allows for unlimited users, something other local SEO tools can be stingy about.
8. Birdeye

Birdeye is a premium all-in-one local SEO tool for businesses of all sizes. Whether you're a pizza store or a multinational corporation, Birdeye has everything you need to succeed on the ground.
They offer users a true omnichannel approach, leveraging the full power of every platform for maximum customer reach. While offering all the traditional features of a local SEO tool, they take it to a higher level.
For example, take their chatbot feature. This tool goes beyond simple local SEO and becomes a lead generation machine to skyrocket conversion rates.

When they tell you it's an all-in-one solution, they're not joking. They also feature some particularly impressive case studies on their websites, in one case tripling the profits of a client. Was Birdeye a good investment in that case? You tell me.
Additional features:
Referral marketing: Turn every customer into a lead generation machine, bringing family and friends into the fold
Industry specialization: Birdeye understands different industries, and can guide your local SEO strategy for each one
Omnichannel messaging: Manage your inboxes from each in every platform in one place, making for a speedy, top-shelf customer experience
Pricing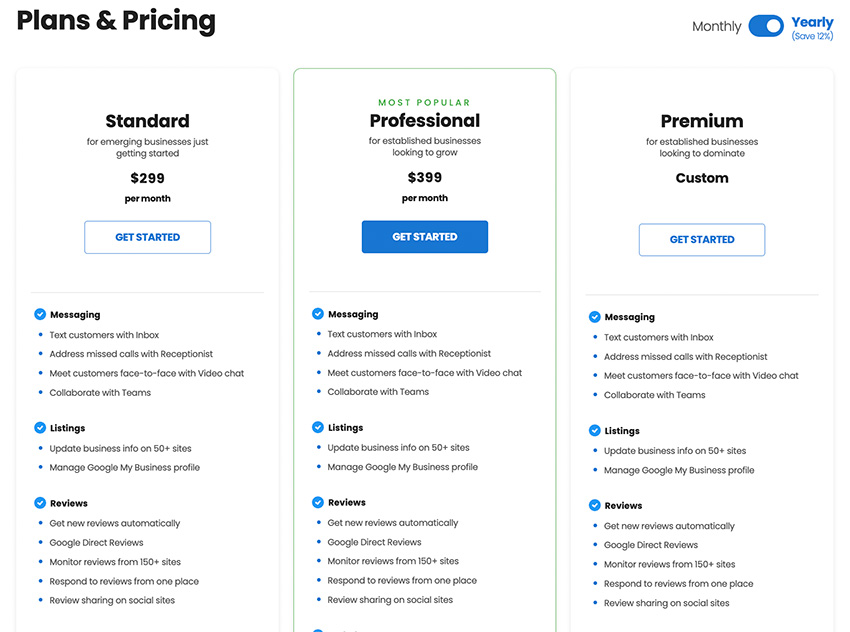 Their pricing comes in three packages:
Standard: $299/month
Professional: $399/month
Premium: Custom
Is Birdeye cheap? No. Is it effective? You be the judge, but I'd say so.
Conclusion
Gone are the days of setting up shop and watching the customers naturally roll in. Operating a local business these days requires a finger on the pulse of your community and acumen for local SEO.
Each of the tools I've listed above has the potential to take your local outreach to the next level. If you choose to brush off local SEO and just hope for the customers to roll in like magic, then good luck. I surely hope you succeed in that case, but you'd be setting yourself up to fail.
That's obviously not what you want to do. Instead, be smart and get on top of local rankings right now; it could mean the difference in your success.