Since 2005, Etsy has been the premier source for handmade and vintage items worldwide. Each day, thousands of purchases are made for unique products, bringing smiles to the faces of people worldwide.
However, buying safely can seem like a daunting task for anyone new to the platform. After all, Etsy's sellers are pretty much just random people.
So how do you know that you can trust them and that you'll get a quality product?
In this guide, I'll address your concerns thoroughly and make you feel comfortable dipping your feet into the world of Etsy shops. I've bought tons of things from there, and I'd love for you to share in the joy of handmade items too.
4 Reasons to Trust Etsy Purchases
As hinted above, I firmly believe that Etsy is a reliable place to buy things from. Etsy has taken every measure to inspire confidence in its platform, with failsafes in place to solve any issues that might still crop up.
In that spirit, I've compiled a complete list of reasons why I trust Etsy. Let's dig in:
1. Etsy Reviews System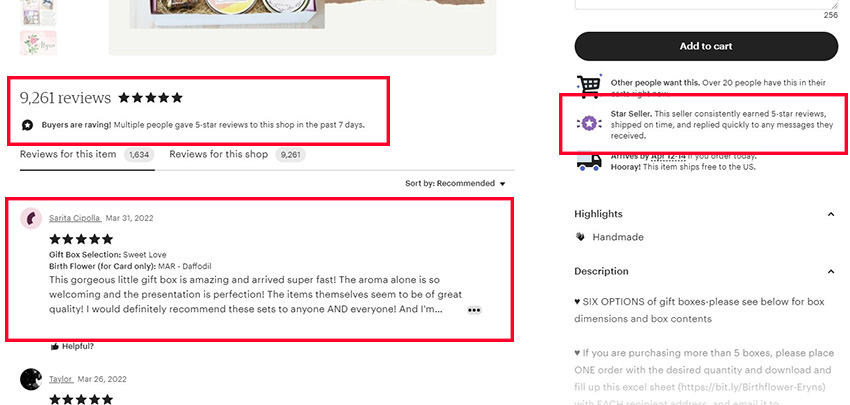 Every shop and product on Etsy features a review system to assure you of its quality. When a product has a high-star rating, buyers are confident in both the buyer's quality and the product itself.
If a buyer does a lousy job, you'll see that manifested in bad reviews. On the other hand, a high-quality buyer will have lots of good reviews. This, by itself, is a huge reason to trust a seller.
In addition, anyone who wants to review a product must purchase it too. The need to purchase before reviewing eliminates the overwhelming majority of fake reviews.
Things to Look For
When scanning a seller's reviews, look for mentions of things such as:
Shipping times
Customer support (refunds, returns, et cetera)
Quality of the product
If you read good things about every part of the service, you'll know you've found an Etsy shop safe to buy from.
Personally, I don't buy from anyone with less than a 4.2 average star rating (there will always be crazy people giving bad reviews to good Etsy sellers). I also prefer them to have at least 15 reviews, but the exact amount is up to you.
2. Etsy Buyer Protection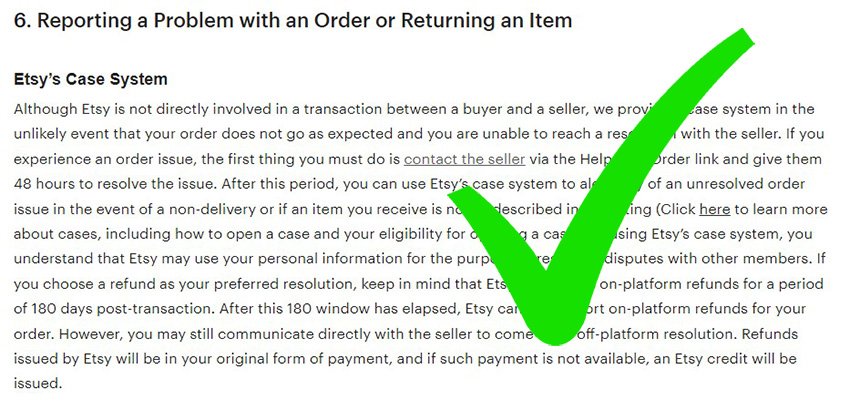 While Etsy doesn't directly involve itself between buyer/seller transitions, they have a case system if something goes wrong. If you believe that a buyer has misrepresented their services to you and refuses to fix the problem, you can escalate your complaint with them directly.
If something goes terribly wrong with your order, you can follow these steps:
Contact the seller: Before considering an intervention in your case, Etsy will direct you to contact the Etsy shop directly. The overwhelming majority of cases are solved here; after all, a good shop always wants its customers happy
Open a case: If you feel a buyer has treated you unfairly and refuses to solve the problem, you can escalate the case to Etsy support. From there, they will decide if your case requires intervention
Resolve the issue: If support decides that the Etsy seller failed to meet their quality standards, they will deal with the problem directly between you and the buyer
Here are the scenarios in which Etsy support will consider a direct intervention:
Non-delivery: A non-delivery is when the buyer never receives the product, and the seller fails to provide proof of delivery to the shipping address
Not as described: If a buyer receives a product that is too distinct from the product description, support will consider the Etsy seller at fault. Buyers should also notice that late delivery falls under "not as described" as well if the seller shipped too late
Here are the situations in which Etsy support will not intervene:
Items damaged during transit
Items received late due to shipping delays
Things used or damaged after the buyer discarded the receipt
Items returned without an agreement
Items purchased outside of Etsy's checkout
Items purchased in person, even if found using the Etsy app
Items in violation of Etsy shop policies
As you can see, Etsy takes every reasonable measure to protect its buyers. As long as the issue is the buyer's fault alone and the buyer made the purchase with Paypal or Etsy payments, support will have your back.
3. Etsy Payments Are Secure
Anyone doing online shopping wants to make sure their credit card number (and other information) is 100% secure. Fortunately for you, Etsy takes every step to protect buyer account information from hackers and thieves.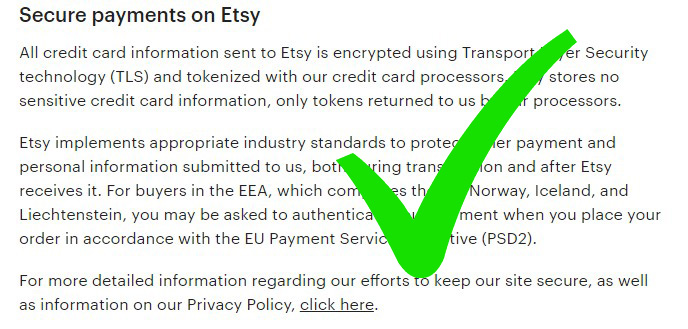 When you purchase a product from an Etsy seller's shop, only Etsy itself sees your financial information. That means an Etsy seller can't steal your information since they never see it in the first place! If you follow basic credit card safety, you have nothing to worry about when dealing with an Etsy seller.
In addition, Etsy also uses Transport Layer Security technology (TLS) to keep transactions secure. This is the same encryption technique used by companies all around the world. If they trust it, then you can too.
Avoiding Fraud
Just because Etsy's platform itself is secure doesn't mean scammers will try to trick you anyway. When using Etsy, always make sure you're using the real website (Etsy.com).
To double-check, look at the URL screen at the top of your browser. If it says "Etsy.com" and has the SSL secure lock icon, you know you're in the right place.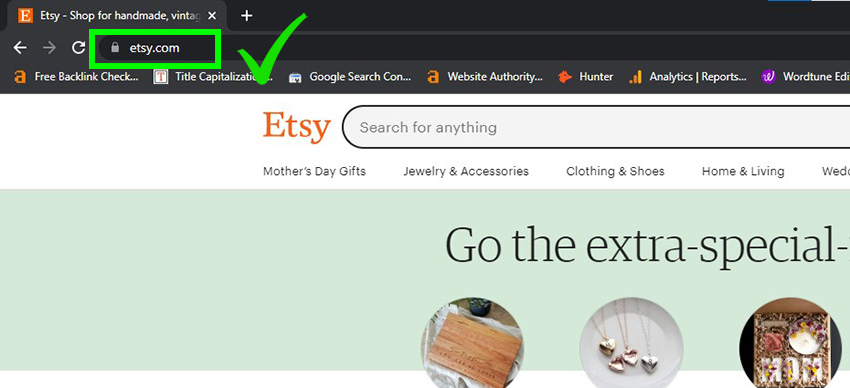 Also, be sure to avoid phishing emails. If a scammer knows you use Etsy, they may pretend to trick you into giving away your personal information. Just know that Etsy support will never ask you for your password.
4. Etsy Enforces Strict Seller Policies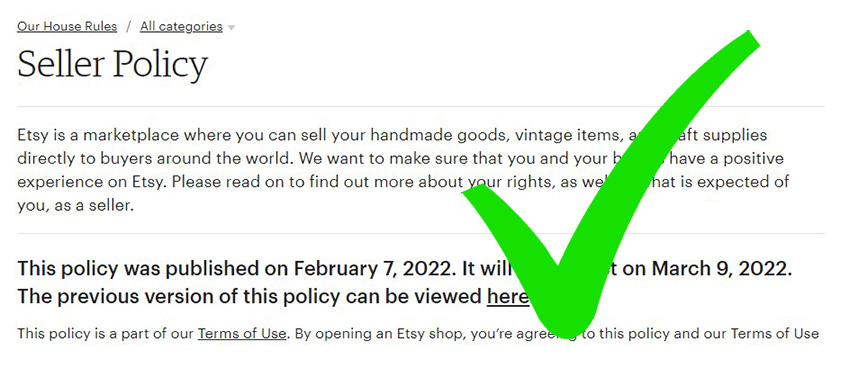 As part of creating a high-quality platform for selling vintage items and handmade products, Etsy enforces seller policies to keep everything running smoothly. They control what can be sold, how it can be sold, and how a shop is allowed to behave.
For example, nobody can sell products actively manufactured elsewhere (like you see on Amazon or eBay). Etsy is for craft supplies, vintage items, and handmade products.
While anyone can sign up for an Etsy account, they're all subject to the same rules and restrictions. These guidelines keep Etsy buyers safe from harmful products and bad actors.
Bottom Line: Is Etsy Legit?
Is Etsy safe to buy from? After everything we've reviewed, I think the answer is an absolute "yes."
As I mentioned above, I've used Etsy a ton in my personal life. It's a fantastic resource for amazing products you can't get anywhere else. I truly pity anyone who's too afraid to interact with sellers on Etsy; there's no reason to be!
Just remember to use basic common sense with dealing with an Etsy seller, no matter what their reputation is:
If a seller asks you to pay outside of Etsy, end the transaction and report them to support
A seller only needs your shipping information, nothing else
A seller will never need your credit card information; all payments are handled on Etsy's platform
Never give information out over an Etsy message; it could be anyone
If a shop asks you to send Etsy gift cards as payment, they are trying to scam you
In all the time I've used Etsy to find handmade goods or support local artists, I've never had any problems. As long as you follow basic online safety habits, I don't think you will either. With that in mind, have fun and happy shopping!