Since the early 2010s, the dropshipping business model has exploded as thousands of people have sought financial freedom with an online store. It shows no signs of stopping — the industry will more than double by 2025. The time to start a dropshipping business was yesterday.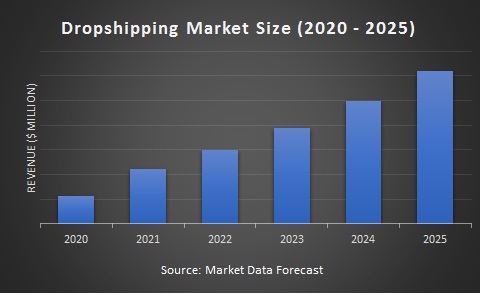 The dropshipping business model is fantastic because it allows online stores to sell a vast selection of products without paying for inventory. It sounds like a foolproof path to financial freedom — and it can be. Unfortunately, however, most people go in without a plan, don't sell products, and quit altogether.
In this ultimate beginner's guide, I'll teach you everything you need to know to REALLY start a dropshipping business that succeeds. Unfortunately, there are a million "gurus" out there that sell you their guide that's outdated and ineffective because all they care about is taking your money.
That's not me. Scroll down, and you'll find everything you need to know to start a successful dropshipping business: what it is, how to start, the pros and cons, and more — free.
Let's dig in.
Disclaimer: This article is reader-supported, meaning I may make commissions on third-party sales at no cost to you.
What is Dropshipping?
Dropshipping is a business model where stores market, sell, and collect products without maintaining a physical inventory. Instead, customers purchase products from the dropshipper (you), who hands shipping over to the supplier.
Source: Oberlo
This business model enables anyone with a website to open their own online business and make "commissions" off of other people's products (sort of like affiliate marketing)! However, the customer has no idea they're dealing with a third party.
Dropshipping vs. traditional online retailer
Let's compare the dropshipping business structure with a regular online store, like Target's.
When you buy an iPhone from Target, they had to order thousands of phones wholesale before even thinking about the logistics, storage, labor, and shipping that make the sale possible.
That whole process requires a massive amount of work and labor that hurts profit margins. Target might still make loads of cash, but the complexities involved are a daunting task for anyone looking to start an ecommerce store.
Dropshipping skips a ton of the work involved in a traditional online store.
When a customer orders an item from a dropshipping store, the dropshipper takes their cut and uses the rest of the money to pay the supplier to handle the order.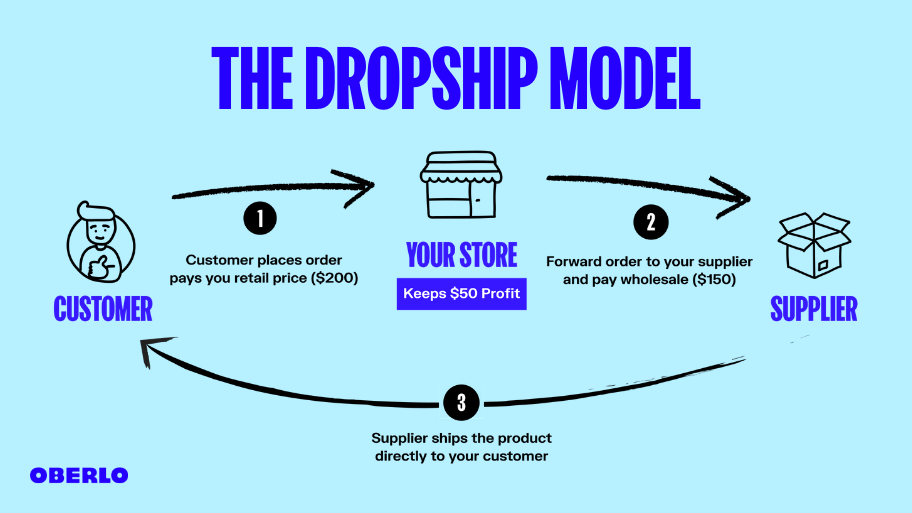 It's obvious how much less work starting a dropshipping business is. To start, all you need is an internet connection and several hundred dollars, max.
Here's something to think about:
In 2018, the dropshipping market was valued at about $102B and will more than quadruple by 2025. So you're here in 2022, and there are billions of dollars in potential growth to cash in on.
Here's how you operate a dropshipping business (in broad steps):
You create an online store
You find a dropshipping supplier
You market your selection of products
The customer purchases a product from your online store
You send the payment and shipping information to the supplier (this can be automated)
The supplier ships the product to the customer
In almost every case, the customer has no idea they even dealt with a dropshipper (especially if the supplier lets you white label their products). Cool, right?
1. Starting Your Dropshipping Business
Starting a dropshipping business is easy. Online store creators like Shopify and Wix have spent billions of dollars creating an effortless experience for people of any background to create their own online store.
It comes down to:
Deciding your product line
Developing your brand
Signing up for an ecommerce platform
Creating your website
Adding products to your store
Setting up tax, shipping, and payment processing
Many ecommerce platforms, like Shopify or Wix, have native applications that enable you to automatically sync products from dedicated dropshipping suppliers like Modalyst or InventorySource. These services make it incredibly easy to add products to your store with low shipping costs.
2. Planning and Research
Don't just run headlong into your dropshipping business without a plan — carefully research what kind of products you want to sell and the branding that's going to tie it all together.
I learned this the hard way, completely winging my first couple of businesses that went pretty much nowhere. I may have learned some valuable lessons, but I could have saved myself a ton of effort just taking the time to research, plan, and do things the right way.
I may be drumming it up as something complicated, but it's quite simple.
Commoditized and niche products
In my comprehensive ecommerce guide, I talked about how there are generally two types of products: commoditized and niche.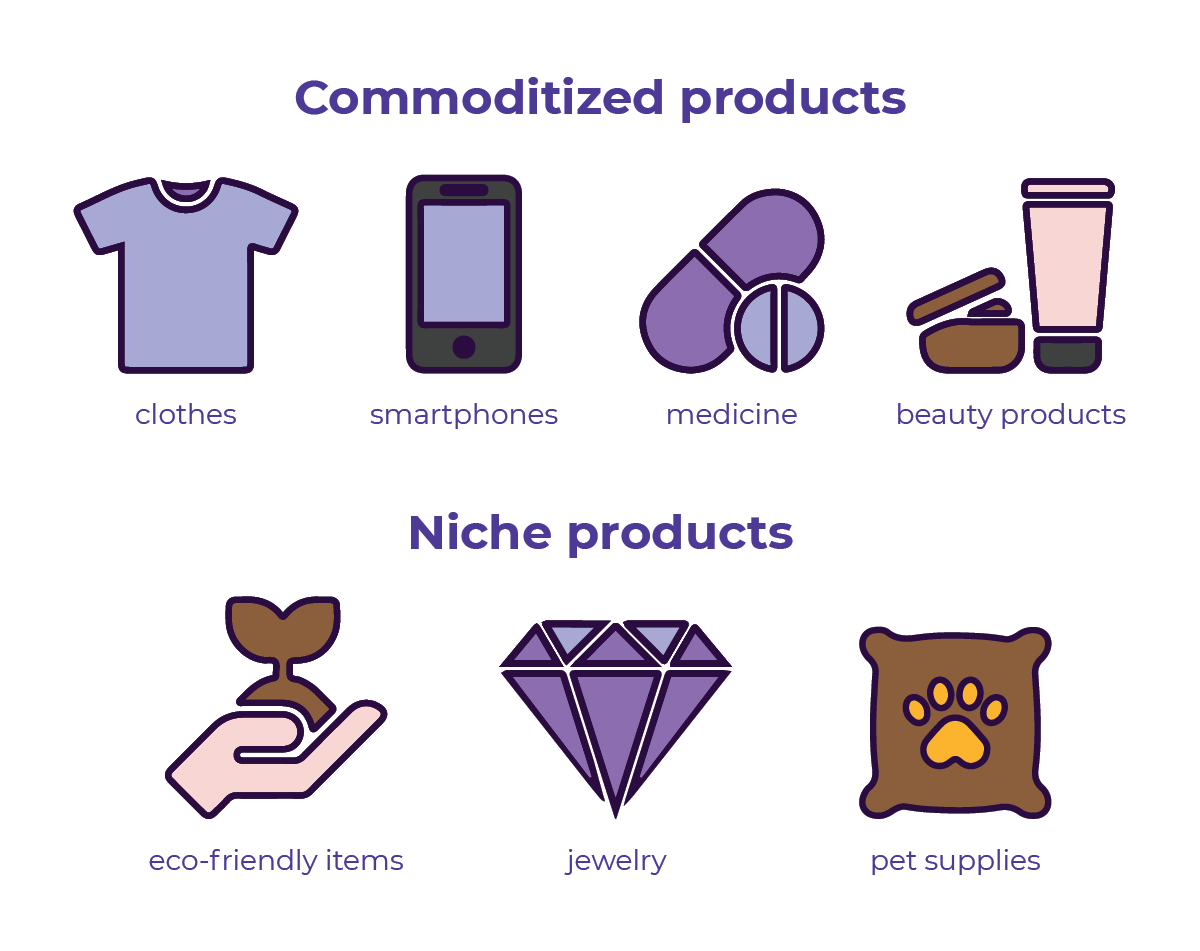 Source: Splitdragon
Most dropshipping suppliers are going to be offering more commoditized goods. Again, this is because they're selling things that already exist (as opposed to inventing something).
However, that doesn't mean there aren't more niche things out there for you to dropship. For instance, I had a friend who used Google Trends to discover steel wristwatches trending (Google Trends is an amazing resource for market research).
He then found a dropshipping supplier for steel wristwatches and made over $8,000 in revenue from his store the first couple of months.
You're welcome to take any path you want in terms of choosing what kind of goods you dropship. However, my recommendation is that you try to capitalize off of trends with a smaller online store, which is a store that only sells a small selection of products (with possible variations such as color or size).
You can even create a single product ecommerce website! That's pretty much what my wristwatch friend did.
Small product selections are a win
Why do I recommend keeping your product selection to a minimum? It's simple: there's always a bigger fish when it comes to online marketplaces.
For example, let's say someone wanted to start a luxury fashion dropshipping store. They think this is an excellent idea because they'll have a great brand, excellent customer service, and a broad selection of some of the finest products.
Sounds good, right?
Here's what they didn't think about: they're competing with a million companies, who all have a lot more resources.
Their luxury fashion online store may be great, but how are they going to compete with someone like Nordstrom, who can offer free shipping, physical stores, a rewards program, a broad selection, and much, much more, all wrapped up in their established brand?
There's no way you can compete with a big online retailer while operating out of your house with a few thousand bucks (if that). You're pretty much going to run into a similar situation trying to set up any kind of general store for commoditized products in any particular industry. It's just not a viable business model.
Now, instead of trying to beat huge stores at their own game, that person did some research and saw that leather jackets were trending. So then, they created a very polished dropshipping store offering a limited selection of leather jackets.
Choosing a small selection makes a HUGE difference because:
They could present themselves as a premium source of leather jackets since that's their specialty
They could operate as a niche brand, despite selling a commoditized product
They only have to worry about marketing strategy for a few products
Isn't that amazing? So instead of trying to be another large fashion store that sells leather jackets, you become THE leather jacket specialist.
Your brand can revolve around your excellent taste, premium standard, and the more intimate relationship with the customer that comes with being a niche brand.
That's a HUGE difference.
Visual Branding
Good presentation is 50% of any business' success. Let me show you what I mean:
Which of those two dishes would you rather eat?
Probably the right dish (bottom if you're on mobile), even though it's possible the left dish (top if you're on mobile) is just as delicious. The broth could be world-class, but you'd have no idea because it looks disgusting.
That's the power of presentation.
I think after that little anecdote, it's pretty obvious you've got to get this right. You've got to decide on visual branding to match your dropshipping store's service — and do it well.
Visual branding examples
Look at Louis Vuitton's website:
Everything is clean and minimalist, giving emphasis to large and contrasting visual splendor. It has the look and feel of a premium product.
Now let's look at Target:
Bright, inviting colors. Happy faces. Functionality. A hint of elegance. It has all the look and feel of a family-friendly, professional brand.
Are you getting the picture? Your store's visual identity has to match its product, mission, and goals. For example, if you want to convince people that you are the premium leather jacket destination, you may choose a rustic yet elegant feel.
As a general rule, make sure you provide plenty of functionality yet not to the point of visually overwhelming the customer. Trust me; I've seen this plenty of times with people new to the industry.
Designing Your Logo
Logo design deserves a breakdown just because of how important it can be for an ecommerce business' brand identity.
It's like the cherry on top of a milkshake: small relative to everything else, yet significant in its impact. It somehow ties it all together.
A good logo is simple yet speaks volumes. You'll recognize most of these:
Spotify is sound waves. Twitter is a bird (which tweets). Adidas is the three stripes. YouTube is an old-style TV frame with a play button. Target is, well, a target.
Do you get the picture? They say something about the brand simply, unique, and instantly recognizable way. Of course, there's room for subtext, but on their own, they say plenty about the company.
You want it to be versatile as possible. When designing your logo, keep in mind that you will use it in emails, on your website, packaging, advertising, and more.
3. Marketing
Setting up your store is the easy part! However, the more complex part is marketing and getting the traffic you need to make sales.
Most prospective drop shippers set up their store and get super excited about the success they think they're going to have.
After that, they get hit with a huge dose of reality when they discover that a thousand different stores are doing the same thing they're doing (and probably doing a better job).
If you've followed my research and planning advice, you've found a good niche you're confident you can succeed in. You're on the right path to start selling online, but there's still much to be done.
To make your dropshipping business work, you need to take a calculated approach to your marketing tactics. With bad marketing, your online business will end up spending more than it makes.
Search engine optimization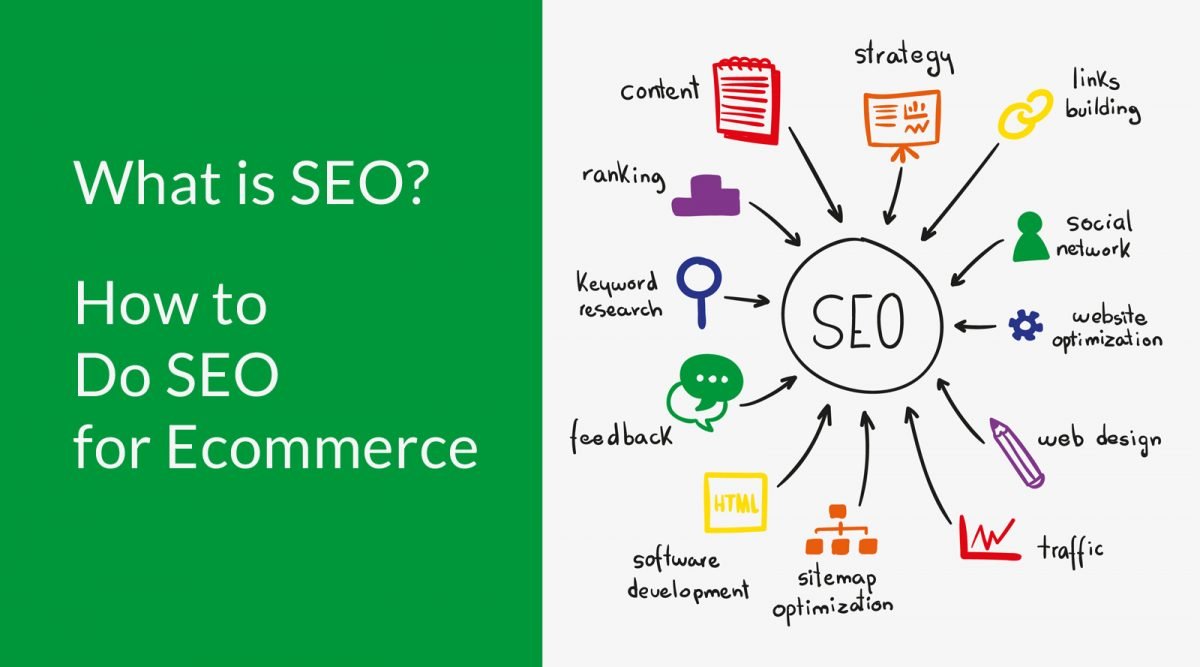 One of the biggest mistakes new stores make is not paying enough attention to search engine optimization (SEO).
Most people think that if they set up a cool store and spend some money on ads, money will start falling out of the sky. They don't even care if they appear in the Google search results.
That's a big mistake.
Marketing and SEO need to be at the forefront of your mind from the start. Paid advertising should never be your primary traffic method (and when you do pay for ads, you have to be very smart about it).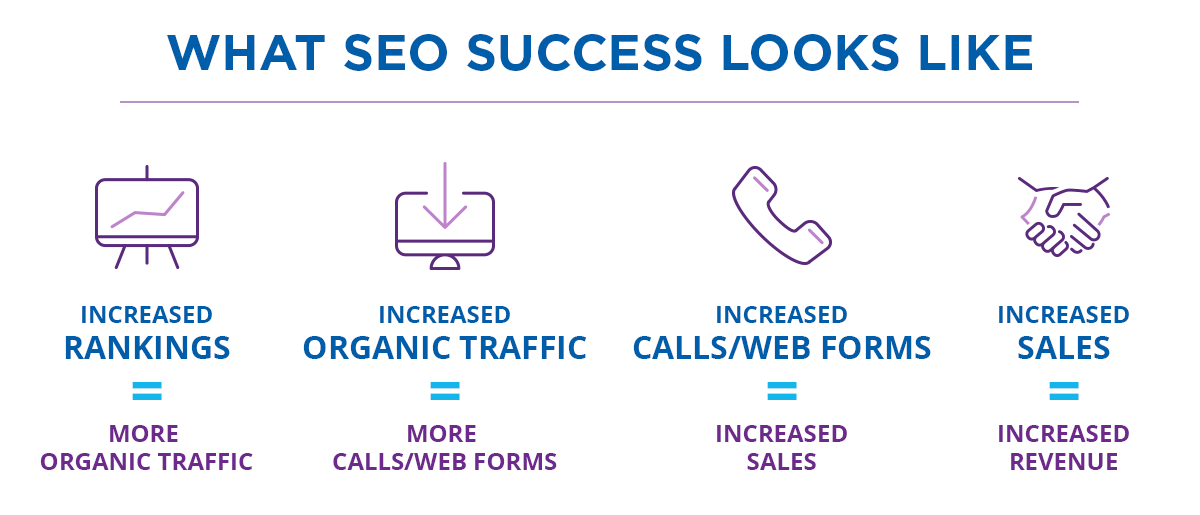 Setting Your Store Apart
All dropshipping businesses face colossal competition. If your online store is going to succeed, you need to stand apart in your marketing efforts.
How do you stand apart? It comes to solving a problem for customers, rather than just selling something to them.
There's a great anecdote for this I experienced recently:
Example: Pillow Cube
The pillow industry is huge — there are THOUSANDS of pillow brands.
So how did somebody come out of nowhere and create a huge pillow business in the midst of massive competition?
They solve a problem you didn't even realize you had:
Above is PillowCube. Long story short, they stand out massively because:
Their product is visually unique
It solves a problem for customers (bad neck experiences with pillows)
They chose a specific demographic (side-sleepers) and targeted them with a great product.
You may not be actually creating a product in the industry of dropshipping, but you can learn tons from an anecdote like this.
Think about how you can SOLVE a problem for customers with your own brand, and then take it to these channels:
Email Marketing
Email marketing is a highly effective strategy to target customers in their daily routines. Every time you add someone to your email list, you get a new lead.
Many excellent email marketing software programs, like MailChimp, make sending marketing material to your email list easy and convenient.
Some ecommerce platforms even have built-in functionality for sending marketing emails.
Social Media
To communicate to potential customers that you are an engaged brand, regularly post on social media to solidify your online presence.
A company's social media presence is often a good indicator of how serious they are about its brand. Dropshipping businesses that do not use social media to promote themselves will cripple their organic growth.
Fortunately, there are several services to make this easier. Check out social media management platforms such as Crowdfire and Agorapulse to help out with the daunting task of social media management.
Paid Advertisements
When done right, paid advertising can return huge dividends. When done wrong, it can open a gaping hole in your wallet. These days, online stores will mostly use Google or Facebook for their paid ad marketing strategy.
Google Adwords
Using Google Adwords, you create a text-based ad with a title and description and choose the keywords you want to bid on. You'll also be able to decide where and when your ad will show up.
All of these ads are PPC (pay-per-click). Paying for each click means that your ad expenditure on people who aren't interested in your product will keep to a minimum. Why? Because if they don't want your product, they won't click on it.
It's a great form of advertising, but obtaining real profits requires some in-depth demographic research. It's not really recommended for beginners since the bill can rack up quickly with little to no return.
Google Shopping
Ecommerce businesses will commonly use Google Shopping ads over text-based ads. This is because Google Shopping enables merchants to show searchers an image, price, and title of the product in full.
Let me show you what I mean:
I searched for air fryers and received advertisements of various products complete with images, names, prices, brands, and special offers or reviews. That visual element can be an excellent tool for any retailer to advertise effectively.
Facebook Ads
The best reason to use Facebook for advertising is precision targeting. Facebook advertisements can target particular demographics that only Facebook (thanks to social media data).
Let's imagine you have a restaurant and want to promote to people new in the area. Thanks to their social media service, Facebook can find those people and show ads to them.
4. How to Run Your Business
Since I've taught you how to start and market your dropshipping business, it's time to learn how to keep the gears oiled and your business humming.
Inventory Management
While the dropshipping model doesn't require a physical inventory, you DO need to keep track of your suppliers' inventory. Automated services can make this a breeze, but other times you'll find yourself having to coordinate shipping with wholesale suppliers manually.
The good news is that there are platforms built specifically to help you with this, like Ecomdash. This can make it substantially easier to keep track of your inventory (especially if you're selling on multiple platforms).
Tools like this will become essential when you start receiving regular orders in your store. You do NOT want to be bogged down coordinating orders, especially in scenarios where you have to refund an item that wasn't available when the customer placed an order!
Also, be sure that you're not spending too much on shipping. Smaller fees like sales tax, labeling, and shipping costs can all add up quickly.
Customer Support
Customer support isn't just important; it can be one of the primary aspects of your competitiveness against other retailers. As a result, companies spend millions of dollars trying to create the best support system they can.
Some retailers such as Walmart and Costco maintain very generous return policies that they KNOW will make them lose money, just for the sake of preserving a consumer-friendly image!
A customer who has an excellent experience with your customer support is very likely to come back. On the other hand, a customer who has a bad experience will seldom return.
Some of the ways you can create an exceptional and memorable customer care experience are:
Accessibility. List a telephone, live chat, and email on your website (and respond quickly)!
Social media presence, responding and reacting to consumer comments
Generous return policies. Be willing to take a loss to provide a good experience at any cost
Customer reward programs
As your business grows, you can look into dedicated customer care employees or third-party services.
Refund and Return Policy
Let's talk some more about your return policy.
As I mentioned before with Walmart and Costco, you want to be generous with this. Yes, you will lose money in the technical sense, but overall you will come out ahead as people will remember their easy and convenient experience with you and be much more likely to return.
Here's an example of a fantastic return policy:

In the very competitive dropshipping scene, you're going to find your business competing on customer service as much as any other aspect like customer appeal and product value. So it's essential if you want to get this right.
NOTHING warms a customer's heart more than perceived generosity. I remember recently eating at a Brixx pizza restaurant when the manager came out and told me that the pizza made for me was not up to his standards.
Consequently, he would be giving me that pizza in addition to a replacement pizza, both for free. I immediately forgave any issues with that restaurant's service, and I went right to Google Maps to give them a five-star review.
Whatever loss they took on those pizzas were more than compensated for by my returning business. Remember that principle.
Customers will often evaluate your return policy before placing an order. Make your return policy easy and generous, and you will build a steady following of loyal customers.
5. How to Grow Your Business
Getting your drop-shipping company off to a great start has been the focus of much of this post. Now, let's talk about how to keep growing it after you begin to tread water.
Before I continue, I need to remind you to keep a realistic attitude about your dropshipping business.
Yes, you will read about people who have started and made remarkable turnarounds of $10,000 and their first month. However, you need to remember cases like that are the exception and not the rule — they often have lots of hard lessons preceding them.
If you've followed my guide so far, you've already done a lot of hard work, and you can't afford to get discouraged. Developing your dropshipping business is a marathon, not a track race.
With that in mind, let's talk about some ways that you can develop your dropshipping business:
Use Multiple Sales Channels
Just because you have a stunning website with great mechanics does not mean you should be selling there exclusively. A successful dropshipping business doesn't just sell on its online store. It also sells on third-party channels such as Amazon, Etsy, eBay, and more.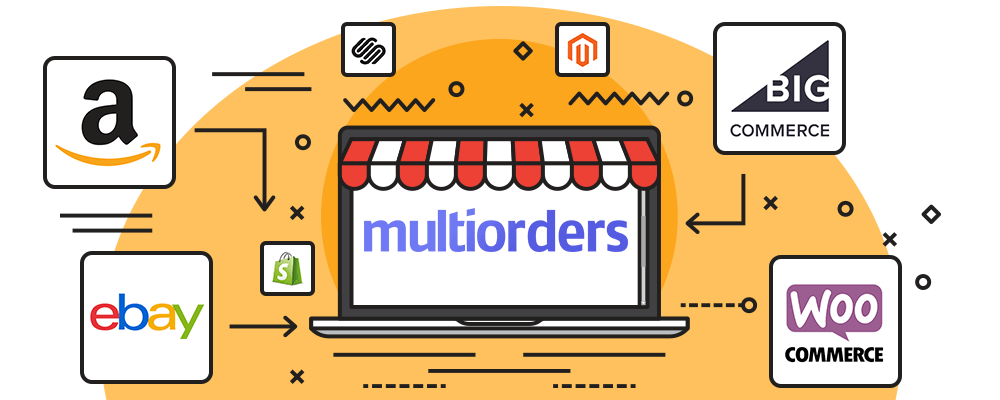 Just be careful: many suppliers have restrictions against third-party retail, so always verify whatever product you're listing online is compliant with the supplier's retail policies, or you'll risk getting banned from their service.
Remember that the more channels you have, the more hectic inventory management will become. Inventory tracking software will become essential to keeping your inventory in check. If you fail to manage your inventory, you'll risk receiving multiple dead orders at once.
Use Ads the Right Way
Advertisements are an essential tool in the dropshipping business' marketing strategy. If done correctly, these advertisements can generate massive returns for you.
Once you've got your advertising channels and target demographic figured out, look into making video advertisements. Countless studies have indicated that video advertisements are the best way to capture potential customers' attention.
Summary and Conclusion
My guide has given you in-depth insight into the dropshipping business model in its entirety. Now it's up to you to put that knowledge into action and start selling products with your own store.
And more than anything else, you need to keep a good attitude. Remember that building a dropshipping store is a marathon, not a sprint. Keep your long-term goals in mind, make intelligent decisions, and your dropshipping store will find success.
I hope so very much that this article inspires you to start a dropshipping business and achieve financial freedom. At the end of the day, my goal is to help you help yourself. So get out there and dropship!