Everyone's thought about starting a blog at some point.
Who doesn't like to get paid to have people read their opinions? All you have to do is write about things you love, and the traffic and money will follow, right?
Wrong.
Most blogs fail because people don't build their blogs like a business.
Instead, they do exactly as described above: they start a blog, start writing, and wait for the clicks and money to come in like magic.
It doesn't work like that. To succeed in this ultra-competitive business, you must be smart about everything you do.
The good news is that most people do it wrong, so by building your blog smartly, you'll gain an edge over nearly everyone else.
In this in-depth guide, you'll learn to build a blog that has the potential to become your new career. I'm going to teach you how to start a money-making blog in ten simple steps:
Pick a Blog Niche
Secure Your Domain Name
Choose a Platform and Web Host
Install WordPress and Go Live
Choose a WordPress Theme
Install Plugins for WordPress
Customize Your Website
Create Blog Content
Promote Your Blog and Get Traffic
Make Money Blogging
Most blogging "gurus" just want you to make them money and don't actually care about your success.
This guide is different — my #1 goal is to give you honest, actionable info to build a successful blog. It's the best "how to start a blog" guide on the net, hands down.
So without further ado, let's dig in.
Disclaimer: This guide contains affiliate links, letting me make a commission on sales at no cost to you. This lets me keep my content free for everyone.
1. Pick a Blog Niche
Our first order of business is deciding what our blog will be about, AKA our niche.
A "niche" is the general topic your blog's content will focus on if you don't know. For example, WPBeginner talks about starting a WordPress site, and Petite Gourmets discusses food.
When picking your topic, look for something that you are interested in and can provide unique insight into. For example, maybe you're a hobby cyclist and know a lot about bicycles. Maybe you're a strawberry farmer and want to blog about that.
Whatever your topic, it's ideal to find something where you have skill, passion, and experience.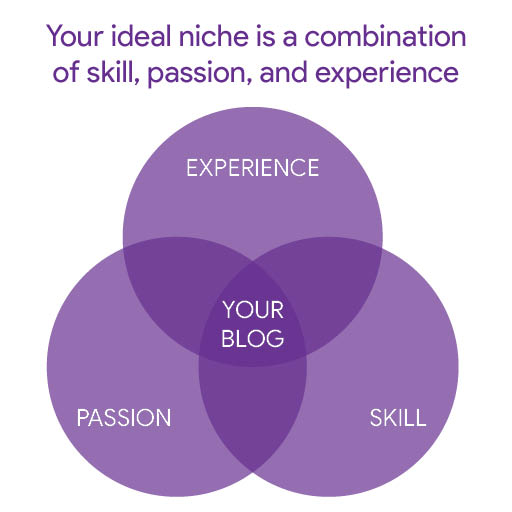 If you're not a doctor, you probably shouldn't be starting a medical blog. On the contrary, someone with a small business might be well-qualified to start an ecommerce blog (that's almost exactly what I did).
That may seem like common sense — and it is! So far, I haven't told you anything that most other bloggers won't. But here's where it gets interesting:
Prioritizing Profitability
Most blogging tutorials will tell you to pick something you're passionate about and experienced in above all else. However, the problem with this is that not all niches make good money.
In fact, some are much more profitable than others: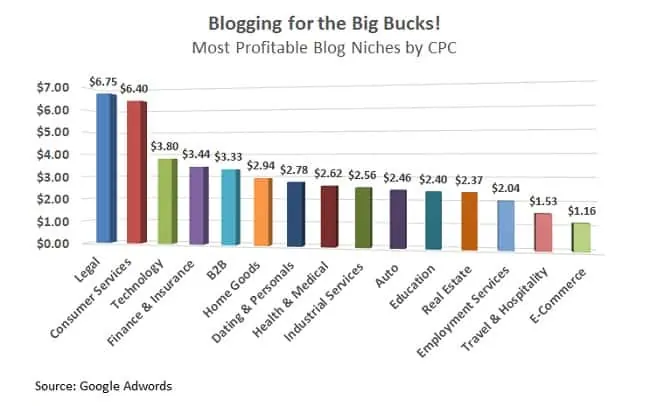 Source: MyWorkFromHome
For example, you might want to start a blog about your favorite kind of tube socks. Unfortunately, the tube sock niche will have a hard cap on how profitable it can be.
On the other hand, a personal blog about finance can make you tons of money!
If you want to make real money blogging, you have to pick a niche with real profit potential.
Personal Branding (The Niche of YOU)
Many of the world's most profitable blogs revolve around people rather than brands, and that's not a coincidence. Think about big blogs like:
Neil Patel
Jeff Bullas
Adam Enfroy
Ryan Robinson
These blogs cover various topics, but all of the information derives from one person's perspective. That's personal branding, and it's a potent psychological tool.
A traditional brand image can seem sterile and impersonal.
However, by building your brand around your persona, you instantly establish a personal relationship with your readers. That's why I highly recommend you name your blog after YOU, like in the examples above.
A personal brand does have one drawback, though: it's challenging to sell it for a good price. This is because most of the brand's value derives from you.
For example, imagine if Adam Enfroy wanted to sell AdamEnfroy.com to some guy named Jimmy. Once it became Jimmy's property, the website's value would tank because it's not Adam's expertise anymore (no matter how brilliant Jimmy is).
That said, I still think the pros of personal branding hugely outweigh the cons. A successful blog can be a significant source of passive income, so you shouldn't want to sell it anyway.
2. Secure Your Domain Name
The domain name you pick can make a big difference in the success of your WordPress blog.
Imagine if Google was instead named, "supercalifragilisticexpialidocious," and you had to type that out every time you wanted to search. That would be annoying, no?
You want to get your domain name right. In the future, if you ever decide that you made a mistake with the brand your domain presents, fixing it is a colossal pain and only gets more complex as time goes on.
Here are some tips for picking a solid domain name:
Keep it as short as you reasonably can
Make the name easy to spell and pronounce (a challenge for my last name! That's why I just made it "samszu" instead of "samuelszuchan")
No hyphens, numbers, or characters that aren't letters
Don't make it refer to something too specific; give some room to grow
If you're building a personal brand, as I recommend, you can just make your domain name your actual name. For example, I made my website "samszu.com." I could have chosen "samuelszuchan" or "samszuchan," but "samszu" was easier and catchier.
Google prefers shorter URLs. It's not the biggest difference-maker in search results, but keep that in mind. Overall, the most important thing is to have a catchy URL that fans can regurgitate easily.
Once you know what you want your domain to be, you need to determine if it's actually available. The easiest way to check for availability is just to enter it into NameCheap's free domain name search.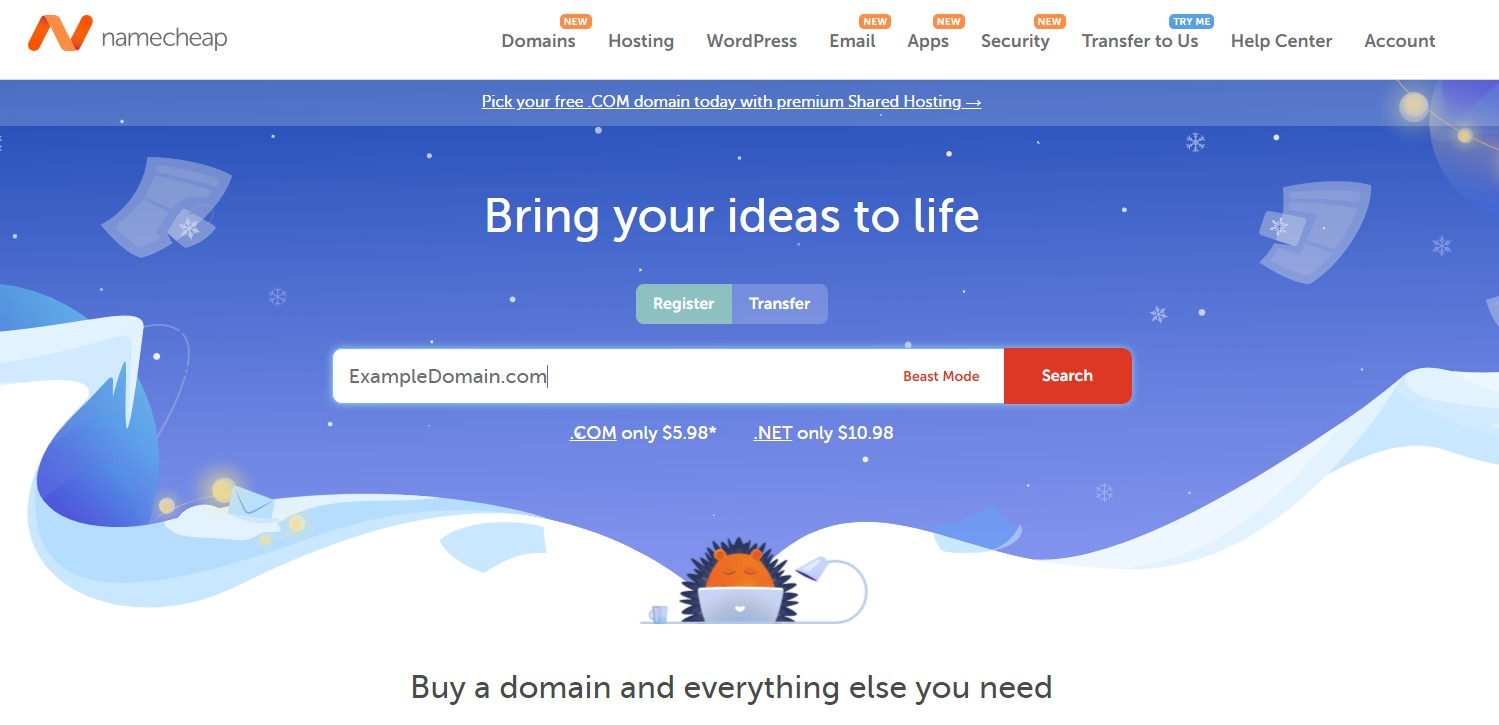 Purchase Your Domain Name
Once you know that your custom domain name is available, it's time to purchase it. When purchasing your domain name, you have two options:
Purchase it from a domain registrar
Purchase it from your web hosting company
I highly recommend purchasing your custom domain name from a registrar separate from your web hosting service. This will give you the most flexibility if you ever decide to change your hosting provider.
Also, not all web hosting companies offer domain name purchases, so this is the most practical option anyway.
My #1 recommended domain registrar is NameCheap. They have a fantastic service with A+ customer support.
Once you've purchased your domain name from them, it's super easy to point it at your web hosting provider, which we'll discuss in the next section.
3. Choose a Platform and Web Host
After choosing your niche and domain name, it's time to get your personal blog online! We have a game plan of what kind of content we want to create, but we need a way to store that information somewhere and send it to internet users.
To do that, we need to pick out a blogging platform—the software in which our blog lives. Your blogging platform will serve visitors your content every time they find it on search engines.
Choose a Blogging Platform
There are a ton of blogging platforms out there, such as WordPress, Wix, and Squarespace. Each one of them promises to be the best, with countless features to guarantee you will have a successful blog.
But only one platform has proven the test of time: WordPress.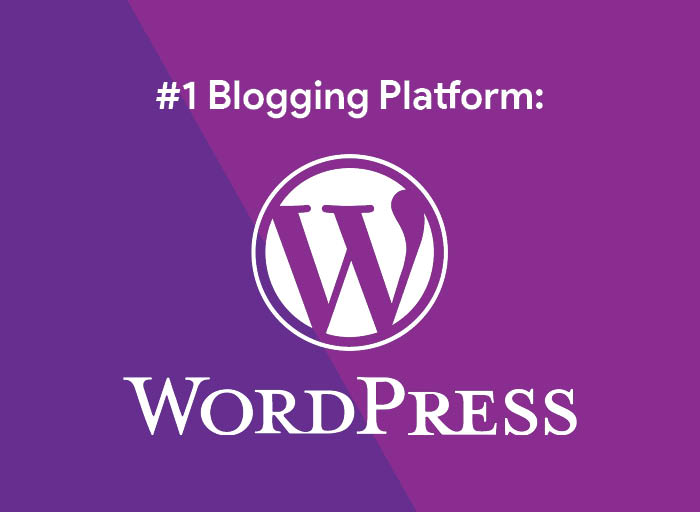 As great as other blogging platforms can be, they're severely lacking in critical features and have a long, long way to go until they catch up to the incredible power of WordPress.
The overwhelming majority of professionals use WordPress. You're welcome to try a more consumer-grade website builder, but you'll quickly regret it as you realize that you're trapped inside of their limited ecosystem.
Something like Wix or Squarespace can be really great for eCommerce but terrible for blogging. Way back when I started with a major website builder, I thought it was terrific! But then, I learned the ropes of web design and realized how limited the features were.
Please note that there are two versions of WordPress: the ".com" version and the ".org" version. They may look similar, but there's a vast difference between them.
WordPress.com is a commercial product and is very basic in nature. It's designed for people who want a casual hobby site and not for people who want to make serious money blogging.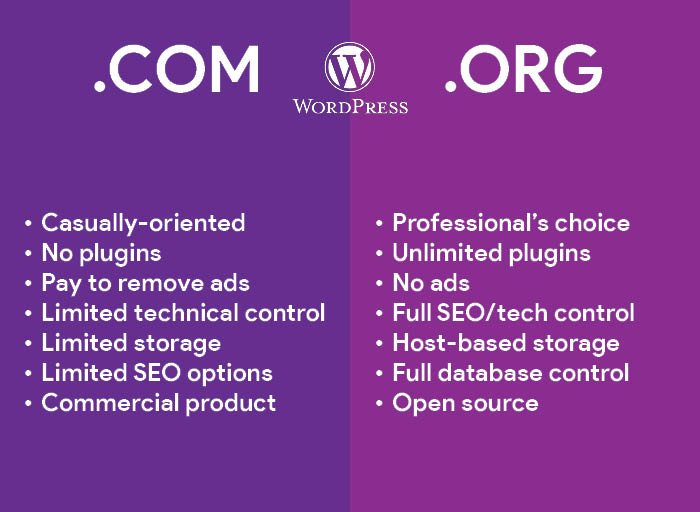 You'll want to choose the WordPress.org content management system, which will come preloaded with my recommended hosting provider.
Find Reliable Web Hosting
It's crucial to choose a good host for your entry into the blogging world.
When I started my blog, I picked a slow and unreliable host that a blogging "guru" recommended. After realizing my error, I had to change my hosting provider (not fun!).
Want to avoid my mistake? Use Cloudways for your WordPress blog. They have incredible service, lightning-quick speeds, and bargain prices. That's the host I use, and so do other professionals.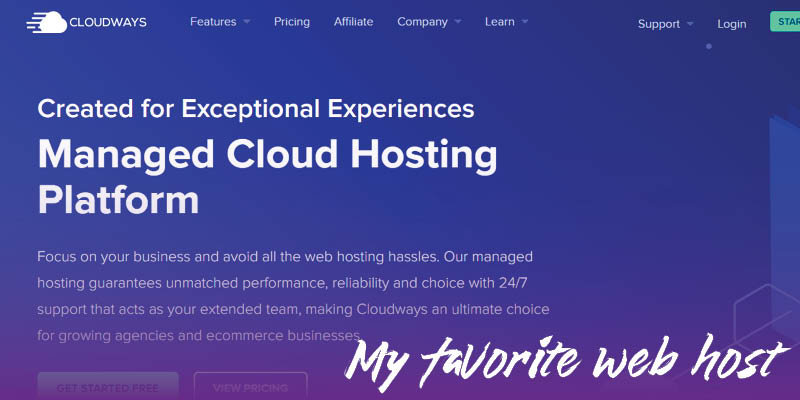 4. Install WordPress and Go Live
As mentioned before, the self-hosted WordPress blog is the best choice for aspiring bloggers. This tutorial will use Cloudways to install WordPress since it's my #1 recommended choice for web hosting.
Warning! This section may seem complicated to newcomers, but I promise it's not! It's really quite simple, and you'll see that as you complete the process. If you still get confused, Cloudways' 24/7 support can help you along anytime.
1. Sign Up for Web Hosting
Cloudways offers a three-day free trial for new users. I highly recommend you start with either a DigitalOcean or VULTR server since both of these options will give you grade-A performance at the best pricing.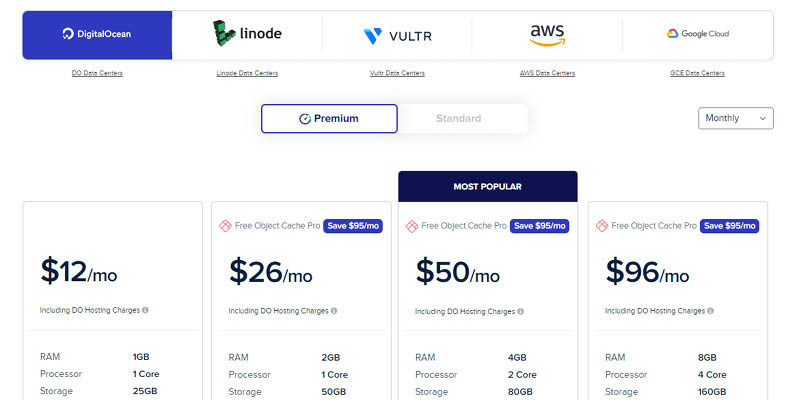 2. Launch Your Server
Next, you will launch your new Cloudways server.
Select your application (WordPress in this case), and name the app/server
Select your host (again, DigitalOcean or VULTR are best for you)
Pick your server size (ideally at least 2GB, but 1GB will work fine starting out)
Select the data center closest to you
Click "launch now"
Boom! Now WordPress is installed, and your server is live. Now we just need to connect your domain, and you'll be good to go.
3. Connect Your Domain
If you purchased your custom domain from NameCheap, now's the part where you'll connect it to your server. Cloudways does NOT offer domains, so you'll need to do that anyway if you're using them for web hosting.
1. Add your domain name to Cloudways
In Cloudways, go to Applications, then click on Domain Management. Next, add your domain name under Primary Domain (both the "www" prefix or no will work).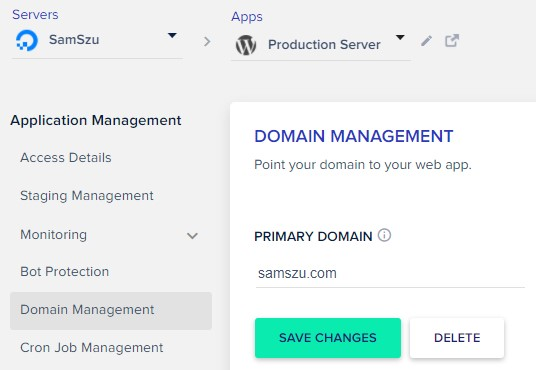 2. Configure DNS
Now you're going to point your domain name to where you configure your DNS. I'm going to use Namecheap for this tutorial, but whatever registrar you choose will have an equivalent to what you see here.
Don't get scared if this seems too technical — it's not. All you're doing is changing two things.
First, go to Dashboard, then navigate to Domain List. Find the domain you've purchased, and click on Manage. Here, you'll want to go to Nameservers and point the server to its DNS. Cloudflare manages my DNS, so it looks like this: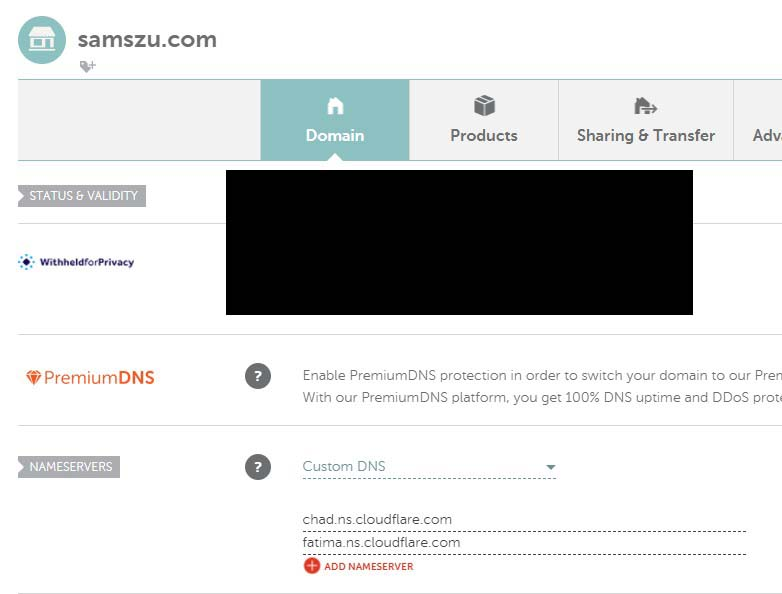 You can also manage your DNS directly on Namecheap, as Tom Dupuis does: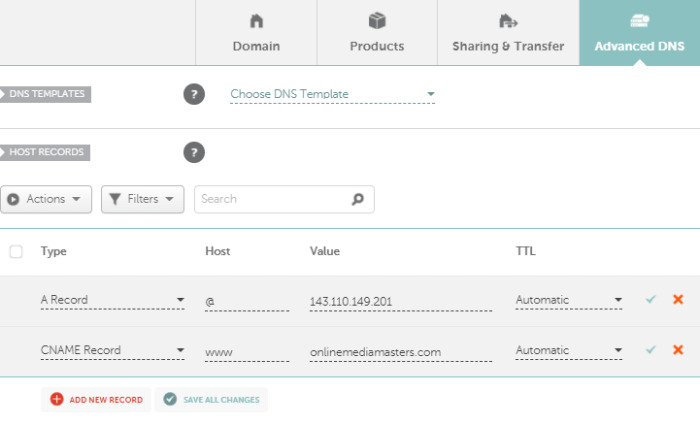 No matter where you configure your DNS, the options will be the same.
Continuing, do you see the A Record? That's where you point your DNS to your Cloudways server. Find your Public IP in Cloudways and paste it there — now your DNS knows where to point your domain's traffic to.
Almost done! All you need to do is fill in your CNAME, which is your domain name. This is super easy to do — just pop your domain name in the Value/Content entry without the "www." Instead, you'll put the "www" in the Host/Name entry.
For an example, check out Tom's entry above or mine below: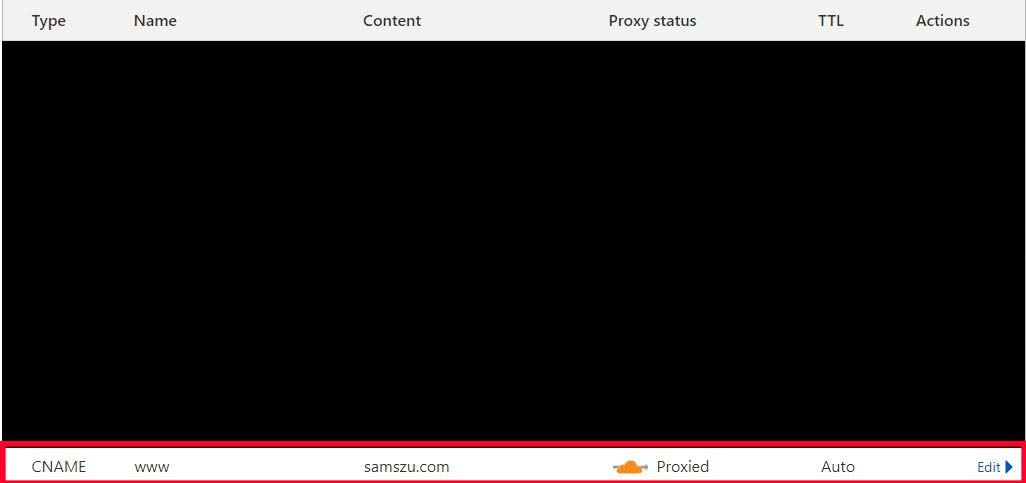 Once you've completed those steps, your WordPress blog will be ready to go!
5. Choose a WordPress Theme
You now have a WordPress blog up and running, but it's a blank canvas, void of content. Your site will come preloaded with one of their default free themes, like these: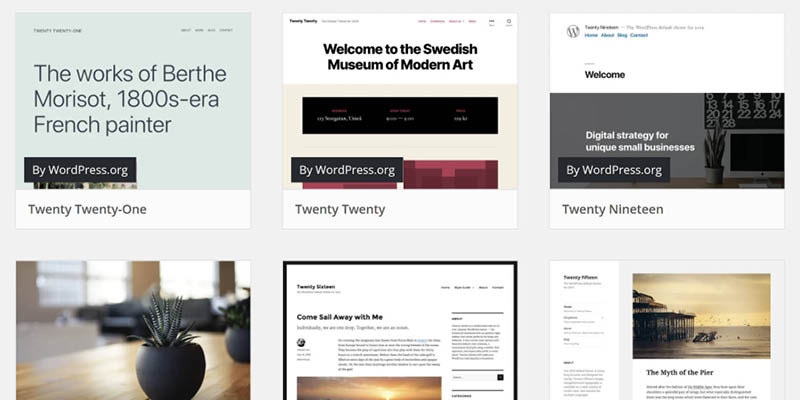 Credit: WPTavern
While there's nothing wrong with free WordPress themes, they're going to lack many features that premium themes offer. Many premium themes come pre-packaged with a lot of things you need to start a blog, such as forms, plugins, and more.
While requiring a little upfront investment, premium themes will be more than worth the cash. Specifically, I highly recommend you purchase an Astra blog theme. Astra themes are fast, beautiful, and conversion-optimized.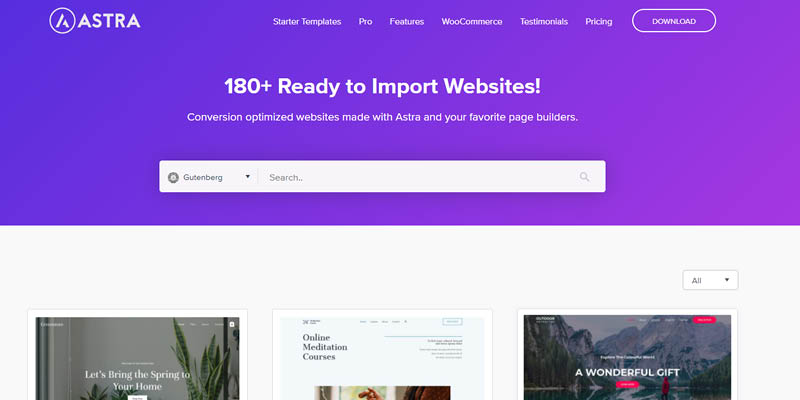 They're the #1 WordPress theme platform for a reason. While their premium options are the best, they offer plenty of free themes too.
How to Install a WordPress Theme
Once you've got your new theme picked out, it's time to install it on your WordPress blog. To get started, navigate to [yourdomainname].com/wp-admin — this is the default login page (change this later for security).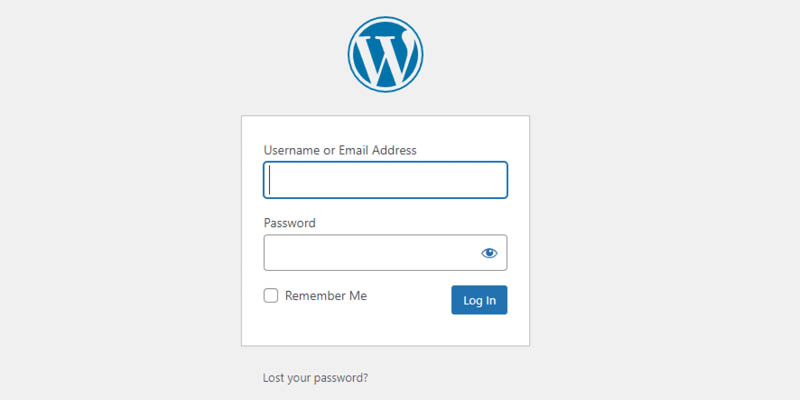 Once you're logged in, navigate to Appearance in the left menu.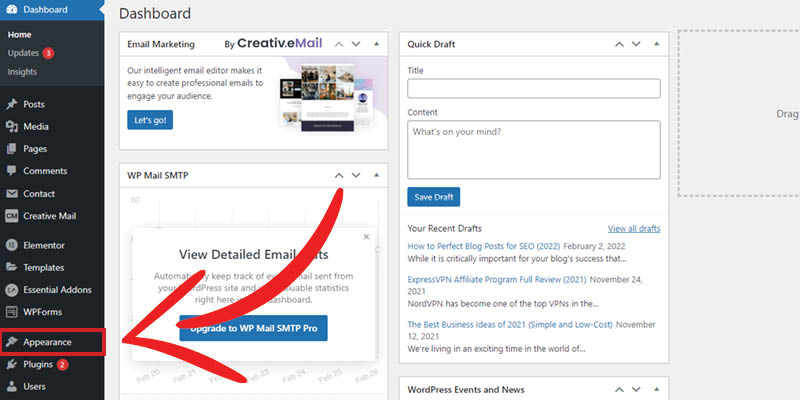 Them, under the Appearance tab, click on Themes.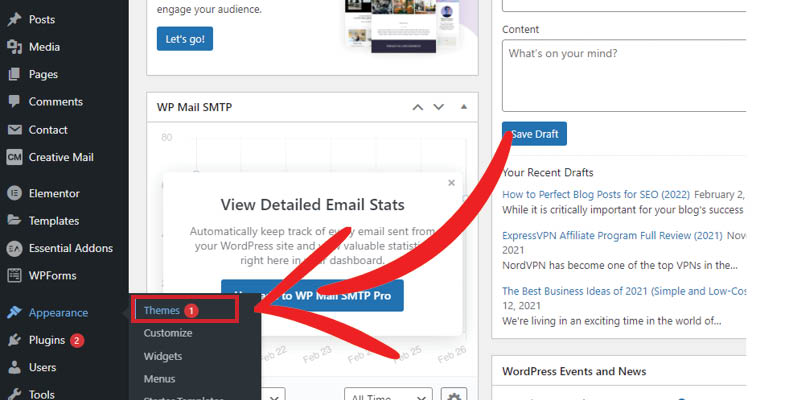 You'll then arrive at the WordPress theme menu. If you purchased a premium WordPress theme (such as Astra), you can install it here. Click on Add New, upload the zip file, and install it.
You're now ready to go!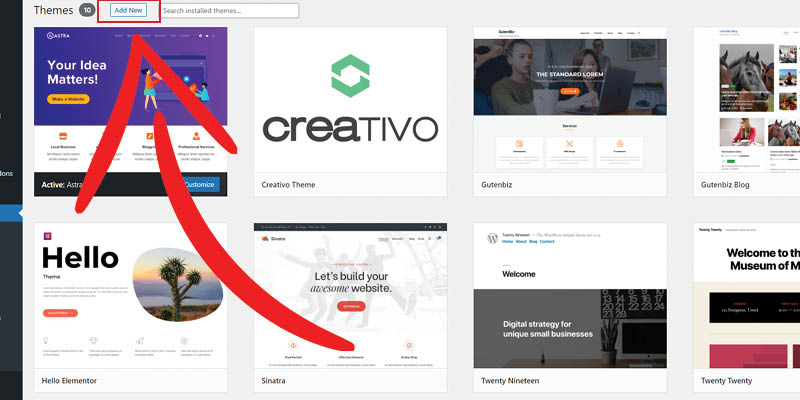 If you don't want to purchase a premium theme, there are a variety of free ones you can download directly from there. Just keep in mind that if you later decide you DO want a premium theme, it can be a big hassle to switch over.
6. Install Plugins for WordPress
Even though your website is up and running with a great theme, it lacks all the functionality we need to run a successful blog. Installing WordPress plugins will provide us with all the necessary tools to fill those gaps.
How to Install WordPress Plugins
To install any WordPress plugin, navigate to Plugins in the left sidebar. Once you're in that menu, click on Add New.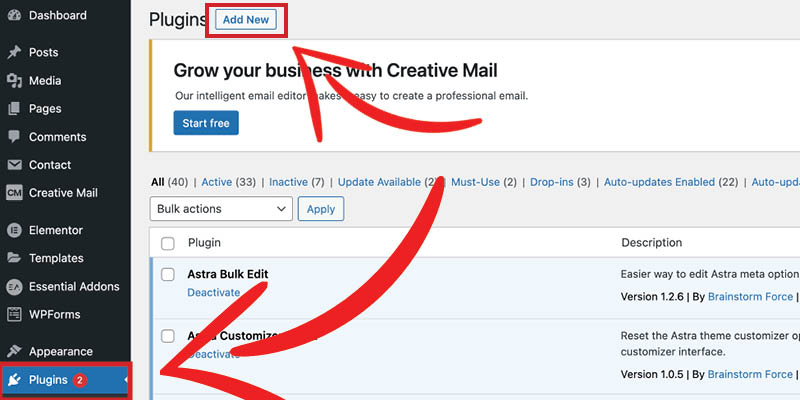 You will find two options on this page for installing plugins:
Upload Plugin: This is mainly used for premium WordPress plugins that require a purchase to download
Search Plugins: Here, you can search for plugins on the WordPress dashboard and install them directly from there. Most of these will be either free or freemium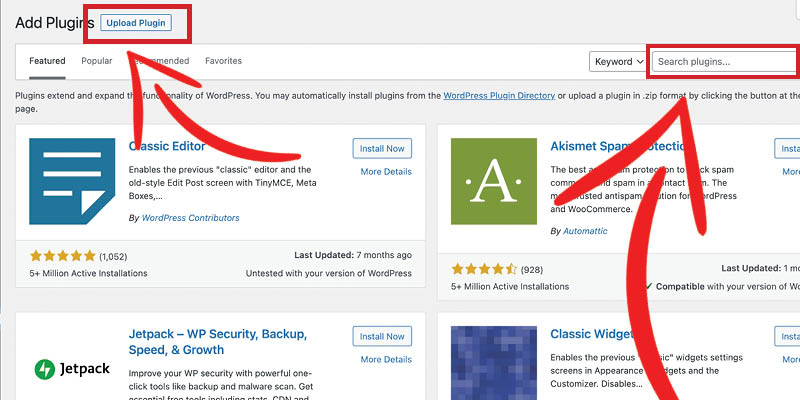 Essential WordPress Plugins
You now know how to install plugins, so let's move on to my top picks.
I've used each one of these myself, so I can personally vouch for how helpful they are in running a WordPress blog. I highly recommend you download them all — or at least find an alternative to the functionality they provide.
1. Yoast SEO
Use Yoast to change your link structure, search appearance, page titles, meta descriptions, and more. It will also manage your robots.txt and sitemap. You'll see 99% of other bloggers use Yoast.
2. WP Rocket
Before WP Rocket, optimizing your WordPress blog was a real nightmare. Thanks to this plugin, it's now super easy to get your site running fast. Most other bloggers use WP Rocket too.
3. Shield Security
This AMAZING all-in-one security plugin provides excellent protection to your WordPress blog. While there is a premium version, the free version gives you everything you need to keep your site safe.
4. WP Mail SMPT
Your WordPress blog isn't equipped to send mail out of the box. If you try, many email providers will see it as spam, and your messages won't make it to your recipients. WP Mail fixes this by delivering your email from the third-party sender of your choice.
7. Customize Your Website
Now that your website is ready to go, it's time to customize it and make it your own. You should have a theme installed by now, and your website should be a template like this: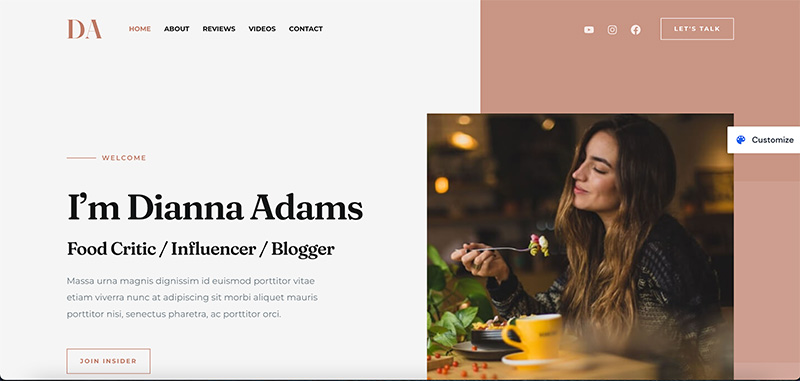 This looks great, but your name probably isn't Dianna Adams — and you might not even be a food blogger. You need to customize your website so that it's actually relevant to you.
Home Page
Your home page is where your default URL will send you. If you enter "samszu.com" into your search bar, you'll end up here: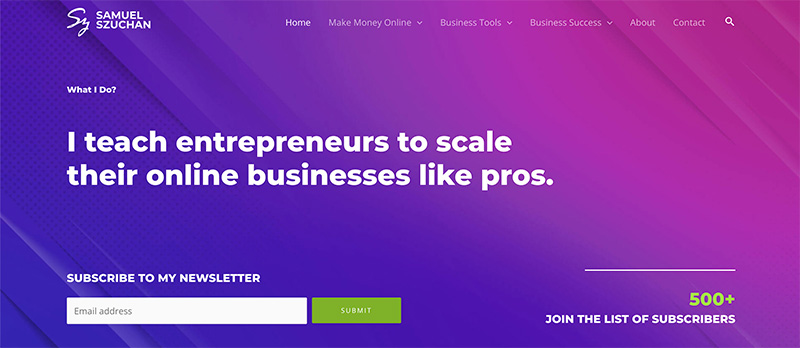 Your homepage isn't your life story — it should instantly tell your readers what your blog is about. Your homepage should contain:
Your blog's purpose in one sentence
An email opt-in form (you need it to build an email list)
Internal links to your best content
Blog Post Template
The formatting of your blog posts will base itself on a template you can edit from your WordPress dashboard.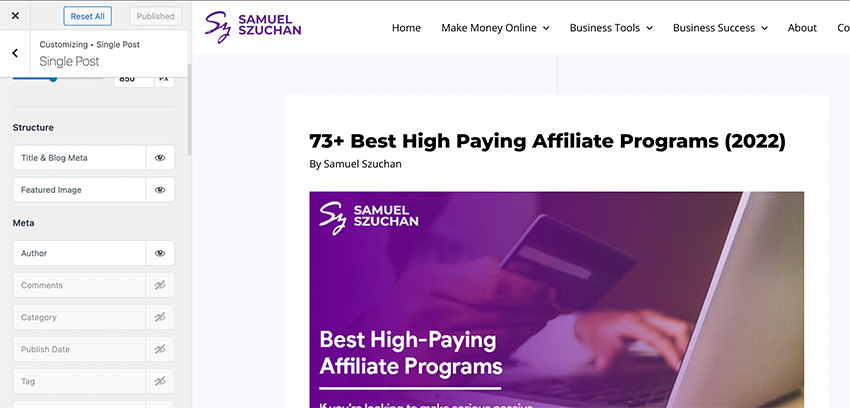 Every theme will have default settings, but you'll need to change them to accommodate your needs, as I have above. When doing so, keep these essential blog post principles in mind:
Post width no wider than 850 px, give or take. This makes it so your readers' eyes aren't darting back and forth to read your text
Paragraph text is black on a white background — no exceptions. Headings can be whatever color you want; just keep it readable (no bright orange or yellow)
Always have a featured image
Only one H1 per page: your title
Here are some further non-essential recommendations:
Change "publish date" to "updated on" — this may require some coding
Comments don't do anything for SEO, so you don't need them. However, it's an excellent way to engage your audience if you don't mind moderating it.
Blog Archive Pages
Almost every WordPress theme includes a default archive page that can sort your posts by category, author, tag, and more. Users will find this when they click on one of those qualifiers, either from a post meta or a direct link.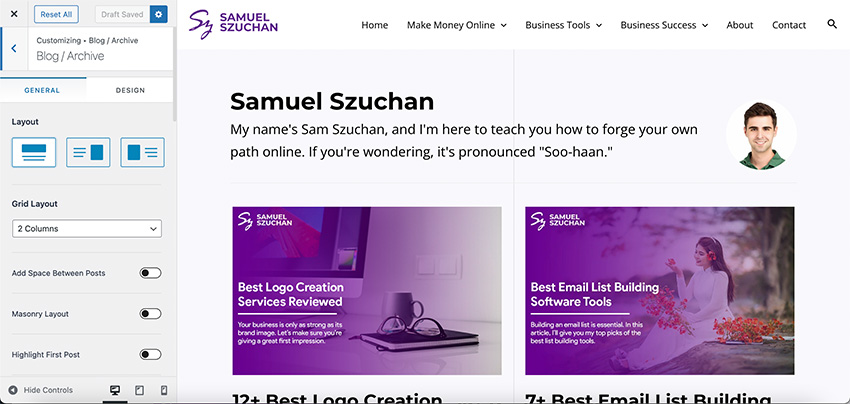 This page doesn't have to be super fancy, but it should be an easy way to navigate through your content library. Set it to show 8-10 pages at a time, with pagination to load further posts (infinite scrolling can be glitchy).
PS: I recommend setting your archive pages to "noindex," except for author pages. If you're not familiar, marking a page as "noindex" will prevent it from showing up on Google.
You can do this easily with Yoast in the Search Appearance settings.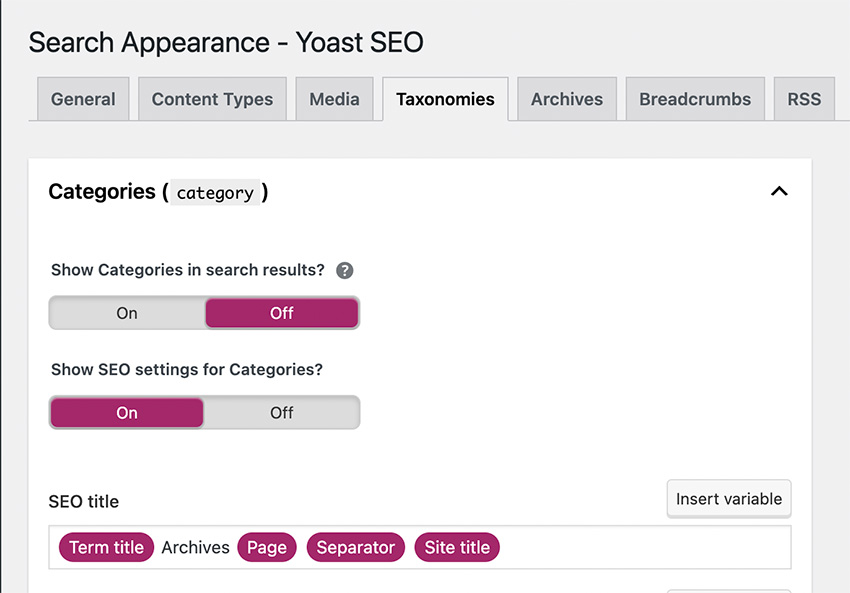 You shouldn't index these pages because you'll generate a ton of different qualifiers over time, which will create lots of index bloat and keyword cannibalization, suffocating the context you DO want to rank (like a blog post).
Contact Page
It's essential to create a contact page so people can get in touch with you if need be. It doesn't need to be fancy — just an easy way for people to talk to you.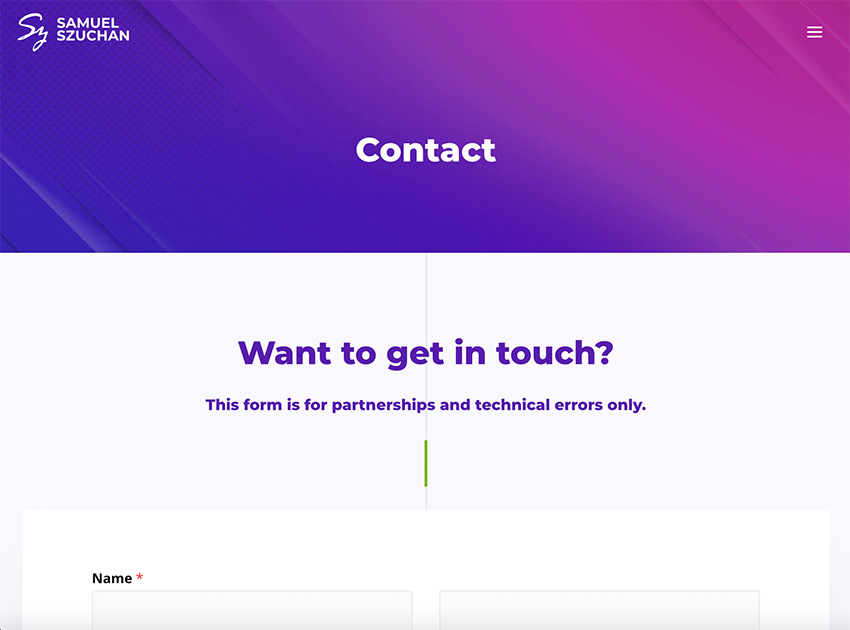 Oh, and trust me: you'll want to add a captcha of some sort to filter out bots. They will come for you.
About Page
Finally, it's time to create your About Page and tell your readers who you are. You can start off with a simple introduction, but eventually, you'll want to really flesh yourself out.
A longer, deeper About Page will do wonders to connect with your audience more meaningfully. Tell them your story, why you blog, and what makes you tick.
8. Writing Blog Posts That Rank
Congratulations! Your WordPress blog is now 100% ready to go, and now it's time to create epic content for it. This is where the fun begins!
Before we continue, I need to make sure you have the right mindset for writing blog posts that really make money.
You're fighting for traffic from millions of other websites, and you've got to be smart to have a successful blog. Fortunately, the overwhelming majority of people are not smart with their blogs, making it much easier for you to get ahead.
So listen: it's not 2005 anymore. Blogs aren't just about posting updates to an audience who comes out of the woodwork to hear your wisdom.
Blogs are driven by search engines that give you organic traffic based on your content.
Including Keywords
Search engines identify the topic of your content by looking at your keywords. When writing your first blog post, think about a specific keyword/keyphrase that your article will focus on. Include it everywhere, such as:
Your URL
Your H1 heading/title
Introduction
Subheadings
Throughout the blog post
In my below example, you'll see where I included the keyword "how to start an ecommerce business" in my URL, title, and introduction.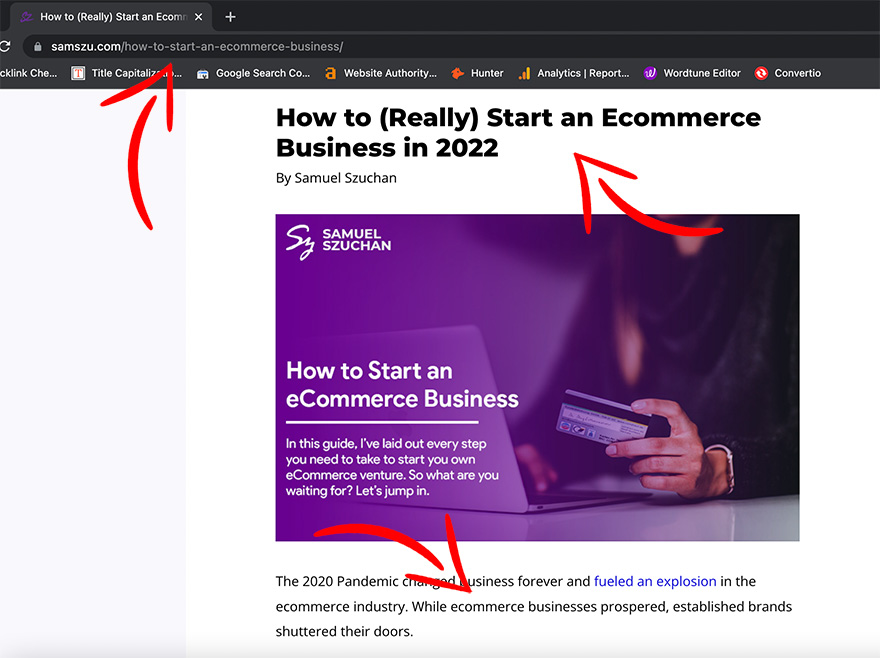 While the concept is simple, including your keywords the right way can be more complicated than you might think.
For example, you need to do keyword research to find the right phrases to target. You have to be careful to include them the correct amount of times while not overdoing it with keyword stuffing.
You also have to include similar keywords to include to maximize your content's search relevance.
That's why I recommend you use content optimization software, like SurferSEO or Clearscope. They make it super easy to ensure you're using the correct amount of keywords and phrases in each article without overdoing it.
I use Surfer right now.
SurferSEO also recommends a post length, number of headings, and number of images to rank #1. In addition, it comes with many other features, such as keyword research, content audit, and more.
Surfer's pricey, but you get a massive return on investment.
Write for Search Intent
When writing any blog content, think about the information the visitor is actually looking for when Googling your keyword. For instance, let's search for "best gaming laptops."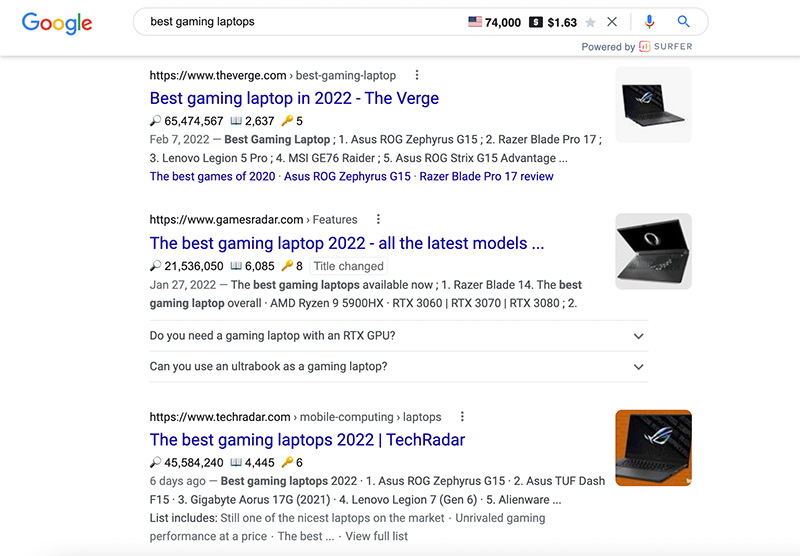 Immediately you'll notice a few things:
The articles have the year listed, meaning they know their readers want the latest and greatest
Each one is in list format (you can tell from the meta description), making it easy for readers to skim the article for a gaming laptop they like
This shows us that people searching for "best gaming laptops" want a quick summary of the newest models available with the best specs. In response, articles formatted for that search intent get the best engagement, and Google places them at the top.
If you were writing an article about the best gaming laptops, you wouldn't write a massive encyclopedia of 200 different laptops because that's not what searchers are looking for.
So instead, understand what your readers are looking for and supply that exact information.
SEO content optimization software helps with this because it will supply the additional terms you should be using to match search intent.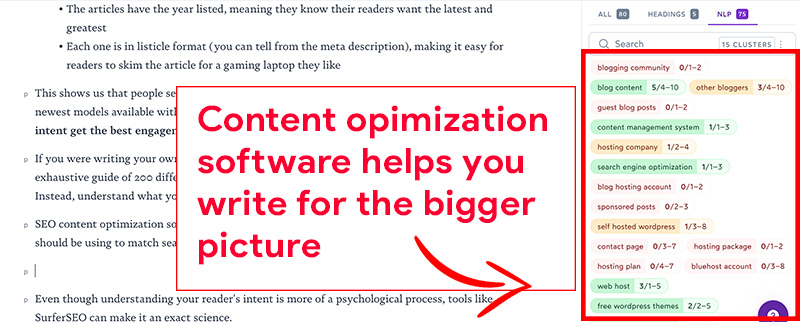 Even though understanding your reader's intent is a psychological process, tools like SurferSEO can make it more of an exact science.
Learn Blog-Style Formatting
You may be a master writer and storyteller, but that doesn't mean you know how to write for a blog. Good blogging isn't just about nice and eloquent writing, but it's about presentation too. Make sure you:
Are using readable fonts, with coloring that isn't fighting with the text
Add bullet points (like these) that help the people that are skimming through
Absolutely no typos or grammatical errors. This simple mistake is the easiest way to torpedo your legitimacy and professionalism. I recommend using a grammar checker like Grammarly.
Use bold text to emphasize your main ideas and make the text stand out
Organize your text with lots of headings
Make sure you're always writing valuable and interesting articles. Don't ever write fluff content
Include images to engage visual learners better
Use a fun, casual voice that warms readers
Google analyzes your entire content library to gauge the quality of your blog, meaning your website is only as good as your worst blog post. Always take the time to produce quality work.
9. Promote Your Blog and Get Traffic
Once you've written four solid cornerstone pieces, it's time to show the world what you've got and promote your blog.
Let's be clear: promotion is where most people mess up.
Most people just start writing content and expect Google to handle the rest. The way they see it, search engines will recognize the value of their content, and they'll be ranking page one in no time.
It doesn't work like that.
When thinking about promoting our blog intelligently, we have to think like business owners — not hobbyists.
Link Building
The overwhelming majority of your traffic is going to come from Google, so you should be thinking about rankings before anything else. The key to ranking high is backlinks — links to your blog from other authoritative websites.
As Moz says, links are "the currency of the Internet." The more backlinks your website receives, the more seriously search engines will take you.
Quick rant:
In recent times, I've seen some "SEO professionals" argue against backlinks, saying that link building is going the way of the Dodo with Google's latest updates. While Google is creating a more balanced search experience, any notion that link building is "dead" is laughably wrong.
While you don't need links to rank for low-value keywords, you are not going to beat authoritative sites for high-volume keywords without backlinks — period. Again, backlinks are the currency of the Internet. Search engines will use it as a primary ranking metric until the end of time.
Rant over.
From here, your strategy is going to be getting good, authoritative links at all costs. This can be hard work when you're just starting a blog, but if it were easy, everyone would be doing it.
Here are my top strategies for building quality backlinks:
Write Guest Blog Posts
The single most efficient way of building both backlinks and social proof is guest blogging. Guest blogging is how I went from a Domain Rating of 1 to 41 in my first two months of email outreach.
I also built incredible relationships, gained invaluable experience, and established A1 social proof for my blog.
Guest blogging is so effective because you're exchanging real value for a link to your website. The blog you're writing for receives a high-quality blog post, and you get high-quality backlinks in return.
That tradeoff enables you to punch way above your weight in terms of partnerships.
Secure guest posts by following this rough formula:
Create a fully-fleshed LinkedIn account
Create an email on your website domain and warm it up
Search for high-DR blogs in your blog's niche
Use LinkedIn to find their lead content editor
Use Hunter to find and verify their email
Use Hunter to add them to a list of guest posting leads, and create a campaign with that list
Use an effective email template to reach out to them and slightly customize each email for personalization. I encourage you to experiment and run A/B tests for effectiveness
When I first started writing guest posts, I began with low-key blogs without much clout. I then used that humble portfolio to pitch myself to higher-quality blogs successfully.
Now that I've written for huge publications like Flippa and Spreaker, guest posts come infinitely easier than before — it's a snowball effect. All power to you if you can get big guest posts off the bat, but I encourage you to start small and work your way up.
Just make sure to use a grammar checker and a plagiarism checker to ensure your article is 100% ready to submit.
Create Infographics for Other Bloggers
For a more novel link-building strategy, create infographics for existing articles and email them to the content editor of that blog for a link back to your website.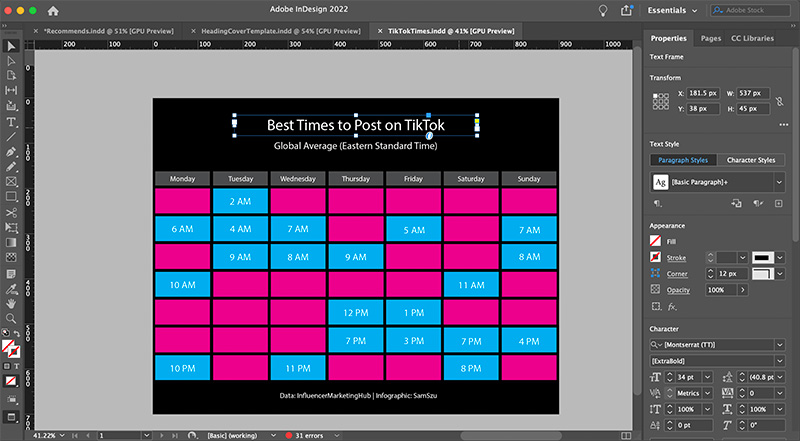 This may sound like a lot of work for potentially zero return, but it's not. Even though guest posting is amazing, it still requires a lot of time. You're talking about:
Finding websites in your niche
Finding contacts
Creating emails
Discussing back and forth
Drafting the article
Editing the article
Waiting for publishing
While it's ultimately worth it, we always want to find the most efficient use of our time possible. Here's the entire process of creating infographics for links:
Find websites in your niche
Find articles that could use an extra infographic
Create a high-quality infographic
Find the content lead's email
Email them the infographic
No, not all of them will accept the offer or even respond to those emails. But for the ones that do, you're going to be thinking, "Wow, that was easy!"
And the truth is, creating infographics isn't even that hard. You have two options for doing so:
Pay someone else to do it
Buy Adobe Creative Suite and do it yourself
Paying other people can be expensive — at least $10-20 per infographic. When you're just starting a blog, you're not going to have a ton of money to throw around most of the time. Learning to use InDesign and Photoshop isn't that hard, so try that out first.
Once you get the hang of it, you can easily push one out in 20-30 minutes — faster if you have templates. That's much quicker than the guest posting process.
3. Other Link Building Methods
Now that I've shown you two of the best ways to build links, here are a few more that you can add to your toolbox:
Link reclamation: As your blog grows, you're going to see instances where people reference your blog name without linking to you. Use your preferred SEO tool to find these people, thank them, and ask them to link to you.
Link partnerships: Work with other bloggers in your niche to trade link inclusions. This is one of the most efficient methods of acquiring backlinks because every guest post you submit can earn you multiple mentions
Fix broken links: Use Ahrefs to find broken links in other blogs. Email them telling them their link's broken and offer your content as a replacement
Straight-up asking: You can always just email content editors and tell them you have some amazing content you think they should link to. While you can have some success with this method, I recommend against it since it's oversaturated and spammy
Finally, I'll introduce you to the best link-building method of all: creating amazing content. If you're creating high-quality blog posts with original research and infographics, you're going to see links to your page pile up naturally. Good content gets referenced by good blogs.
On-Page Search Engine Optimization
One of the primary factors of any website ranking is its SEO-friendliness. Let's be clear: this topic can get highly technical and nuanced. There's a running joke in SEO that "it depends" answers 99% of questions.
That said, there are still plenty of constants in SEO that we know make a big difference. Below, I'll share some of the most crucial on-page SEO rules to mind on your blog.
Title Tag
Your title tag is your blog post title that appears in search results. By default, it will be the same as your H1 header. You can keep it that way, or you can modify it to fit your target keyword better.
Just be sure not to make it longer than 150 characters/7-8 words. After that, Google will cut your title off, and it'll look bad.
Internal Linking
I'm not kidding when I say that internal links are just as important as inbound external links (backlinks). When creating content for your blog, hyperlink other blog posts relevant to the topic at hand.
The number of internal links a given page has will tell Google how important that page is. No internal links == a good chance Google will ignore your post.
Meta Description
The meta description is the text that appears below your article on Google. While you should include your keyword here for search engines, this is mainly targeted toward users. Use this space to quickly tell users what your blog post is about.
Headings
One of the biggest factors in on-page SEO is heading structure. Both Google and users will use this to navigate your article.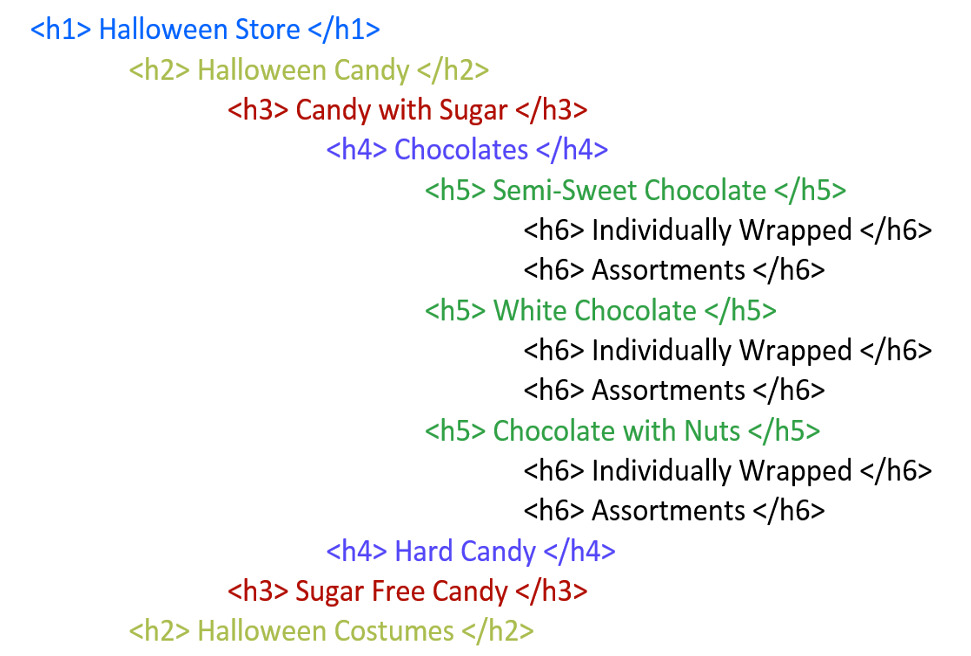 Source: Velsof
Always make sure your headings are formatted properly or else both users and search engines will get confused.
Sitemap
A sitemap is exactly what it sounds like: a map of your site for search engines. Google uses sitemaps to discover all the content on your website, making it an essential element of your blog.
If you download the free Yoast SEO plugin, it will automatically create and update your sitemap for you. Easy peasy.
Content Optimization
I've mentioned this a couple of times already, but you NEED content optimization software to compete for the top ranks. Unfortunately, given how cutthroat this business is, it's nearly impossible to optimize each page by hand.
My top picks for content optimization software are SurferSEO and Clearscope. They both tell you exactly what terms you need to rank, along with the optimal amount.
10. Make Money Blogging
Now for the part you've been waiting for: making money! After starting a blog, many people have turned it into a full-time income and found financial independence. Excited to get started, huh?
Well, don't get ahead of yourself — you have to work towards monetization. How long until then is up to you — it could be months or years. Either way, when just starting a blog, your #1 priority should be building and growing.
Eventually, the day will come when your blog gets enough traffic to be profitable. When that time comes, you can monetize with these methods:
Freelancing
The quickest way to get the gravy train going is to offer freelancing services on your website. For example, Ryan Robinson — of the most prominent bloggers out there — still provides consulting services even though his blog makes him over 50k a month on autopilot.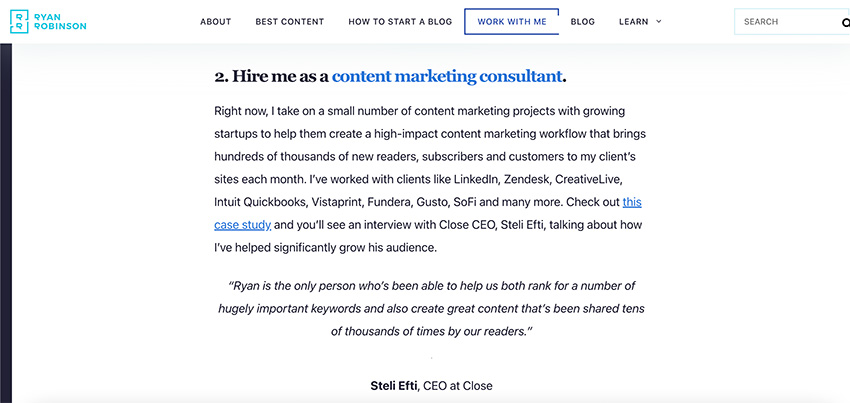 There are a ton of different services you can offer, including:
SEO consulting
Writing services
Marketing
Content audits
Website creation
Coding services
Content maintenance
Photography
Graphic design
The list goes on, and the world is your oyster. Personally, I do content writing services.
Affiliate Marketing
When it comes to making money with blogging, this is the #1 goal. Affiliate marketing is how Adam Enfroy made over 200k in the first year of his blogging journey.
If you don't know what affiliate marketing is, it's basically when you sell the products of other companies by referring your audience to them.
For example, on my best web hosting provider page, many entries have an affiliate link that enables me to make commissions at no cost to the customer.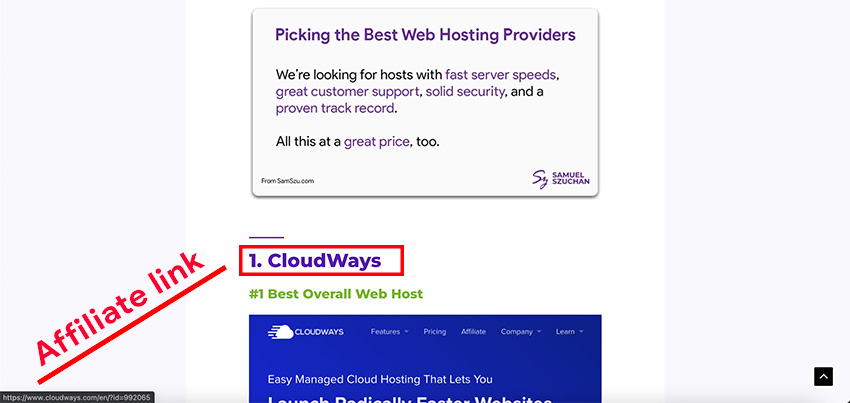 If you make a lot of money for a particular company, you can negotiate even higher compensation rates to bolster your income.
Just be sure only to recommend products that you would use yourself. If you recommend bad products, you'll develop a reputation as a grifter, and people won't trust your referrals. Honesty is the best policy.
Online Courses
Creating and selling online courses is one of the best ways to monetize your audience and your knowledge. Using an online course platform like Teachable, you can dive deeper into your blog's content and treat your students to a richer understanding of your knowledge base.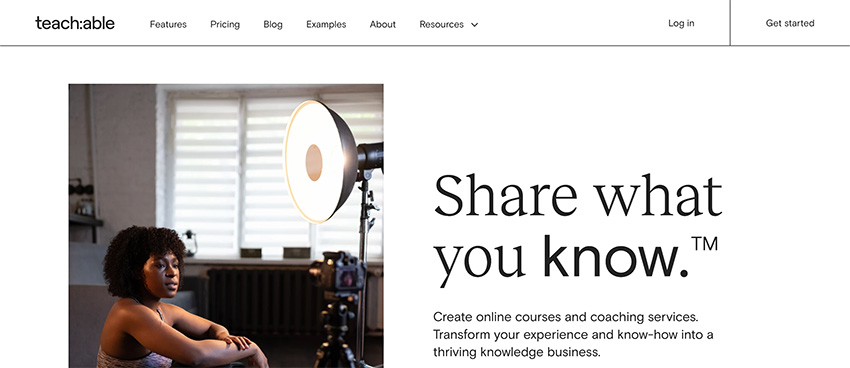 If you think your course is worth it, you can charge hundreds or even thousands of dollars for admission into your program.
Traditional Advertisements
Once you've got serious traffic coming to your website, you can join an ad network and add banner advertisements to your website. Adsterra is an example of a great ad network that lets you intelligently monetize your website.
The only drawback to traditional advertisements is that they will be annoying to readers, no matter which way you cut it. That annoyance can lead to a lower engagement rate, which can mean lower rankings.
For those reasons, some bloggers nix ads despite millions of visitors.
Sponsored Content
Once your blog becomes a recognized authority in your nice, companies will reach out to you for sponsored posts, mentions, and more. This type of advertising is better than traditional banner advertisements since you can naturally and organically integrate them into your content.
How to Start a Blog: Summary
Anyone can start a blog — not everyone can be successful with it. The beginning stuff — setting up your domain name, web hosting provider, and WordPress blog — is all elementary.
The harder stuff — like creating solid blog content, keyword research, and backlink building –filters 99% of people out.
But not you! You're going to work hard, work smart, and make money blogging. In my guide, I taught you everything you needed to know to begin your blogging journey:
Pick a Blog Niche
Secure Your Domain Name
Choose a Platform and Web Host
Install WordPress and Go Live
Choose a WordPress Theme
Install Plugins for WordPress
Customize Your Website
Create Blog Content
Promote Your Blog and Get Traffic
Make Money Blogging
You have the knowledge, now's all that's left is the work. I won't lie to you; you're going to work hard. But at the end of all the toil and labor is passive income and financial freedom.
Take some time to review the knowledge here, but don't wait too long — time is money. It's time to get started on your new blog.
How to Start a Blog: The FAQs
While starting a blog is a relatively straightforward task, there's a lot of nuance involved. Lots of nuance means lots of questions, which I'll try to answer in this section.
Getting Started FAQs
Let's have a Q&A about getting started with your own blog.
What's the most crucial part of starting a blog?
The most important part of starting a blog is having the right attitude. Most people just starting their blog expect traffic to magically build up over time, which never happens.
You need to build your blog like a serious business. That means building links and methodically creating high-quality blog posts every chance you get.
Can you start a free blog online?
Yes, you can absolutely start a free blog using platforms such as Medium, Blogger, or even Quora. However, these free blog platforms will have severe limitations that will heavily hamper your growth.
Unless you're strapped for cash, I would avoid trying to start a free blog and invest in a proper WordPress site.
How do I pick my blog name?
I highly recommend you name your blog after yourself as I did. This enables you to build a personal brand and connect with your readers more deeply.
However, if you don't want to do that, first think about the niche your blog is targeting. What are some common tropes in the niche? You're looking for something you can play off of for a clever title.
For example, Lyft — the ridesharing app — plays off of "getting a lift." Backlinko is a famous SEO blog, and that title obviously plays off of backlinks. While you're coming up with something clever, consider these principles:
Keep it as short as reasonably possible
Make sure there's a domain name available that either matches it or is close to it
Make sure it delivers the message you want it to
Avoid profanity
Make sure it's not inappropriate in another popular language
No hyphens or numbers in the domain name
Say it out loud to yourself — does it roll off the tongue?
After you think you've found something to work with, run it by your friends, family, and coworkers. If they like it, you're good to go.
What is the best blog platform?
The best blogging platform is, without a doubt, WordPress. You can try alternatives, but you'll quickly regret it. WordPress.org is the reigning king, and that's not looking to change anytime soon.
What should my first blog post be about?
Your first blog post should be a lengthy, high-quality cornerstone piece about something common in your niche. For example, my niche is about making money online, so my first article was "How to Start an Ecommerce Business."
How do I come up with new blog post ideas?
You don't have to be the first person to write about something. If you're struggling to come up with new blog posts, feel free to scan other blogs in your niche for ideas.
To be clear, that does NOT mean copying them — it just means getting inspiration (and no, I don't mean that in an underhanded sense).
I logged out. How do I get back to my WordPress dashboard?
To get back to your WordPress admin dashboard from log-out, go to www.[yourdomain].com/wp-admin.
PS: I highly recommend you change this URL since hackers and bots will be trying to break into it non-stop as soon as they find it. Several great plugins enable you to do this.
How much does web hosting cost?
Web hosting can cost as low as $3/month to hundreds of dollars per month. Either way, what you pay for is generally what you're going to get.
If you choose a low-end shared hosting platform for dollars a month, your thriftiness will mean slow speeds and lackluster support. However, if you're willing to invest more in a high-end hosting package, you can expect lightning-fast loading times and A+ support.
If you're looking for a fantastic blog hosting company with great prices, I recommend Cloudways. They're my host and have always given me fantastic service.
I don't know a lot about my niche. Can I still start a blog there?
While you should have some expertise in the niche you're targeting, the truth is you don't need to be a pro in a given industry to start blogging for it. As long as you give credit, you can reference other resources throughout your blog posts.
Building Traffic and SEO FAQs
Let's discuss some of the most commonly-asked questions about building traffic to a new blog.
How important is SEO for blogging?
SEO is EVERYTHING for blogging. Blogging/content marketing itself is how companies around the world bring new and organic traffic to their websites.
Before you start blogging, understand that it's about SEO just as much as it's about writing. Whenever you start a new blog post, you should be thinking about keyword research, on-site SEO, structure, and more.
Yes, quality content is still the #1 priority. However, it doesn't matter how great it is if nobody's reading it.
I know nothing about SEO. Can I still start a blog?
If you don't know anything about SEO, don't sweat it! This entire thing is a learning experience, and absolutely nobody has come into this business knowing everything. Like everything else, you'll learn as you go.
How can I get a free domain name for my new blog?
While I recommend just paying a proper domain registrar for a new domain name (it's not expensive), some blog hosting companies will offer free domains with the purchase of a hosting plan.
For example, DreamHost offers a free domain if you purchase a WordPress hosting plan. They're a decent host, so it's not a bad idea.
Do I need my own domain to start a blog?
Unless you want your domain to be the random sequence of numbers and letters that servers give you by default, then yes — you absolutely need your own domain name. You won't get any traffic without one.
How long will it take to bring traffic to my new blog?
If you are working hard to build links to your high-quality blog, you should start seeing results in 3-6 months.
Just make sure you're always continuing to churn out high-quality blog posts. After all, no content means no traffic — no matter how high your DR is. Use SurferSEO to make sure all your content is high-relevance and high-quality.
My blog is loading slowly. Will that affect my rankings?
Yes, your site speeds have a direct impact on your rankings. The slower your blog post loads, the worse it will perform in rankings.
Google factors it directly into rankings, with the compounded effect of lower engagement rates (people will leave your website if it doesn't load in <3 seconds).
To fix slow loading speeds, make sure you have a fast hosting plan.
A lot of "how to start a blog" articles will recommend you hosts that are cheap as dirt and seem like amazing deals. However, they're not telling you that those hosts are slow as a desert tortoise (spoiler alert: they just want affiliate money).
My host, Cloudways, is the fastest host out there — period. In second place comes Kinsta, another great company for anyone wanting a self-hosted WordPress blog.
Second, make sure your website isn't bulky and overloaded. Page builders are great for creating stunning websites quickly, but they can slow your loading speeds down like a rock. Instead, try building your new blog with Oxygen or sticking to Gutenberg.
Monetization FAQs
We may love writing, but ultimately we're all here to make money. So let's talk about some of the most-asked questions concerning making cash with blogging.
How long will it take for my new blog to start making money?
Your blog can start making money as soon as it starts getting traffic. As outlined above, that'll take about 3-6 months with the right approach.
If you want to talk about how much money, that's a whole different question. If your monthly blog traffic is in the hundreds per month, don't start picking out Ferraris. The best way to monetize a low-traffic blog is with freelancing.
However, once the real traffic starts rolling in, you're not far from financial freedom. Affiliate marketing, sponsored posts, and traditional ads are all ways you can turn serious traffic into serious income.
Do I need to pay taxes on blog income?
I'm going to answer this from an American perspective. However, the answer will probably be similar no matter where you live.
Anyway, yes — you need to pay taxes on blog income if you're making over a certain amount. Blog income is taxed just as much as any other form of income. Pay up!
Final Words
Well, we did it — we covered everything you need to know, and now you know how to start a blog like a pro! Many people see blogging as a hobby, not knowing how much money you can make with it. But that's not you, is it?
I put sweat and tears into this guide, and now it's your turn to put the work in. I expect to see you making money with your own blog in 3-6 months. So get to it, blogger!
Oh, and welcome to the blogging community!