Unless you've been living under a rock, you've undoubtedly heard of ultra-famous TikTok influencers making money like nobody's business. You're seeing people who nobody knew about a few years ago rapidly ascend to six or even seven-figure status thanks to their popular TikTok videos.
As you sit there scrolling through your "For You" feed, you're probably wondering if you can get in on the action.
Good news: you can. The gravy train is definitely still taking passengers.
The hit app is now on track to blow past one billion users, all of whom are constantly on the lookout for new TikTok content to consume.
How to Make Money on TikTok
You might be here because you already have a popular account or because you're wondering if you want to try your hand at becoming TikTok famous.
If you're still in the planning phase, I highly recommend learning how to grow your account first. You should always focus on growth before monetization (I give the same advice to people starting a blog).
Once you've created a solid TikTok profile with lots of engagement, you can start to think about making money. I'll show you how, but before we begin, switch to a Creator account. You'll need it for a lot of the special features.
With that out the way, let's dive into the best ways to make money on TikTok:
1. TikTok Creator Fund
The TikTok Creator Fund is TikTok's most direct way of rewarding the creators that define their platform's success. It's basically a bunch of money ByteDance earmarked to be given away to TikTok creators as an incentive, hence the name "Creator Fund."
It started with $200 million in 2020, but it's expected to pay out over two billion dollars in the next three years.
Your fund grows with your profile. The more views, followers, and engagement you get, the bigger your slice of the money pie.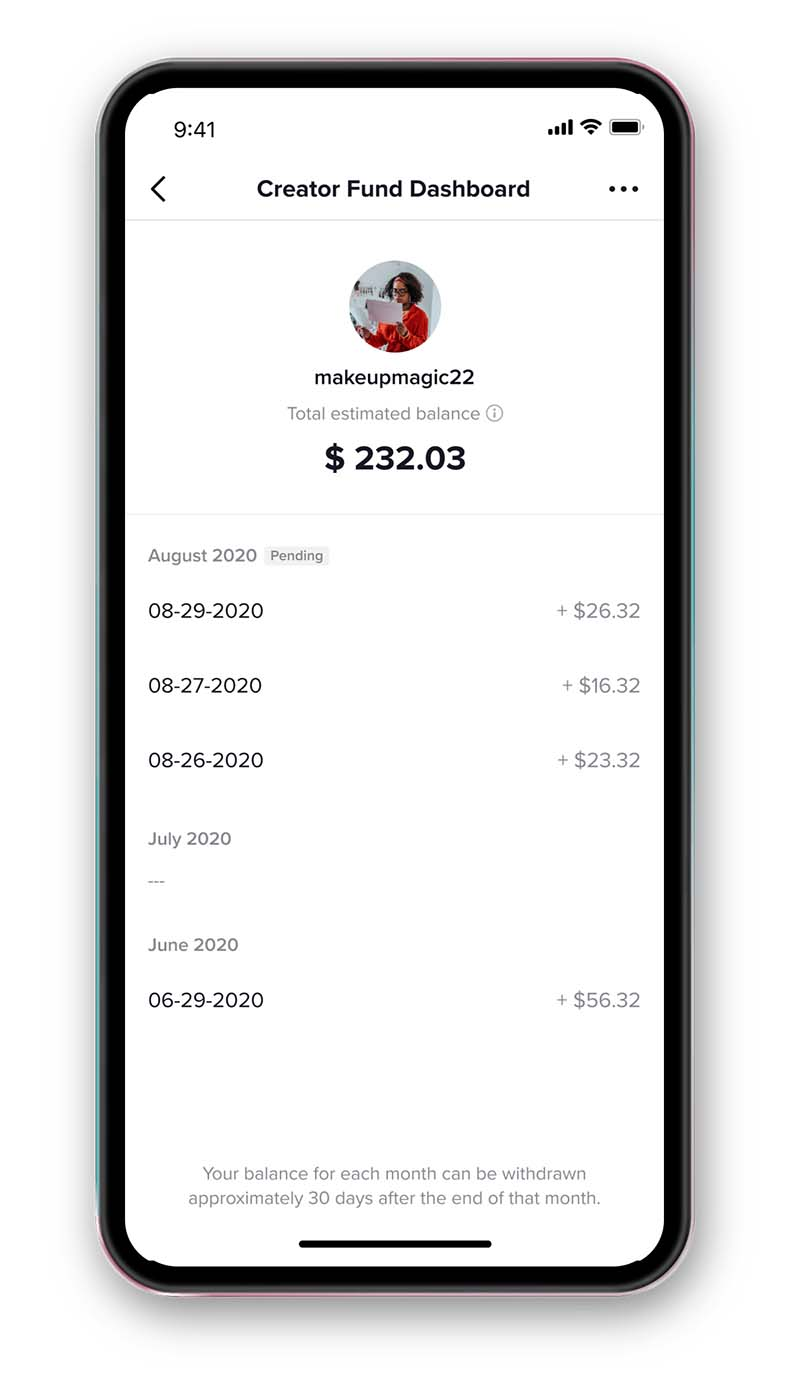 Before joining, you'll need to meet some requirements:
You must be at least 18 years old
You need at least 100k views in the past 30 days
You need at least 10k real followers
You must post original content that conforms to the community guidelines
Keep in mind that while TikTok's Creator Fund is a nice way to get started making money on the platform, it's not going to be your only source of income. One creator with millions of likes only received about $200 with five months of content.
Obviously, the creator fund doesn't make an incredible amount of money by itself, so you'll need to diversify with the other methods I've provided below.
2. Brand Sponsorships
As you scroll through your For You page, you may often notice your favorite creators sneaking in clever promotions for aggressively-advertised products like RidgeWallet or Surfshark.
Unless those TikTok accounts decided to promote products out of the kindness of their heart, they've been paid to do so. It's likely that the ad you saw was part of a bigger influencer marketing strategy.
If you build a following on TikTok, those same brands will reach out to you to produce sponsored content on their behalf. Influencer campaigns are a huge part of the TikTok economy, and it's one of the main ways to earn money on the platform.
A few years ago, CashApp ran a huge influencer marketing campaign and paid creators to produce sponsored content like this:
Credit: Business Insider India
While a lot of branded content comes in the form of sponsored posts, other brands may simply ask you to include a link in your bio:
Credit: MagicLinks
Ultimately, it doesn't matter what form it comes in. For any big TikTok creator, posting sponsored content is a main source of income.
TikTok Creator Marketplace
Because of its powerful algorithm, TikTok offers brands phenomenally high engagement rates on sponsored content. As a result, ByteDance goes above and beyond to make TikTok the best platform for brand deals.
That's why they created the TikTok Creator Marketplace — an official platform for brands to collaborate with TikTok profiles.
This incredible innovation in social network advertising makes it easy for established brands to find influencers in the exact space they need.
Credit: JungleTopp
Once you meet the required following to enter this program, TikTok will invite you to either join or apply. Once you're in, navigate to your settings, click on Creator Tools, and then TikTok Creator Marketplace. Here, you'll be able to customize your creator profile to your liking.
Once you're ready to go, the sky is the limit on how much you can make per video. Some of the biggest creators make tens of thousands of dollars every week from sponsored posts!
Just to clarify: the Creator Marketplace is brand-to-creator only, meaning influencers can't use it to contact brands directly. No worries, though — if you have a solid following, companies will approach you.
3. Live Stream Donations
Have you ever watched a Twitch streamer react to receiving big donations on stream? You can do the same thing on TikTok, with you as the starring streamer.
Live Gifting is a method for creators to earn extra income from their dedicated fans. It works just like other streaming platforms — a fan donates and a notification appears on stream for all to see. Your job is just to make those fans feel appreciated!
Credit: Teilo
Donations come in a few forms, like TikTok Gifts. In order to give TikTok Gifts, viewers must purchase coins — TikTok's platform currency,
Credit: TikTok Tips
Fans can also donate directly monetary contributions to their favorite creators. Like the other gifts, these donations will also appear live in the stream. Your fans get a brief moment of attention, and you get cash money.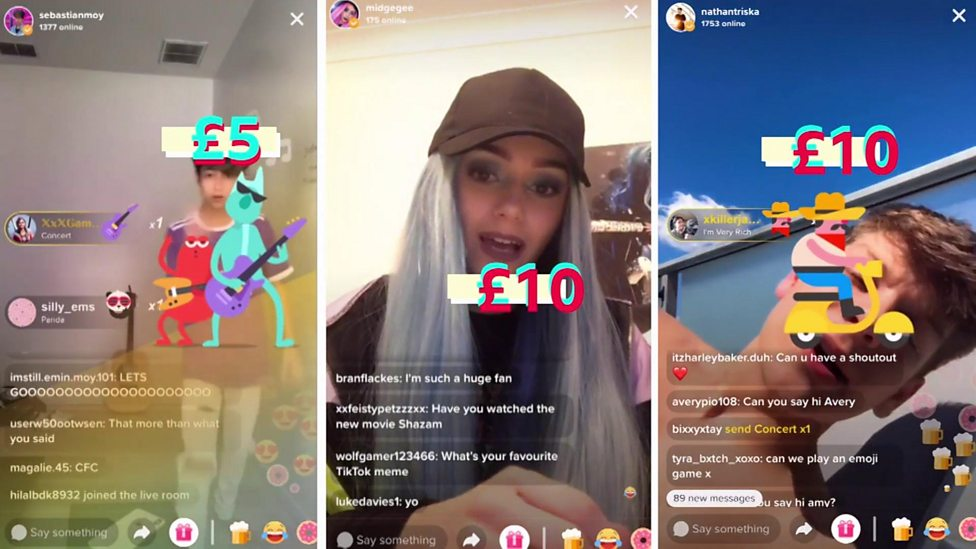 Source: HotTikTok
At the end of each stream, you'll be able to total up all the donations and gifts you received. In exchange for your received donations, TikTok will award you Diamonds. You can redeem these Diamonds for in-platform rewards (like video views) or swap them for real cash.
Keep in mind that only users 18 or older will be able to donate or receive rewards.
4. Sell Your Products With TikTok Ads
If you have your own online business, don't be afraid to sponsor your brand on TikTok! Many brands have made a huge profit from TikTok marketing campaigns, and yours can too.
If your product is aimed at younger generations — Millennials, Gen Z, and younger — TikTok is an amazing place to market your product. Ads on TikTok receive much higher engagement than those on other social media platforms.
While you should still create regular videos, the most efficient way to get attention for your product is by purchasing sponsored content. From the brand side, you have four main promotion options:
Brand Takeover
In-Feed Video Advertising
Hashtag Challenges
Branded Lenses/AR
Credit: BlogOnTop
I'll each one discuss in more detail below:
Brand Takeover
A brand takeover ad is a more intrusive kind of advertisement that takes over the feed of the user when they open the app.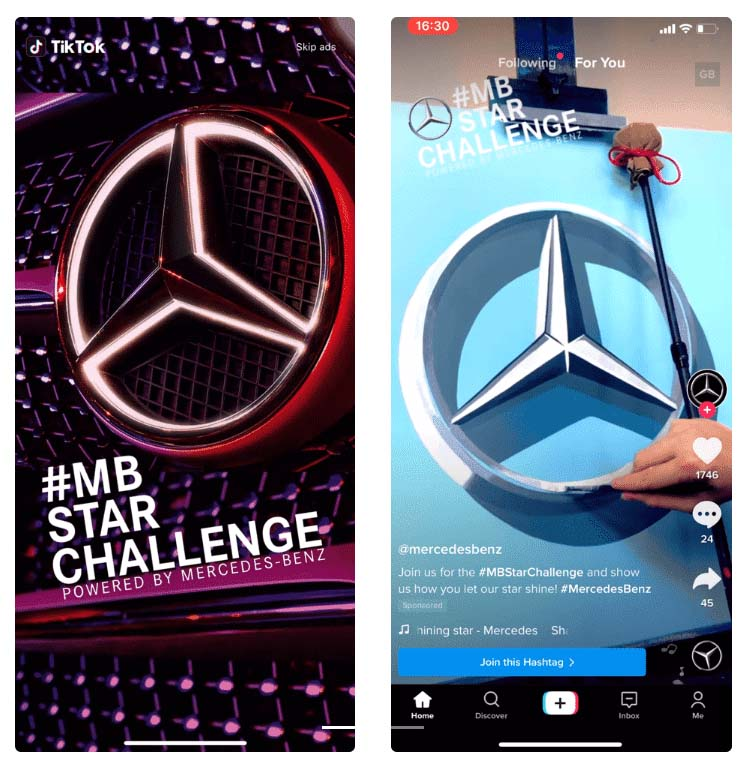 Because they don't want to annoy their users. TikTok has a very limited number of slots for these kinds of ads. However, they can prove to be extremely effective — like they were for Grubhub.
In-Feed Video Advertising
Video ads on TikTok are going to be different than anywhere else, such as on YouTube or traditional TV. This is because TikTok's audience is predominantly very young. When creating video advertisements, you're going to have to keep this primary demographic in mind.
My generation, Gen-Z, is subconsciously programmed to ignore 99% of ads. So instead of just running generic advertising, you're going to have to get really creative to capture the attention of notoriously fast-moving generations.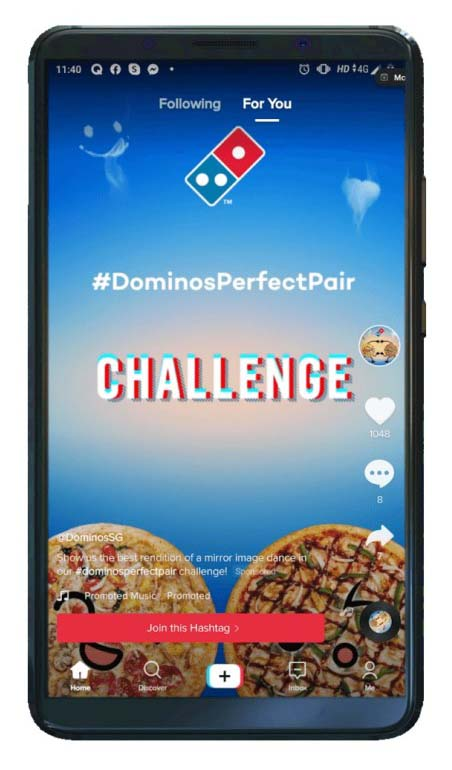 Source: IHDigital
These in-feed ads will appear in the same feed of videos users scroll through when viewing content. If you want to actually capture their attention and convert, you'll need to put the necessary work in.
Hashtag Challenges
Brands have generated millions of dollars by creating sponsored challenges on TikTok.
With this method of promotion, brands will create a challenge that any TikTok user can complete. Usually, brands will start these challenges by paying an influencer to do it, inspiring others to join in. If the challenges are fun for regular TikTok users to do, they'll have organic viral potential.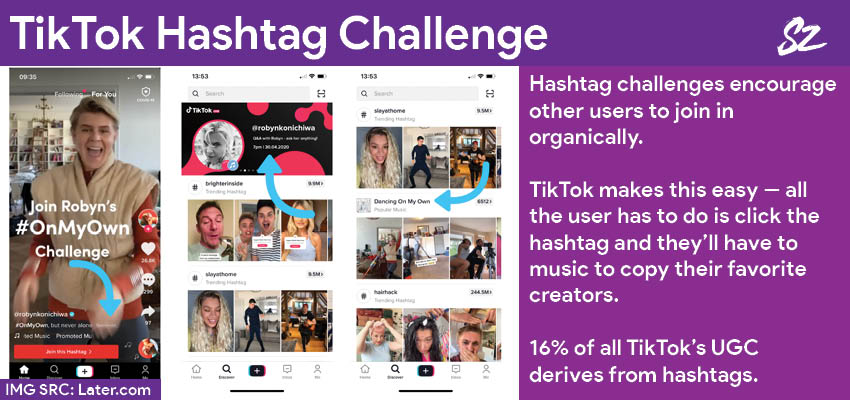 For example, Chipotle has an annual #Boortio campaign that has resulted in lines out of their door on Halloween every year (I've seen this personally). Hollister partnered with the infamous D'Amelio girls for the #MoreHappyDeminDance challenge.
These challenges can be a huge opportunity for your personal brand. Just make sure to be creative in coming up with a challenge!
Branded Lenses/AR
Similar to Snapchat, TikTok allows advertisers to create custom branded lenses for promotional purposes.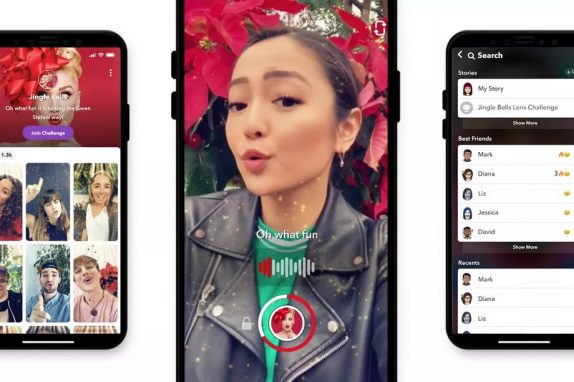 By creating a fun or cool filter that people love, you'll have them sharing your content on their own. Organic user-generated content is the best kind of advertising!
5. Promote Your Talent
If you're a talented artist, TikTok is a great place to get discovered. You won't be the first or last person to make a career out of TikTok fame.
The most famous example of this would be Addison Rae, who exploded on the platform in 2019.She's now recognized worldwide, securing major brand partnerships and even getting her own TV show. She now makes well over a million dollars a year doing what she loves.
Case in point: she took her chance with creating content, and you shouldn't be afraid to either.
Credit: Yahoo News
From my research, I've found that a lot of people have gotten TikTok famous by creating their own dance videos.
If people like your dance videos, they may choose to replicate them themselves — giving you more views by word-of-mouth and user-generated content. In 2020, my girlfriend at the time kept trying to replicate Charli D'Amelio's "Renegade" dance.
It's fine if you don't want to dance — there are countless ways to gain fame on TikTok. You can do comedy, cooking, singing, or underwater basketweaving. It's a virtual world of possibilities!
Earlier, I mentioned I made a stupid 10-second video that garnered 1.4 million views. I can't really think of any other platform that offers the rapid growth trajectory that TikTok does. I think that potential is a huge part of what makes it special.
6. Affiliate Marketing
If you have a large following, you can use affiliate marketing to make money on TikTok. In case you aren't familiar with affiliate marketing, it basically involves recommending products to others and getting paid when they make a purchase.
If someone purchases off your recommendation, they won't be charged anything extra, so it's a win-win situation for everyone involved. Your audience gets a great product, and you get cold, hard cash.
Affiliate marketing is fun because you can promote content however you wish (within the confines of your partners' terms and conditions). You get an affiliate link, and the rest is left up to you.
You can create a TikTok channel reviewing cool products and join the Amazon affiliate network to monetize your recommendations.
Or you can make your own ad, similar to any other sponsored content.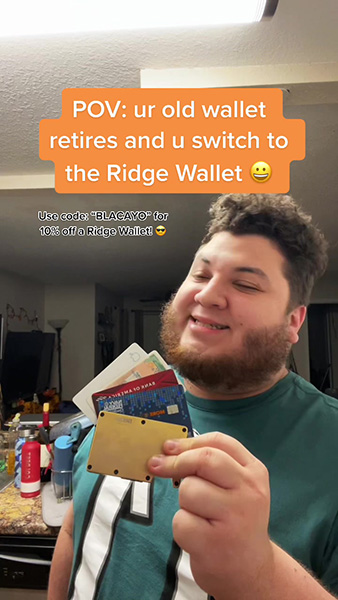 It's all up to you, but it all starts with joining quality, high-paying affiliate programs that will work with you every step of the way.
7. Sell TikTok Accounts
I'm sure you've heard of people flipping accounts on social media platforms like Instagram and Snapchat. TikTok is no different in this regard. If you can consistently grow accounts revolving around particular niches, you can make a lot of money out of selling them.
For example, let's say you grew a finance TikTok account for 500k followers. If you can prove you have your following is consistently engaged in your content, you can sell it for five figures on a trusted platform like Fameswap.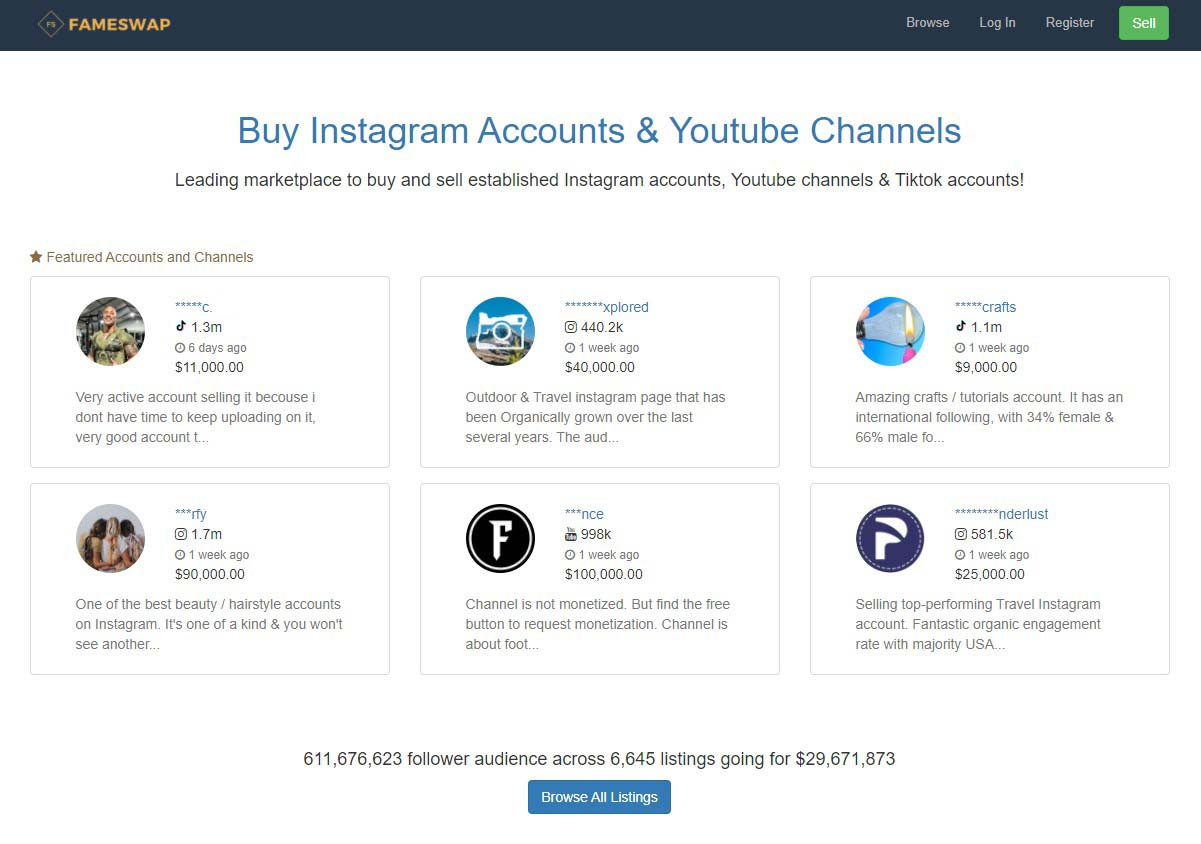 8. Sell "Merch" to Fans
It's almost become a meme at this point to watch influencers peddle "merch" to their loyal fans. The money's no joke, though — selling merchandise is an amazing and profitable way of monetizing a large following.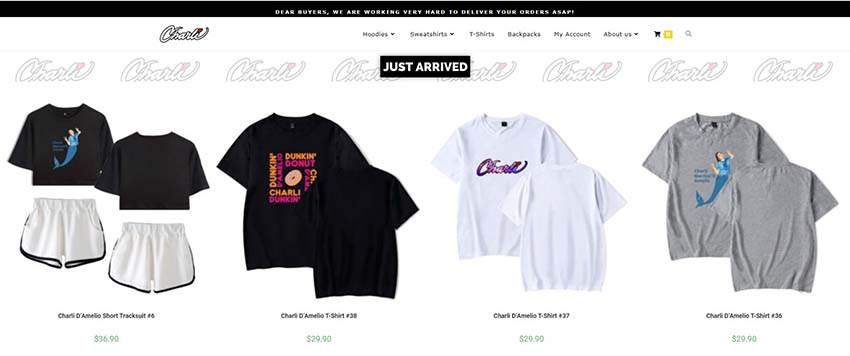 The best part is you don't even need any upfront capital to start. Using a service like Printify, you can have your products made and shipped every time someone places an order. The choices of products are endless too. Handbags, t-shirts, sweatpants, necklaces, you name it.
9. Receive Tips From Your Fans
In 2021, TikTok announced it would allow fans to tip their favorite creators directly. So if you've got a loyal following for your authentic content, you can receive gratis contributions of any amount.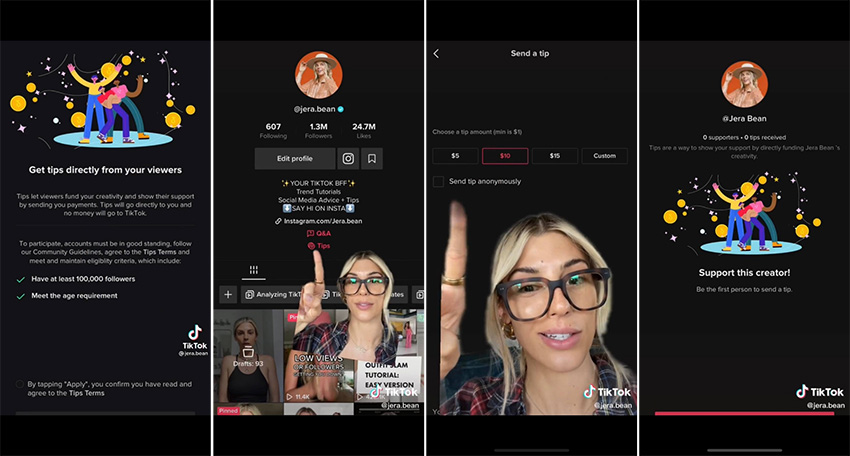 Credit: Mashable
As long as you're at least 18 years of age with 100k followers, you can enable tipping on your TikTok profile.
How to Make Money on TikTok: FAQs
This section will address some of the most commonly asked questions associated with growing and monetizing your TikTok presence.
How do I grow my TikTok audience?
Obviously, to make money on TikTok, you'll need an audience to do it with. Here are a few ways you can accelerate your growth:
Focus on Quality: Above everything else, your content needs to be high-quality. Doing things right may take more time, but it will ultimately be much, much more rewarding than just throwing random low-quality content at the wall.
Follow the Community Guidelines: I've seen accounts with huge followings be wiped out for violating the TikTok guidelines to many times. Make sure you're always following the rules
Keep Your Theme Consistent: Once you've decided what kind of content you're going to upload, don't change it up halfway. If you're a comedy channel, don't start posting DIY baking tutorials next month.
Follow Trending Hashtags: Posting content based off of trending hashtags can be a great way to ride a wave of popularity and earn lots of new followers. A huge part of TikTok is putting your own spin on trends.
Use Viral Sounds: Another way of following trends, using viral background music and sounds can instantly make your content more recognizable and engaging to scrolling audiences. You will also appear in the feed of all videos using that sounds.
Collaborate With Other Creators: If you can secure collaborations with other creators, you can expose yourself to their audience easily. This is a great way to get more followers in your niche.
How often should I upload?
TikTok isn't like other platforms. It's faster-paced, and users generally like to see a lot of quick content from their favorite creators posted regularly.
I highly recommend you post at least once every weekday with that in mind.
What kind of content performs best on TikTok?
The highest-performing content on TikTok is entertainment. Unfortunately, while informative content like tutorials and mini-documentaries can do well, it doesn't come close to the popularity of entertainment.
No matter what niche you're in, I recommend you always keep your videos as entertaining as possible — you'll make much more money that way.
How long does it take to start making money on TikTok?
If you post quality content with high viral potential consistently, you can experience incredible growth in a short period of time. I've seen creators go from zero to over a million followers in less than a year.
Whenever you start to build a solid following, you're going to start making money. The speed at which that following arrives will come down to your talent and hard work. You can treat it as a hobby, or as a career. What you get out will reflect what you put in.
Final Words
When it comes to trending media, TikTok definitely ranks at the top. Millions of people are posting and growing their audiences with its mysterious algorithm. There are so many ways for creators to make money on TikTok, making it an excellent platform for building multiple revenue streams.
If you have the talent to produce short, engaging, high-quality videos for a younger audience, it's a limitless audience for you to tap into and start making money. TikTok offers creators faster growth than any other social media platform.
There have been a ton of success stories on TikTok, some of which I've discussed here. Will yours be next? That's up to you.