When choosing the best VPN to protect your privacy online, there are thousands of service providers to consider.
In this article, I'll take the guesswork out of it and give you a clear picture of who the best choice for you is.
Why Do I Need a VPN?
You're likely a lot more vulnerable online than you might realize.
Did you know that when using public networks — such as your favorite coffee shop's WiFi — anyone on the network can see exactly what you're doing on the web?
Even if the network is private, those with administrator access (such as the owners or your internet service provider) can still see everything you're doing.
If you're sending sensitive data over those networks (and you likely are), that can be pretty scary! Your identity and data are on the line, and that's where virtual private networks (VPNs) come in to protect you.
What Do VPNs Do?
A VPN Connection establishes a secure "tunnel" between you and the Internet, but they do much more than just hide your IP address.
They route all your internet traffic through their networks anonymously while turning it into indecipherable "gibberish" that nobody could use — even if they could access it.
So whether you're on your favorite coffee shop's free WiFi or traveling abroad, you're always safe with a good VPN. You may already have experience with VPNs from your company installing them on your work computer to keep their data safe.
VPNs also allow you to circumnavigate regional internet restrictions by connecting to the Internet from anywhere in the world. For example, you can access different countries' versions of your favorite streaming services, giving you access to their library.
With all these benefits and more, VPNs have absolutely exploded in popularity over the past decade. It's really just a question of picking the best option out of the ever-growing plethora of providers.
What Are the Best VPN Services?
As I said, there are a lot of VPN providers out there, and I've tried quite a few myself. Unfortunately, there are many that claim to be great but turn out to lack critical features.
But, on the other hand, some really do stand out from the crowd. We're looking for:
A true commitment to user privacy
VPN block bypassing (for Netflix, Hulu, et cetera)
Fast download speeds
A worldwide selection of networks
Great customer support
Military-grade security
Extensive features
Great value for money
From my extensive experience, I will share with you the best of the best in this guide. I'm going to be sharing the top VPN services that provide:
Judging VPN candidates by these principles, you'll be able to easily pick the provider that's best for you. I've already done most of the heavy lifting.
Without further ado, here is my list of the best VPNs this year:
1. NordVPN
#1 Best VPN Service Overall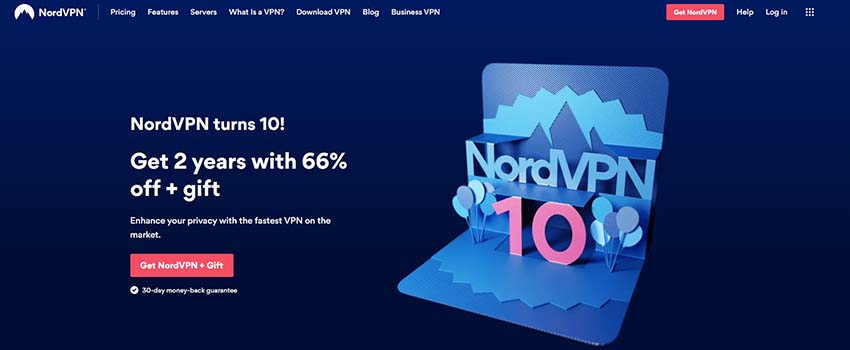 It's fast, it's secure, it's private, it's cost-effective, and it's the VPN I use in my business life: it's NordVPN.
Starting in 2012, NordVPN has rapidly expanded its operation to well over 5,000 servers. Most are located in the West, but there are a plethora of options among over 62 countries. It's worth mentioning that they're constantly growing.
NordVPN itself is located in Panama, a strategic legal decision that allows them to avoid retaining any user data, a practice mandated in many other nations. Most VPN services don't have this sort of privacy standard.
I've done the research for my own personal use, and I have yet to find a VPN provider meeting their standard of privacy. Over eight million users seem to agree.
In addition to standard VPN services, they also offer double encryption, P2P networks, obfuscated servers, TOR over VPN, and more. Those features are a big reason I have good ol' Nord at my #1 spot.
Key Features:
Over 5,000 servers and IP addresses
Based in Panama
Only $3.67 per month with a two-year plan
Tons of features, such as double encryption and VPN over TOR
Over eight million users
Automatic, customizable kill-switch
Military-grade AES-256-GCM encryption
Strict no-logs policy verified by a third party
Servers never write to hard disk
24/7 customer support
Double-VPN functionality
Includes CyberSec, which blocks malicious content
Compatible with all major devices and operating systems
One account can register up to six devices simultaneously
No bandwidth or data limits
Accepts Bitcoin as payment for maximum privacy
30-day moneyback guarantee
Notable Endorsements:
PCMag rated them their Editor's Choice VPN two years in a row
VPNMentor chose them as the best VPN overall
TechAdvisor ranked it the best VPN overall back in 2018
BestVPN has also tapped them as their top choice in the past
Pricing:
NordVPN 1 Month: $11.95/mth
NordVPN 1 Year: $4.92/mth
NordVPN 2 Years: $3.67/mth
2. ExpressVPN
Privacy King With Amazing Third-Party Applications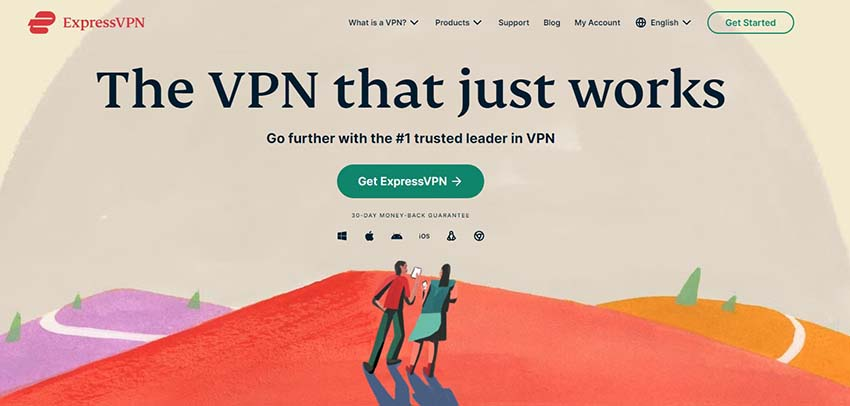 ExpressVPN is another provider that I pass with flying colors. TechRadar and CNET happen to agree.
They started operations in 2009 and are based out of the British Virgin Islands. They run over 3,000 servers in 94 different countries that offer over 30,000 different IP addresses for your use.
In my experience, I've found their speeds to be quite impressive. If speed is one of your primary concerns, then you definitely shouldn't be ruling out. Like other VPNs, they also offer a kill switch that guarantees your connection won't be exposed in the event of a VPN failure.
It's a little more expensive than NordVPN and lacks some of its features too. However, they make up for it with their extensive third-party applications (for devices such as Apple TV) and split-tunneling.
Split tunneling is extremely useful. Some services I used don't play nice with VPN connections, so it's handy to be able to whitelist certain services for vanilla connections while keeping my VPN on for everything else.
Something important that should also be mentioned: a server seizure by one government proved its no-logs policy to be true. This reason, along with their TrustedServer technology, is a huge reason why I have it at the #2 spot out of all the VPNs out there.
It's an amazing service with great customer support and a huge number of server locations.
Key Features:
The largest number of servers worldwide
Based in the British Virgin Islands
Over 94 countries
No-logs policy proven by attempted server confiscation
Split tunneling
Automatic kill-switch
Military-grade AES-256 encryption
Servers use RAM only, never writing to hard disk
TrustedServer technology
24/7 customer support
Compatible with all major devices and operating systems
Has the most apps for third-party platforms, such as Apple TV
One account can register up to five devices simultaneously
No bandwidth or data limits
Accepts Bitcoin as payment
Three months free with a one-year plan
30-day money-back guarantee
Notable Endorsements:
TechRadar called them the "best offshore VPN for privacy and unblocking"
Forbes top VPN for 2021
PCWorld: "Performance is great. Consistently good speeds."
CNET's top VPN of 2021
Pricing:
ExpressVPN 1 month: $12.95/mth
ExpressVPN 6 months: $9.99/mth
ExpressVPN 1 Year: $6.67/mth
3. Surfshark
VPN Service for Unlimited Devices With Tons of Features

In the sea of VPN providers, there is a shark in the water: Surfshark. It's a friendly shark, though; worry. Very friendly, in fact: I put it in my top three for a reason.
Another native of the British Virgin Islands, Surfshark began operations pretty recently in 2018. However, don't let its greenhorn status fool you — it's no slacker.
They may not have the largest network in the game, but they more than make up for it with their extensive features. With over 3,000 servers in 65 countries, you can expect some of the fastest (if not the fastest) VPN speeds in the world.
You can also enjoy all that speed across unlimited simultaneous connections. Yes, there's no limit on how many of your devices you can run with a single Surfshark subscription. You could run your laptop, phone, tablet, desktop, other laptops, and other tablets on your Surfshark subscription. You can even run your gaming console on Surfshark.
Another thing I need to touch upon: they have some cool special modes:
Multihop: Routes your connection through multiple countries to hide your trail
Camouflage: Hides your activity in such a way your ISP doesn't even realize you're using a VPN
NoBorders: Allows use of Surfshark in restrictive regions
Given that they started in 2018, I have to say their rapid rise has been quite impressive. Inspirational, even.
Key Features:
Over 3,200 servers in 65 locations
Based in the British Virgin Islands
$2.49 a month for a two-year plan
One account can register unlimited devices simultaneously
Unique features like Multihop and NoBorders
Strict no-logs policy
Includes Surfshark Search for private, unbiased web searches
Includes CleanWeb for malware and ad protection
Split tunneling
Automatic kill-switch
Military-grade AES-256 encryption
24/7 customer support
Compatible with all major devices and operating systems
No bandwidth or data limits
30-day money-back guarantee
Notable Endorsements:
PCMag: "It's a pleasure to see a new VPN that gets so much right."
Security.org rating: 9.2/10
TechRadar: "One of the best value swimmers in the ocean of VPN services."
CNET: "A speed leader, packed with features."
Pricing:
Surfshark 1 month: $12.95/mth
Surfshark 6 months: $6.49/mth
Surfshark 1 Year: $2.49/mth
Virtual Private Network FAQs
This section will answer some of the most common questions I see about VPNs. Hopefully, after reading these, you'll be confident in what you're buying.
How Does VPN Tunneling Work?
The VPN tunnel is first created when your client (computer tablet, phone, et cetera) authenticates with your VPN server.
Then, your data splits into packets which the VPN wraps in an outer packet. That process is called encapsulation.
That encapsulation keeps your data secure. When your data finally reaches its destination at the VPN server, it is then unencrypted.
What's Wrong With Free VPNs?
Look, I get it: there's nothing better than free. If you can keep your data secure on a free VPN, then why shouldn't you go for that?
Simply put, free VPNs are generally of pretty low quality. Free VPN providers aren't going to put any real work into securing their network. Plus, they're going to look to be making money somehow. That will mostly come in the form of selling your data.
Whatever you're going to pay for your VPN will be worth it — especially with the options I listed above.
Are VPNs Legal?
Virtual private networks are legal in most countries. However, they are indeed banned in others.
Before using a VPN, I recommend you review your country's laws. I have to advise you against any illegal activity.
Are VPNs Safe to Use?
If you choose trustworthy service providers, then absolutely. Do your research — as I have here — and you will be fine. Just know that the VPN industry isn't a charity, and many VPN companies do shady things for money.
For example, free VPNs aren't safe to use. I'm not saying that because I want you to make a purchase — I'm saying that because they will sell your data. They don't do it for free!
Are There Any Alternatives to VPNs?
There is software that offers similar services to VPNs, but nothing can replace them.
The closest alternative is TOR — The Onion Router. That works fine, but a great many websites will block your access.
Conclusion
If you're here reading this, I'm sure it's not lost on you that your safety online is as critical as wearing a seatbelt or looking both ways to cross the street these days.
Nothing will keep you secure like a virtual private network when it comes to safety online. The VPNs I've selected in this list will accomplish that task better than any other.
There are dozens and dozens, but I've picked the ones that really take home the gold.
I hope you've been sufficiently impressed by the features offered by the VPNs in this list. But, let me tell you, using and reviewing all of them was grueling work at times.
You can thank me later. Safe browsing!