Whether it's for YouTube videos or Hollywood films, choosing the right video editing software is essential to creating a truly professional product.
Bad editing can make you look like an amateur who doesn't deserve the time of day, and good editing can make you seem like a real professional who deserves serious consideration. We want to look like professional editors, not amateur hobbyists.
To get that pro product, you have to take time to pick the best video editing software for your needs. In this guide, I'm going to guide you through the best editing tools from my personal experience.
Ready to dive in?
What's the Best Video Editing Software?
I've been messing with video editing since I was six years old. I remember animating and editing videos based on Star Wars: The Clone Wars, which I was obsessed with at the time. I was mesmerized with having the ability to create epic stories from the comfort of my Windows Vista desktop.
Of course, I've come a long way since then. I've gone from editing Star Wars fan clips to creating clips for my own business. Throughout my video editing journey, I've come across the best (and the worst) tools out there.
In this guide, I'll share my top picks with you and save you the trouble of trying out each individual option. Your needs will vary, so that's why I'll be sharing:
The best overall video editing software
The best video editing software for macOS and iOS
The best free video editing tools
…and much more. So without further ado, let's dive into my hand-picked list of the best video editing software out there:
1. Adobe Premiere Pro CC
Best Video Editing Software Overall
Adobe Premiere Pro is one of Adobe Creative Cloud's most famous apps (maybe the most famous besides Photoshop), and for good reason. Professionals all around the world trust this platform to develop the latest and greatest in video editing.
There's nothing in film that you can't do with Premiere Pro. It's a true professional's toolkit, but if you're just beginning don't feel too intimated to learn; anyone can learn to use its epic editing tools!
Plus, if you're not on Mac or PC, don't sweat it; it's available on Linux too.
Advanced Features
Adobe Premiere has a ton of crazy-smart features that other platforms don't. Things like automatic captions, reformatting, color matching, and more make Premiere Pro a no-brainer for professionals.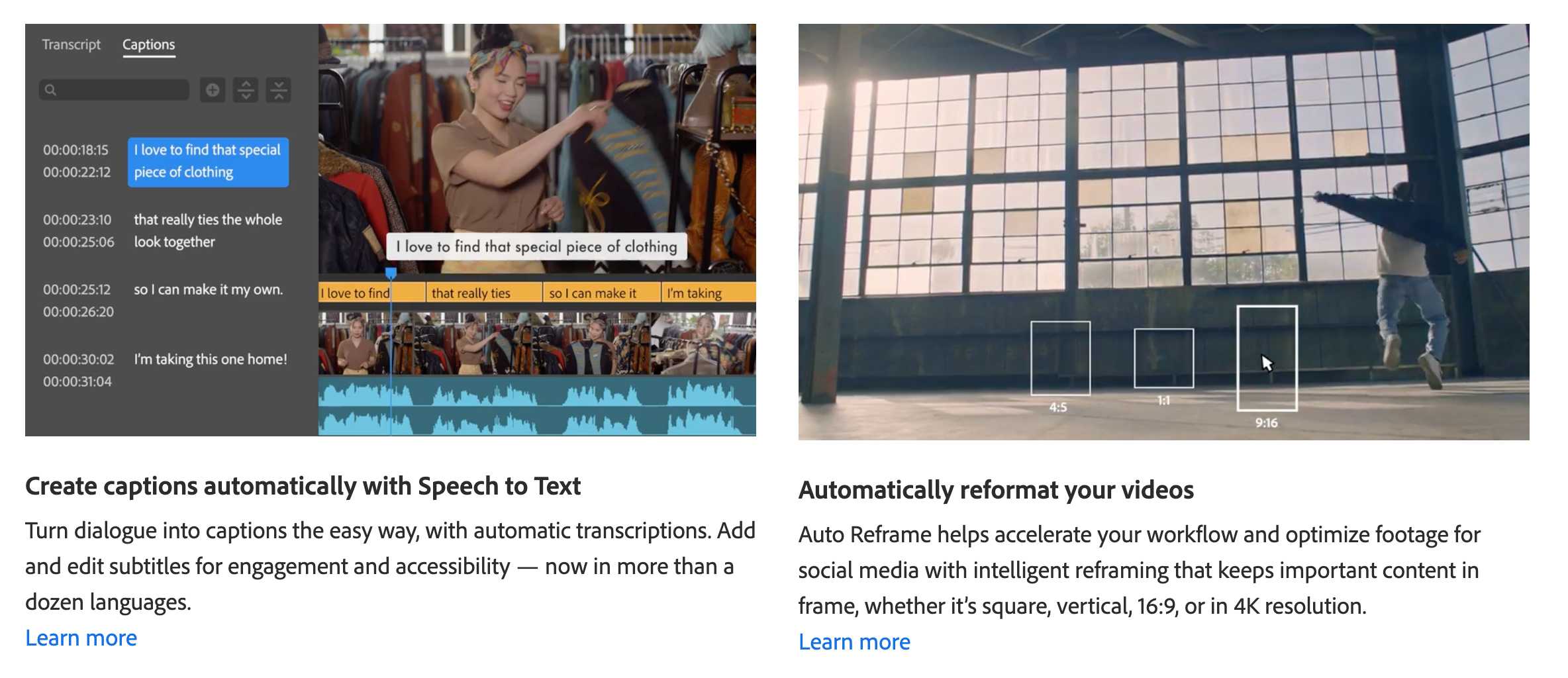 Adobe Suite Ecosystem
One great thing about using Adobe Premiere Pro is that it's fully compatible with other apps in the Adobe ecosystem.That means you can easily move assets back and forth between different apps for different functions.
For instance, if you need to edit a sound file, you can transfer it directly to Audition for audio editing (and right back). I can't understate how useful this is.
Super Affordable
Way back in the day, Adobe Suite used to sell as a one-time purchase of over $600. Now, thanks to the rise of SaaS (software as a service), they've transitioned to a much more affordable subscription.
Now, instead of paying hundreds of dollars for the entire suite, you can pay a very affordable subscription to get everything in Creative Cloud. In addition to Premiere, you can add After Effects, Audition, and more to complete your editing toolkit.
Adobe also offers a hefty student discount, making Premiere Pro the best video editing software for students too.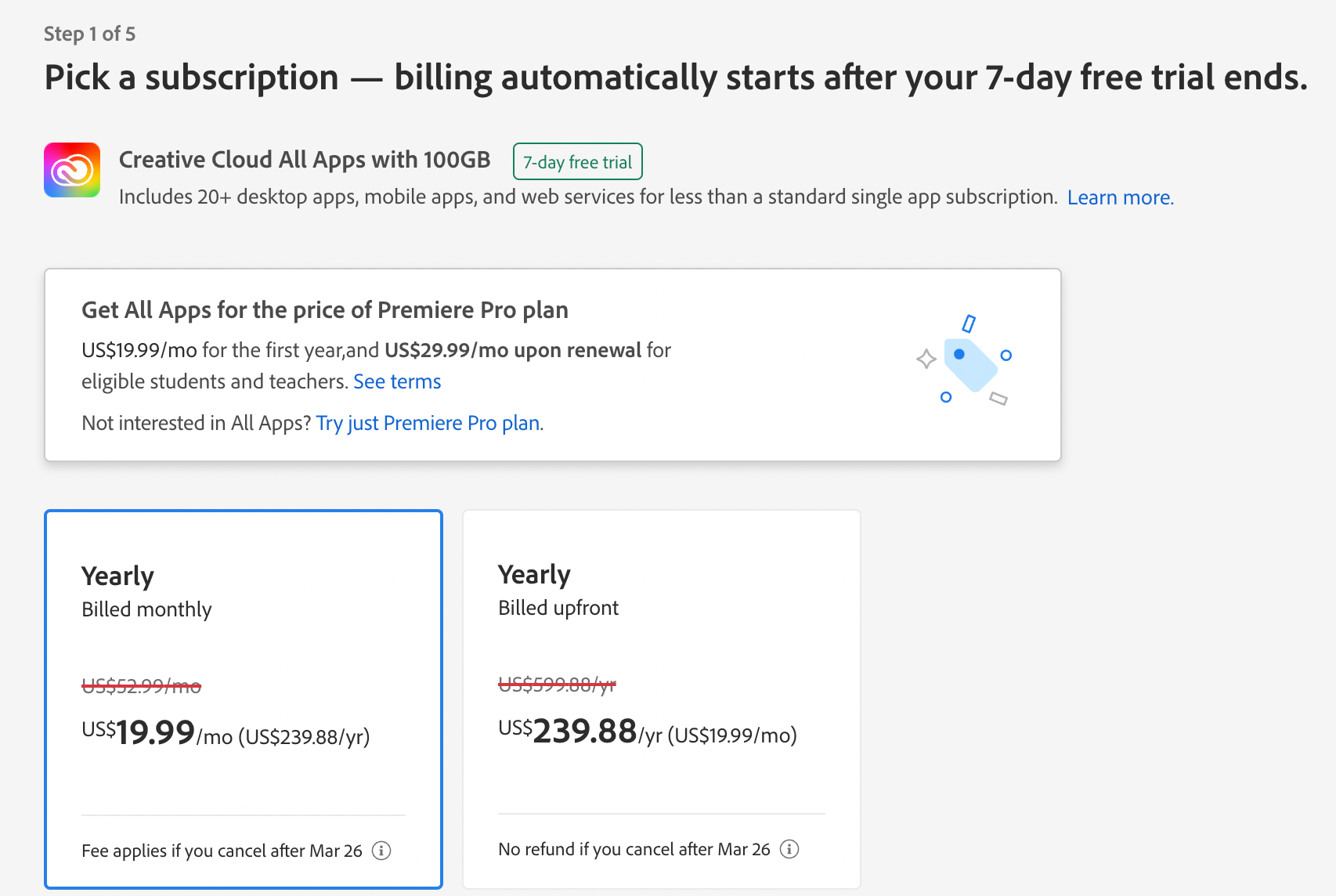 A great product at an even better price makes Adobe Premiere an easy choice for #1.
2. Final Cut Pro X
Best MacOS Editing Software
If a professional isn't using Adobe Premiere, they're using Final Cut Pro; that's just the way it is. With Final Cut Pro, Apple has routinely outdone themselves creating a platform that is suitable for every level of professional work while having an accessible learning curve.
The interface is smooth and intuitive, making for a pleasurable experience that can withstand hours of constant editing without driving you insane (this is important, believe me!). It may seem like a steep learning curve at first, but it's pretty easy once you get the hang of it.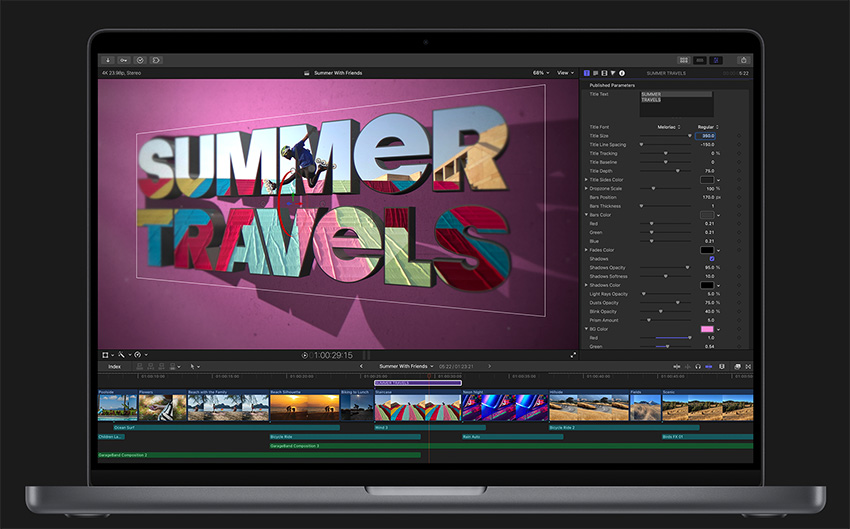 They also have a generous amount of templates to make editing a breeze if you don't feel like creating from scratch; Apple wants a smooth and convenient experience for everyone.
Cutting Edge Capabilities
Final Cut Pro offers an impressive array of features not available on other platforms. For example, the Apple Neural Engine-powered Object Tracker will allow you to make in-depth edits to moving footage.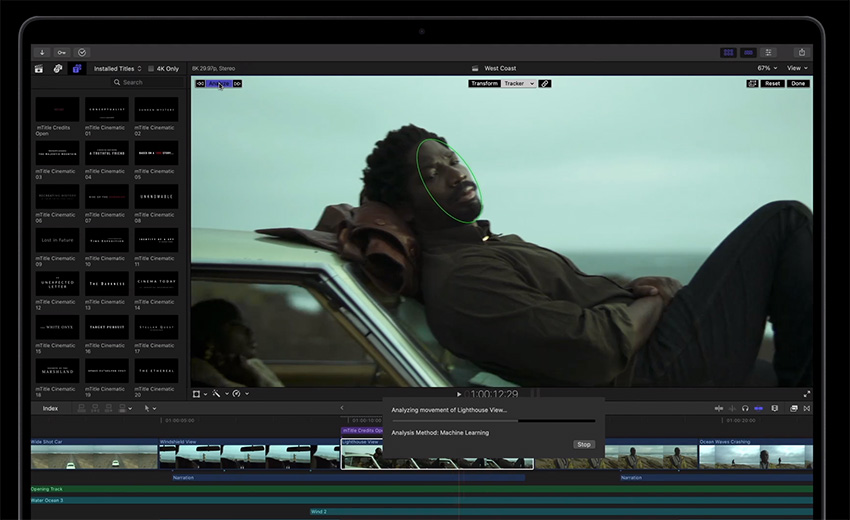 That's just the beginning! Other insane features like Cinematic Mode allow you to change the focus of a shot after the fact.
If you're a macOS user who wants the ultimate video creation engine, then Final Cut Pro X will be the choice for you.
It used to be quite expensive. Fortunately, Apple has cut down the price substantially from its original hefty tag, making it accessible for millions more.
3. HitFilm Express
Best Free Video Editor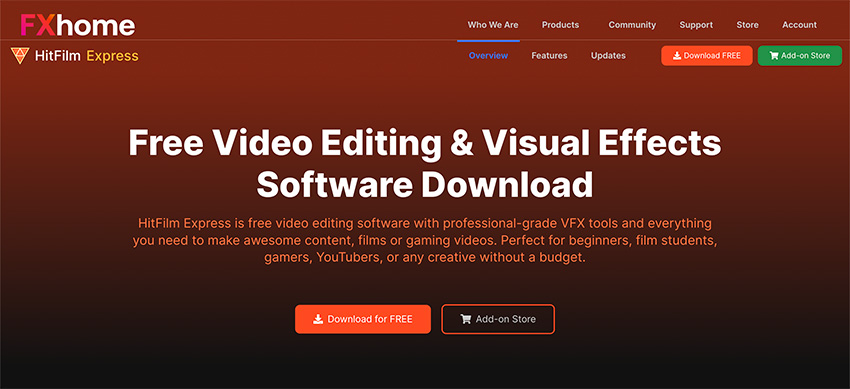 When it comes to free software, you can't do much better than HitFilm Express – the free version of HitFilm Pro by FXhome.
It comes with everything you need for surprisingly advanced editing. It has a smooth, intuitive editing design that makes it easy to put together quality films for beginners and experienced users alike.
Workflow Powerhouse

HitFilm is famous for its incredible selection of workflow-enhancing features. Both the little and big features make a huge difference in your creative output.
For example, if you don't like the native editing layout, you can change it completely with its fully-customizable layout panel. If you want to add commentary to your videos, do it in a snap with its voiceover ability. I could go on forever about the epic little features that make HitFilm great, but you get the picture.
Once you're done with video editing, you can render your film in a broad variety of formats, all in the background while you continue to work in the editor. All these features and more — for free no less — make this an easy pick for the #3 best video editing software.
4. iMovie
Free iOS Video Editing Software
iMovie is famous, and for good reason. Amateurs and professionals alike have used this extremely user-friendly video editing tool to put together quality videos both at home and on the go. It runs fantastic on whichever device you're using it on; something we've come to expect from Apple's impeccable QA.
iCloud users can move video clips around the cloud to make convenient adjustments on both their mobile and desktop devices. On mobile, your export options will be limited. However, the desktop version offers a broad variety of common formats.
Surprisingly Powerful
It's fair to not expect too much out of mobile free video editing software. However, "good enough" is never good enough for Apple, and their work on iMove is no exception.
iMovie is not to be trifled with when it comes to video editing. Combined with the power of the iPhone, users can create high-fidelity movies by leveraging their library of advanced tools.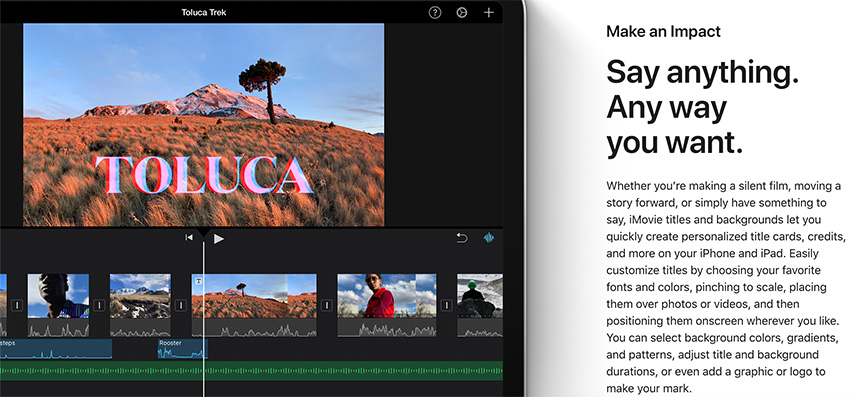 The mobile functionality, combined with the price tag (or lack thereof, in this case) makes this a choice tool for beginners who wants to put together movies on iOS without spending any money.
5. PowerDirector
Feature-Packed Free Video Editor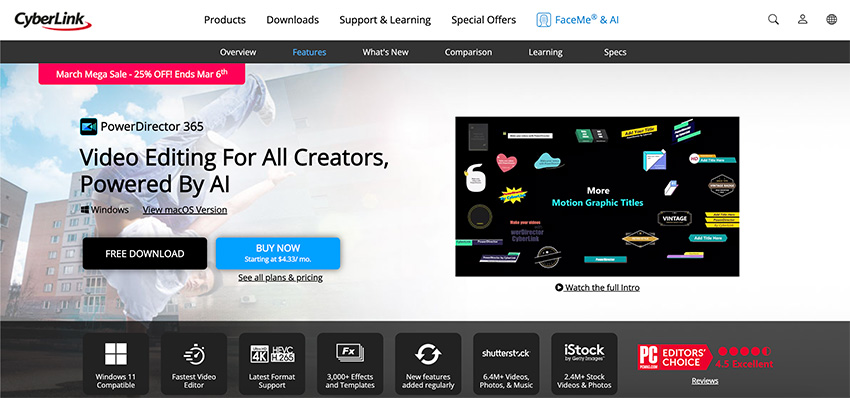 PowerDirector is a powerful video editor known for its friendliness to new users. If you want to create and edit videos without breaking the bank, PowerDirector is a great choice.
While it does offer a premium version, the free editor is more than sufficient for anyone looking to create YouTube videos, home movies, or anything else of that variety. It's a one-size-fits-all solution for anyone who wants powerful edits on the cheap.
AI-Powered
PowerDirector also features AI-powered tools to help you take your video editing experience to a whole new level.
Bad weather day? Change the sky. Don't like the background? Replace it. All this and more is achieved easily with PowerDirector's impressive array of advanced features.
6. Movavi
Freemium Editing Software Suite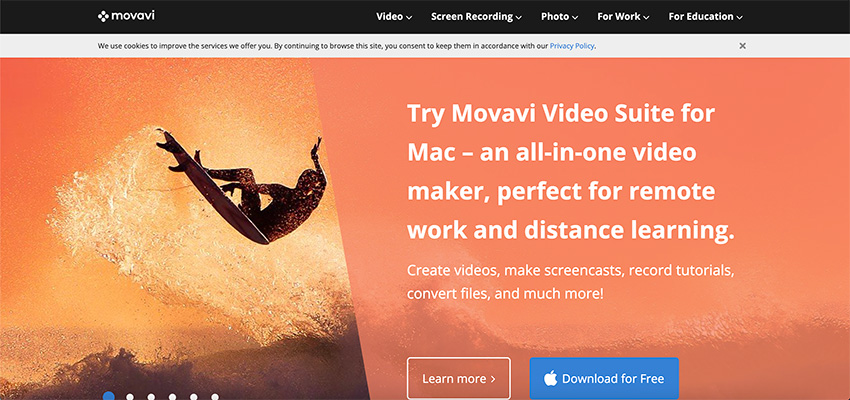 Movavi Video Editor is an awesome tool that allows simple high-quality video editing to anyone on Mac or Windows. It's one of the best free video editing software tools around, with sufficient features for any casual user.
Movavi has plenty of effects to make your productions stand out easily, plus a native screen recording function. If you're creating presentations for remote work or learning, it's a top-tier choice.
While the free version is great, Movavi also offers extra effects for sale. The effects include transitions, backgrounds, sounds, titles, and more.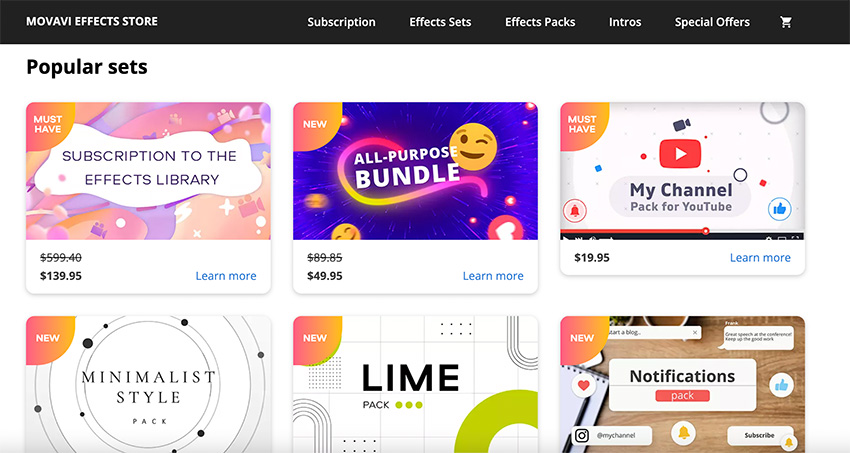 Mobile Video Editor
Movavi recently added Clips to its software suite, available on iOS and Android. If you're looking for a more powerful alternative to iMovie, you can create on-the-go movies with Movavi Clips.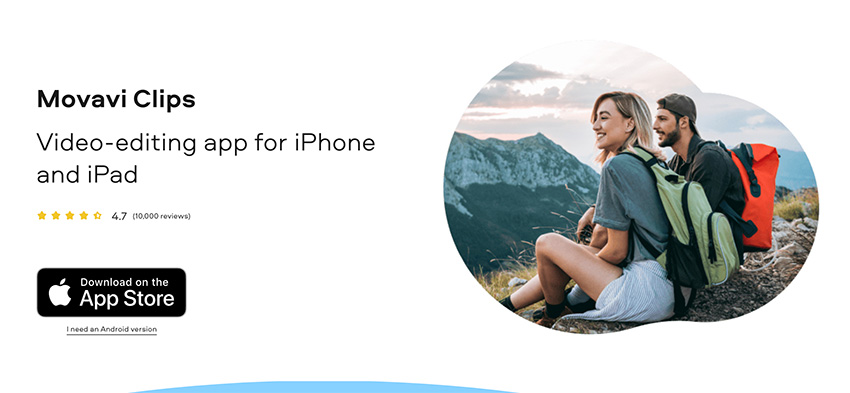 It's free but offers in-app purchases of effects, transitions, and more — similar to its desktop counterpart.
7. Adobe Premiere Elements
Best Video Editing Program for Casual Users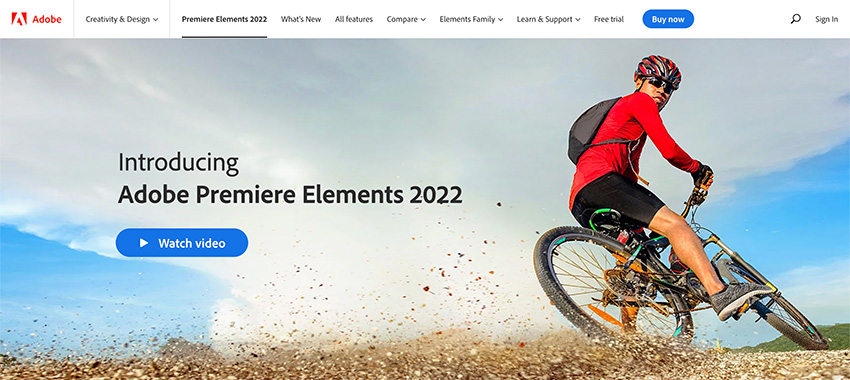 To appeal to beginners, Adobe made Adobe Premiere Elements. It offers users all the essential functionality of a video editing tool in a simple, streamlined process.
It may be a simpler tool than Adobe Premiere proper, but that doesn't mean it's lacking in the feature department. You'll have access to a ton of cutting-edge features, such as grain removal, focus adjustment, motion tracking, and much more.
Editing Modes
Element's hallmark feature is its video editing modes: Automated, Guided, and Expert.
Automated will automatically edit your videos for you using its powerful AI engine. Guided is more like a tutorial function, where you'll have every facet of the platform explained while you create your masterpiece. Finally, Expert is hands-off, leaving all the video editing to you.
Video Editing Software FAQs
We've completed my list of the best video editors, awesome! However, I realize that you still might have a lot of questions before you're ready to dive into a new software too. So in this section, I'll try to answer the most common questions about finding the best video editing software for your unique needs.
What is video editing software used for?
Whenever you need to go beyond simple edits and create actual movies, you'll need video editing software. They enable users to:
Crop sections of videos
Piece different clips together
Add special effects, such as filters and banners
Edit and add sound/audio
Basic lighting changes and focus adjustments
Export in a broad variety of file formats
For more powerful adjustments, you'll need to take your film to post-editing tools like After Effects.
What should you look for in video editing tools?
Before downloading any video editing software, consider the following:
Easy editing of clips: It shouldn't be a pain to make adjustments to video clips
Cross-platform support: Ideally your video editing software should work on every major platform so you can use it anywhere. Final Cut Pro is bad about this, so unless you only use macOS take that into consideration
Audio editing capabilities: When editing videos, you'll need to adjust the audio too. Make sure that your editor has those capabilities
Technical specifications: Look at the required hardware each editing software has before downloading. If your computer doesn't meet the standards, you're wasting your time
Real-time preview: Good video editing programs will allow you to preview your work as your edit videos
Do I need a fast computer to edit videos?
Not necessarily, but it's recommended. These days, even entry-level laptops will have processors and graphic cards capable of giving you renders in a reasonable amount of time.
However, a computer with an ultra-fast processor and dedicated GPU will run circles around a cheaper computer. If you're planning on doing a lot of video editing, I highly recommend buying or building a workstation PC or Mac Pro.
If you prefer Windows, I highly recommend the NZXT Creator PC.
Final Words
In this guide, I put together the video editing tools I thought were the absolute best for the purposes that I specified in their respective subtitles. There are dozens of options out there, but I picked a few out of them all to give you the best the web has to offer to fuel your video-editing needs.
Now, it's up to you to use these tools to their full potential.