Email marketing is the most potent, highest return on investment strategy you can integrate into your Shopify store. With the right tools, you can generate up to 30% of your sales from email marketing alone.
I know that because I did it myself. I have direct experience with these email marketing apps, which helped me to generate over $150,000 in sales with my Shopify dropshipping business.
With the right tools, I know you can do that too. In that spirit, I've listed my favorite email marketing apps from my direct experience. Using these tools, you can get a running start on building your own Shopify empire.
What Are the Best Shopify Email Marketing Apps?
Marketing is the key to the success of any online store. Here are the best email marketing apps to take your Shopify store to the next level:

Klaviyo is one of the biggest players in the email marketing space. They give you all of your consumer data and interactions, empowering you to turn transactions with customers into productive long-term relationships at scale.
You have plenty of templates to choose from, and you can combine Email and SMS marketing into the same flow. Automations are good on Klaviyo, like welcome emails, happy birthday, or abandon the cart.
On their website, they state that "Shopify stores make $85 for every dollar spent on Klaviyo." I think it's safe to say that's a good return on investment.
Myself, I really recommend Klaviyo to anyone who wants an email marketing tool with all the features available. It is a great tool for maximizing your email sales.
Pricing:

Klaviyo is free for up to 250 email contacts and 50 SMS contacts. However, paid plans start at $20/month for 500 email contacts and $5/month for 150 SMS contacts.
Paid SMS plans include automated channels, two-way conversions, customizable reports, and opt-in forms.
A great tool for budget-conscious Shopify shop owners is Mailchimp. Mailchimp allows you to design excellent automations, either created from the ground up or chosen from a collection of pre-built customer journeys.
Pricing: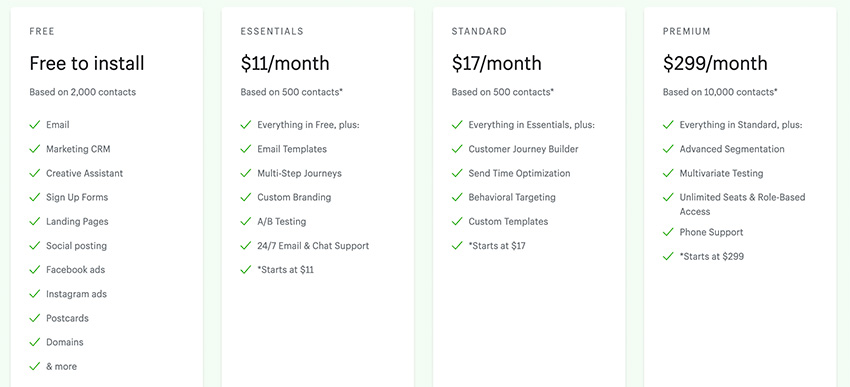 Their free plan includes 2000 contacts and 10,000 emails per month. If you want to do SMS marketing with Mailchimp, it requires third-party integration.
Their paid plans are as follows:
Up to 500 contacts: $11/month
2,500 contacts: $34/month
10,000 contacts: $87/month
As indicated above, Mailchimp offers a generous free plan. If you have a smaller budget, this can be an excellent option for you.

Used by over 70,000 stores, Omnisend is one of the best and biggest email marketing tools out there. Their full Shopify integration, pre-built automation workflows, and intuitive, no-code editing make it easy to get you up and running without spending too much time on the small details.
Omnisend allows you to automate things such as:
Abandoned cart emails
Order follow up emails
Product & Browse abandonment
Welcome Emails
Winback Emails
Customer Feedback Emails
If you are looking for an excellent full-service app with everything needed for an eCommerce brand, Omnisend should be a top choice. They have one of the highest ratings on the Shopify app store for a reason!
Pricing:

With the free plan, you can get up to 250 contacts and send 500 emails/month. The free program also offers 60 SMS contacts.
Their paid plans are as follows:
Up to 500 email subscribers: $16/month
5,000 email subscribers: $65/month
20,000 email subscribers: $230/month

Sendinblue is another free email marketing app for Shopify users. Unlike other email marketing platforms, it comes with an editor that you can use to create captivating campaigns without too much hassle.
With SendinBlue, you can start quickly by using dozens of templates. Whether you start from scratch or use a pre-designed template doesn't matter.
Additionally, SendinBlue offers a dashboard for tracking metrics such as open rates, click-through rates, and more.
Key Features:
Choose from ready-to-use email templates and make your own changes easily. If you are interested, you can also do A/B testing and see what emails perform the best
Promote time-sensitive and special events via SMS messages to your customers. You can simply write your message, select a list of customers and schedule the message to be sent
Set up a chatbox to talk with customers in real-time. You can also organize your workflow by assigning conversations to different chat user agents
If you have a bigger marketing team, Sendinblue allows you to create a shared inbox with your team instead of having multiple inboxes between your teams
Pricing: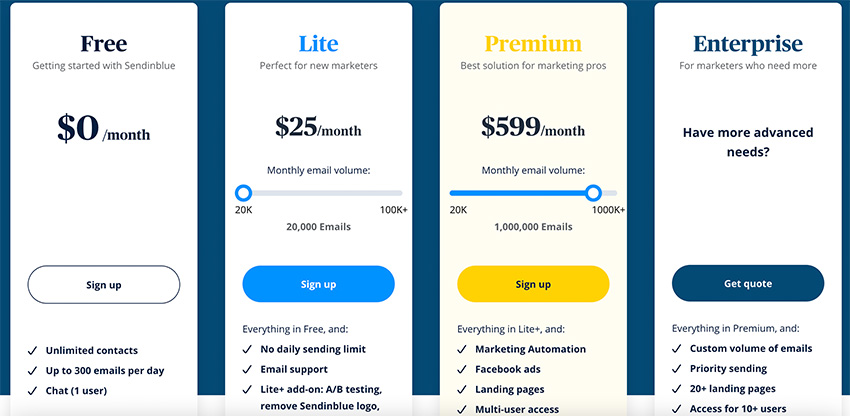 Sendinblue is free to download and use. They offer a very generous free plan with unlimited contacts and 300 emails a day.
However, you can pay $25 for up to 20,000 emails a month if you need more than that. More extensive plans are available for even more emailing capacity, maxing out at $599/month for 1,000,000 emails.
For even greater marketing machines, enterprise plans are available. For those with texting needs, SMS pricing depends on the country.

It's not a typo; it's SmartrMail!
As Smartrmail claims, its system is one of the most innovative ways to send emails to customers. As a result, it is one of the highest-rated email apps (4.9) on Shopify, with 450 reviews.
You will get started fast as they offer you over 100 ready-to-use professional templates. They also provide you with an excellent drag and drop newsletter builder.
Pricing:

Their free plan is up to 1000 subscribers and 5000 emails per month. In addition, it comes with free email newsletters and automated email flows.
Paid plan pricing depends on the number of email subscribers you have. The base cost is $0.0075 per subscriber/month. Here are some examples relative to subscriber count:
Up to 10,000 email subscribers: $86.50/month
Up to 50,000 email subscribers: $386.50/month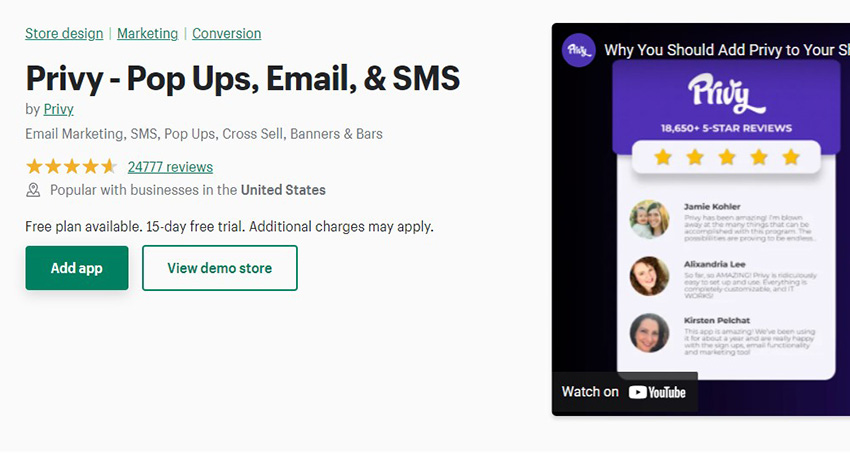 Small and large eCommerce companies trust privy to improve their conversions and grow their email & SMS lists. They have three major products: Privy Convert, Privy Email, and Privy SMS.
Pricing: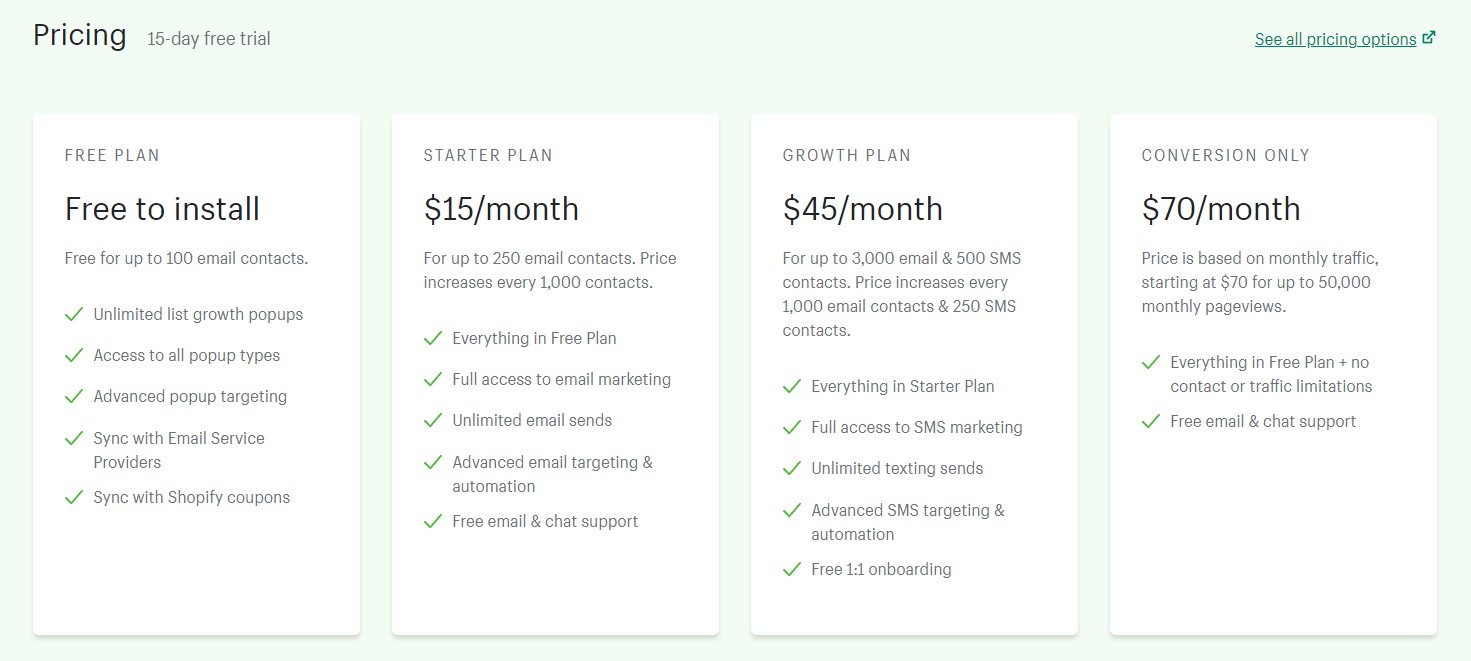 Free plan for up to 100 Email Subscribers. Unlimited pop-ups, flyouts, etc. A/B testing is available.
Up to 250 contacts: $15/month
Up to 3,000 contacts and 500 SMS contacts: $45/month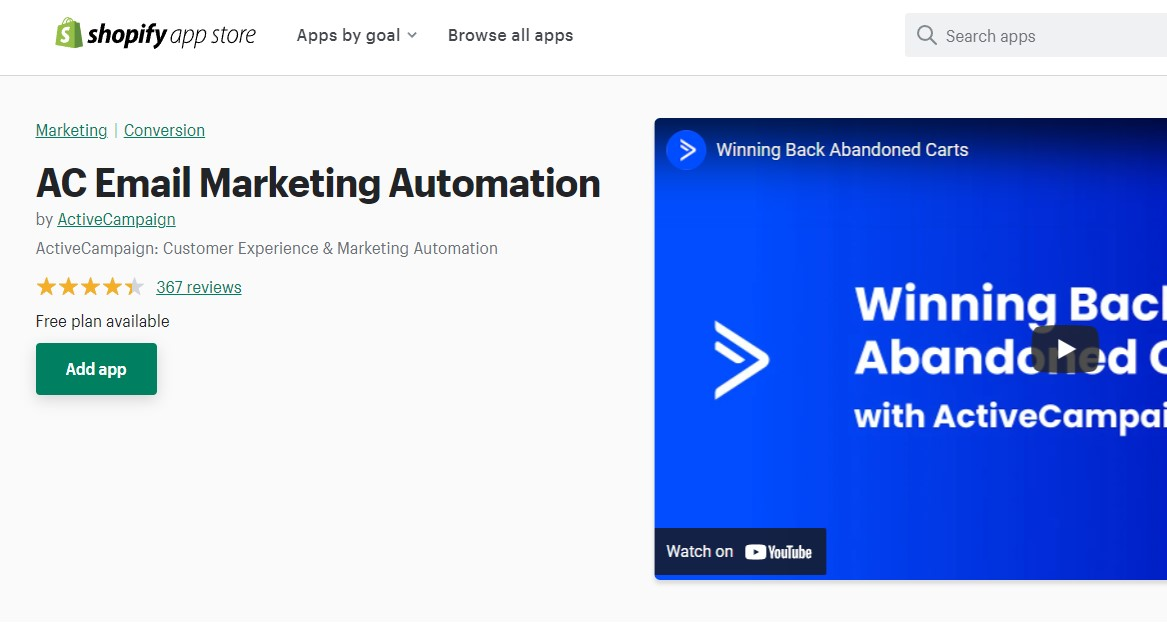 A pioneer in email marketing, ActiveCampaign was founded in 2003. Today, it offers email marketing services to over 150,000 businesses worldwide.
ActiveCampaign gives you all the tools you need to automate revenue through email campaigns, signup forms, SMS messages, and email automation.
Key Features:
They offer you a library of 850+ pre-built integrations. You can create beautiful landing pages in minutes that are relevant and tailored to each individual
They've got you covered in customer support, too. A dedicated 1:1 support team answers your questions whenever you need them
Pricing: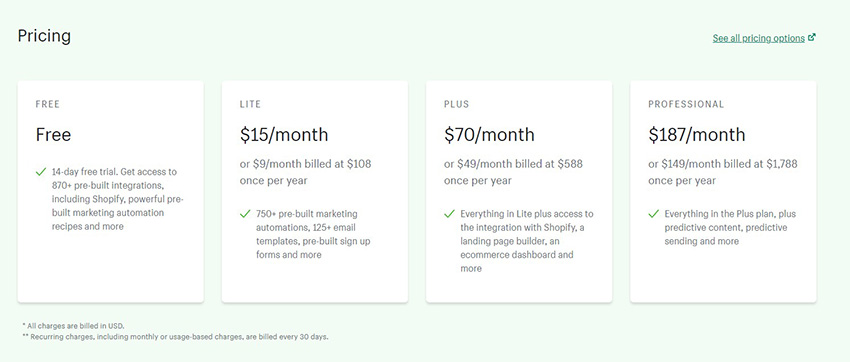 ActiveCampaign offers you flexible month-to-month pricing plans that allow you to pay for what you want and need.
Free 14-day trial where you get access to all +850 pre-built integrations and powerful pre-built marketing automation recipes.
Up to 1,000 email subscribers: $29/month
Up to 5,000 email subscribers: $79/month
Up to 25,000 email subscribers: $229/month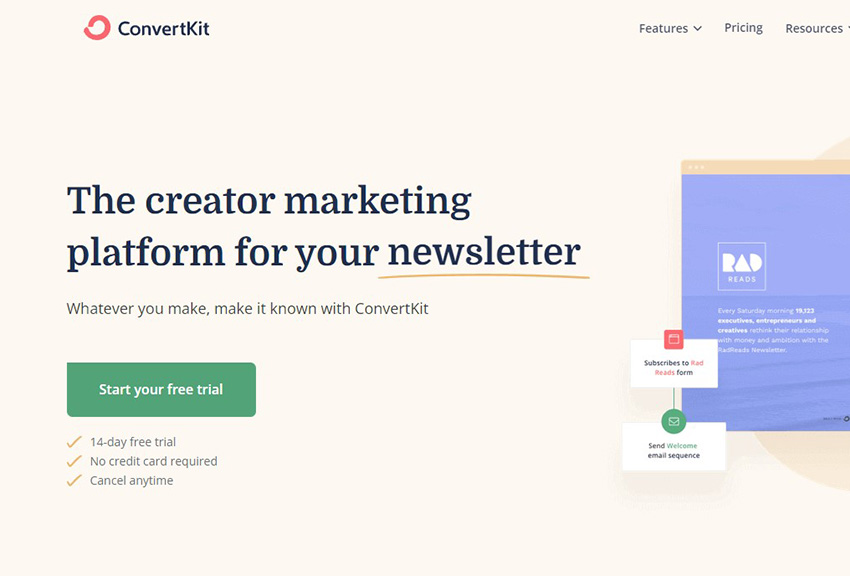 Convertkit is one of the most popular email marketing services out there, being used by more than 400,000 creators.
ConvertKit markets mainly to bloggers, but it also caters to other content creators. It's easy to use and has all the tools you need for email marketing.
Key Features:
Promote your latest project and collect subscribers with ready-to-use landing pages and signup forms.
With ConvertKit, you can create lasting connections with your customers and promote products easily with their powerful email editor.
Excellent customer support team
Build automations easily with ConvertKit's visual automations builder
Fantastic targeting features
Pricing: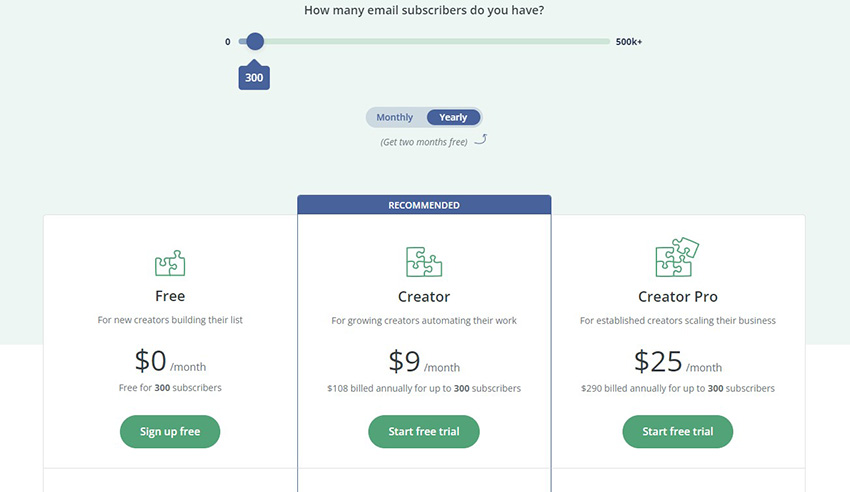 ConvertKit offers you a free plan for up to 300 email subscribers monthly.
Up to 1,000 email subscribers: $29/month
Up to 10,000 email subscribers: $119/month
Up to 55,000 email subscribers: $379/month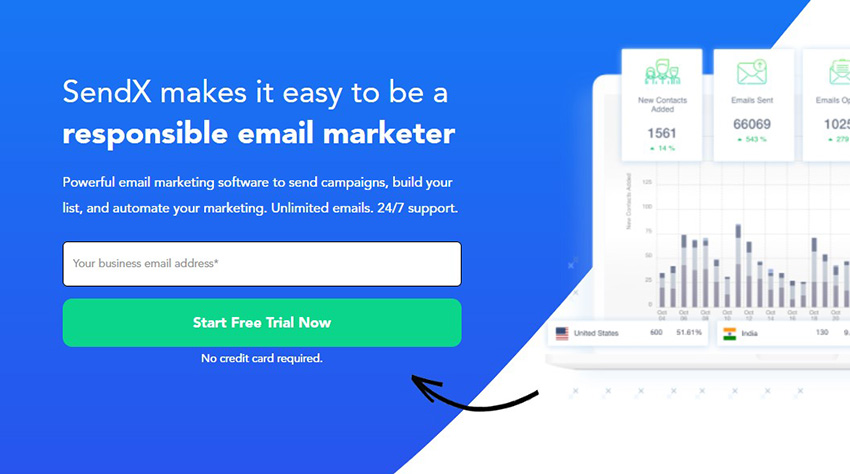 SendX offers a robust set of tools to help you craft beautiful emails & send them effectively to your audience. In addition, they offer you 50 proven-to-convert templates (or you can build your own).
But SendX does more than just automated email. You can automate pop-ups, forms, and landing pages too!
Also, you can quickly run personalized email campaigns with SendX integration and a growing list of API feeds and integration partners.
Key Features:
It's easy to make beautiful embedded email sign-up forms. You can also choose from a bunch of pre-made, high-converting themes
Create drip sequences to nurture your leads. For example, you can start and stop emails based on subscribers' activity using auto-tagging.
A/B testing
Opt-Send deliverability booster
Heat map tracking
Seamless integration with chatbots
Pricing: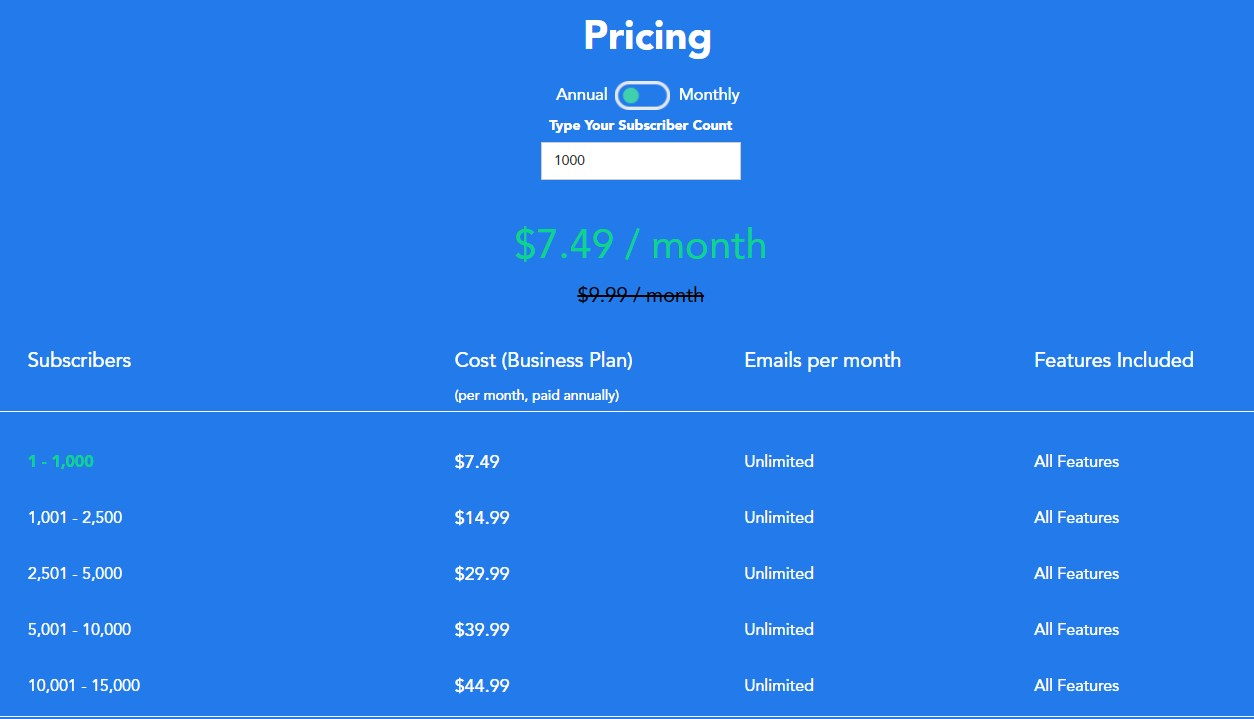 SendX has suitable plans for businesses with a smaller budget. All email plans let you send unlimited emails, build email lists, and automate emails.
You can get started with a 14-day free trial, and after that, you get charged based on your email list size.
Up to 1,000 email subscribers: $9.99/month
Up to 2,500 email subscribers: $19.99/month
Up to 10,000 email subscribers: $79.99/month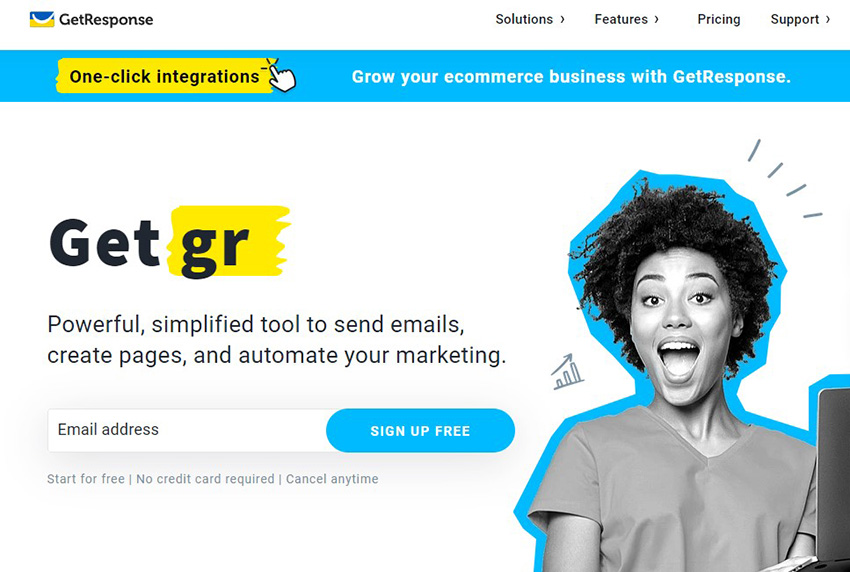 Shopify's email marketing app GetResponse has been around since 1998. There's a sound email creation system so that you can make pixel-perfect emails.
Key Features:
You can set up autoresponders for all kinds of email flows with GetResponse, like Welcome, Follow Up, Educate, and anything else you want.
GetResponse has excellent email analytics; you can track your performance using key metrics and automated reports. List management is one of Getresponse's best features. You can segment your contacts for better targeting.
You can create webinars with the paid plan, which isn't available on most email marketing apps.
Usability-wise, GetResponse rocks. It's the kind of program where you can't really screw up.
Pricing:
There's a free plan for up to 500 subscribers. So unless you have over 500 subscribers, it's a great way to get started. Here are their paid plans:
1,000 email subscribers: $18/month
5,000 email subscribers: $50/month
25,000 email subscribers: $157/month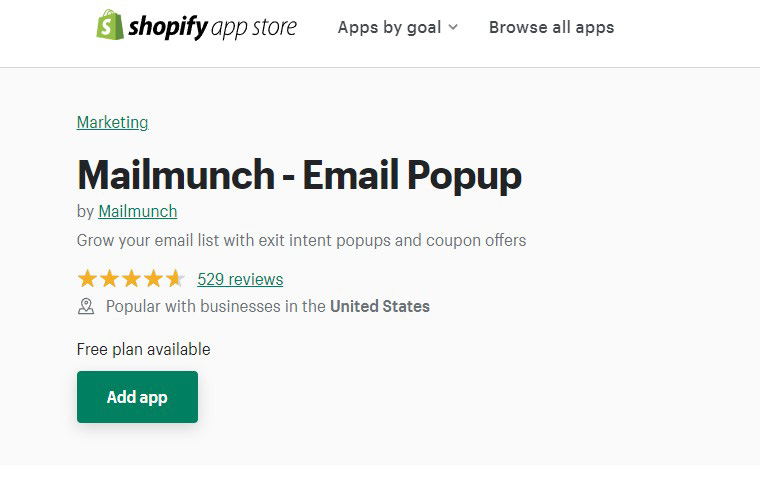 MailMunch is yet another email marketing tool you can use on Shopify. It lets you create beautiful email pop-up forms for your Shopify store with ease.
Key Features
Mobile-friendly forms with pop-ups, banners, bars, and embedded forms
Run giveaways and sales and give your subscribers discount coupons
Learn which email pop-ups convert the best
Create campaigns based on exit, cart abandonment, scroll, timer, device type, page, number of visits, and more
Pricing:

Mailmunch has a generous free plan with unlimited subscribers. It comes with email forms, pop-ups, and landing pages
Essential ($14.99/month): You get everything from the free plan and more forms, landing pages, and pop-ups. You also get basic analytics and you can add custom domains
Pro Plan ($24.99/month): You get everything from the Essential Plan and good analytics, premium templates, content gate, more forms, pop-ups, and landing pages
Conclusion
Adding email marketing to your Shopify store can significantly increase sales. If you want your online venture to be competitive, you've got to get email marketing right.
I don't mean to pressure you, but this can make or break your business. While finding the best email marketing app can be challenging, this list will help you find what you're looking for.
About the Author
Elmeri Palokangas is the founder of elmerpal.com, where he teaches on topics like advertising, eCommerce, and making money online. With a rich experience in the eCommerce space, Elmeri wants to share his knowledge bombs with other entrepreneurs, to help them maximize their sales.