Search engines are essentially the backbone of consumer internet usage. What's the weather like today? What's the best air-fryer to buy? Is Thai food as good as they say? These are all questions we ask our favorite search engine instinctively.
Whatever business you want to start, you need to appear in people's search queries to make it work. To do that, you need to learn search engine optimization: an essential skill in digital marketing.
It's one of those things that are easy to learn but hard to master. Fortunately for us, developing tools to assist in that quest is an industry in and of itself, and we have a plethora of options available to help us. Those SEO tools make things simple and straightforward so that you can maximize your chances of ranking.
In this article, I've listed my absolute favorite SEO Tools in the world. Thanks to me, you'll be able to cut through the muck of choosing from the dozens of options available and know right away which tools are the best for you.
What Are The Best SEO Tools?
Have you ever heard the phrase "different strokes for different folks?" It basically means that everyone will need something a little different.
While some of these SEO tools compete in function, others do something completely different. If you're serious about ranking high in the SERPs, you'll likely have multiple subscriptions. For example, Ahrefs is an incredible keyword research tool, but it will not help me write content as SurferSEO does.
With that in mind, I'll be listing the best SEO tools overall, based on how useful they are to anyone looking to rank high on Google. Let's dig in:
1. Ahrefs
Ahrefs's significance really cannot be understated; it's a game-changer. It's a mainstay among the SEO community for good reason, and indisputably one of the top paid SEO tools in the world.
Its interface is fluid and intuitive, providing the user with many vital tools and analytics they can navigate with ease. It's no spaghetti-code either; it's second only to Google in web crawling speed.
Ahrefs is my go-to for insight into my rankings, backlink presence, keywords, and competition. It's tough to imagine a complete alternative to what Ahrefs does for me. It's also the single most excellent keyword research tool out there. Using Ahrefs, you can find the best data on keyword difficulty, ideas, and more.
The data I gain from it is super actionable — I apply that information directly to my marketing and SEO strategy. When I say it's a game-changer, I mean it. Intelligent SEOs will check their Ahrefs stats just about every day.
Key Features
Incredibly powerful: Ahrefs operates the second-largest web-crawler in the world (behind Google)
Keywords explorer: Ahrefs uses the latest data to generate millions of keyword suggestions for you
Site audit: Ahrefs will use their advanced AI to automatically scan your website for any SEO issues that crop up
Rank tracker: Ahrefs enables you to keep a constant pulse on the state of your search rankings
Broken link detector: Use Ahrefs to find broken links on your websites and those of others
Free tools: If you're not ready to subscribe to Aherfs, they have several amazing free SEO tools available for anyone to use
Pricing
Ahrefs understands the value of their services, and their services are not cheap (but they are worth it):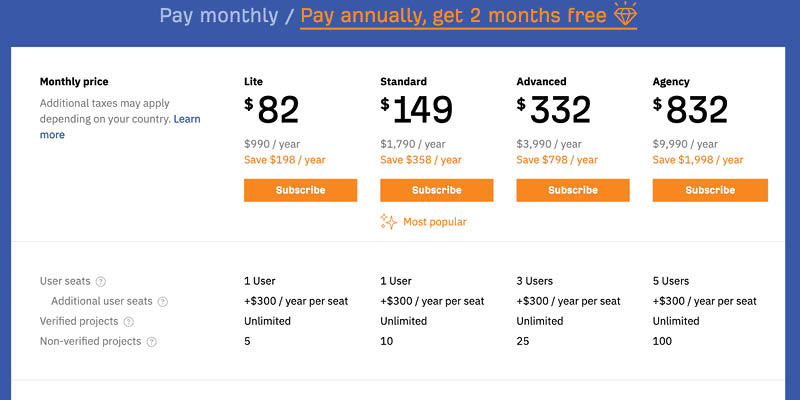 Lite: $82 per month
Standard: $149 per month
Advanced: $332 per month
Agency: $832 per month
The general difference between the pricing options isn't the services offered but the available data queries. For instance, Lite allows 500 tracked keywords while Agency allows 10,000.
2. Google Search Console
Google Search Console enables deep insight into Google's perspective of your website from Google itself. There's no better source of search information than the uncontested #1 search engine in the world.
Secondly, it's free! Many of these SEO tools can seem very expensive for newcomers. GSC is entirely free, making it a great place to start for fresh and old blood alike.
Finally, it's essential for everyone in SEO. GSC will be your only 100% accurate source of your website's index and rankings data. You can also use it to diagnose issues on each page that may be preventing indexing. Given how essential it is, it's probably the best free SEO tool out there.
Key Features
Issue detection: Google will automatically find issues on your site and email you to let you know
Direct Google insight: Total insight into your website's standing with the most popular search engine in the world
Mobile usability: Customized reports into your website's mobile performance with advice for improvement
Backlink analysis tool: Use GSC to see both your internal and external links and what pages they point at
Core web vitals: In-depth insight into your page's performance based on real-world usage
Pricing
As I said, it's free!
3. SEMRush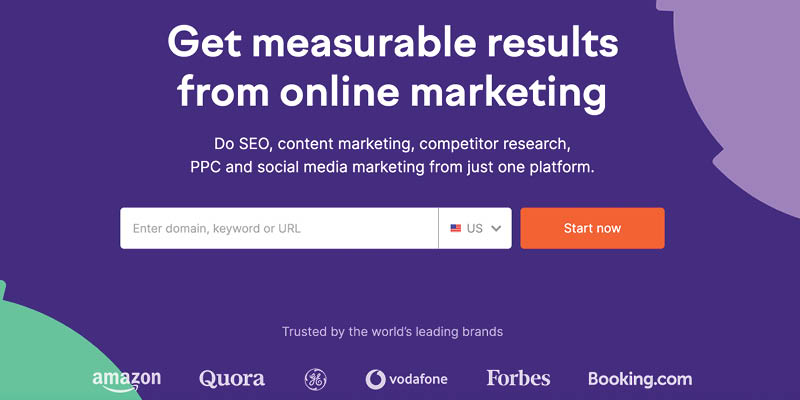 With SEMrush, you can evaluate you and your competitor's content easily. SEO experts love SEMrush for its extensive insight into content, keywords, ranking, and more.
It doesn't stop there, though; SEMrush also includes extensive advertising, social media, and market research resources. Their keyword research tools have enabled big and small companies to punch way above their weight in search engines and drive traffic to new levels.
One SEMRush user described it as "a keyword research tool, Google Trends, Moz, Hootsuite and SimilarWeb [rolled into] one." They also have excellent resources for local SEO.
Key Features
Competitive analysis: Gain rich insight into your competitor's websites and how you can beat them
Keyword research: In-depth knowledge of everything you need to know for a given keyword
Advertising research: Find the best keyword for any PPC campaign, and compare your ad copy to your competitors'
Social media tools: Schedule posts, analyze performance, create ads, and more
Pricing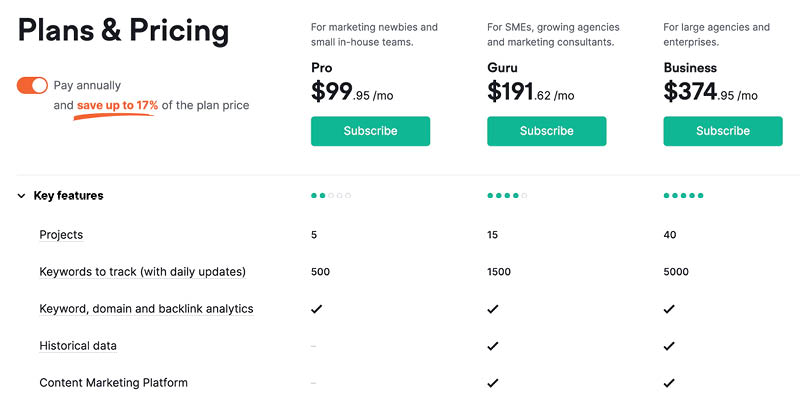 SEMRush pricing comes in three tiers:
Pro: $99.95/month
Guru: $191.62/month
Business: $374.95/month
If you need additional resources, you can talk to their sales team to work out an enterprise plan.
4. GrowthBar
GrowthBar is a Chrome extension that allows users to gain tremendous SEO insight from a simple Google search. To use it, all you need to do is use Google!
With GrowthBar, I can see my competitor's backlinks, Google and Facebook ads data, and millions of keyword results directly from Google's search results page. There has never really been an easier-to-use SEO tool.
Key Features
Keywords research: you can track any site's keyword rankings and get access to billions of keyword suggestions, difficulty scores, and related long-tail keywords
Backlink metrics: you can see any site's backlinks, organic keywords, Facebook ads, and Google ads
AI content assistance: GrowthBar uses the largest language model ever created to generate rank-optimized content outlines for your website
Ease of use: all this and more comes with a simple Google search, making it the easiest search tool to use, period
Pricing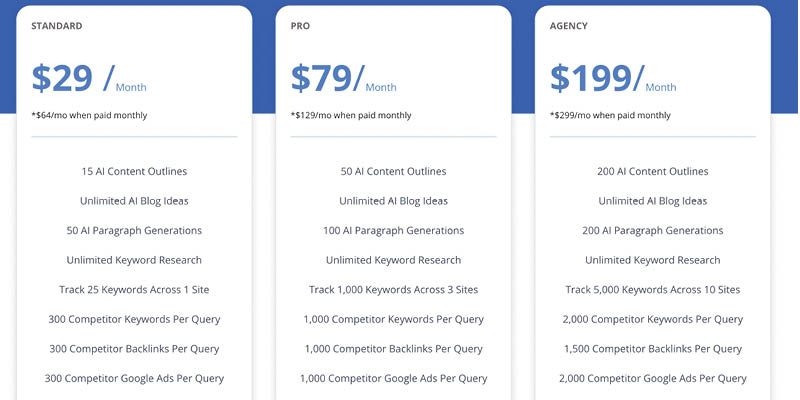 Standard: $29/month
Pro: $79/month
Agency: $129/month
The general difference between the pricing options isn't the services offered but the available data queries. For instance, Standard allows 25 tracked keywords while Agency allows 150. Agency also gets 200 AI content outlines instead of Standard's 15.
5. SpyFu
In the world of SEO tools, I think it's safe to say SpyFu is one of the most underrated software programs out there. SpyFu offers users a massive array of unique SEO tools at an unbeatable price.
It's not quite as powerful as Ahrefs or SEMRush, but it still punches way above its weight. In my opinion, the fact that it's a cheaper option does not impact its excellent quality. If you need powerful SEO resources on a budget, SpyFu should be your top choice.
Key Features
Backlink outreach planner: With SpyFu, you can pick out the backlinks pointing to your competitors and assign them to a project. From there, you can find and save contact information to try and get those websites to link back to yours
Google Ads advisor: SpyFu will give you recommendations for Google Ads purchases based on information gathered from your website
Domain dashboard: Get a comprehensive overview of any website on command
Great pricing: As mentioned before, SpyFu's unbeatable price is one of its main strengths. Similar services can easily cost over $99/month (looking at you, Ahrefs)
Keyword tool: SpyFu makes in-depth keyword research easy with their incredible toolset. Add any term you're trying to rank for in their system for instant related keywords, backlinks to target, and more.
Pricing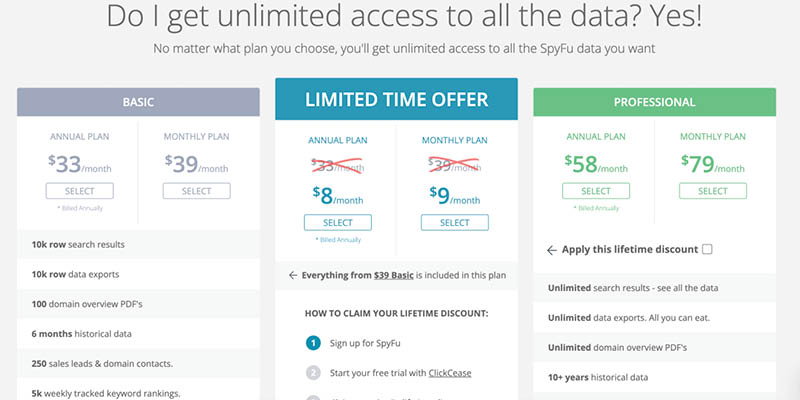 Basic: $33/month
Professional: $58/month
Team: $199/month
In this screenshot, you'll notice that there's a fantastic limited-time offer thanks to a partnership with ClickCease. That existed at the time of this writing, and I'll be sure to update this page when that deal ends.
6. Google Analytics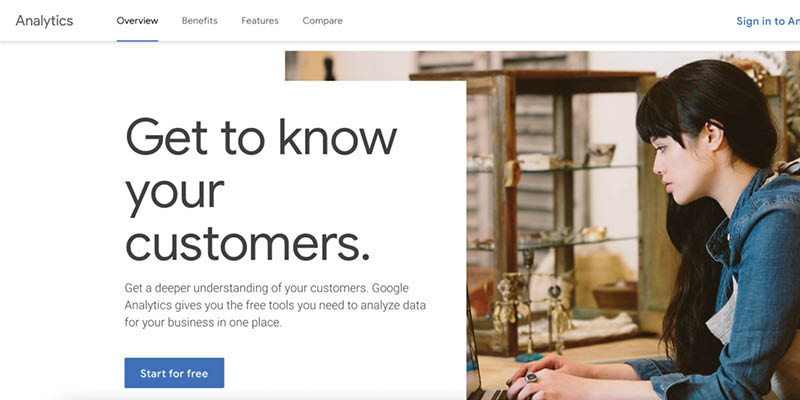 Google Analytics is a free SEO tool benevolently provided by our favorite search engine. Google Analytics offers highly-specific insights for its users, with the ability to set custom events and metrics to track.
In addition, you can pair it with Google Search Console for further insight into exactly what your visitors are up to (and how you can further improve their experience). It's easily one of the best free SEO tools out there.
Key Features
Real-time snapshots: See every user currently using your website and where they're from
Acquisition overview: See precisely where your visitors are coming from
Engagement insight: Learn how engaged your audience is — how long they stay, what they're doing, and when they leave
Pricing
Google Analytics is completely free to use.
7. Moz Pro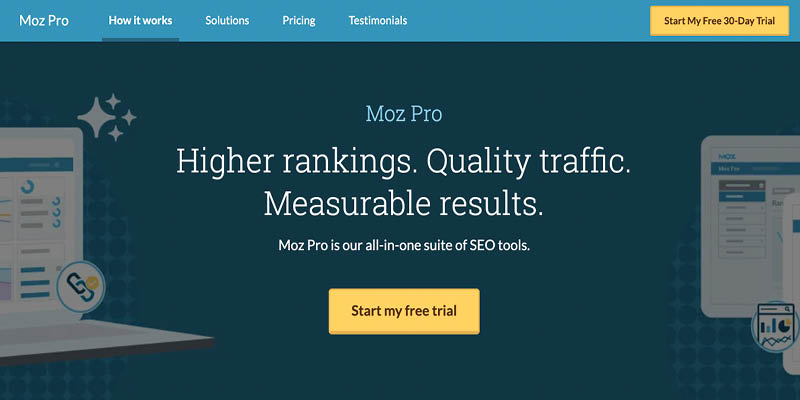 Moz is a massive name in the SEO world and the creator of the Domain Authority metric. Moz Pro is an all-in-one SEO tool focused on increasing your rankings with its unique insight and content audits. It's an amazing SEO tool for optimizing your pages to the nth degree, giving you the best chance of ranking for any specific keywords.
Key Features
Website crawler: Moz can simulate Google's crawler, finding any potential issues that may be hurting your search engine rankings
Always up-to-date: Moz Pro is famous for always keeping up with Google's algorithm changes, giving you a huge edge over your competitors
Link building engine: Use Moz Pro to find the best websites to get links from. They factor in page authority, spam score, and more to recommend only the best candidates
Pricing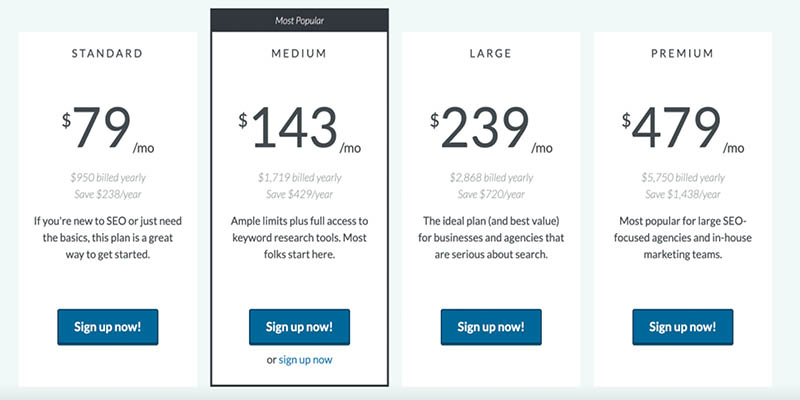 Moz Pro offers four different pricing plans:
Standard: $79/month
Medium: $143/month
Large: $239/ month
Premium: $479/month
Their pricing varies based on the amount of data queries available, rather than having certain features behind greater paywalls. That kind of pricing scheme is much friendlier to smaller operations than other SEO tools.
8. Mangools KWFinder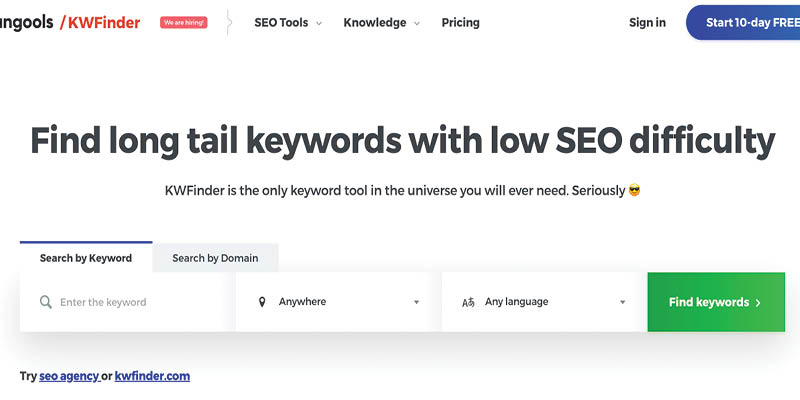 If you just need a solid keyword research tool more than anything else, KWFinder is what you're looking for. This SEO tool is best for finding long-tail keywords for which you can easily rank without too much effort. Using KWFinder, you'll be able to consistently find the best keyword ideas to grow your monthly visitors reliably.
Key Features
Precise targeting: Factor in location and language to find the best long-tail keywords for YOUR website
Competitor insight: See what keywords your competitors are ranking for, sorted by difficulty
Mangools suite: KWFinder is part of Mangool's broader SEO package, meaning you'll get access to a host of other SEO tools with your subscription
Pricing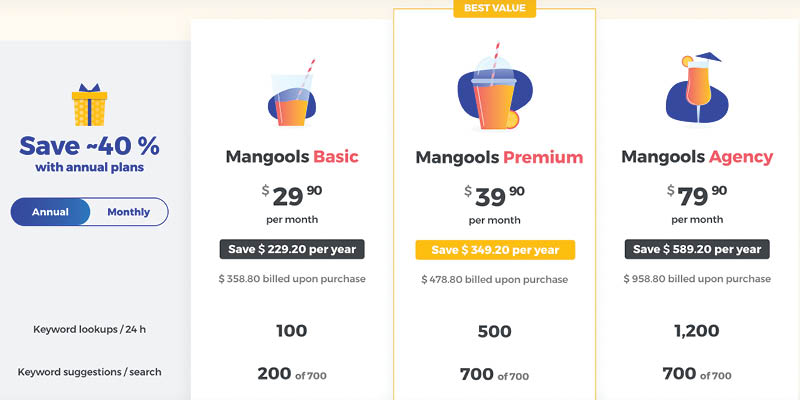 Basic: $29.90 per month
Premium: $39.90 per month
Agency: $79.90
Remember, you get the whole Mangools suite — not just the KWFinder. It's a great value if you ask me.
9. Woorank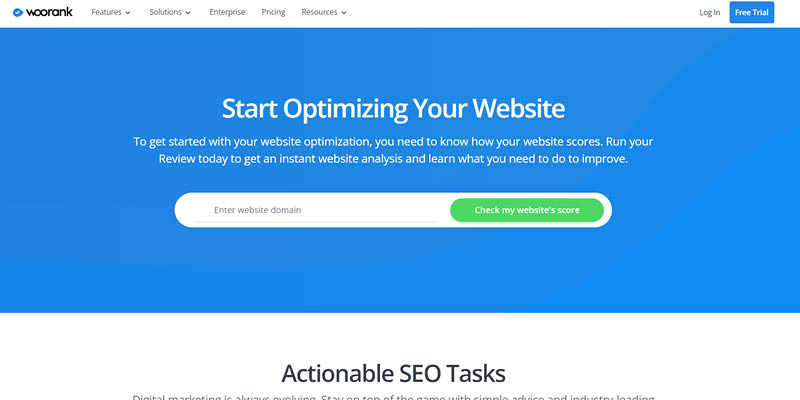 Woorank is one of the best SEO tools for ecommerce businesses, without a doubt. Woorank works to give you actionable insight to help you get a leg-up on your competition and drive more sales. It's a full-stack marketing tool trusted by over 250k users to understand where their website is hurting and how they can fix it.
Key Features
Keyword tracking: Woorank comes with a comprehensive rank tracker tool to help you easily track the keywords you and your competition rank for.
Site crawl: Like Moz, Woorank offers a crawl feature to give you a truly comprehensive site audit
Lead generation: Woorank offers a host of lead-building tools to help turn each one of your visitors into a potential customer. Grow your email list like never before!
Pricing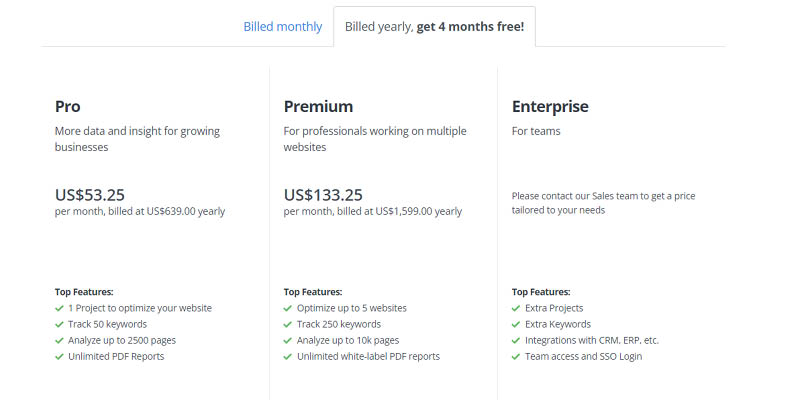 Pro: $53.25
Premium: $133.25
Enterprise: Contact sales team for pricing
Woorank ain't cheap, but I've found their SEO tools to be more than worth it for online businesses.
10. SEOquake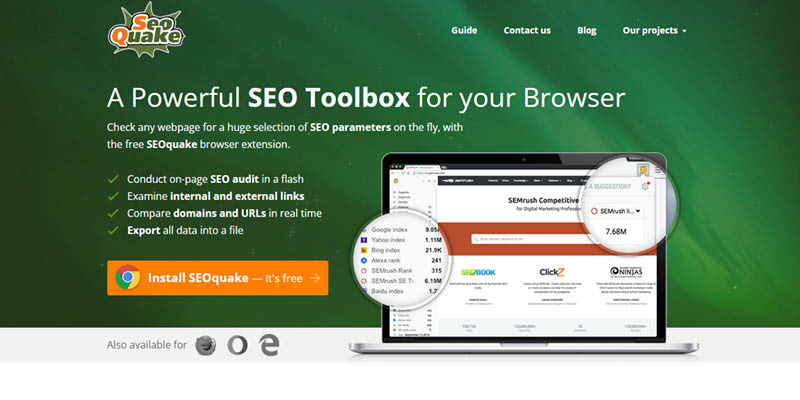 SEOquake is easily one of the best free SEO tools on the market. It's an all-in-one Chrome extension that performs a huge range of SEO metrics, such as link assessment and keyword analysis. Need a full run-down on any given page or website? Fire up SEOquake and watch the magic happen.
Key Features
Real-time audit: Examine your website for any issues that search engines might find problematic
SEO Showdown: Compare multiple domains and easily export the results for further analysis
SEObar: Instantly get an in-depth overview of any website's statistics
Pricing
SEOquake is a free tool!
SEO Tools FAQ
This section will address some of the most frequently asked questions concerning SEO tools that I've received.
What Are SEO Tools?
If you're looking up an article about the best SEO tools, you probably already know what they are. However, maybe you found this by accident — so let me explain what they are just in case!
SEO tools are software programs specifically designed to help you perform as well as possible in search results (higher = better). They're used for functions such as keyword analysis, on-page SEO, link building, backlink analysis, rank tracking, and more.
Some SEO tools will have a broad scope, and others of them will specialize in specific areas. For instance, while you can use Ahrefs for keyword research, KWFinder is better qualified for this role. It's good to have multiple tools available since they all have slightly different functions.
Why Are SEO Tools So Expensive?
Solid SEO tools aren't put together by magic — it takes a dedicated and very talented team to get the job done right.
Thanks to Google updating their algorithm regularly, companies such as Ahrefs and Moz have to invest in the most cutting-edge talent out there to give their customers the information they need. That's expensive!
You may be paying a pretty penny, but it will return huge dividends.
How Long Does SEO Take?
It will take a few months to see solid results from your SEO, usually about 3 – 6 months.
Moving up in Google's ranks takes patience and hard work — something that will filter out a lot of lazy people. Not you, though!
The higher your domain authority is, the more often Google will index you. Starting out it may take a little while for your pages to rank. However, once you're an established presence, you'll find that your pages might rank on the same day you publish them!
An example of someone's SEO efforts paying off. Credit: SmarterInsights
What Are the Best Free SEO Tools?
There are a few solid SEO programs available, but be aware that they're not as good as paid alternatives. Anyhow, if you want to boost your search rankings without breaking the bank, try these free SEO tools:
Google Search Console
Google Analytics
Ahrefs free SEO tools
Google Trends
SEOquake
Google Keyword Planner
What Is the Most Common SEO Tool?
Google Search Console is the most commonly used free SEO tool because it's essential for ranking tracking and indexing. However, for paid SEO tools, Ahrefs is #1 for professionals worldwide.
How Much Should I Spend on SEO?
Your income will determine how much you should spend on SEO. You should, however, consider it as one of your primary investments.
Starting out, you may wish to hire a professional to advise you on things you can do personally to increase your rankings in search results. This will cost ya' least a few hundred bucks a month.
You may also wish to purchase some software, as is listed above. Most of these are SaaS and will cost you anywhere from $30-$99 for their entry-level programs.
As you continue to grow into making major money, you'll want to speak to high-end marketing agencies that can charge more than $15,000 per month. This may sound exorbitant if you're just starting out. However, good SEO generates a massive return and is always an excellent investment.
Conclusion
If you're serious about making your website truly influential, it's time to get serious about SEO. Fortunately, there are a ton of amazing tools out there to make this way easier than it used to be. Many of the processes that these tools do for you instantly once had to be done by hand!
Now it's up to you to use them to significant effect. So whether you're doing blogging, ecommerce, or anything else, use the software listed here to make your website prosper. I'll see you on the SERPs!