Logos are visual catchphrases. A logo is what returning customers will recognize, and what new customers will judge you by. It's an essential part of your brand identity, and you cannot afford to get it wrong.
Since logo design is so important, it makes sense to outsource it to a more qualified professional. But with a seemingly infinite amount of choices, how do we know which logo design service to choose?
I'll not only answer that question in this guide, but I'll teach you the fundamental principles of logo design. That way, you'll be better equipped to find the design that's right for your business.
Let's dig in!
What Makes a Good Logo?
Let's talk about what makes up a good logo so we know what we want to achieve.
Think of some of the most iconic designs:
I don't even have to tell you which logo is which because you already know. They're iconic, but what makes them so great? What's the science behind their effectiveness? Simple, they all have these traits in common:
They're visually distinct
They're simple
The graphic relates to the company's brand identity
Printable at any size
They're effective with or without color
That's the powerful kind of logo you need to succeed with your business. That design might come to you quickly, or it might be a days-long process. Either way, take the time to think it out — you don't want to go through the rebranding process if you change your mind.
What Are the Best Logo Design Services?
When deciding which logo creation service you want to use, there are a few things to think about:
Price: You don't want to break the bank on a new logo. We're looking for logo design services with reasonable prices
Convenience: You're focused on growing your business, not spending hours on a logo. Let's find a logo maker that will make this quick and simple
Customization: You might want to edit the logo you receive to your liking. In that case, we'll need a logo design service that leaves plenty of room for tweaking
Now that we know the gist of it, I'll rank the most outstanding logo creation services to help you create your iconic trademark:
1. Fiverr
Fiverr has evolved into the go-to source for everything from website design to voiceovers and everything in between. It's simply the best place to find dedicated professionals who will stop at nothing to provide you a complete, satisfactory experience at really insane deals.
I've used Fiverr for various services, and I've had great experiences every time. Every freelancer has a transparent profile where you can read genuine reviews from real customers who have used the services themselves.
Way back in the day, I used to sell my services on Fiverr for graphic design. I can tell you from experience that the system encourages freelancers to do the best job possible.
The logos you're going to get with Fiverr will be excellent. If someone has a high star rating, you know they're legit. If someone isn't legit, they won't last long on Fiverr. They pride themselves on their excellent quality assurance.
It's easy to find exactly what you're looking for too. You can easily find a freelancer specializing in the exact style of logo you want.
When I first learned about Fiverr, I was shocked at how great the deals were. You can get an excellent logo at a truly bargain price with no compromise on quality.
Compare those prices to a professional design company, which can easily cost hundreds of dollars. That's perfectly fine if that's what you need, but I have to say you can't beat the bang for your buck you get from Fiverr.
Pricing
Pricing on Fiverr varies heavily on the designer you choose and what package you select. For example, many designers will create a logo for you for $5. However, they may have you upgrade to commercial rights and vector files for $20.
In short, the pricing is your choice. Fiverr has something for every company, whether you're a blog, a dropshipping business, or a giant firm.
2. Fiverr Pro
If you do need the best of the best professional services, you can find them on Fiverr Pro. On Fiverr Pro, you'll find a broad selection of hand-vetted professionals with all the benefits of Fiverr (such as verified reviews, excellent customer support, and more).
Fiverr's your one-stop shop for logo design. Take it from someone who used to work for them: they don't mess around.

You're going to be spending a lot more money, but it will be worth every penny.
Yes, some of these prices may seem excessive compared to standard Fiverr fare, but they're standard rates for a professional product. If you have the capital, a truly professional logo is a fantastic investment that will yield huge returns.
Pricing
Pricing will vary heavily based on the designer you choose. However, it's going to be a lot more expensive than standard Fiverr prices. Here are some examples: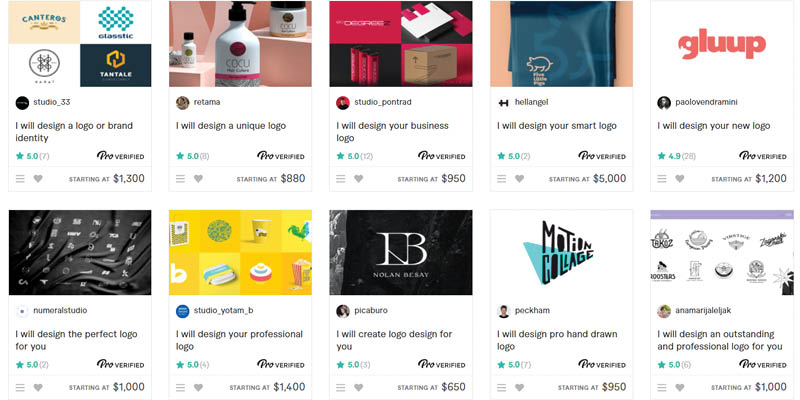 The tradeoff for pricing is that you're guaranteed a professional logo designer with a fantastic product.
3. Wix Logo Maker
Wix is most well known for its awesome website builder, but they've built an excellent online logo maker to complement its comprehensive business creation platform.
If you need a beautiful, professional logo on the quick, it's hard to go wrong with Wix's advanced yet intuitive do-it-yourself logo maker.
When I say "do-it-yourself," don't get scared if you're not a graphic design guru — you don't need any previous experience to use the platform. It's a simple, four-step process that revolves around the answers you give to their simple questions:
Enter your brand's name
Describe your logo's purpose
Choose your design style
Customize your logo
From there, you can download your new logo and do whatever you wish with it!
I have to say, I'm surprised at the quality of designs that can be made with a free online logo maker:
Most online logo makers of this sort are gimmicky and aren't meant to be used by any serious business. However, with Wix's Logo Maker, you can make a logo to compete with the best of the best.
So, in conclusion, I'm impressed! The fact that you can easily make such a great logo at a great price is why I give it the #3 spot.
Pricing
Wix's designer is a free logo maker, meaning you can create and print a copy of your logo for free. However, serious business owners will want to pursue one of their paid plans:
Basic: For $20, you'll get commercial rights + PNG file downloads with various formats available
Advanced: $50 will get you all the previous benefits + vector files
4. 99Designs
Though it may be pricy than the previous options, 99designs will provide you with an incredible experience and great value for your money. In addition, they're a Vistaprint company, which means you can integrate your designs easily with their ecosystem for excellent prints of anything you need.
I appreciated the logo design contest feature, which allowed me to select a design from dozens of custom-made options. I then worked with that talented designer to create other brand content, such as flyers for one of my businesses.
If you don't want to do a contest, you can view any designer's profile, sample their portfolio, and hire them individually.
If you're a larger company, they also have fantastic features on offer for you. You can join 99designs Pro, which includes a dedicated manager and faster service. In addition, they offer a private design contest feature, which allows you to run a contest without being visible to the public (and to your competitors).
Pricing
Designs for 99Designs' logo contests exist in four tiers, as follows:
Bronze: $299 for 30 designs
Silver: $499 for 60 designs
Gold: $899 for 90 designs; mid and top-level designers only
Platinum: $1,299 for 60 designs by top-level designers only
Each package includes full copyright ownership with a 100% money-back guarantee.
I love the contest feature. There's no better way to pick a great logo than with various hand-made choices.
5. 48 Hours Logo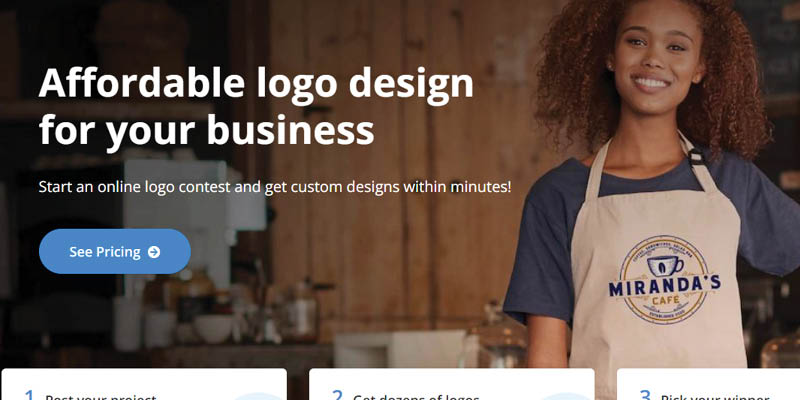 48 Hours Logo exclusively hosts logo design contests to get the best result for their clients. Getting started is simple and fun:
Post your design project
Receive dozens of entries
Pick the best logo
Customize to your liking
You can pick your pricing for the final payout, but it'll be a minimum of $129. For a few dollars more, you also have the option to keep your contest private.
Once you've picked your winner, you can use your new custom logo on other packages, such as labels, packaging, posters, and more. They've designed over 52,000 logos since 2009, and they're eager to start yours, too.
Pricing
48 Hours Logo is more expensive than many of my other choices, but you'll get your money's worth guaranteed. They have three tiers of pricing for their logo package as follows:
Budget: $129 for 20 designs in 48 hours. You can pick one winner
Standard: $199 for 40 designs over three days, with a choice of two winners
Premium: $299 for 60 designs over five days with three final choices
6. Tailor Brands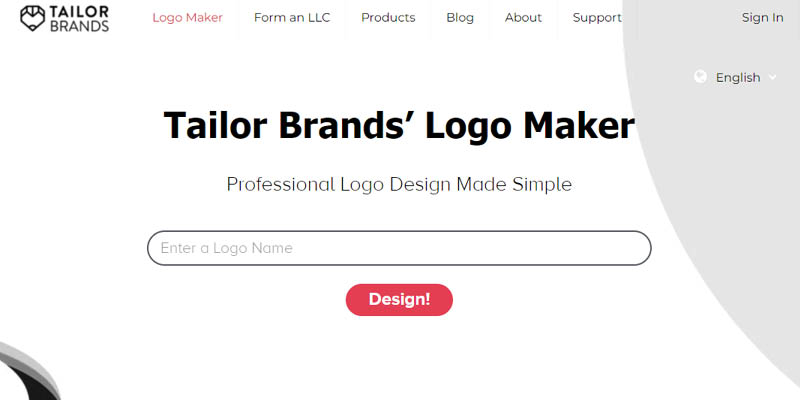 Similar to Wix, Tailor Brands offers a simple automatic logo maker. If you're a complete novice, it's a great place to get started on your design journey. Even 99Designs named it their top-rated online logo maker.
To begin, all you need to do is provide a few details about your business. You'll then choose the visual style you prefer and the fonts you like best. From there, just sit and wait for their automated service to complete your logo. Once it's ready, you can customize it further to your liking.
Here are some Tailor Brands business logo samples: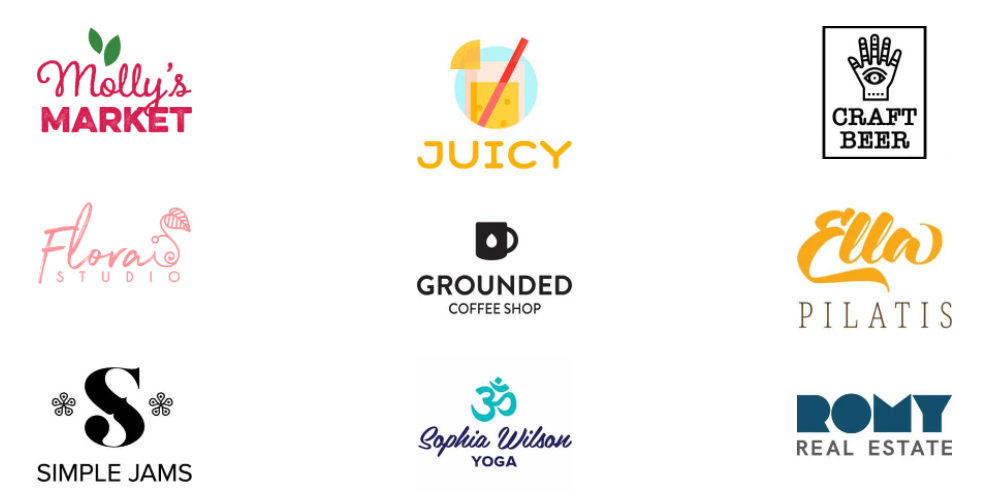 To be clear, it's not a be-all-end-all. It's targeted towards people who are new to entrepreneurship with a smaller budget. That said, it's still a simple and inexpensive logo creator with excellent results. No harm in trying!
Pricing
Tailor Brands' logo maker will cost you money, but not much. Here are their three tiers of pricing:
Basic: $4 per month will get you a high-resolution image of your unique logo with complete ownership
Standard: For $6 every month, you'll have access to 500k additional graphics to make your brand identity truly unique
Premium: Their $13/month package will get you their full suite of social media tools
7. Canva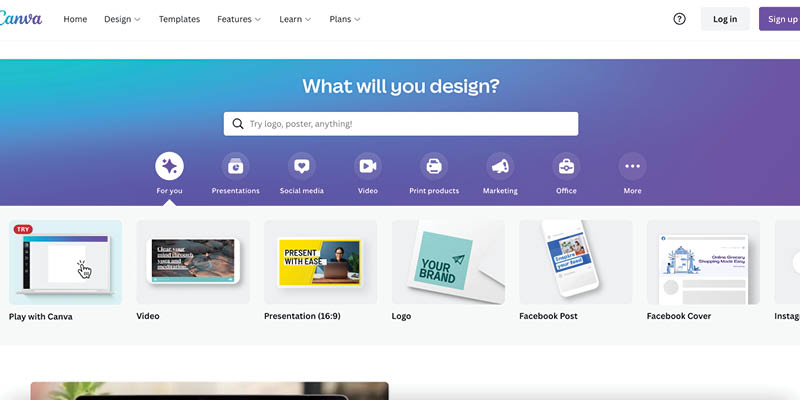 Like the Wix and Tailor Brands entries, Canva is an advanced logo designer that makes it easy for new businesses to create a great company logo. With hundreds of templates to choose from, Canva offers a greater degree of customization over its competitors: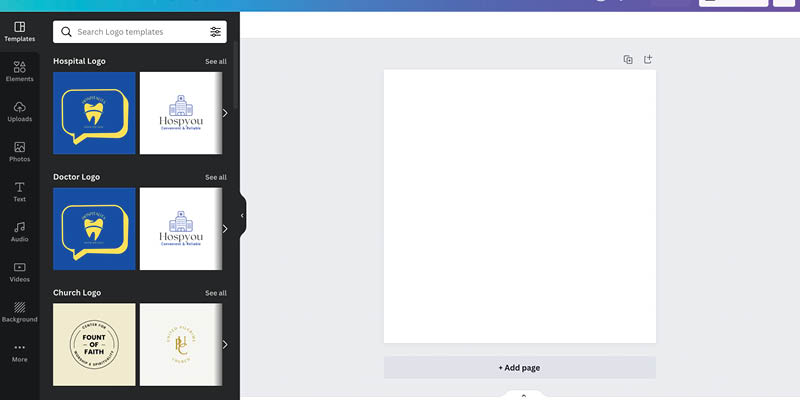 Instead of going through a wizard, as with Tailor Brands, they leave most of the legwork up to you. However, Canva's design tool makes choosing and editing one of their many templates a breeze.
Pricing
Canva's a free logo maker, so no need to worry about paying for their basic suite. However, more advanced features will cost you $12.95 every month
8. DesignCrowd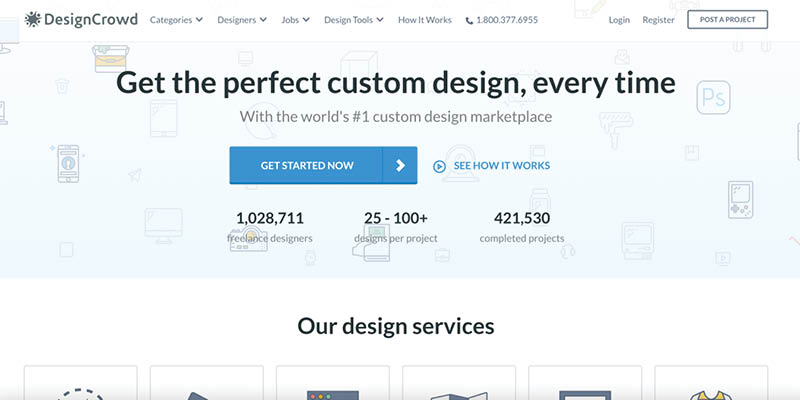 DesignCrowd allows you to work with a huge community of designers to find the business logo you love. With their service, you can choose to either host a design contest or to work with one of their many top-rated designers one on one. Either way, they guarantee you'll get an amazing logo design with their 30-day moneyback guarantee.
They're pricier than cheap services, like Fiverr. However, they promise to be more than worth it with their consistent commitment to design excellence. After you get your logo made, you can hire them for other services, too. It's a one-stop shop for quality design.
9. Looka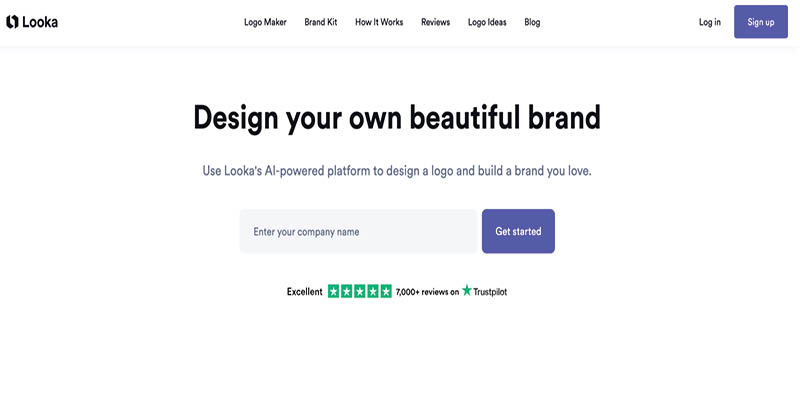 Looka is another AI-powered logo generator that produces consistently impressive designs. Their editor is more limited than other similar choices, but that helps protect the integrity of their professionally-crafted templates (and guarantees you a good design).
Once you're brought your free logo to life, you can purchase a Brand Kit to instantly create hundreds of marketing materials instantly. Looka is a fantastic service for starting your brand identity off right if you're just starting your business.
Pricing
Looka offers two main pricing choices:
Full brank kit: comprehensive solution to your company's visual identity, includes logo
Logo only: one-time purchase of your logo
If you want to purchase your logo only, here are your two choices:
Basic: $20 and pretty much worthless, all you get is a low-res file
Premium Logo Package: $65 for full ownership, lifetime support, variations, high-res files, and more
10. DesignEvo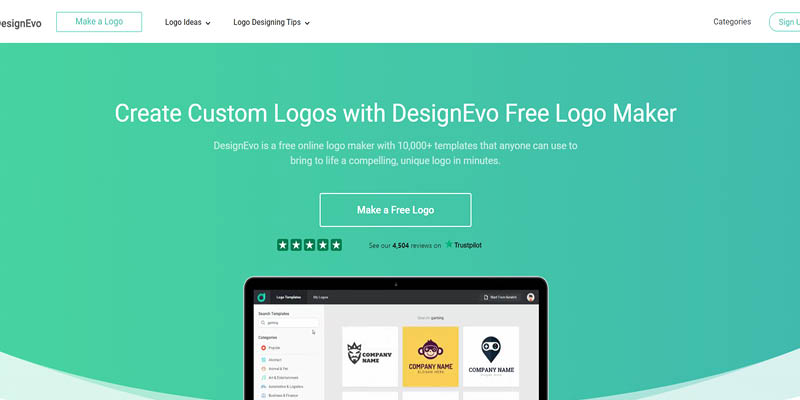 WebsitePlanet rated DesignEvo's free logo maker software as "best logo editor for design flexibility." You get a massive amount of creative freedom — you're even able to design your logo from scratch in their editor.
If you're just looking for a streamlined experience, that's no problem — DesignEvo is super simple to use. You can simply select a template that you like and customize it from there.
DesignEvo also gives you the option of using your logo for free! All that they ask is that you link to their website from yours for credit.
Pricing
As mentioned above, you can use your custom logo FOR FREE if you link to DesignEvo for credit. If you don't want to do that, they have two other pricing options available:
Basic: $24.99 for high resolution files up to 5000px
Plus: $49.99 for all Basic benefits + full copyright ownership and vector files
11. Graphic Springs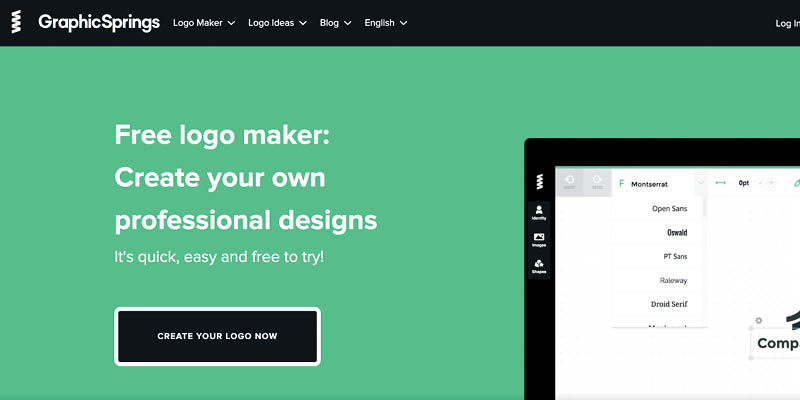 Just like DesignEvo, the Graphic Springs gives you a greater degree of control than other online logo makers. You get access to a huge digital canvas, from which you can create amazing custom logo designs with ease.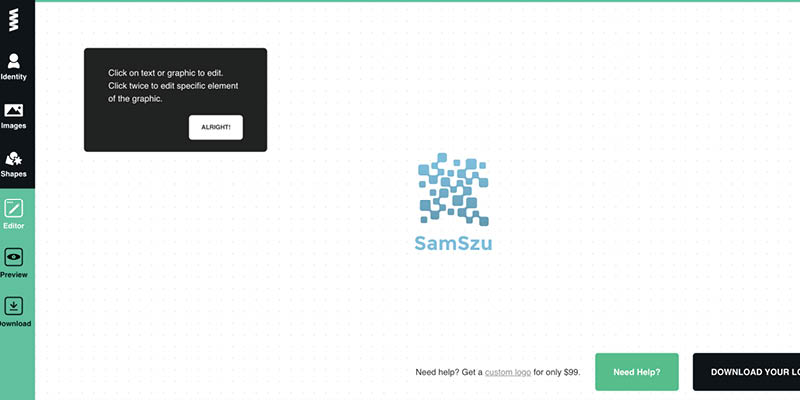 If you're not up to the task (or just don't feel like doing it), Gragpic Springs also has professional designers to bring your brand identity ambitions to fruition.
Pricing
Graphic Springs has four tiers of pricing:
Basic: For $20, you can get a high-resolution logo in JPG format only
Standard: $40 will give you access to additional editing, as well as your logo files in PDF, PNG, and JPEG
Pro: $100 for additional add-ons, such as vector files
Platinum: For $200, you'll have access to every extra logo feature that Graphic Springs offers
12. Squarespace Logo Maker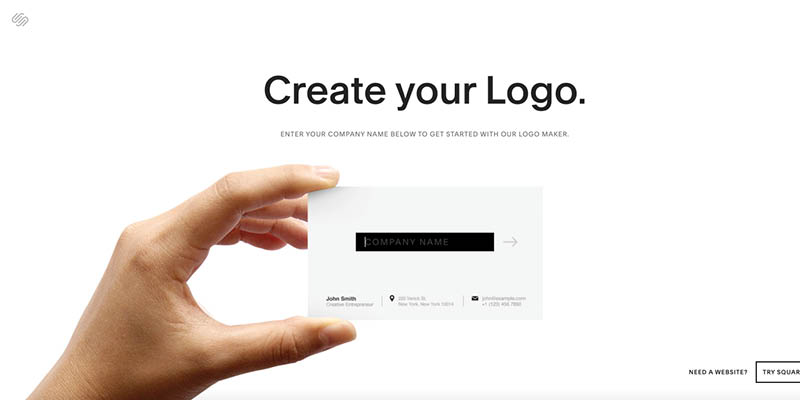 Like Wix, Squarespace is most famous for its quick and easy website builder. However — also like Wix — they offer a free logo generator. So while Squarespace isn't going to give you the most advanced design ever, you certainly won't get anything bad.
All in all, it's a quick way to get a respectable logo for either your business or personal use. The logos you create on their platform are also completely free to use, and easy to integrate onto your Squarespace website (if you have one).
Pricing
Your custom log will be completely free if you're a Squarespace customer. If not, you'll owe them a small fee of $10.
Bottom Line
No matter what kind of business you're running, it's critical you put your best foot forward with a quality logo.
I can't tell you how many times I've seen a business and said to myself, "Yep, they spent a grand total of thirty seconds on that logo; what does that say about their quality control?" and moved on.
Your brand identity is absolutely central to your success. Without even realizing it, people will quickly form an opinion on your business based on the branding you present to them. It's a central factor in how seriously visitors will take your business, which affects SEO when you think about user engagement.
Your logo is what ties all of your branding together. Take the time to get it right.