Despite every innovation of the modern era, email remains at the center of business practice. Link building, networking, lead generation, and more rely on email outreach as their single most effective tool for success.
Simply put, good email tools make email outreach infinitely easier. Email outreach tools allow users to find email addresses, verify them, email them with customized outreach campaigns, etc. Doing outreach manually is a huge pain (believe me, I tried when I first started doing outreach).
Hunter.io is one of the best outreach platforms out there, allowing marketing professionals to find addresses using their email finder tool and contact them with ease. However, it's not without its shortcomings (no platform is perfect!).
That's why I've listed the best Hunter alternatives below. This article will list all the top competing email hunters, highlight their features, show pricing, and prepare you to make an educated decision on your lead generation tool.
What Are the Best Hunter.io Alternatives?
Hunter started as a chrome extension allowing users to find the email of any LinkedIn profile. However, its evolved way beyond that into a comprehensive digital marketing tool.
That said, it's not perfect, and many competitors offer features that Hunter does not in the race to become the best email finder tool in the world. Let's take a look at those competitors below: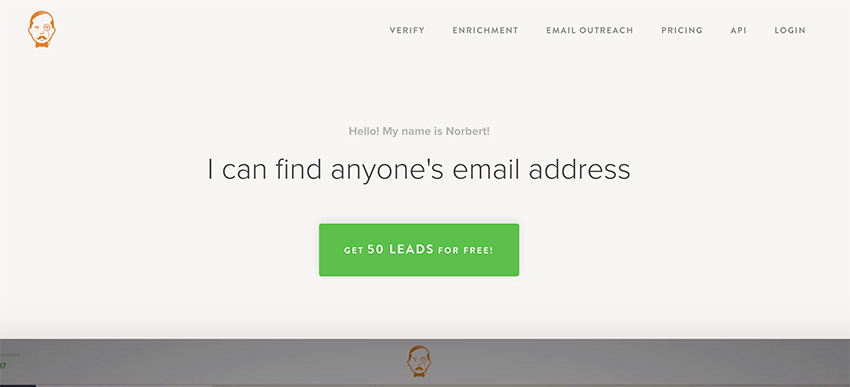 Viola Nobert is your virtual lead butler, serving your prospect's email addresses in a snap. It's a choice email hunter, using a robust database to offer up to a 98% success rate with every domain search.
When it's time to reach out to your prospects, Viola integrates directly with your favorite email marketing manager. Zapier, Constant Contact, Salesforce, Mailshake, and Hubspot are all part of its third-party support library.
Key Features:
Choose your email verifier: Instead of relying on a single platform to verify emails, Viola allows you to use Mailchimp, SendGrid, JotForm, and Formstack for maximum authority
Free API: Viola offers a free API with complete documentation, compatible with Node.js, Ruby, PHP, and Python
LinkedIn-compatible browser extension: One of Hunter's most significant weaknesses is that its browser extension doesn't work on LinkedIn (LinkedIn told them not to). Viola's browser extension does, making for convenient email fetching
Exceptional precision: Viola Nobert is renowned by outreach pros for its exceptional accuracy in finding email addresses, bouncing less often than any competing email finder
Pricing:
Please note that I'll always use annual pricing since it will always be the best deal.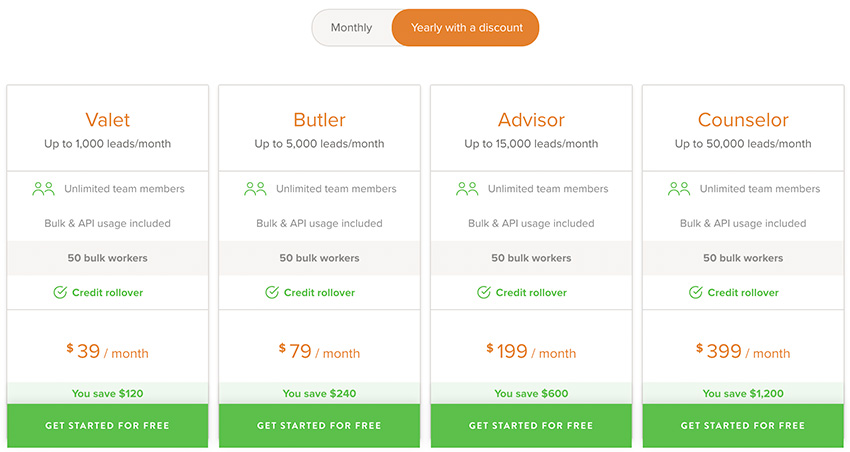 Viola Nobert offers four tiers of pricing:
Valet: $39/month
Butler: $79/month
Advisor: $199/month
Counselor: $399/month
The only difference between pricing tiers is the number of leads you can search. In addition, each plan includes unlimited users, API, bulk workers, and credit rollover (something Hunter doesn't).
It's cheaper than other Hunter alternatives since it's just an email finder with a few extra features and integrations rather than a comprehensive outreach platform like Hunter. I'd say it's a pretty reasonable price for the power you get.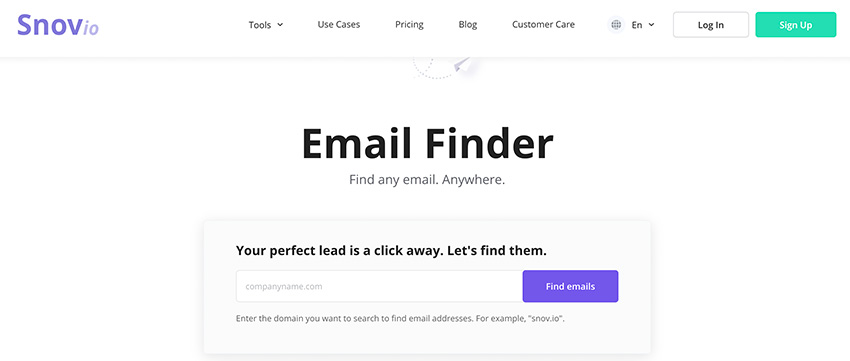 Like Hunter, Snov is a comprehensive lead generation tool capable of a multitude of marketing functions. However, it's more advanced than Hunter in many ways since it offers ultra-personalized drip campaigns responding to specific triggers (opens, replies, etc.).
Like Viola, Snov offers a Chrome extension that allows you to collect leads directly from LinkedIn (I don't know why LI only disallowed Hunter, but I digress). Also, customers love their email verifier web app for its exceptional accuracy.
Key Features:
Email drip campaigns: Use Snov to create ultra-personalized emails far more sophisticated than Hunter's
A/B testing: Test the effectiveness of your outreach templates with precise comparison testing (something Hunter doesn't have besides just comparing statistics)
Tech-checker: See the technology your prospects are using for more outreach leverage
Pricing:

Snov offers five tiers of pricing:
Small: $33/month
Medium: $83/month
Large: $158/month
Extra-large: $308/month
Extra-extra-large: $615 month
Each plan offers unlimited users and full CRM functionality. The main difference in each plan is the number of outreach credits and unique recipients you can contact. They offer a generous freemium version with 50 monthly address requests if you're looking for a free trial.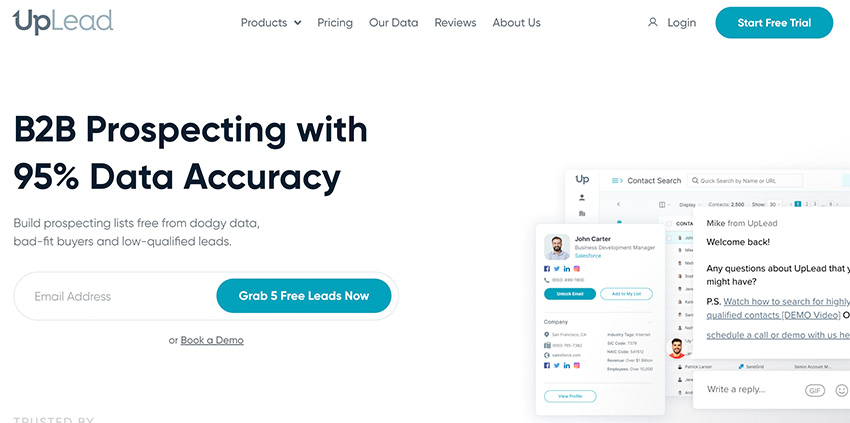 UpLead is a legendary B2B prospect tool that makes it easy to contact other sales professionals. In addition, they flaunt a 95% accuracy rate for their email finder tool, meaning you can trust their service for a high level of precision.
It's also great for finding prospects' cell phone numbers; something Hunter isn't as good at. That said, it's not as comprehensive of an outreach tool as Hunter and relies on third-party integrations (like Viola Nobert does).
Key Features:
Data enrichment: Upload your boring, incomplete prospect list to UpLead and receive a complete background of each person with a 95% accuracy guarantee
Chrome extension: What would any lead generation tool be without an extension? UpLead's got you covered on any website or LinkedIn profile
API: UpLead offers an API key entirely complementary to its customers
No-waste email verifier: Every time you click on a contact, their email gets verified. If it doesn't pass, you don't pay
Pricing: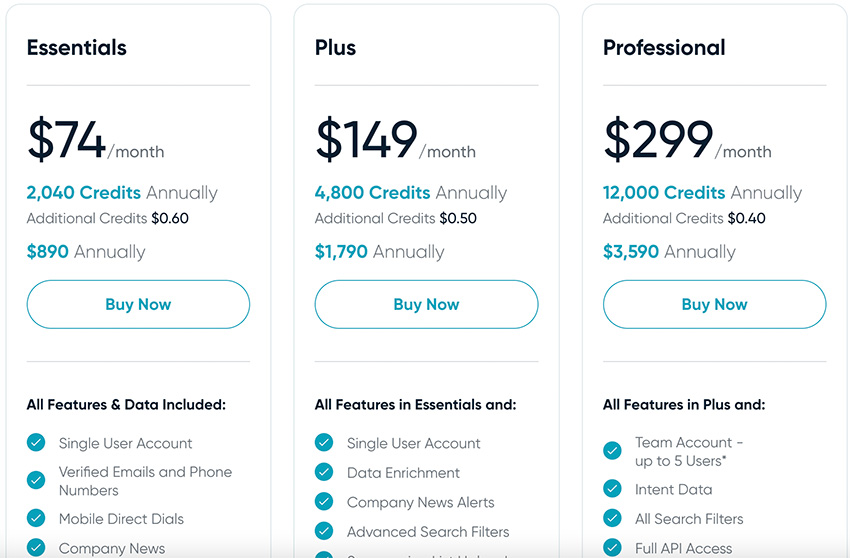 UpLead offers three paid plans for its customers:
Essentials: $74/month
Plus: $149/month
Professional: $299/month
UpLead is more expensive than Hunter overall, even though it lacks many of the tools Hunter does. Like Hunter, UpLead limits the number of users per account. However, UpLead's a lot stingier: you have to pay $60 for each additional user, while Hunter starts you off at five.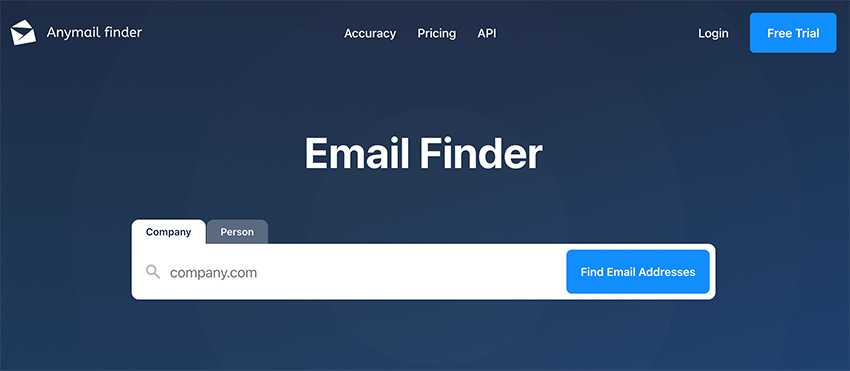 Anymail Finder is a tool most famous for only making users pay for real emails. If the address you pull doesn't meet their verification search criteria, you don't pay a dime.
This is a massive contrast to Hunter, which counts every inquiry against your monthly budget. That said, Anymail is pretty barebones compared to Hunter, and it really only exists for finding and verifying email addresses.
Key Features:
Only pay for real emails: As mentioned above, you only pay for fully-verified emails. This places successful deliverability above 97%, according to their website
Mass-uploading: Upload a giant list of leads and let Anymail Finder automatically process it while you sit back and relax
Enhanced database: Anymail leverages database partners to bring users one of the best contact outreach tools available
Pricing:

In addition to its free tier, its pricing scheme exists as follows:
1,000 emails: $31.83/month
5,000 emails: $64.33/month
10,000 emails: $96.83/month
Anymail offers a very consumer-friendly pricing scheme. In addition to its "only pay for real emails" philosophy, all your credits rollover.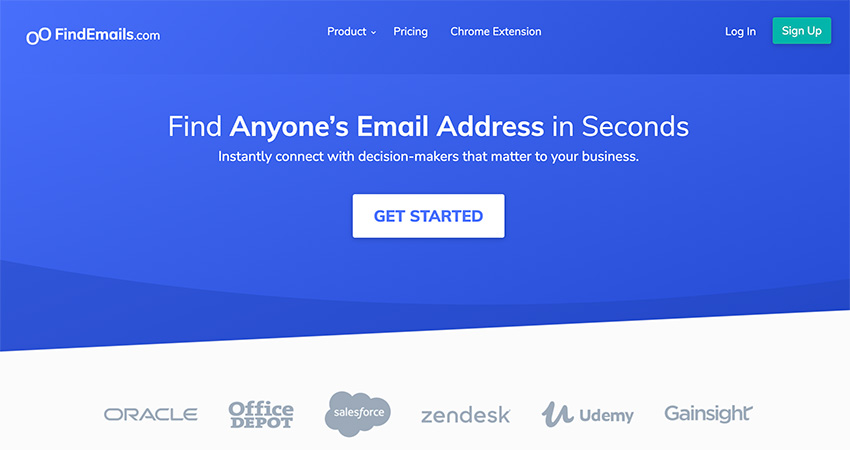 In terms of functionality, FindEmails is pretty similar to Anymail Finder. Big industry players like Udemy, Zendesk, Oracle, and Office Deport all trust FindEmails to get them the contacts they need to make things happen. If they trust FindEmails, then you can too!
Key Features:
Email verification: FindEmails has a robust email verifier, leveraging technologies such as mail server verification and SMTP validation to bring you the most accurate results
Chrome extension: Take your contact outreach with you to any page on the net with their Chrome extension
API: Integrate the FindEmails system with your own products with their scalable, flexible API
Pricing: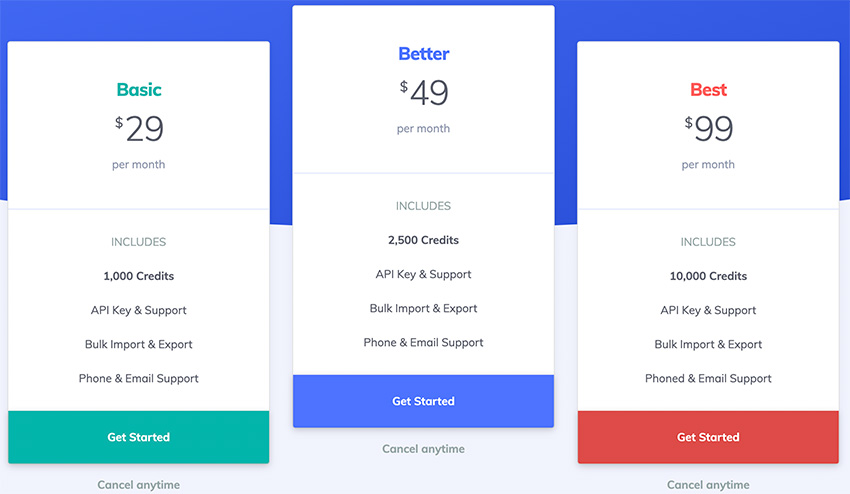 FindEmails offers monthly pricing only, which comes in three tiers:
Basic: $29/month
Better: $49/month
Best: $99/month
The only difference between pricing plans is the number of monthly credits your receive.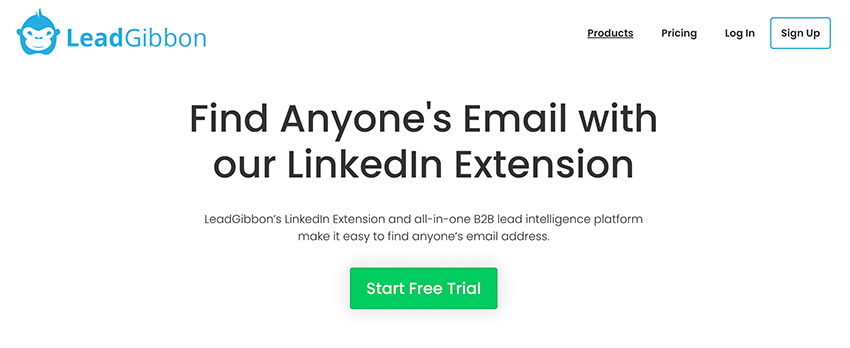 LeadGibbon is a versatile email finder trusted by some of the biggest names out there. With a LinkedIn extension, lead database, and reasonable price, it's a top choice for big and small organizations.
Key Features:
Massive database: LeadGibbon offers one of the most extensive email databases around. We're talking 3,250,000 companies with 26,000,000 total records!
Email Enricher: Using Email Enricher, you can add and verify email addresses in minutes
Reliable data: Users receive up-to-date contact information as LeadGibbon continuously verifies its records
Collaborate: You can save searches or share them with your team members for free
Pricing: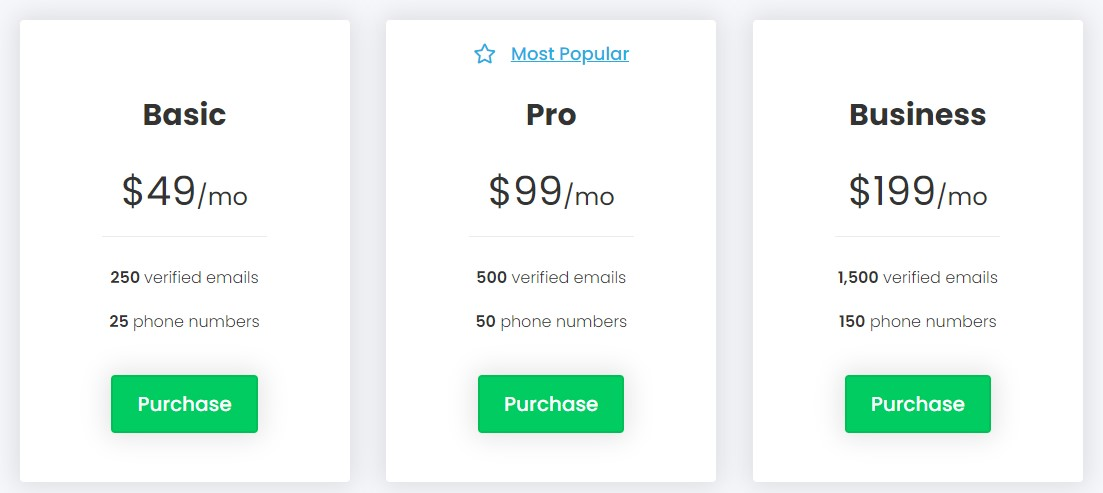 LeadGibbon offers three pricing tiers:
Basic: $49/month
Pro: $99/month
Business: $199/month
Like most other email finder tools, the only difference in pricing is monthly credits.
Conclusion
Hunter is a great email finder, but no product is perfect.
Here's the main issue with Hunter: many websites have asked Hunter to remove their domains from their list since it's so popular. This means you need a backup ready whenever Hunter can't find an email.
My person #2 is Viola Norbert, which is why I ranked it so highly. That said, all the other ones are awesome too! That's all I've got, so good email hunting!