Picture this: You're a savvy content creator, dishing out high-quality content to your audience while eagerly seeking out new ways to monetize your efforts.
But with countless affiliate programs vying for your attention, how do you decide which ones will truly fatten your wallet?
Welcome to the world of high-paying affiliate programs, where the stakes are higher, the rewards are richer, and the potential for earnings is as limitless as your ambition. 💰
In this article, we'll delve into the creme de la creme of affiliate marketing, showcasing programs that offer the most lucrative payouts and the best support for ambitious affiliates like yourself.
But don't just take my word for it—Forrester Consulting predicts that by 2025, the affiliate marketing industry will be worth a staggering $8.2 billion.
Ready to claim your slice of this booming market? Put on your reading glasses, and let's dive into the best high-paying affiliate programs that'll make your revenue soar.
After all, as Neil Patel once said, "the key to successful affiliate marketing is finding the most lucrative niches and programs."
Disclosure: This content is reader-supported, meaning I may receive commissions on purchases at no cost to you
Ah, Fiverr: the beloved platform where you can find a freelancer for pretty much anything, from designing your logo to penning your next viral blog post.
But did you know that Fiverr has an affiliate program that's just as diverse and dynamic as its range of services?
Let's dive into why Fiverr's affiliate program reigns supreme as the best overall choice for content creators looking to cash in on their marketing prowess.
High Commissions and Flexible Payouts
With Fiverr, you can earn up to $150 CPA for every first-time buyer or up to $1,000 per sale with a 10% revenue share for a whole year.
You read that right—one sale could potentially net you a cool grand! And with a minimum payout of just $100, Fiverr's affiliate program truly caters to affiliates of all levels.
A Bounty of Categories
Fiverr's extensive range of service categories means you'll never run out of opportunities to promote.
From graphic design and digital marketing to programming and video production, there's a niche for everyone. This diversity lets you target multiple audiences and revenue streams, making it a veritable goldmine for affiliates.
Reliable Tracking and Support
Fiverr's affiliate program uses reliable tracking software, ensuring your referrals are accurately recorded, and your hard work doesn't go unnoticed.
Plus, their dedicated support team is ready to assist you whenever you need help because, after all, there is no "I" in afffli—oh wait, yes, there is. Anyway…
Fiverr Learn
As if their core services weren't enough, Fiverr also offers Fiverr Learn, an e-learning platform for freelancers and businesses to hone their skills.
With a separate affiliate program for Fiverr Learn, you can earn even more by promoting their courses.
I think Fiverr is where just about everyone should get started. So with that said, I'm going to sort the rest of my list by industry.
What Are the Best Affiliate Programs?
The top paying affiliate programs in the world are those belonging to web hosting companies.
People wanna make websites. No host? No website — it's not rocket science. Website-related products are very popular and have the highest paying affiliate programs overall.
VPN affiliate programs are awesome too. Virtual private networks have exploded in popularity, with monthly fees leading to generous affiliate payouts. You can sell them to just about anyone because everyone cares about their privacy.
That's just the tip of the iceberg, however. Let's look at my complete list of the best types of affiliate programs:
Web Hosting Affiliate Programs

As mentioned above, web hosting companies have the best affiliate programs overall. This is for a few reasons:
Everyone needs a web host to run a website
Good hosting is expensive and runs as a service, collecting large fees from customers over time
Web hosting companies upsell tons of products, such as SSL, email, and more
All of these products make for big paydays for the hosting company, which is passed on to you: the affiliate marketer.
Eager to get started and let the cash flow? Then check out my top picks below:
1. Cloudways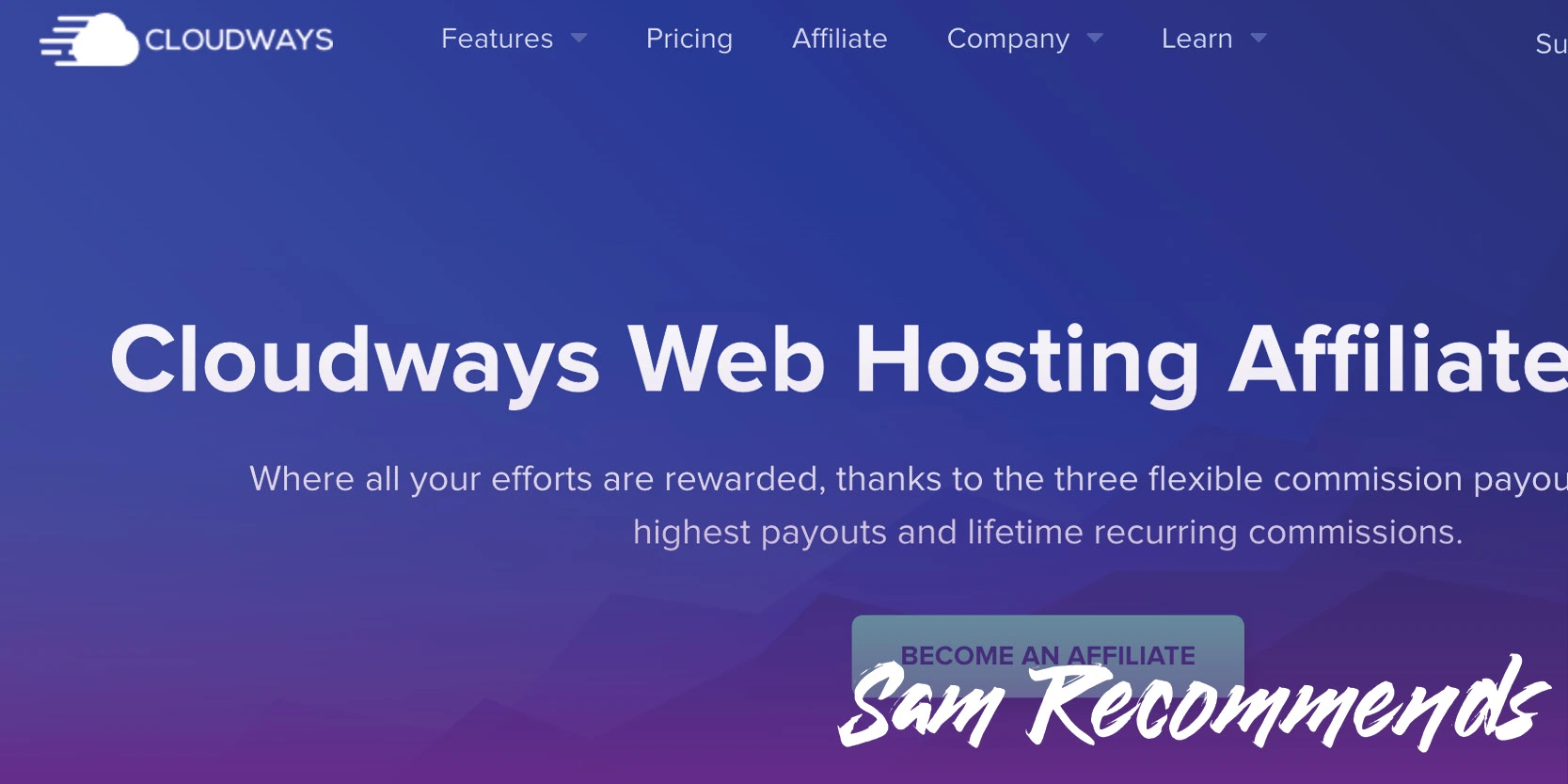 I think Cloudways is the best web hosting affiliate program for a few reasons:
It's the best web host overall, making it an easy sell
It offers amazing commissions
They have the biggest selection of hosting options, meaning you can sell to all types
Their high payouts come in two forms: one-time and hybrid. For one-time payouts, you can receive payments of up to $125. Hybrid payouts earn a one-time $30 commission plus a lifetime 7% commission on all payments.
They also offer a real-time tracking dashboard with in-depth statistics to help you maximize your payouts. In addition, each affiliate has access to a dedicated affiliate manager with whom they can communicate at any time. Take it from me: they're wonderful people.
Finally, you'll also have access to their content library to keep up with the latest industry trends. All-in-all, they do everything they can to set you up for success.
2. Kinsta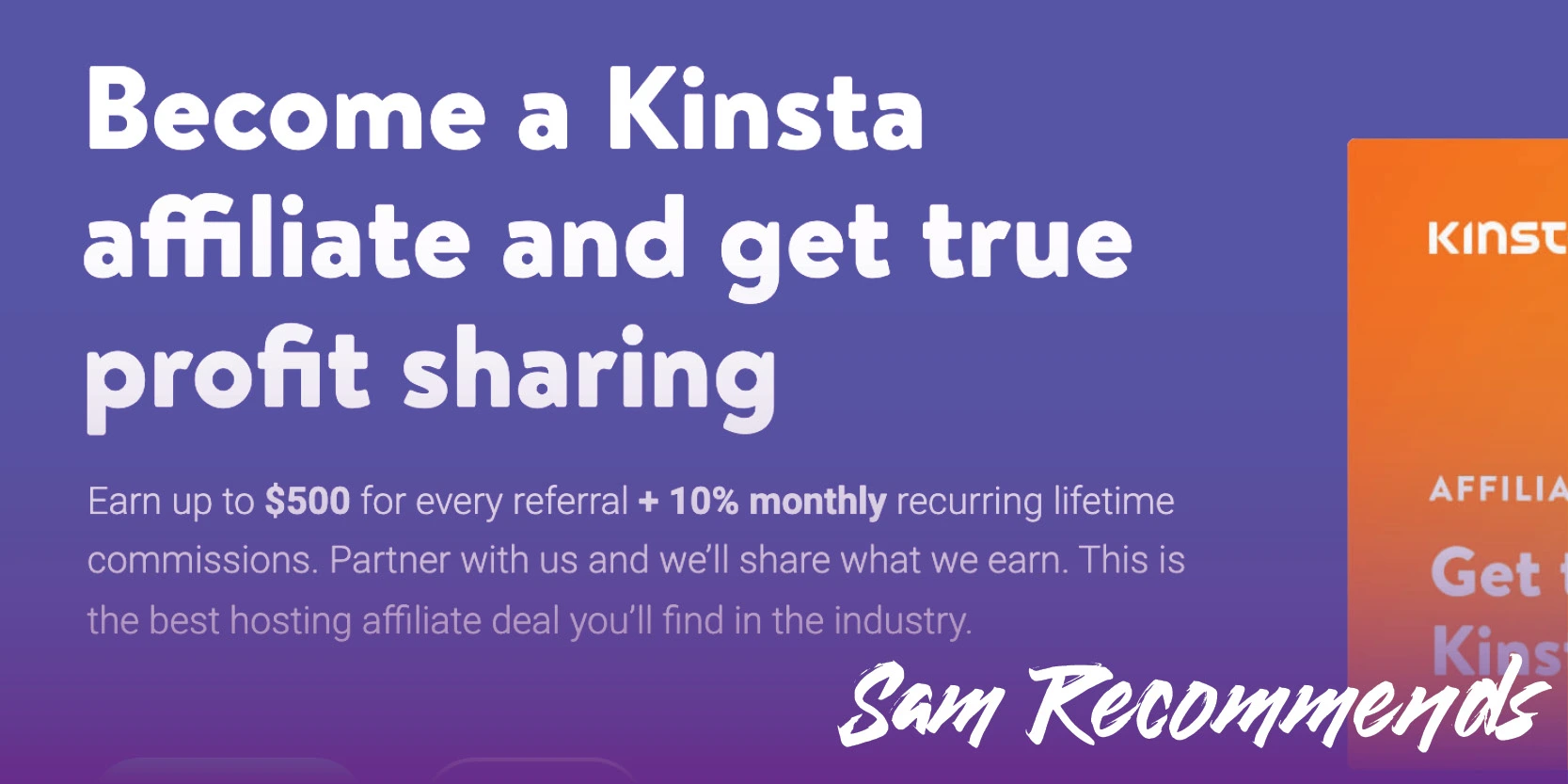 Kinsta is an amazing web host (second only to Cloudways) and an even better affiliate program. They're the premier WordPress hosting solution, offering impressive speeds to their customers at killer prices.
If you choose their one-time payout program, they'll start you off with $50 payments for each sale you make. However, affiliate marketers who work up to their Enterprise plan can earn a staggering $500 per sign-up.
They also offer a hybrid program with a 10% lifetime commission rate. If that's not crazy enough, Kinsta has an incredibly low churn rate of 4%, meaning the overwhelming majority of sales will keep putting cash in your pocket indefinitely.
Cookies last for 60 days, which means the customer has plenty of time to decide and still make you money.
The only drawback of Kisnta is that it's a dedicated WordPress hosting platform, meaning you can only sell to people looking to host a WordPress website (that's most people, so don't worry). Besides that, it's an absolutely incredible program.
3. NameHero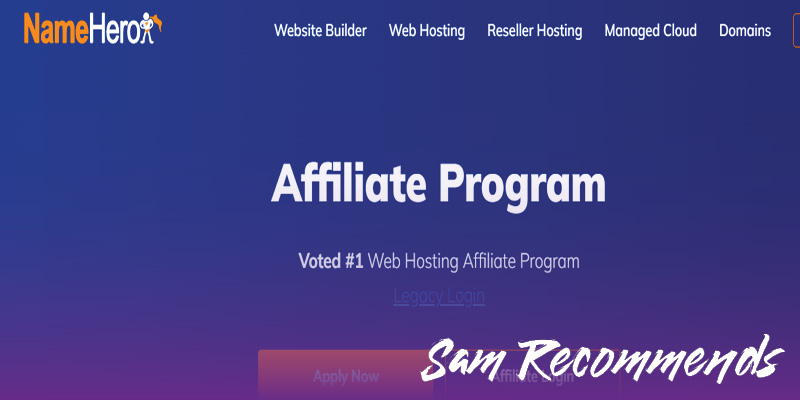 NameHero is a great service and one of the best affiliate programs for web hosting. NameHero affiliates start out making $50 a sale and can earn up to $125.
They also have a high cookie duration — a whopping 90 days. This means you still have three months to make a commission off a link click if someone doesn't purchase right away. That's not all, though: even if that customer clicks on another partner's link during that 90 days, you'll still get credit for the sale.
They track purchases using advanced API-driven tracking, meaning NameHero affiliates rarely miss out on a sale they referred. You'll also have access to 24/7 support by phone, email, or live chat.
4. Bluehost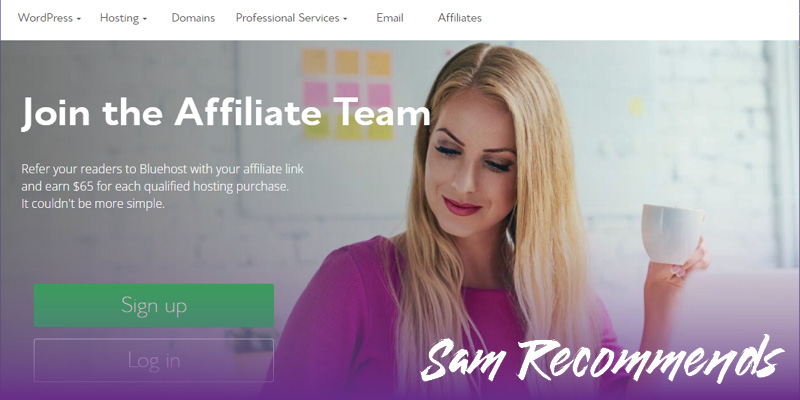 Probably the most popular affiliate marketing program for web hosting is the Bluehost affiliate program. You're going to see it on a ton of affiliate sites, and it's not going to necessarily be because they love the service…
… it's going to be because they love the very generous commissions. Their one-time payouts start at $65, which are easy to make thanks to their super cheap hosting options. If someone clicks on your affiliate link, you'll get credit for any purchases made in the following 45 days. It's definitely one of the highest-paying affiliate programs out there.
They enjoy a very high conversion rate, meaning you'll make plenty of sales with their link. However, the biggest drawback to Bluehost is its high churn rate, so think hard before you decide to recommend them to your audience.
Website Builder Affiliate Programs
Anyone who wants to build their website has a lot of options depending on what kind of site they're building.
If they want to start a powerful, infinitely-customizable sandbox, they're going to choose WordPress (most people do). If they want to start an online business, Shopify is their best choice. If they're not so tech-savvy and just want an easy website fast, Wix, Weebly, or Squarespace are all great options.
In any case, they're not going to code those sites from the ground up — they're going to use a website builder.
It goes without saying that a lot of people want to start websites, making these services super popular — a big money-making opportunity for the affiliate marketer. These services rely on recurring subscriptions of over $30 a month, so they can afford to offer generous rewards to their affiliates.
Below are the best top-paying affiliate programs for website builders:
1. Wix
Wix's #1 spot shouldn't be too much of a surprise to anyone in the know. Wix is a high-quality website builder that can enable just about anyone to build a really stunning website. Furthermore, with the recent addition of Editor X, they've further strengthened their position as the choice for the easy creation of great-looking websites.
In terms of affiliate benefits, they give their affiliates a head-turning $100 per sale. You'll also have access to tons of creative resources and a sleek affiliate dashboard.
2. Shopify
Shopify is the best ecommerce platform out there, making it an easy sell for anyone looking to start their own online business.
Shopify offers its affiliates a 200% bounty for each merchant they successfully refer to them (purchased a plan after the two-week trial). The bounty is based on what plan the merchant chooses.
They also have a 30-day cookie limit, meaning your referral has plenty of time to make a purchase.
3. Elementor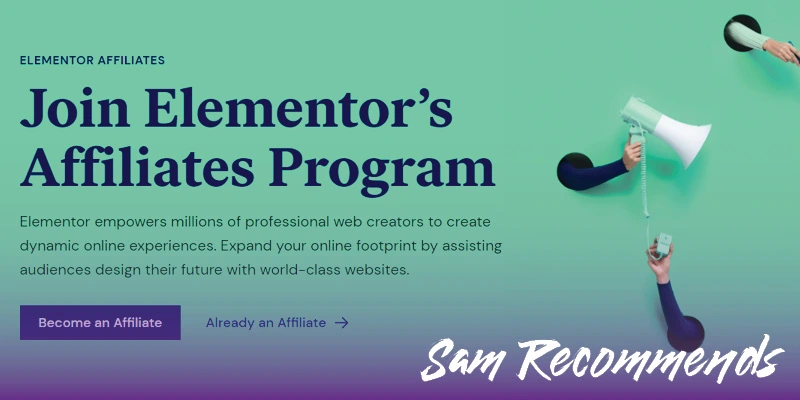 Elementor is a very popular drag-and-drop website builder for WordPress. Website owners can use their services to create beautiful websites without a single line of code, making it an easy sell to WordPress users. As a matter of fact, I used it for my homepage in conjunction with Astra.
Elementor's affiliate program offers 50% of every sale on five different pricing tiers, which go up to $999 per year. They also have a customer lock-in range of 30-days, giving your referrals a generous amount of time to make a purchase towards your payout.
4. BigCommerce
BigCommerce is no slacker in the ecommerce industry, with a growing 60,000 merchants. By joining their affiliate program, you can help fuel their meteoric rise.
Let's talk about compensation: you'll receive a 200% bounty per referral and $1,500 for each Enterprise referral. If you make a lot of referrals, you're eligible for higher compensation rates.
Each partner has access to a powerful tracking dashboard and a dedicated affiliate manager.
WordPress Software Affiliate Programs

If you use WordPress, you'll know that there's an infinite amount of third-party software to add incredible features to your website. In this section, I'll talk about the best WordPress tools you can refer your readership to.
Let's dig in!
1. WP Rocket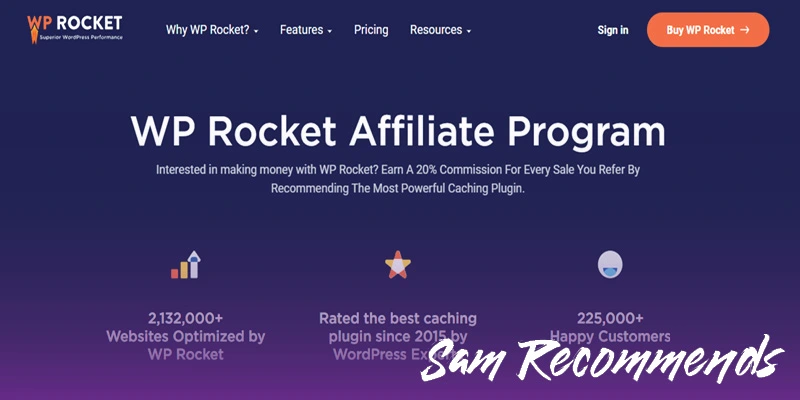 WP Rocket is an absolutely incredible WordPress plug-in that has completely changed the game of web speed optimization. Before WP Rocket, optimizing your website was a nightmare of ten different plug-ins and hours of configuration. Now, it's as simple as installing their incredible tool!
By referring WP Rocket to your readers, you'll be doing them a huge favor. Their affiliate program offers commissions of up to $49.80 per referral over a 30-day tracking period.
2. Generate Blocks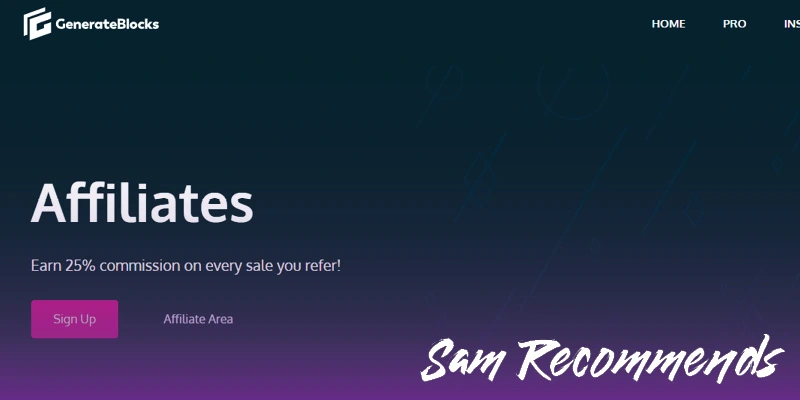 Generate Blocks is an amazing WordPress tool that allows users to create amazing websites from within the Gutenberg block editor. Their affiliate program offers a 25% commission on every sale with a 30-day tracking period.
3. Astra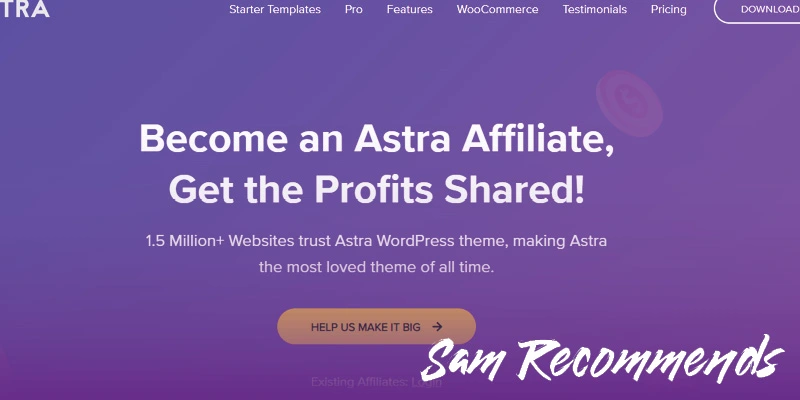 Astra is a WordPress theme used by over 1.5 million websites around the world. By joining their affiliate program, you can earn up to $210 per sale with a 60-day cookie lifetime. Their top affiliates earn over $5,000 every month from their program alone.
VPN Affiliate Programs
Let's move on to VPNs.
The virtual private network industry is growing rapidly as people become acutely more aware of how their data is being used and how they should protect themselves. The affiliate programs of said VPNs present a huge opportunity for you to cash in on this growing economy.
These programs are largely subscription-based, so most of the time, you're going to see a generous payout for anyone who can earn them a sub (either in the form of reoccurring payments or one-time fees).
Below, you'll find a list of the best VPN affiliate programs you can join. They all run a great service, so you can recommend them with confidence.
Let's get started:
1. NordVPN
NordVPN is an extremely popular VPN program lauded for going the extra mile to protect consumer privacy. By joining NordVPN's affiliate program, you'll be helping your readers keep their data safe with the best VPN provider in the world.
NordVPN's compensation is based on the customer's subscription plan. You get 100% the first of the month and 40% for the six-month, one-year, and two-year plans. NordVPN's affiliates enjoy an affiliate dashboard, dedicated affiliate managers, and very strong conversion rates.
For more info, read my full review of NordVPN's affiliate program.
2. ExpressVPN
ExpressVPN is another hugely famous VPN that began operations in 2009. They were originally my #1 best VPN affiliate program, but the bad press they generated from themselves in 2021 made them drop down a spot.
That said, don't be afraid to use ExpressVPN; it's a great program with a proven track record. They've done everything they can to fix their public image, minimizing the PR damage sustained. Historically, ExpressVPN has been the highest-converting VPN affiliate program overall.
This program offers affiliate compensation in one-time payouts based on the subscription purchased by the customer. They're the most expensive VPN, which means higher earnings for you.
3. Surfshark
I wouldn't be surprised if you've seen Surfshark before in an ad from your favorite YouTuber; they're everywhere.
The features that Surfshark offers are unmatched by other VPNs. Together with their excellent customer service and on-demand support, you have a recipe for huge affiliate marketing success. Surfshark affiliates can earn a 40% share of the revenue for each subscription sold.
If you want to learn more, read my full review of Surfshark's affiliate program.
4. Private Internet Access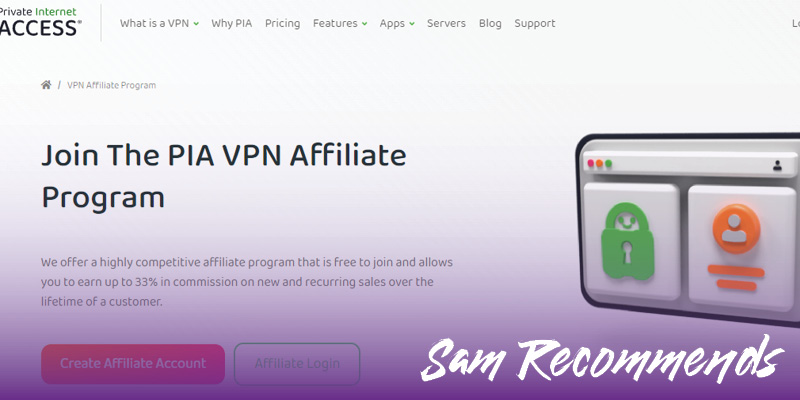 Private Internet Access is a popular open-source VPN with 15 million happy customers worldwide. Affiliates will earn a 33% commission on both new and recurring sales over a given customer's lifetime. It's a great way to increase your passive income.
5. PureVPN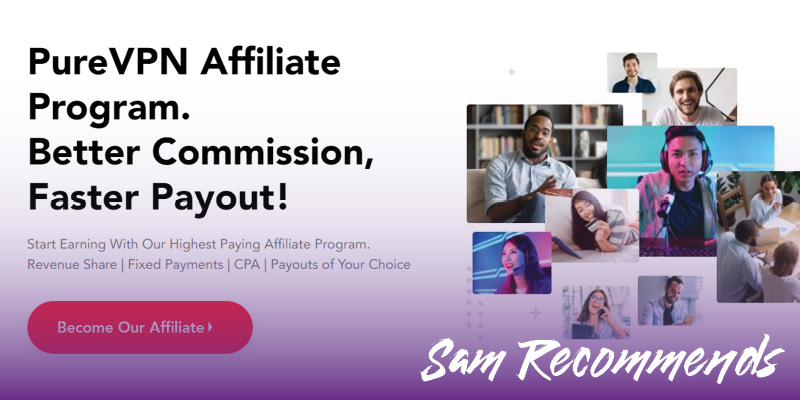 PureVPN offers incredible benefits for its affiliate program, including real-time tracking, 24/7 live chat support, dedicated affiliate managers, and more. For commissions, you're looking at 100% of monthly plan sales and 40% of yearly plan sales.
6. IPVanish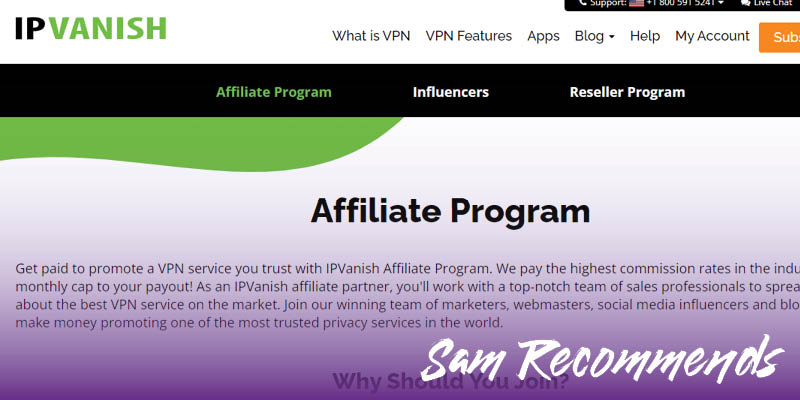 IPVanish is a great VPN with amazing recurring payouts loved by affiliate marketers around the world. You keep 100% of initial one-month sales, with 35% recurring. For 3-month plans, you keep 40% of the sales total with 35% recurring. For the annual and biannual packages, you keep 40% of the total with 30% recurring.
Let's Discuss Affiliate Networks

Let's take a break and talk about affiliate networks — something I need to cover since you'll be working with them. Many of the affiliate programs I recommend are part of an affiliate network.
What Are Affiliate Networks?
You know how it's kind of annoying to manage websites for 100 different affiliate programs at once? It's annoying for companies too, and affiliate networks exist to solve that problem.
Affiliate networks act as an intermediary between the merchants who sell products and the affiliates who promote them. They allow publishers like you to easily join and manage affiliate programs all in one place. Super awesome!
Keep in mind: just because you join an affiliate network does NOT mean you are automatically accepted to all brands on the platform. You'll have to individually apply to each one.
Choosing the Best Affiliate Networks
Not all affiliate networks are created equally. Some are better suited for your purposes than others, and others are just plain bad. Further still, some are outright scams.
We don't want to be scammed — we want to make money. When considering any affiliate network, consider these principles:
1. They should be totally free
You should never EVER have to pay to join an affiliate network. Network companies make money by charging the merchants fees — not you. Publishers are their greatest asset, so any "network" trying to charge you is scamming you.
2. They should have merchants in your niche
You're going to find that many networks specialize in servicing specific niches/industries. For example, some may specialize in software, while others specialize in cooking goods. The affiliate networks you choose should have plenty of opportunities for your niche.
3. They should pay you well
Remember: you're not running a charity. Make sure that the affiliate networks you're joining actually pay well. Depending on the products in question, affiliate networks will pay out between 5-30% commissions.
4. They should have great customer support
No matter how great any platform is, there will always come a time when you need to talk to someone about an issue you're having — especially when your money is at stake. Whenever I'm about to purchase a product, I check honest customer support reviews to find out what level and quality of support the company offers.
What Are the Best Affiliate Networks?
Now that you know what affiliate networks are and how they help you, let's talk about my top choices:
1. Impact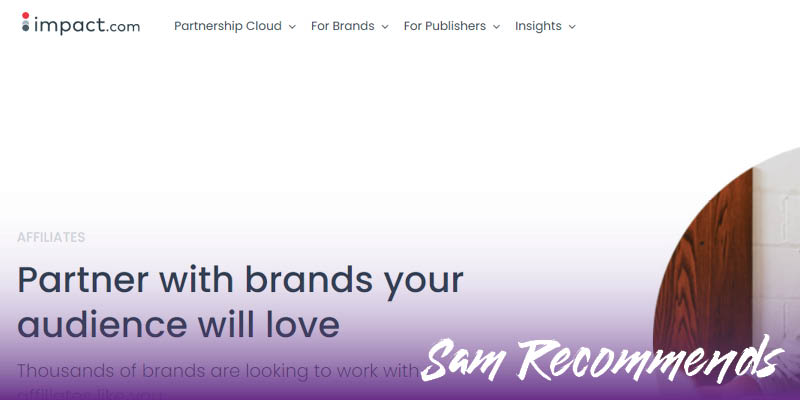 Without a doubt, Impact is the biggest affiliate network out there. If you're serious about becoming an affiliate marketer, you're gonna sign up. They feature some of the biggest brands out there, like Doordash, Adidas, and Ticketmaster. A ton of the programs you'll want to join are on Impact.
If you're a brand looking to establish an affiliate program, it's the same great deal. Impact can prove to be an essential part of your growth with its incredible resources. We're talking influencer marketing tools, business development, fraud protection, and so much more. It's a dream come true, and they promise to double your income.
2. CJ (Formerly Commission Junction)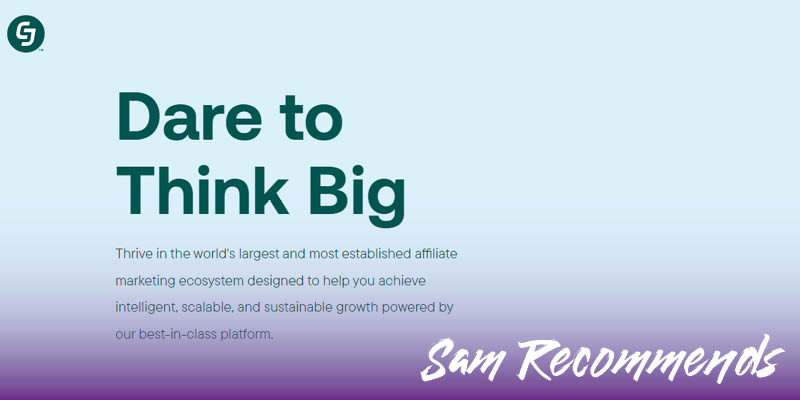 CJ Affiliate is a giant affiliate network, having been around for over 20 years. They boast a gargantuan amount of brands on their network, making them another essential tool in the affiliate marketer's toolkit.
For publishers, getting accepted to the CJ affiliate network is pretty easy. First, however, you're going to have to convince each brand on the platform as to why they should accept you. In some cases, this is easy! In others, not so much. But once you're in, CJ will do everything they can to set you up for success.
For advertisers, CJ is a great way to create and manage an amazing affiliate program. Their website promises at least 88% more revenue per shopper and 30% more overall revenue the first year. So it can't hurt to try, right?
3. Amazon Associates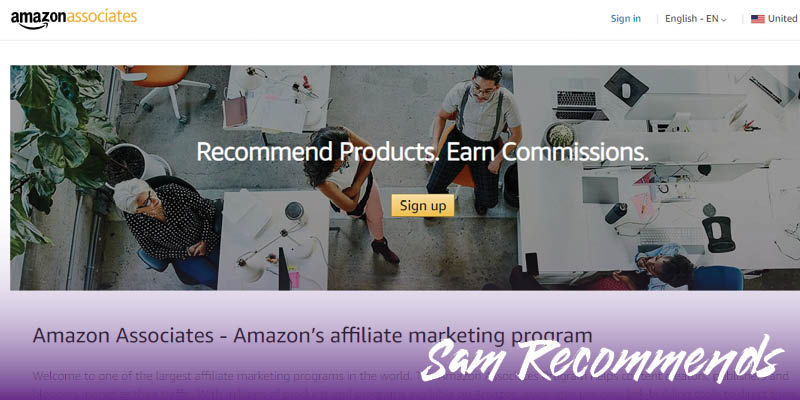 Amazon Associates is an affiliate program and affiliate network rolled into one. Technically it's an affiliate program for one brand. However, because of the enormous, diverse range of products for sale, it's much more appropriate to call it an affiliate network.
It's a great way to monetize … pretty much anything. Amazon's product selection is so vast that you'll find something to sell no matter how what your niche is. That ultra-broad appeal is the best part of Amazon Associates.
However, the worst part is the meager compensation rates. The percentages differ from product to product, but overall, you'll be looking at 1-5% commission rates. It sucks, but it shouldn't be surprising given Amazon runs on such tight margins.
4. Clickbank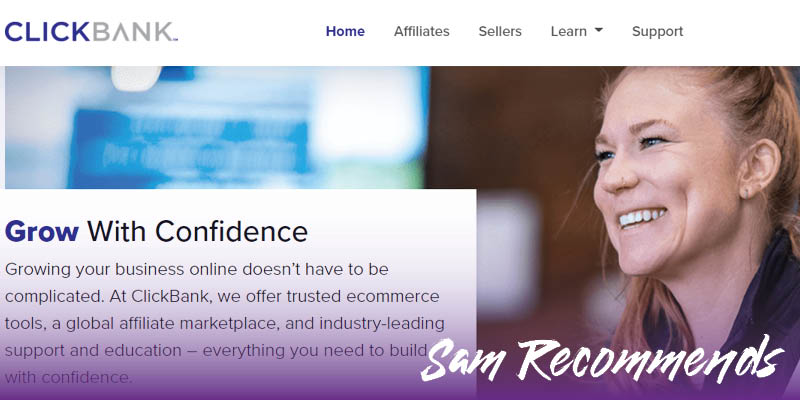 Clickbank is a huge affiliate network, having compensated over $5 billion to affiliates over the course of its existence. They facilitated over 300,000 sales daily from a selection of 6 million unique products.
Clickbank is known for its wide range of affiliate compensation — sometimes as high as 75%. With Clickbank, you're guaranteed:
Reliable payments
Dedicated support
High-performing offers
Top-quality products
Accurate tracking
As well as the training you need to make the most of it, should you desire. It's an affiliate network that does everything it can to ensure your success.
Best Recurring Affiliate Programs

While we love waking up to big one-time payments thanks to a referral we made, it's to important secure plenty of recurring commissions to achieve true passive income. If you don't know, a recurring affiliate program is when an affiliate partner makes a regular, repeat commission of a referral's purchases.
For example, let's say I click on someone's affiliate link for a VPN, and then buy a monthly subscription. If it's a recurring affiliate program, the partner will get a piece of my monthly subscription forever. Cool, right?
I bet you're eager to get some of that passive income yourself! Here are my top picks for the best recurring affiliate programs:
1. Semrush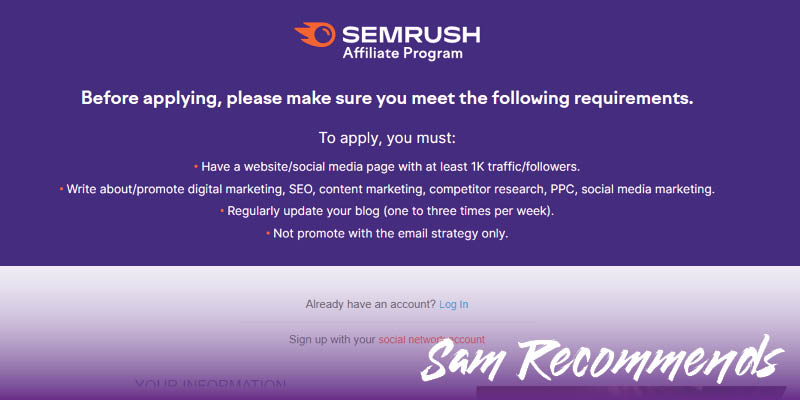 Semrush is one of the top SEO tools out there, lauded for its extensive features and pinpoint-accurate data. If you have a website or social media profile with at least 1,000 followers, you can join their program and make recurring commissions of 40%. SEO software ain't cheap, making this a no-brainer for anyone in that space.
2. Private Internet Access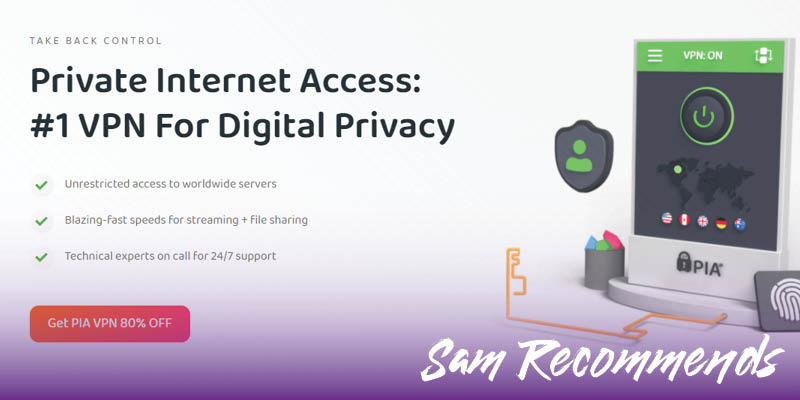 Returning to our list is Private Internet Access, one of the best VPNs out there. With their program, you can earn recurring commissions of 33% over the customer's lifetime. It's a great way to help your customers protect their data and put a little passive cash in your pocket while you're at it.
3. Moosend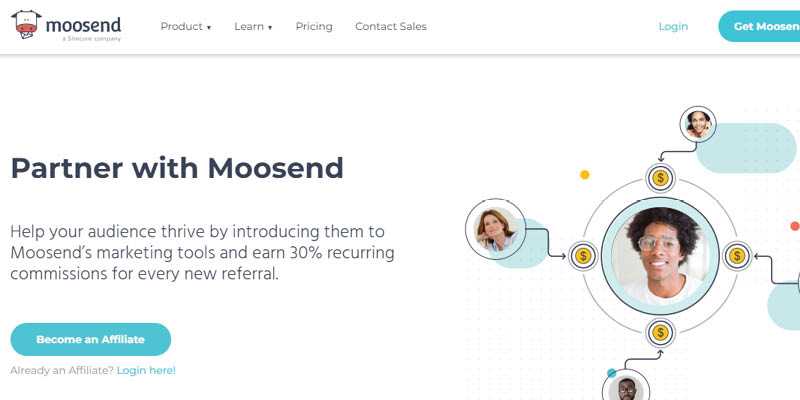 If you've never heard of Moosend, they're a popular email marketing tool. They have one of the best recurring affiliate programs out there, with a repeating 30% share of each sale. Your referrals will have plenty of time to make up their mind with their whopping 120-day cookie duration.
4. GetResponse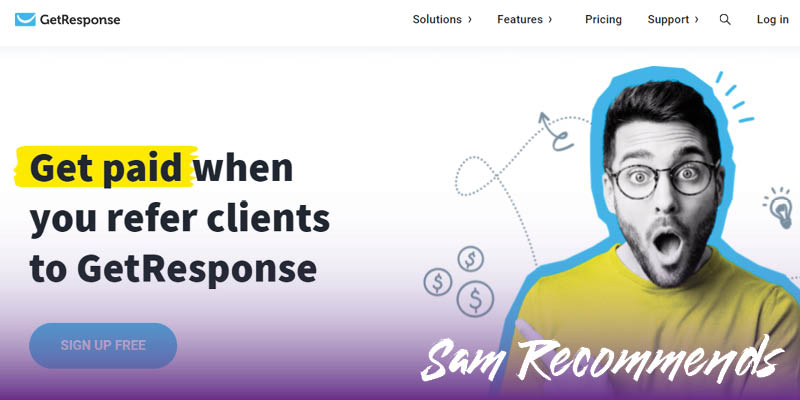 Here's another email marketing tool on the list: GetResponse. They have fantastic features beloved by marketers worldwide, making them an easy sell to your audience. When you join their program, you're looking at recurring commissions of 33%.
5. Thinkific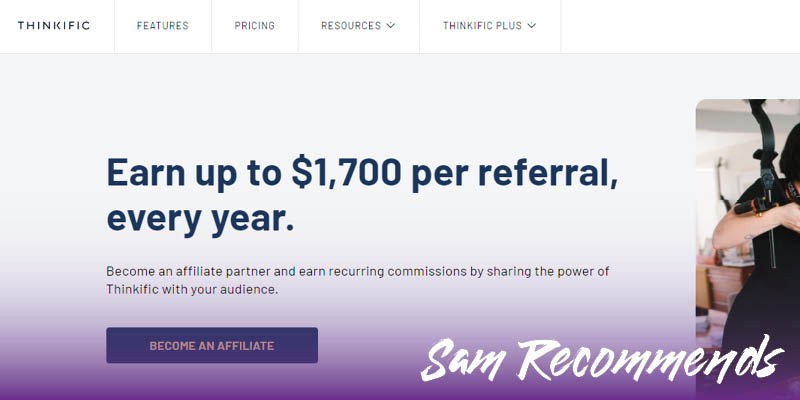 Thinkific is a top platform enabling teachers to create epic online courses. They offer affiliate marketers 30% recurring commissions with a 90-day cookie period. They also have tons of promotional content to help you make the most out of your partnership.
6. ConvertKit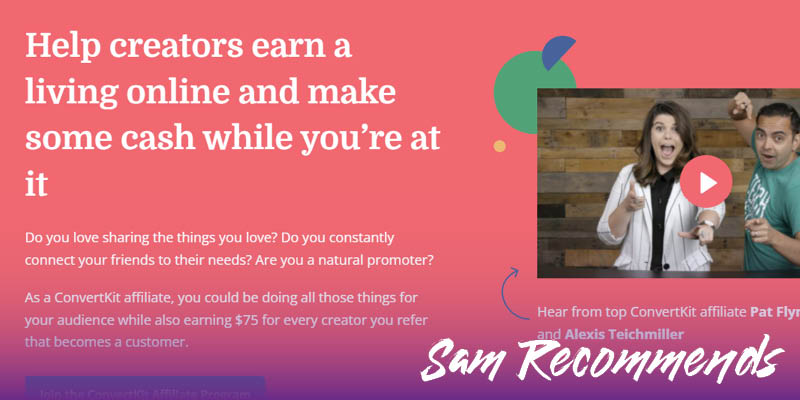 ConvertKit is a promotional platform that enables content creators to make fantastic email marketing campaigns on the fly. ConvertKit users can create highly advanced campaigns, leveraging very precise triggers to send super-relative content to their subscribers. ConverKit partners receive 30% recurring commissions for every monthly payment.
7. SurferSEO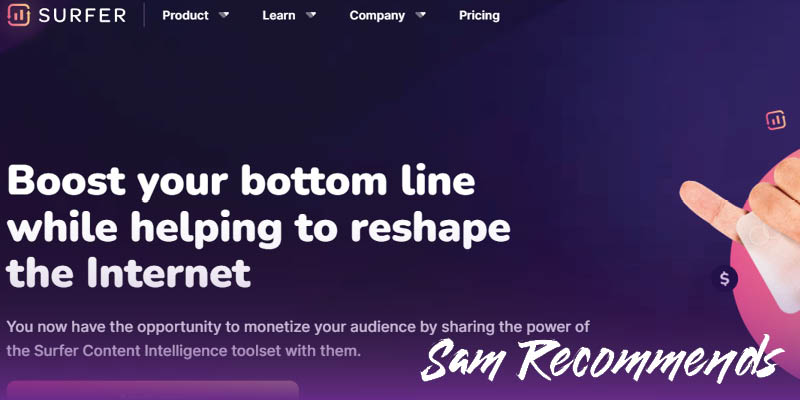 SurferSEO is an excellent content-marketing tool that makes it easy for anyone to write fully search-optimized articles. They offer 25% recurring commissions every single month your referral renews their subscription. I use it myself and could not recommend it higher.
SEO Affiliate Programs
SEO tools are a must for anyone serious about climbing the search engine ranks. Everyone needs them, and they're expensive as hell. That sucks when we have to buy them, but it's great news for our affiliate income.
If you talk about SEO on your website, these will be among the best affiliate programs you're a part of. So without further ado, here's my list of the best SEO tool affiliate programs:
PS: Looking for Ahrefs or Moz? Sorry to be the bearer of bad news, but they don't have any PUBLIC affiliate programs. That said, I believe they have invite-only programs you can join with the right connections.
1. Semrush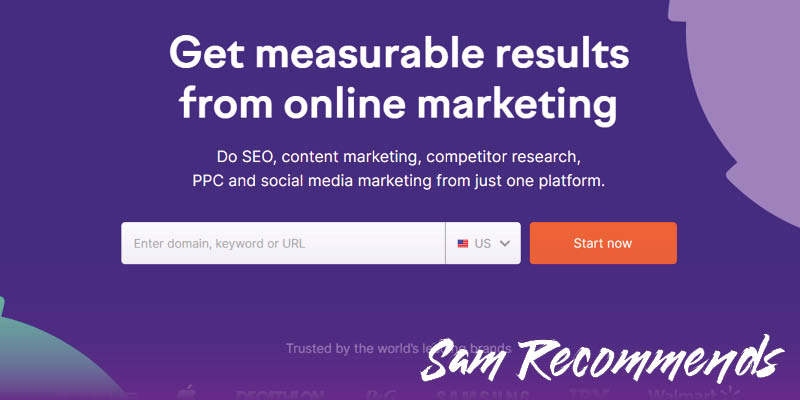 Yes, we already covered SEMRush in the above section — but it really is the best SEO affiliate program. 40% recurring commissions for one of the top SEO tools out there? You can't beat it.
2. SpyFu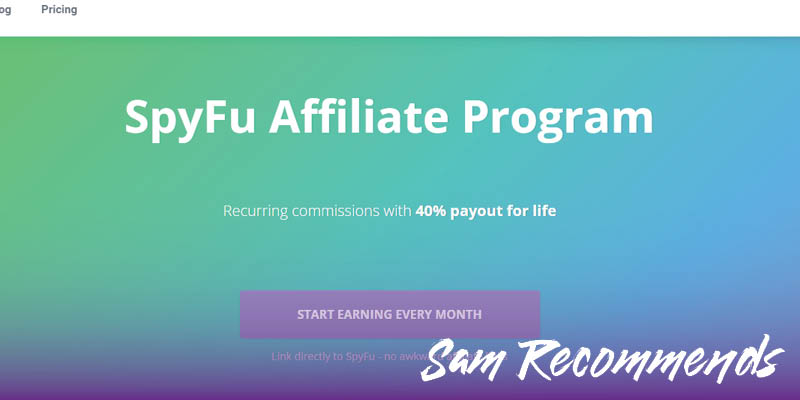 SpyFu is another powerful platform that's much cheaper than other SEO tools. However, that doesn't spell trouble for their affiliate program — they offer 40% of each customer's monthly payment. They also offer an incredible 365 day tracking period, guaranteeing you get your referral's commission.
3. SurferSEO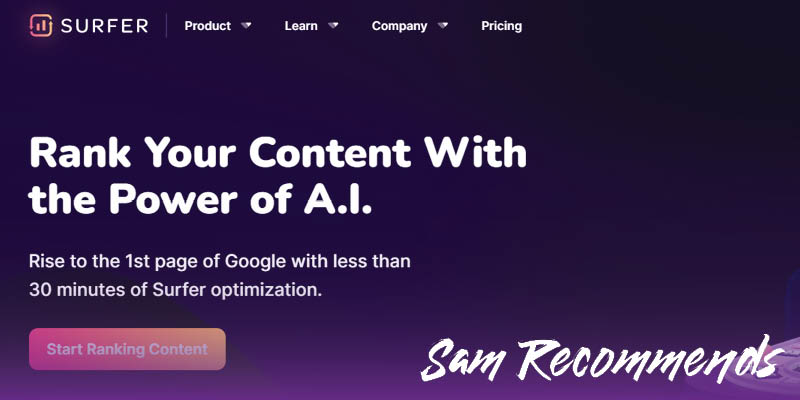 Returning to our best affiliate programs list is SurferSEO — the epic content optimization tool. As mentioned above, they offer a fantastic 25% of your referral's monthly subscription. Their software's pretty expensive, so successful referrals can mean serious passive income for you.
4. The HOTH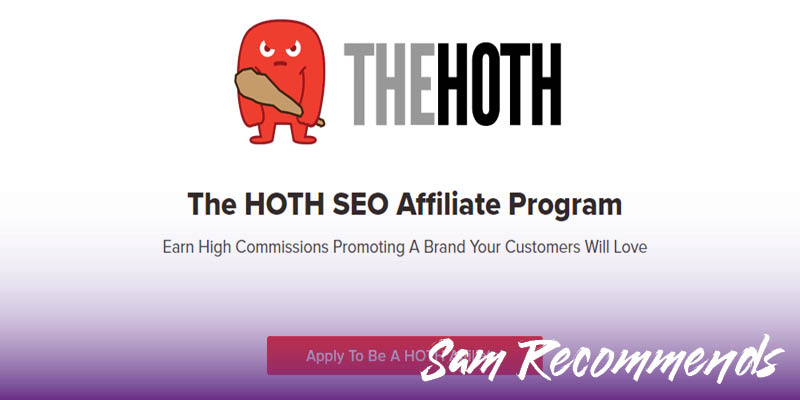 The HOTH is an SEO company specializing in content-enhancement software. They offer their affiliate partners a 25% commission with cookies lasting 60 days. They tout their awesome sales funnel as a guaranteed money maker.
Marketing Affiliate Programs

These days, every company out there uses marketing tools to streamline its outreach strategy. These tools during marketing into a daunting task into a 1-2-3 process, and enable the smallest of businesses to compete with the biggest of corporations.
Reading this list, you might find some of them appeal to your professional life. If so, don't be afraid to try them out yourself — all of them are awesome (or else I wouldn't recommend them)!
Anyway, let's get into my picks of the best marketing tool affiliate programs:
1. Sleeknote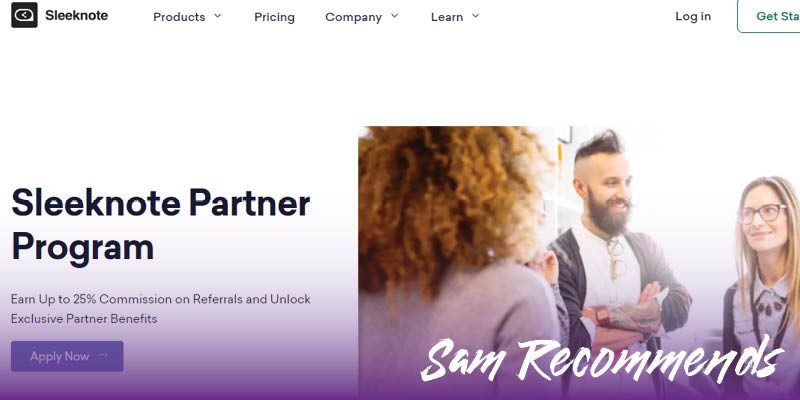 Sleeknote is an email marketing tool that helps companies build their email lists, create amazing pop-ups, and more. It's an amazing tool for anyone looking to turn their website into a lead generation powerhouse.
They have a FANTASTIC affiliate program that pays in three tiers:
Silver: 10% monthly recurring
Gold: 15% monthly recurring
Platinum: 25% monthly recurring
All of their tiers come with amazing special benefits, such as a dedicated partner manager. It only takes 25 referrals to get to platinum, so get your affiliate link and start selling!
2. HubSpot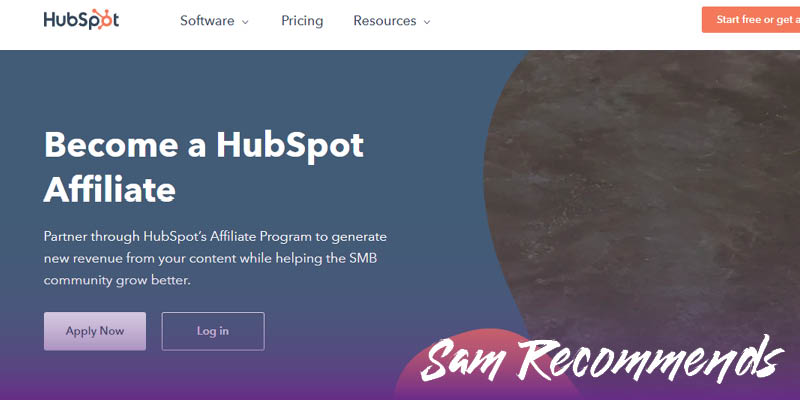 Ever heard of HubSpot? They're a marketing company that creates a comprehensive set of software tools handling sales, CRM, CMS, and more. They have so many epic products that they're almost their own affiliate network!
HubSpot's affiliate program gives you two choices:
15% monthly recurring commissions for one year
100% flat rate for the first month
If your referral chooses an annual plan, you'll get 15% of the sale.
3. Outgrow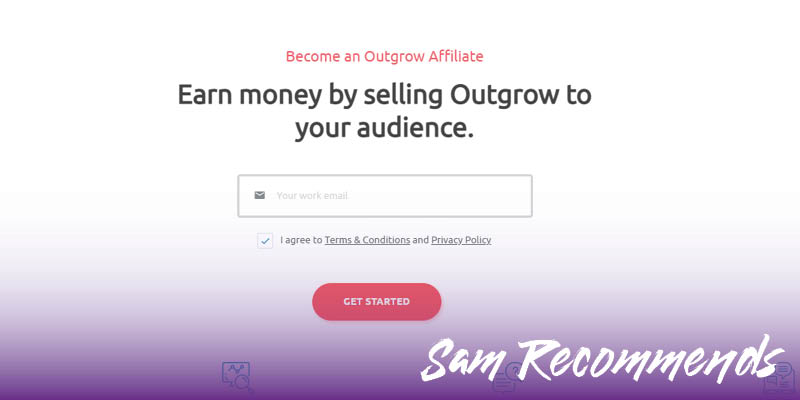 Outgrow is a marketing tool specializing in creating amazing interactive content for its users' websites. They're a huge brand, used by Adobe, Nike, Statefarm, and more.
Now let's talk business. They've got one of the best affiliate programs around, with a 20% upfront AND recurring payment for each successful referral. Top affiliates get special perks too, like the chance to present a webinar for Outgrow (nice to have on your resume, eh?).
Writing Tool Affiliate Programs

No matter how much you love writing, we all know it can be a little tedious at times. To help us out, various companies have released some amazing software to help us get the job done quicker.
These tools will appeal to all writers, making them excellent affiliate programs with broad appeal. Let's write ourselves some checks with my list of the best writing tools to promote:
1. Jasper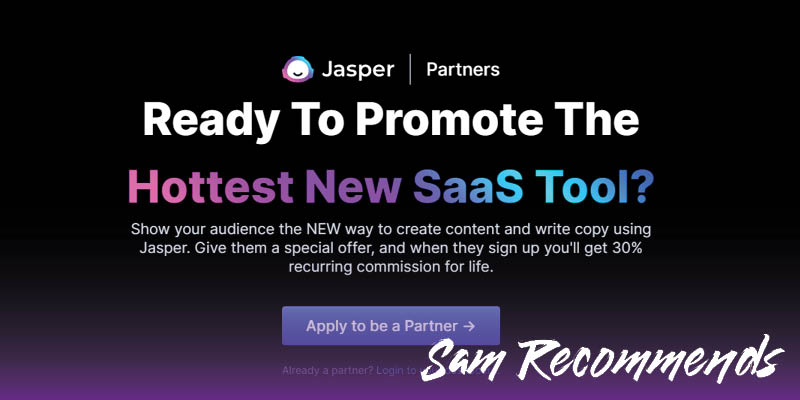 Jasper (formerly Jarvis) is an AI writing assistant that allows users to create high-quality content in seconds. It's exploding in popularity, making it an easy sell to your audience (who doesn't want fast, quality content?).
Their affiliate program is amazing too: 30% lifetime recurring commissions every month. Plus, people you refer get an extra 10,000 words to start. With such great compensation for such an expensive product, it might become one of your top-paying affiliate programs.
2. Grammarly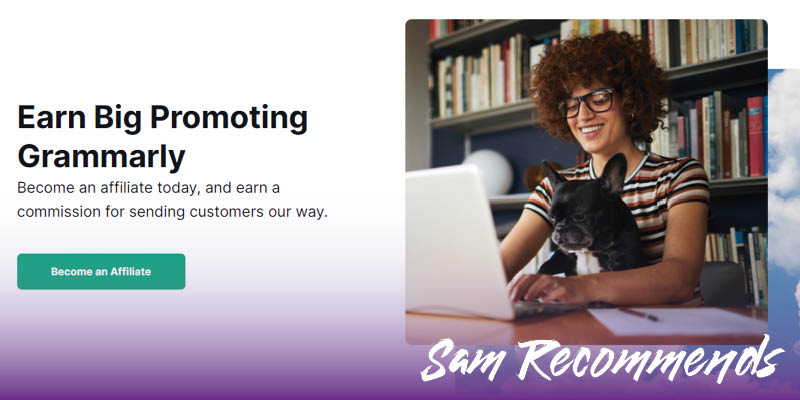 Grammarly is a writing assistant that I couldn't live without. Going beyond checking for simple grammar rules, it shows you how to write more clearly and more confidently. Affiliate compensation is $0.20 cents for every free sign-up and $20 for every premium plan purchase.
It may not be the biggest cash reward in the world, but their high conversion rates more than make up for it. Plus, you get a 90-day tracking period across platforms.
Online Course Affiliate Programs

The online course industry is exploding, and it's expected to be worth $325 billion by 2025. So many people are eager to sell online courses, and several amazing platforms have answered the call.
In this section, I'll list out the best online course affiliate programs out there. Let's get started:
1. Thinkific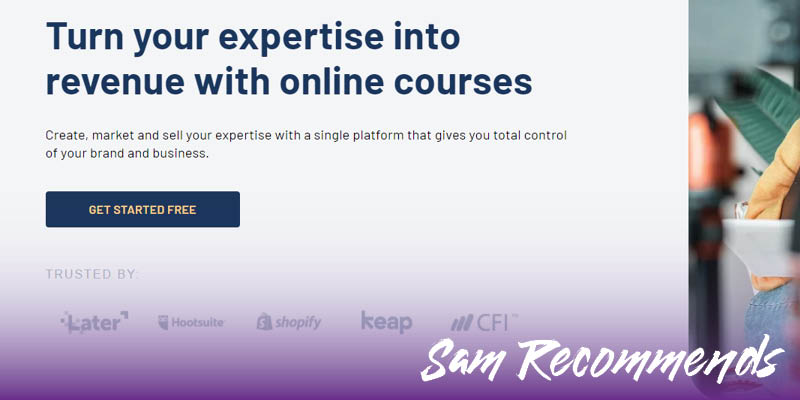 Thinkific is one of the best platforms to create online courses with. By becoming a Thinkific affiliate, you receive a 30% recurring commission on each monthly or annual renewal. In other words, you can earn up to $1700 from each successful referral.
You also get a 90-day cookie period with access to unique promotional material.
2. Kajabi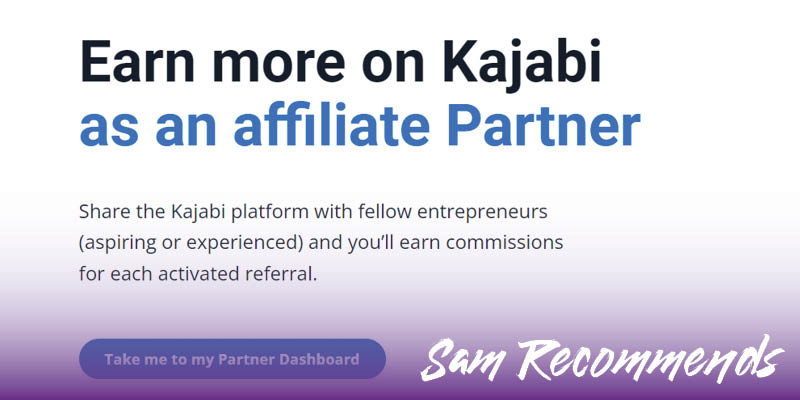 Kajabi is a premium online course platform targeted towards professionals. They have a fantastic affiliate program that exists in 9 tiers, each with increasing rewards. Kajabi partners receive a 30% lifetime commission for every paying customer they refer.
3. Teachable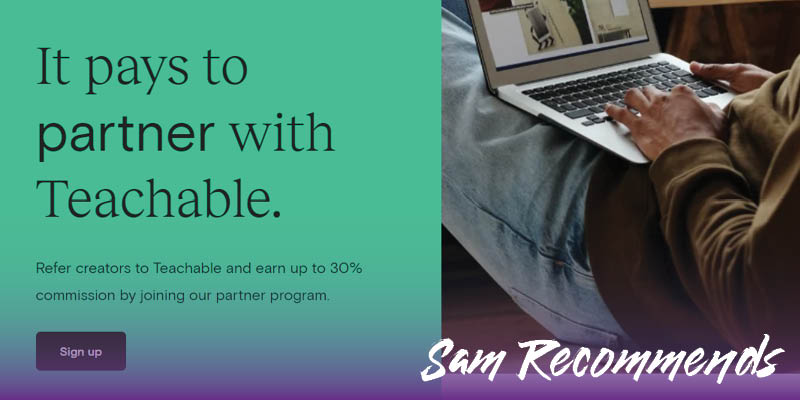 Teachable allows beginners in the education space to sell online courses easily. When you join their affiliate program, you're looking at commissions of up to 30% over a 90-day cookie window.
Finance Affiliate Programs

To be clear, the finance niche is ultra-competitive. In order to succeed in this industry, you'll have to spend lots of time building your domain authority and creating A+ quality content.
Successfully recommending finance products requires an audience that trusts you. In this niche, it's doubly important to make sure you're always recommending high-quality products that you would use yourself.
That said, these are some of the best high-paying affiliate programs out there. Once you build a respectable audience, you can include these in your content whenever you talk about finance. You heard my lecture; now let's dig in and cash out!
1. Freshbooks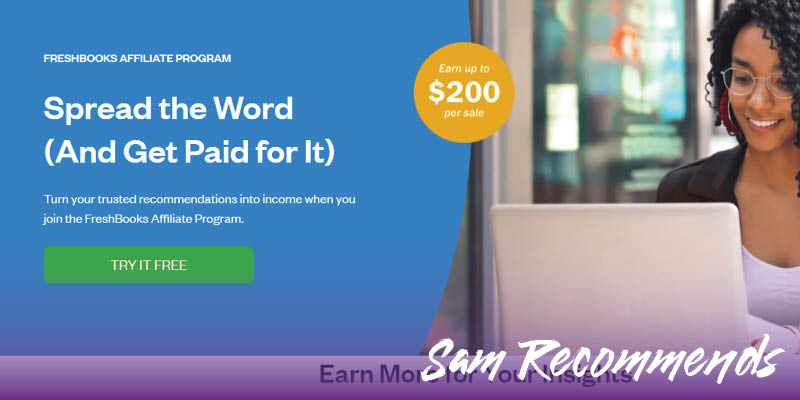 Freshbooks is an amazingly versatile account platform for business owners. They offer users an insane amount of features, all at a great price. Each trial sign-up gets you $10, with up to $200 for a successful purchase of a premium plan.
Their cookie period is 120 days, too, making them a fantastic finance partnership. In my opinion, it's one of the best affiliate programs out there.
2. American Express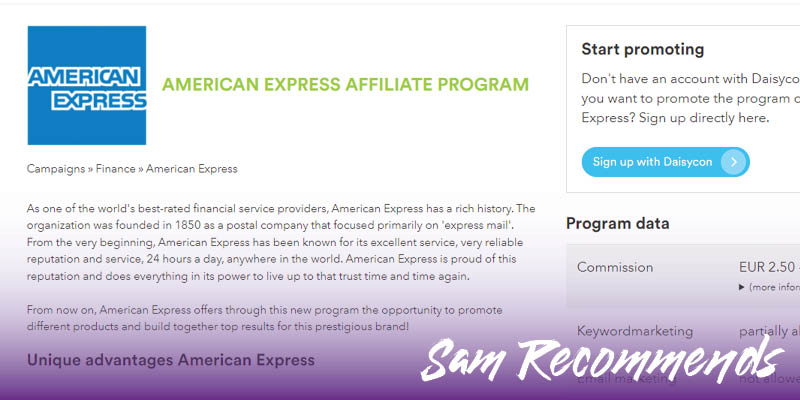 American Express (AKA "Amex") is one of the biggest credit cards out there. They market themselves as a premium credit card brand, with steeper entries and better rewards. Partners can make up to $200 per sign-up with a 30-day cookie period.
3. Robinhood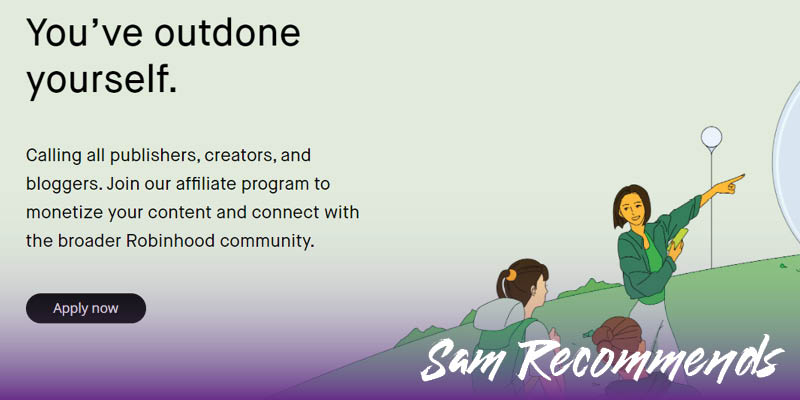 Robinhood is an investing app that makes it easy for casual traders to dip their toes into stocks or crypto. Their PR took a hit in 2021, but they still continue to grow users steadily — and they want your help! They've built robust affiliate program, offering loads of benefits to those who promote their platform.
In terms of commissions, you get $5 per lead, with $20 each time one of those leads funds their accounts. The cookie duration is 30-days.
4. Luxury Card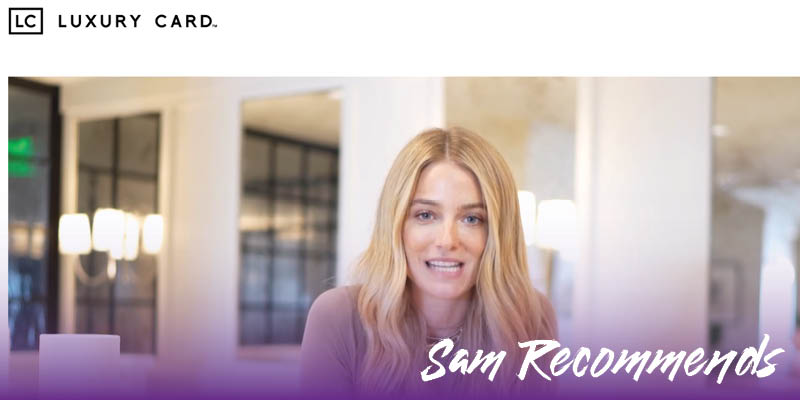 Another premium credit card, creatively dubbed "Luxury Card." Luxury Card partners can make up to $400 per successful referral with a 30-day cookie period. You'll find them on the FlexOffers affiliate network.
5. Quickbooks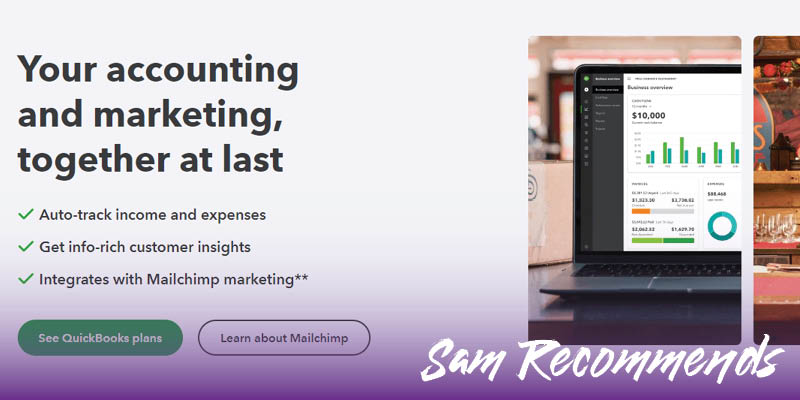 Quickbooks is another comprehensive accounting platform used by businesses around the world. They offer 7% commissions over a tracking period of 45 days.
6. Upgrade Card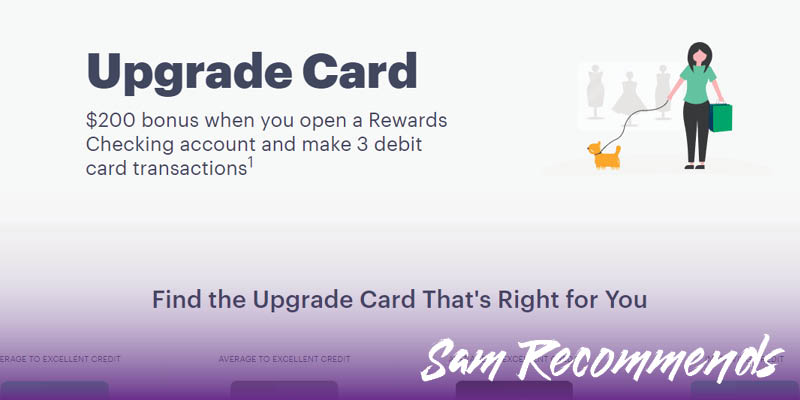 Upgrade Card is a special kind of credit card, resembling more of a personal loan than a traditional credit line. Each time one of your referrals is successfully approved for a card, you'll pocket $60 with a 30-day tracking period. You'll also find the program on FlexOffers.
7. Equifax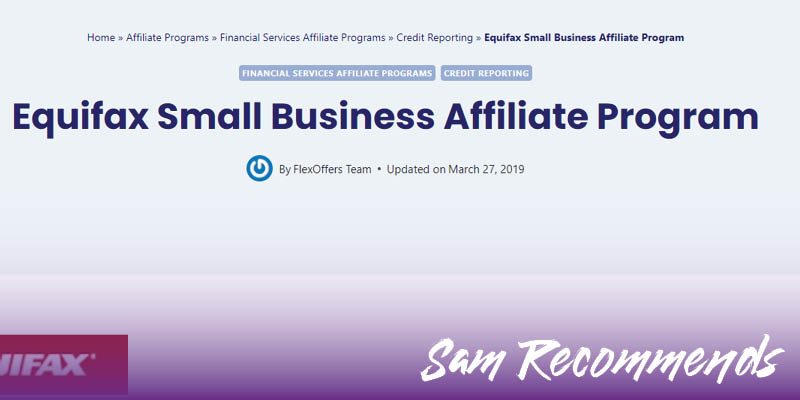 As you probably know, Equifax is one of the big three credit rating agencies. They offer a small business affiliate program that "allows customers to easily and immediately buy small business credit reports or subscribe to monitoring services." They offer commissions of up to $30 with a tracking period of 30 days.
8. Indigo Mastercard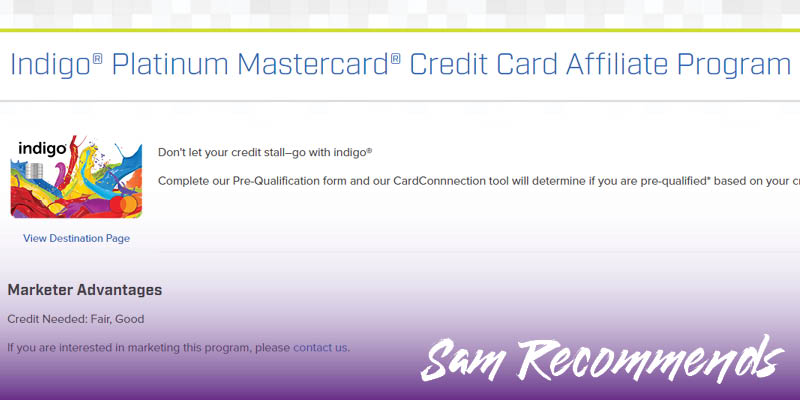 Not everyone has a great credit score, and that's okay. To give those people a chance, Mastercard created the Indigo card — a non-secured credit card available to everyone with a pulse. Your readers can use this to help build (or rebuild) their credit. Successful referrals will give you a 5% commission.
9. TransUnion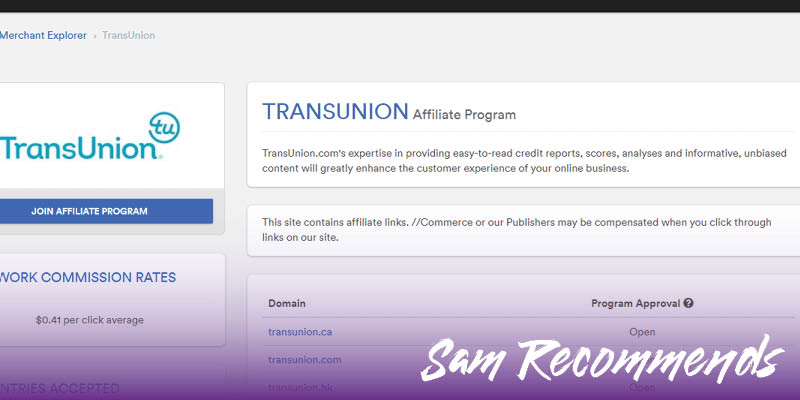 TransUnion is another credit giant tracking information on over one billion consumers. For every customer you send their way, they'll give you $20 over the 45-day cookie duration.
Travel Affiliate Programs
While travel took a hit during the 2020 Pandemic, it's roaring back to life as people seek to leave their homes behind in pursuit of adventure. If you're a travel blogger, your job is basically to chronicle that passion for exploration. Why not monetize it with some high-paying affiliate programs? Passive income is the best way to travel the world, after all.
And let's be honest, something as expensive as travel is a good thing to monetize.
You can recommend travel packages, airlines, equipment, and hotels from travel affiliate companies for a handsome referral fee. There are so many options and a lot of money to be made.
Let's FLY with my choices for the best travel affiliate programs!
1. TravelPayouts
Travelpayouts is a travel-based affiliate network with a huge spectrum of products to promote. I'm talking flights, car rentals, hotels, insurance, and just about every other travel-related thing you can think of.
Their commission rates exist on a broad spectrum, ranging anywhere from 1.6% to 80%. With all the tools they offer, it's just a perfect place to get started.
2. TripAdvisor
Now I know I put Travelpayouts at number one, but that doesn't mean TripAdvisor's affiliate program isn't absolutely fantastic.
Their referral program is based on click-throughs, which just means you need to get customers to click on their links to make money. They offer an amazing 50% commission on affiliate referrals.
3. Expedia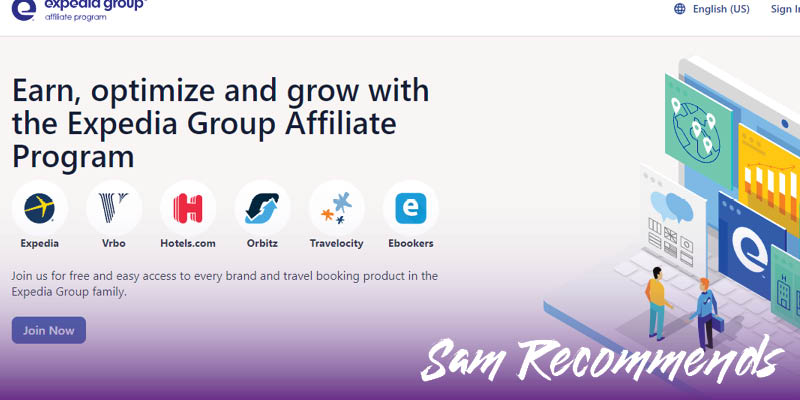 Expedia is a huge company that owns multiple high-level brands in the travel space. When you join Expedia's affiliate program, you also get to promote Vrbo, Hotels.com, Orbitz, Travelocity, and Ebookers. It's kind of like a mini affiliate network, so commissions and cookie length will vary based on the program.
4. Marriot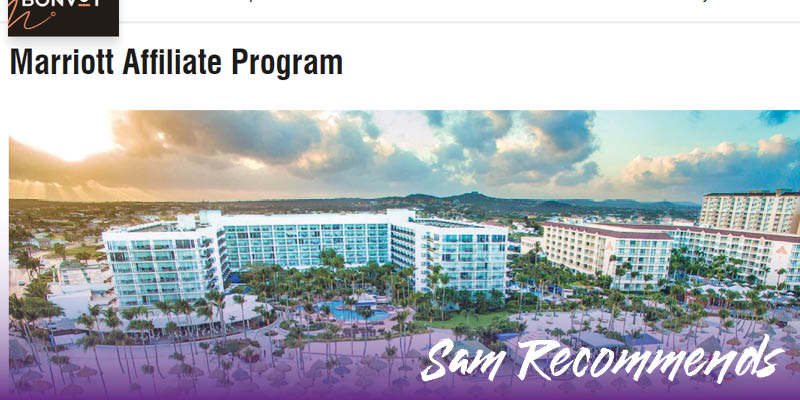 I'm sure you've heard of Marriot — it's one of the biggest hotel chains in the world. With their affiliate program, you can make commissions off of two things: hotels and vacation packages. Hotels will net you commissions of up to 6% of the sale price and 3% for vacation packages. Your cookie length will be 7 days.
Gaming Affiliate Programs
If you have any presence in the gaming world (streaming, YouTube, et cetera), I'm sure sponsorship and affiliates' value is not lost on you. However, you may not be exactly sure of where to start.
If so, no problem! Here's my list of the top gaming affiliate programs:
1. Twitch
Despite the best efforts of several multi-billion dollar corporations, nobody has really come close to claiming Twitch's #1 spot in the streaming industry. That means that if you want to monetize your gaming habit, you need to get on there!
Twitch offers compensation of up to 50% based on purchases made by the streamer's viewers. You can also make tons of money with superchats, subscriptions, donations, and more.
2. Logitech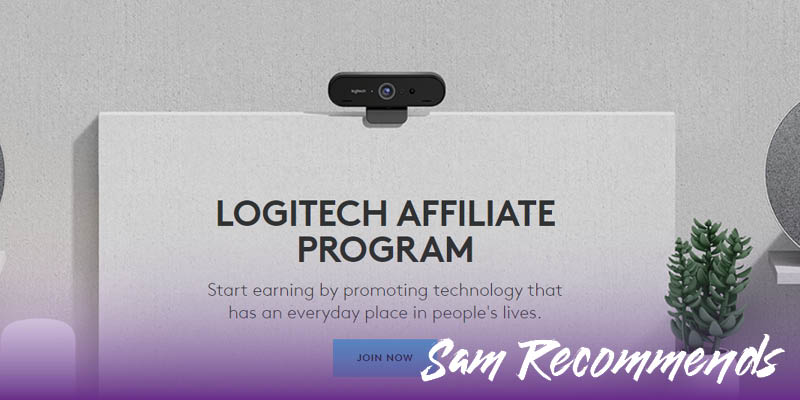 Logitech is a world-renowned maker of every kind of computer accessory. In this case, we're more interested in their gaming gear — of which there is plenty. With their affiliate program, you can receive commissions of up to 10% on orders that average $125. You also get a 30-day cookie duration.
3. GameFly
GameFly's affiliate program is a great opportunity for you to become a middleman in all the sales that they make, especially if you're active in the gaming scene. Your affiliate link can become the gateway that thousands of paying customers use to buy and rent games, putting money in your pocket from each transaction.
GameFly will give you 5% for a new game, 10% for a used game, and $15 for each trial sign-up. Pretty sweet deal!
4. Razer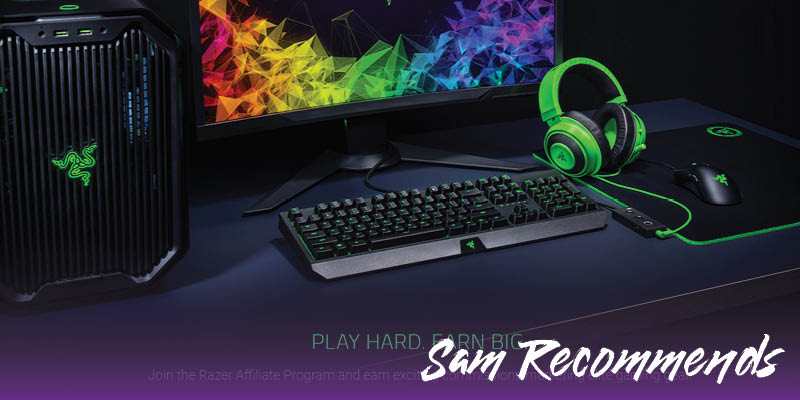 Like Logitech, Razer makes elite gaming gear (I love their products for professional use, too). They've also begun manufacturing laptops, gaming chairs, monitors, and more. They offer commission rates of up to 10%. Keep in mind that their AOV is pretty high.
Fitness Affiliate Programs
Whether you're a heavyweight, jogger, or just trying to look good for your Instagram following, fitness affiliate programs are an amazing way to monetize your insight.
This industry is known for its high AOV (average order value), a percentage of which is ready to fatten your wallet if you can convince your readers to make the buy. Get fit and whip your bank account into shape with these high paying fitness affiliate programs:
1. ACE Fitness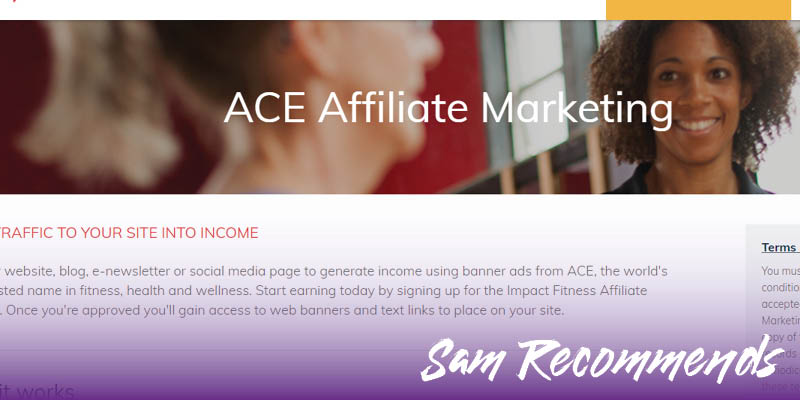 ACE Fitness is a non-profit organization focused on getting people moving across the US. They sell certifications with order values of up to ~$1,500. With a 7% commission over a 30-day tracking period, you can see how that can be profitable.
2. Adidas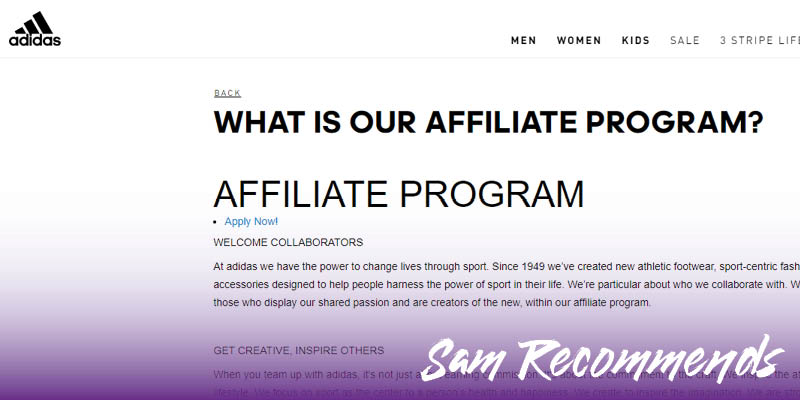 Does Adidas really need any introduction? Fortunately for us, the global sportswear icon has an affiliate program with an average commission of 10%. A brand like this sells itself.
3. Nike
Another household name, Nike makes sportswear renowned the world over. They offer an 11% commission on referred purchases with a 30-day cookie duration. Just do it!
4. GNC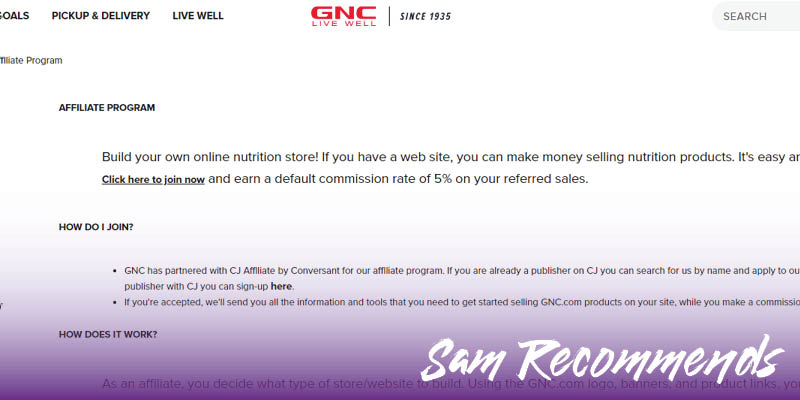 GNC is a massive health and wellness retailer with a reach across the globe. They offer a 5% commission on sales with a 7-day tracking period.
5. Bodybuilding.com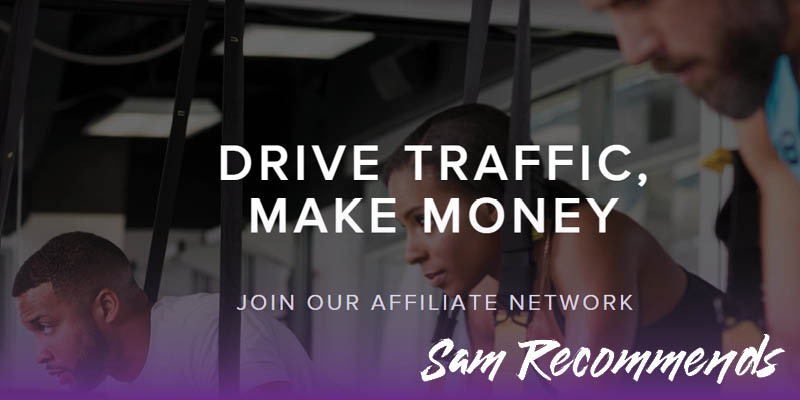 Bodybuilding.com is a website about — you guessed it — bodybuilding! For every new customer you refer, you'll get 15% of their purchase. For returning champs, you'll get 5%. The cookie period is 9 days.
Best Crypto Affiliate Programs
Now cryptocurrency is an issue that I'm sure will be very near to a few of my reader's hearts. But, irrespective of your experiences with it, the cyclical mania surrounding cryptocurrency is obviously a money-making opportunity.
Affiliate programs are a great way for you to get in on crypto without even buying or selling a single coin yourself. If you can help sell them to others, many companies have lined up offering commissions to anyone who can do so.
Here are the top paying affiliate programs for crypto:
1. Binance
Outside of the United States, Binance is definitely the most popular crypto exchange platform with a variety of memes (and an eccentric CEO) surrounding it.
Their affiliate program is fantastic: you're looking at lifetime trading commissions of up to 50%
2. Coinbase
When I'm buying with fiat, Coinbase is my go-to (as an American). Coinbase is the most popular crypto exchange in the United States and comfortably occupies the #2 spot abroad.
Especially with the inclusion of their Coinbase Pro platform, they're ferociously pursuing their spot as the exchange of choice for retail and institutional investors alike.
And they want you to help them! They're referrers 50% of a new customer's fees for the first three months. Nice!
3. Trezor
Trezor sells hardware wallets, which allow crypto owners to make transactions without exposing their seed phrase (basically their wallet password) to the internet.
Many people see hardware wallets as a great way to secure their digital assets and have illustrated that by spending hundreds of dollars on them. According to Trezor's website, you will earn a 12% to 15% referral commission for each sale you help make.
4. Ledger
Ledger is also a hardware wallet vendor and the primary competitor to the aforementioned Trezor. When someone buys a hardware wallet, it's pretty much always Trezor or Ledger.
As you can see displayed on their website, they offer a 10% commission for each wallet you help sell.
Music Affiliate Programs
We listen to music every day, and so consequently we are paying money to somebody to do so. In an industry as lucrative and popular as this one, we definitely don't want to miss out on any opportunities to wedge ourselves in there.
If you're anywhere in the music industry, you'll want to jam out to these superb music affiliate programs:
1. Guitar Center
The #1 spot shouldn't come as too much of a shock to anyone. Guitar Center is a household name, and even people who have never touched an instrument know they could get one from there if they wanted.
For their affiliates, they offer a 6% commission on all purchases on anything from pianos to entire recording studios. You also get a cookie duration of 14 days.
2. Reason Studios
Reason Studios produces beats and sounds for some very high-level artists, and anyone serious about trying their hand at the music game will want to deal with these guys.
You can get your viewers to purchase sound packs, instrument sounds, and more for their music software through your recommendation and subsequent affiliate link.
They offer up to 30% order value for their affiliates.
3. FL Studio
FL Studio is a massively popular music production platform used by amateurs and professionals alike. You can receive commissions of up to 7% with a cookie duration of 7 days.
Fashion Affiliate Programs
Now fashion is something that everyone has business with because pretty much everyone likes to look good. Consequently, it's a massive industry and their affiliate programs are a perfect opportunity for any fashion influencers to cash in on their following.
With that said, let's get into my list of the best fashion affiliate programs.
1. Nordstrom
Nordstrom's a mainstay in shopping malls around the world and a top source of clothing online.
An affiliate program with Nordstrom is a no-brainer, especially with commissions of up to 20%.
2. Zaful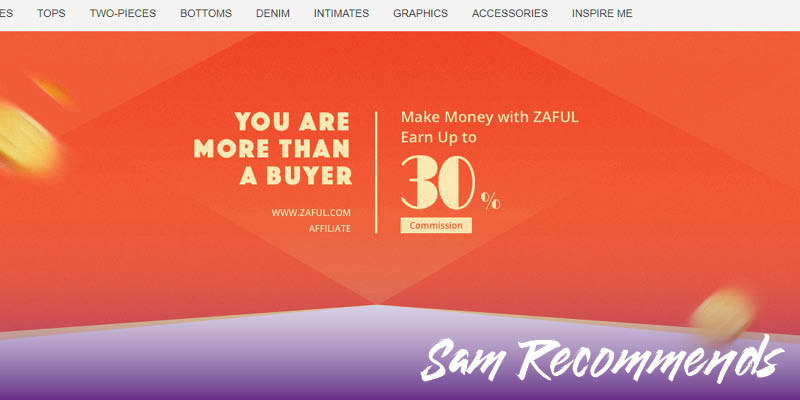 Zaful is an up-and-coming unisex fashion boutique with an amazing affiliate program for agencies, influencers, and individuals. By referring your audience to Zaful products, you can earn commissions of up to 30% with a 60-day cookie period.
3. Lane Bryant
Another internationally recognized brand, Lane Bryant is a top name in women's clothing. If you're an influencer in this category, their affiliate program is essential for you.
Lane Bryant offers its affiliates 5% commissions on their huge and stylish selection.
4. Gucci
Gucci needs no introduction; it's been a mainstay of the mainstream luxury fashion scene for longer than most anyone can remember.
The only drawback of this program is that its expensive items may be harder to sell. However, I'm sure it's nothing you can't handle.
They offer their affiliates a generous 7-8% commission on customer purchases, which are generally quite expensive.
5. H&M
H&M is a source for trending fashion worldwide, to whom millions of people look as a source of stylish clothing. So if you can get your readers to them through the doors of your affiliate link, you'll be golden.
They offer their affiliates commission rates of about 5.95% of the order value.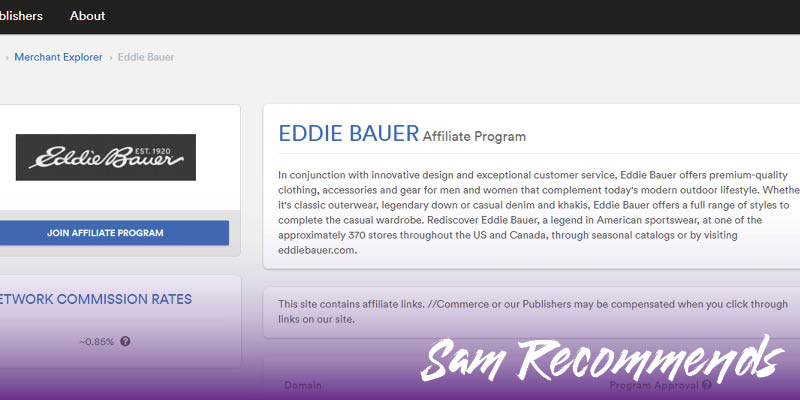 Eddie Bauer is a premium line clothing company famous for its high standards (I love my Eddie Bauer jacket!). Their affiliate program offers commissions of up to 5% with a 7-day cookie duration.
Final Thoughts

No matter which affiliate programs you're joining, always keep your eye on a few things:
Commission rates
Cookie durations
Median order value
Median earnings per click
Compensation period (recurring or one-time?)
Combine your expertise and readership with a great affiliate program, and you've got a recipe for success.
Now before you go and join affiliate programs, make sure that you've actually got a reliable, organic audience to direct market to. If you don't, you're just wasting your time, and there's no point in you reading about high-paying affiliate programs.
If you're serious about making money with affiliate marketing, you need to start your own blog and run it like a business. Once you get traffic, each affiliate link you add to your website becomes another source of passive income.
Anyway, thanks so much for reading! I hope to see you on the SERPs soon.